Oliver Tietgen: Twenty-six weird superheroes and supervillains for each letter of the alphabet.

René Wiesner: A trashy superhero-anthology and parody of Hollywood movies.

Jens Holzheuer: Tits.

Oliver: I had already made a short for the first ABCs of Death contest and got some good response even though it did not win. So the second contest came around for the letter "M" and I almost immediately had this idea of deadly menstruation blood in my head. We shot it in just a few hours on a bench in my neighborhood in front of a children's playground and we were lucky that we didn't get arrested. The actors were some friends and one model that I had to actually cast and who turned out to have a great sense of humour. So we stood there with a girl in a bathing suit and sprayed three litres of fake blood all over the place and it was finished. When the film went up a lot of commenters said they liked the superhero angle of the story. I thought it would be a great idea to emphasize that aspect and create a whole bunch of crazy heroes. We always have these insane little ideas that just aren't enough for feature films, but with an anthology like this you can take some wacky three minute skits or even a funny oneliner and make something cool out of it.

Your key inspirations when dreaming up ABCs of Superheroes - and would you at all describe yourselves as comicbook geeks?

Oliver: Our first approach was actually really sophisticated. We analyzed superhero tropes and broke them down, made a list of mythology that we liked and didn't like and then in the next stage we turned everything upside down and thought about the most crazy and funny ways to have origin stories or big superhero battles.

Jens: We also love action and sci fi and horror movies, the big ones as well as the cheap ones. So a huge influence comes from all those years of film watching and I am sure that at more than one point during script session we dreamt about having this film produced by Godfrey Ho [Godfrey Ho bio - click here].

René: We want to entertain and so we are making a movie that we would like to see ourselves. I for myself was never the big comicbook-geek. It's just an artform I was never into. The moving picture was always more interesting for me.

Jens: I love comics. The cute and funny ones like Groo or Bone, everything with monsters in it like Predator or Swamp Thing, and of course Batman and everything from HeavyMetal. The last thing I read was John Arcudi's A God Somewhere – highly recommended.

Oliver: Yeah, always loved comics, always will. I'm also one of those guys who bought a lot of stuff in the 90s (foil embossed variant whatever) that's not worth the paper it's printed on now. I have also have some nice original Rob Liefield artwork hanging in my livingroom (yeah, I know, a lot of people hate him, but I can't help it). When it comes to newer stuff, I loved Crossed. Please give me money to make a feature film out of it.

So what can you tell us about some of the superheroes you've created - and will all of their stories be strictly separate or will several storylines converge, eventually?

Oliver: After a hundred years of comic history you can't reinvent the wheel, so you have to think in archetypes. Of course we have a brooding hero whose parents have been killed, we have someone who was bitten by a radioactive animal. The fun part is giving it a twist. I'd say we cover almost every stereotype from the superpowered flying hero in cape to the sentai masked hero-group. Also we have a girl with a giant penis and a blue mutant ape.

René: The main difference between our heroes and those from Marvel or DC movies is that ours didn't have the time to get accepted. Superheroes are weird in general, but if the people have fifty years to get to know them and grow up with them then they aren't looking that weird anymore. I don't see a big difference between Spider-Man and our Unicorn-Man.

Jens: Most of our stories are self-contained and stand on their own. But there are some characters that appear in more than one episode and there is one great story arc that happens in small chapters throughout the film. That is actually something that we wanted to do more, to reward the audience and have heroes from different episodes pop up again in other stories. But budget and casting restraints made this a nightmare so we had to concentrate on a few key players that turn up more than once.

What can you tell us about ABCs of Superheroes' brand of humour?

René: The humour is risky and offensive. Some people won't like it and I'm sure that we will get some problems in some countries.

Oliver: The best jokes always come from surprise. So we wanted to make sure that you can't anticipate anything that happens because everything is possible. We also wanted to strike a nice balance between puns and visual gags but I have to be honest and say that most of our humour is visual. We love being absurd and over the top.

Jens: Tits.

Superhero movies suggest lots of action and special effects almost by definition - so what can you tell us about those aspects of your movie, and the main challenges getting them just right?

Jens: When you just throw around ideas it's easy to say "the city burns and buildings explode and giant robots shoot laserbeams". But then you have to be realistic and think about the means that are really at your disposal.

Oliver: Whatever was possible doing practical we did practical. We build creatures and props and had lots of fake blood. Beyond that the problem is for digital effects you have to plan a lot before shooting. That takes a lot of time and that takes a lot of money… which we didn't have. So it was really gung-ho. Let's shoot and then figure out later if it'll work. But we have a good understanding of what we can achieve in post production and who we will work with to get the best results. But I wished we would have had less shooting days in front of a greenscreen and more real sets. Because that is a time-consuming factor and it's not as much fun as it looks like.

René: A good thing for trashmovies is that they don't have to have the most realistic looking FX. Probably there are things that we would change if we would have a bigger budget - especially more blood and more guts. But even with our low budget we are trying to get our vision onto the screen.

What can you tell us about the overall look and feel of ABCs of Superheroes?

René: We really tried to get a comic-style look for the movie. Fast cuts and short shots. And the whole movie will be very colorful.

Oliver: Especially the color palette was important for us. We wanted to emphasize the bright costumes we had and do some stuff with extreme lighting. In regards to the atmosphere we hope that every episode feels a bit different, some are somewhat silly and light other are exploitative and some are straight action pieces, so there is something for everyone.

You movie stars among others Bai Ling and Uwe Boll - how did you get those two interested in your project even, and what was working with them like?

René: Honestly I think we were just lucky with Bai Ling. I saw that she was in Hamburg where we have our studio and I just asked her if she had time and wanted to be in the movie. One day later Jens and Oliver had a session with her in her hotel in front of our mobile greenscreen. And I think Uwe just liked the scenes I sent to him when I asked for a cameo. He was very easy to work with and a very nice guy.

Oliver: Working with Uwe Boll was fantastic. He lives in Canada and agreed to do a special appearance. So we sent him the lines and then set up a Skype connection in the middle of the night because of the different timezones. And he was absolutely nice and funny and most surprisingly he gave an amazing performance. He was really good and listened to our directing and offered different versions of his lines. That was a great experience.

What can you tell us about the rest of your cast, and why exactly these people?

Jens: Our initial thought was: Making many small episodes is easier because we don't have to find three or four actors for the main parts that will stay with us for a whole shoot of say twenty days. We were really worried that someone would jump ship in the middle of production. So with small episodes we would just need actors for two or three days and if they realized what we were doing it would be too late for them to leave.

Oliver: But oh boy, we did not anticipate how difficult this would get. Casting was our biggest challenge because now we had to find three or four actors for twenty-six movies! And sometimes a lot of extras. This took up a lot of time. But the people we worked with were great. We had some great actors and the only problem here was that sometimes their English was not the best. We shoot in English and not every actor feels safe to act in another language, so we concentrated in getting a good performance out of everybody and some people we will have to dub later. For the more physical roles we did cast a lot of models because they just know how to strike a good pose in front of a camera. The only difficulty here was to have them not look directly into the camera all the time.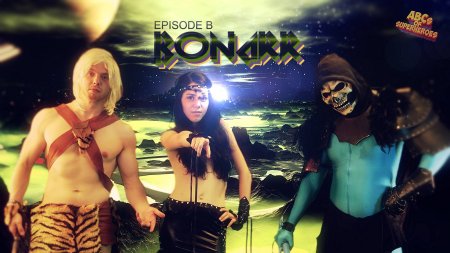 René: We have worked with all different kinds of people. Many actors and acting students. But we also have lots of shoots in which friends are getting small roles. We have so many roles in our movie that it would be impossible for us if everyone would be a paid actor. It was also a great honor to have Dietrich Kuhlbrodt in our movie. He was chief prosecutor in Germany and next to it he was in almost every Christoph Schlingensief movie and even in one Lars von Trier movie.
As far as I know, you're still shooting ABCs of Superheroes as we speak - so what can you tell us about the shoot so far, when will the movie wrap, and any idea when and where the film might be released onto the general public yet (even though it might be waaay too early to ask)?
René: It's true. We are still shooting pickups and one episode is still missing. But we are simultaneously working on the post. The goal is to be done with the movie and the post-production in the middle of the year. When we are done we want to show it at some filmfestivals. A dream would be if it's shown at the Fantasy Filmfest in Germany.
Jens: We really didn't have the time to think about the whole distribution thing yet. But the first step will be to bring the film to a festival near you.
Oliver: After that it's bootlegged Video CDs from Thailand.
As superhero movies are usually quick to spark sequels, will there ever be an ABCs of Superheroes 2 - and any (other) future projects you'd like to share?
Jens: Not one sequel, but twenty-six! I would love to make a standalone feature film with every one of our crazy heroes. But we also have enough ideas left for three more of these anthology things. Just with all the heroes that are not in this one at all, like Umlaut-Man or The Evil Escalator.
Oliver: I would do this again immediately, but it would be nice for a change to actually have some real production money. It is not for a lack of ideas. I have a lot of great scripts in my drawer. I would love to one day make my post-apocalyptic action epic or a jungle adventure or or or…
René: Never say never... But honestly we love movies and also love to make movies. But there isn't a specific future project but something will come for sure. Also I want to study digital film and VFX next year.
What can you tell us about your filmwork prior to ABCs of Superheroes?
René: For me it's the first big project and I am very proud to be part of it and to be able to work with Jens and Oliver. I learn new things with every shoot and I grow into my producer role while shooting. So hopefully it's the first feature with many, many more to come.
Jens: I worked for a TV production for a few years, first on the set and later as a producer. But all I really want to do is direct. I made some short films to learn more about the process and worked on a lot of small microbudget projects with friends.
Oliver: I work as a filmmaker for a few years now and do a lot of editing, but also shoot PR stuff and commercials. I also directed some music videos which were well received and made short films for fun. Jens and I have known each other now for more than twenty years and we have had so many good ideas together and even made some really good short films that it was inevitable that we'd go on to some bigger stuff.
Your favourite movies?
Jens: Jaws, Taxi Driver, The Good The Bad and The Ugly, Blues Brothers, A Better Tomorrow 2, Reservoir Dogs, Disney's Jungle Book, Island of Lost Souls (1932), King Kong, Son of Godzilla (1967), Death Race 2000, Terminator and countless others. I love the works of Scorsese and Wynorski [Jim Wynorski interview - click here], love italian neo-realism and Filipino exploitation. I guess I just love movies.
Oliver: Carpenter's The Thing, Escape From New York, Mad Max 2, Star Wars, Die Hard, Blues Brothers, Supergirl, Nightmare on Elm Street 3, Argento's Inferno, Duel to the Death, Kill List, Curling, Irreversible, Spider Baby, Masque of the Red Death, Don't Go in the House, Night of the Hunter, Rambo IV, Deadly Prey and many more...
René: I love the medium movie as an artform in general. There are too many movies that I really love. It doesn't depend on genre or budget: I can adore a Bruno Mattei-movie [Bruno Mattei bio - click here] just as much as a Kubrick-movie.
... and of course, films you really deplore?
René: There are too many bad movies that I dont want to mention. Especially ultra high-budget movies that aren't even able to entertain or to give anything to the viewer. I like to feel the passion of the moviemaker and the team while watching the movie.

Feeling lucky ?
Want to
search
any of my partnershops yourself
for more, better results ?

The links below
will take you
just there!!!

Find ABCs of Superheroes
at the amazons ...

amazon.com

amazon.co.uk

amazon.de
Looking for imports ?
Find ABCs of Superheroes here ...
Something naughty ?
(Must be over 18 to go there !)

Jens: As a rule of thumb I hate pointless remakes like the 2011 Thing or the new Chainsaw Massacres. The last film I remember watching and wanting to cut my eyes out was Pompeii.

Oliver: I always wonder why filmmakers don't have the balls to really go through with their themes. Like making a film about a sexy cam-girl but then showing no tits. Or making a film about a gruesome killer and then show no gory kills. So I'd say I deplore films that settle for mediocrity and being unimaginative instead of being bold and inventive.

Thanks for the interview!

René: Thank you!

Jens: Thank you!

Oliver: Thank you!