Your new movie Elsie & Joe - in a few words, what is it about?
Itís about two neighbours who donít really get along and wind each other up. Elsie falls ill so she hires Joe to take her to places that meant something to her throughout her life.
How did the movie come into being in the first place?
I met the writer Richard Addison a few years ago and we talked about working together some day as we both had similar views of how films should work and be presented.
I had just finished work on a feature film and I wanted to do another short of my own so I thought of a few writers I knew, who might have been interested. I knew I wanted to do a drama piece, as previous films Iíd done had either been comedy or horror, and Richard is a drama writer so it all feel into place. I gave him a ring to see if he was interested and he said yes.
Do talk about your screenwriter Richard Addison for a bit, and what was your collaboration like?
Richard is a fantastic comedy and drama writer. Heís worked on many different projects over the years in the UK and USA so I felt very lucky to be working with him. We both met up several times and just threw ideas at each other. I knew I wanted to do a film with a young actor and an older actress, lucky Richard had an idea already in place that fit that description. Eventually we got the story together and Richard started writing.
Because of Richardís work ethic the first draft came very quickly. With each draft we both had some notes on what to add and take away until we had the shooting script. Richard was also present at auditions and rehearsals because he understands and knows who these characters are and I felt that this would be helpful to the actors playing them. All in all I would say it was a very good and productive working relationship.
How would you describe your directorial approach to your subject at hand?
From the very beginning I said to Richard that I didnít want this film to be a sympathy story. This meant approaching the film as a drama comedy but not focusing too much on the comedy as we didnít want it to be silly. Part of the reason the film has Ďfunny momentsí is because real life isnít all depressing. If someone is terminally ill they have high and low points, itís not a constants flow of sadness, so I wanted to try and show that in the film. Also if this had been melodramatic I donít think the film would have worked and would have been far too cheesy and not that enjoyable to watch.
Also, in terms of shooting, didnít want to get in the way with fancy unnecessarily complex camera shots. Each shot, I hope, reinforces and tells the story. It's all about Elsie & Joe so we as a crew just needs to keep out of the way and let the actors do their thing.
I also wanted the film to look beautiful, like the old school road trip movies, so I had a talk with the cinematographer, Paul Dudbridge, and we both agreed to keep it naturalistic and make the most of the environment we where shooting in.
Elsie and Joe - which character could you identify with more, and why?
Definitely Joe, because Iím a ladies man. No just kidding. I guess by default Iíd have to say Joe because heís closer to my age than Elsie. He does have a nicer house than me and has a better way with the ladies than I do but ultimately I understand why, to start with, he doesnít like Elsie. That old disapproving neighbour who keeps getting in the way of his fun.
At the same time I understand Elsieís motives in the film and Iím sure audience members who are older will side with Elsie, thatís what we wanted from the film. Everyone can identify with one of the characters as itís quite a believable story. By the end of it, hopefully, the audience will like both characters.
Do talk about your leads Janet Lacey and Oliver Park for a bit, and what made them perfect for their roles?
Well I knew Oliver from previous projects and he was my only choice for Joe. I gave him the script and luckily he said yes. I think he was tired of playing bad guys and wanted a nicer character to play! He just was Joe. When I read the script for the first time the image in my head was Oliver. Of course in rehearsals we both had different ideas on how to do it so we worked on it and the character of Joe was born from that really. Oliverís a fantastic actor who can do pretty much do anything. In my films heís done comedy, drama and action. The only thing thatís he canít do are female parts, thought Iím sure heíd give it a go!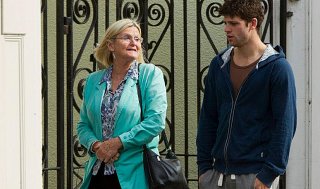 Janet was a lucky find. I had a bit of trouble casting Elsie. No one really fitted the part, they where too harsh, too comical or too wooden. Eventually we found an Elsie but then she dropped out before filming. Luckily she put me in contact with Janet, who auditioned and nailed it. She has that stern look about her but also can play the cheeky fun going Elsie which is what we needed. Most importantly though she worked well with Oliver and looked good with him on screen. We were really lucky finding her and this was also her first film she had done as sheís mainly a theatre actress. But she studied at The Bristol Old Vic and understood the difference between stage and film acting.
What can you tell us about the shoot as such, and the on-set atmosphere?
It was a lot of fun. Most of the crew had worked together before in some capacity so there was a lot of fun and games. It was a pretty easy-going shoot to be honest. No major problems really. Even though we had a lot of locations and travelling, everyone seemed to have a good time. We where also blessed with fantastic weather which made it much more enjoyable, until people started burning.
This link here is a behind the scenes video and it shows the kind of fun we all had.
www.youtube.com/watch?v=QmRx_TCWdcE
The $64-question of course, when and where will the movie be released onto the general public?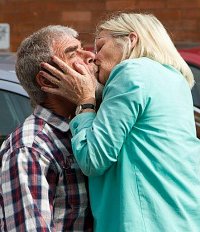 Feeling lucky ?
Want to
search
any of my partnershops yourself
for more, better results ?

The links below
will take you
just there!!!

Find Adam Lanfranchi
at the amazons ...

amazon.com

amazon.co.uk

amazon.de
Looking for imports ?
Find Adam Lanfranchi here ...
Something naughty ?
(Must be over 18 to go there !)

At the moment itís going off to festivals but as soon as that is all over a DVD with be available from the Manix Pictures-website. I will also most likely put it up online.
Any future projects beyond Elsie & Joe?
Yes there are. Iím currently working on corporate videos as part of my production company Manix Pictures. Got to keep the money coming in!
In terms of short or feature films some are in production. Firstly we have Tilly and the Clock which is a fantasy film written by Elsie & Joe writer Richard Addison based an a story idea by me. That will most likely be filmed at the beginning of 2014. After that will be Night Skies which is an action film based on the superhero genre written by me. Not sure when that will happen yet but maybe at the end of 2014.
Finally we have a feature film called Farmers Vs Gangsters, obviously a comedy being written by Richard and me. No idea when that will happen but weíre currently working on the story and script and might start planning to shoot a trailer soon!
Your/your movie's website, Facebook, whatever else?
My website it www.manixpictures.co.uk
Facebook page is www.facebook.com/ManixPictures
And my Twitter is https://twitter.com/ManixPictures
Also my Youtube channel is called ĎAdam Lanfranchií.
Anything else you are dying to mention and I have merely forgotten to ask?
Not really, just thank you for taking the time to ask me these questions and watching the film.
Also have a look on my channel you will find my last short film In The Lantern in its entirety along with a few other videos.
Thanks for the interview!