Your In Fear of-episode Disposophobia - in a few words, what is it about?
We're all very obsessed with "Hoarder's Syndrome" in America - there's even a reality TV show about it (amazingly, our DP has worked on it!). I'm looking at Hoarder's Syndrome from the OTHER side of the looking glass through this roller coaster of an episode - a darkly funny, tragic and ultimately terrifying (I hope) mother/daughter relationship.
As far as I know, Disposophobia was at least partly inspired by the classic Twilight Zone - would you care to elaborate, and other sources of inspiration for Disposophobia?
I ADORE the Twilight Zone! I have ever since I was a kid. I play a game with myself sometimes when I find it on somewhere - I close my eyes and see how fast I can guess which episode it is. Never takes more than the first few words!
How can you personally relate to disposophobia, the actual phobia that is - in other words, are you a hoarder? And related to that, what are you afraid of, personally?
I think we're all collectors of things in one way or another. I'd like to think I'm not, but just looking at my computer screen and seeing all the files I have open... God, if I had 56,000 actual pieces of mail instead of 56,000 emails I'd have an entire room full of paper. Computers are deceptive that way, aren't they?
You also appear in front of the camera in Disposophobia - so did you write your character for yourself, what do you draw upon to bring the role to life, and how much of Anne Bobby will be in your character?
I didn't actually initially write the character for myself - I know lots of people say that, but it really is true - mostly because the character faces not one, but two of my greatest terrors and I REALLY didn't want to immerse myself in them. I still don't, frankly, and I dread one scene in particular. But I've known (co-star) Barbara Rosenblat a long time and have LONG been an admirer of her work - I've wanted to work with her forever, and the day of the first reading of the script the director had suggested a change in the story. I wanted to make the best case for what I'd written, so I decided to play the character for just that one night. Two things changed as a result - the ending - the director was right, after all - and my decision to play Pamela. I got on board.
Do talk about the rest of your cast for a bit, and why exactly these people?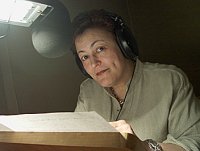 Barbara Rosenblat
I've already mentioned Barbara Rosenblat, but she really is one of the most awesome and interesting actresses I know. While most people know her as an audio book narrator (she's one one the best and most prolific in the business), I think that her role in Netflix's Orange Is The New Black is featuring her in a whole new way to a whole new audience. She's masterful, and I can't wait to play her daughter. She gets this character completely, and her comic timing is going to serve the script SO well...
The other castmember is one of the sweetest, funniest and most talented actors I know. Doug Shapiro is a godsend to this production, and will make that one terrible, horrifying scene for me that much easier to do.
Your director Jon Ecklund - what will he bring to the table?
I like when people reach across disciplines - I've done it myself most of my life. Directors make great actors (hello, Dr Decker!), writers make great directors, directors make great producers. In Jon's case we have a Yale School of Drama grad (whom I've loved watching on stage) coming at this with not only his vast directing experience but also as a co-producer - AND editor (Jon cut the video on the IndieGoGo page - http://www.indiegogo.com/projects/disposophobia-short-film/x/4447046 -, and I couldn't have been happier with the result!). He's proving to be an intuitive, smart, sensitive and calm presence during the process - things I don't have enough of in my life. His wife, Fiona Jones, and he have in a five short years earned a reputation as a serious go-to production company for short film and promotional projects. Their taste is impeccable, their experience vast. I was lucky to get them, and thrilled when they said yes to Disposophobia.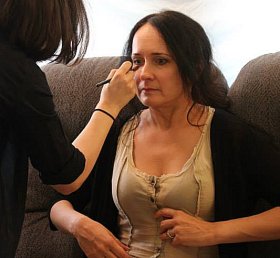 on the set of Agoraphobia
You have also been (in only an acting capability) in an earlier episode of In Fear of, Agoraphobia: Fear of Leaving the House. So how what can you tell us about that one, and how did you get involved with the series to begin with?
Facebook and timing! I was writing late at night (which is the only time I really get to focus), adapting a long-forgotten and suddenly very pertinent story into a script. When I write dialogue I like to clear my head between lines, so of course I was faffing around online... I popped in on my Facebook Public Page and there was this message from Scott W. Perry [Scott W. Perry interview - click here] asking if I'd consider looking at his series and considering a role. Now I'd already shot a great film - Corey Norman's The Hanover House - as a direct result of the same sort of happenstance, and so wrote back and asked him to send the script. Turned out he was online, so he sent it right away, we chatted that night, I read the (truly wonderful) script and within 24 hours, I was on board.
It's a great story in true Twilight Zone-tradition - three characters, one set, a journey that's a mystery that twists at the end in a way you never see coming... How could I say no? I was glad they let me suggest an actor for the other lead role - I've known and worked with Frank Vlastnik for years and he is phenomenal in the part - and love that Scott and Bob [Robert L. Brodmerkel interview - click here] have embraced the tone of the story the same way I did. I think we're even doing it in black and white!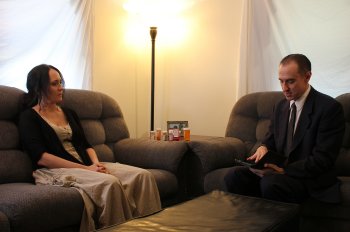 Agoraphobia
How did you ultimately end up writing and producing an episode of In Fear of?
The series SCREAMED Twilight Zone to me, and if you check out my IndieGoGo campaign - http://www.indiegogo.com/
projects/disposophobia-short-film/x/
4447046 - you'll truly understand what that means to me. The premise was so intriguing - I mean, come on... short films about phobias? Please! - I started thinking about writing one almost as soon as I said yes to acting in one. Then one very intense conversation with a fellow filmmaker on a subway platform about what we were afraid of, and hypothetical scenarios surrounding our phobias, pretty much terrified me and convinced me to address my fears. God knows, this film will be very real for me.
Any idea when and where your episode will be released onto the general public yet?
I think Scott is talking about January, but I'll be releasing the film in December - with an outtakes short and special introduction - to anyone who donates fifteen dollars to the IndieGoGo campaign http://www.indiegogo.com/projects/disposophobia-short-film/x/4447046. I figure it's our movie for a night at the movies; if you like serious psychological horror, you'll be up all night!
What got you into acting to begin with, what can you tell us about your training as an actress, and how would you describe yourself as an actress?
I think of myself as an 'Occupation: Actress'; I've been very fortunate in that I've been a working actor since I was fourteen years old and while I've also written books and plays I've never stopped acting. I've worked with the best in the business on Broadway, Off-Broadway, TV, Film, Games, Audio - Clive Barker, Tom Stoppard, Oliver Stone, Mike Nichols, Todd Solandz, Tom Cruise, Jeremy Irons... Mad About You, Bioshock, Beautiful Girls, Born On The Fourth of July - where do I start?!? I've worked everywhere, in every medium, and have grown from every experience - even now, I'm producing! You never stop growing... If you're VERY fortunate.
I think ALL of my readers would burn me on a stake if I didn't ask you about your experiences on Nightbreed - so please do talk about that one for a bit to keep me unburnt a little longer!
Well, we can't have that!
Nightbreed really changed my life - as an artist and as a person. As an artist - one of the few 'Naturals' - I spent time on set, while so many other actors were in makeup chairs. I hung out with the camera crew, the sound crew, the editors... and of course with Clive. It was an education not just in acting, but in filmmaking as a whole, that I was forever grateful for - especially now as I'm making a film of my own. It all comes back - amazing...
But equally, and probably more invaluable to me as the years pass, are the friendships I made during the filming - and the friendships that developed FROM those relationships. Case in point: I'm writing to you from my apartment in Brooklyn - a place I've lived in for eighteen years. I LOVE Brooklyn, but had really never spent time here until I met Chris Claremont and his wife Beth, who live nearby and whom I now consider among my closest friends. I never would have met THEM had Neil Gaiman not introduced us. I never would have met Neil - who I also consider one of my dearest friends (and who's in my IndieGoGo campaign video) -- had Clive not introduced US.
Friends are everything. Longtime friends - and what they inspire us to become - are what life, and art, are really about.
Hope that spares you from the stake.
Other films of yours you'd like to talk about?
I'm so excited about The Hanover House!
Oh MAN, so am I - it's a GORGEOUS film, a true modern gothic. Very Turn Of The Screw. Corey and Haley Norman have done something similar to what Clive did when it comes to filmmaking; they have a sort of repertory company in Maine, and they all get together and crank out amazing films like The Hanover House. I always say that Nightbreed was the closest film ever came to feeling like theater for me; I think Corey has the makings of doing that as well, and will be following his career very closely. He really is someone to watch.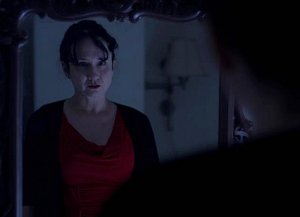 The Hanover House
You've also done your fair share of theatre - so what can you tell us about your stage career, and how does performing on stage compare to acting in front of a camera?
If a theater actor says they prefer film to stage, they're either lying or doing one or the other thing for a reason other than making art. Which happens, and happens to us all. But trust me - there is nothing as fulfilling or challenging for an actor as the immediate contact, spontaneity, intensity, hilarity, heartbreak and triumph that is telling a story, beginning to end, in front of people who have assembled for that purpose.
What got you into writing eventually, and do talk about Anne Bobby, the writer, for a bit?
I used to think I didn't really write anything until I was nineteen, when I wrote a script as a cathartic process after the unexpected and sudden death of my father. But just a few days ago I was at my Mom's house in New Jersey and she showed me this poem I wrote when I'm guessing now I was six. This spare little four-line piece full of tristesse and real sophistication (If I do say so myself!)... I think it was taking the time to finally go to college - you know, I started acting professionally when I'd only just turned fourteen. I spent almost eight years saying other people's words really really well, and had no faith in my OWN words, my OWN thoughts. Serious years at NYU changed that for me. One of the most empowering things I ever did. The other was moving to Brooklyn.
Writers, actresses, filmmakers, whatever else who inspire you?
I am absolutely obsessed at the moment with Naseeruddin Shah! He's India's answer to Olivier, with a fair amount of Sean Connery thrown in. He's really only known in the West as Nemo in The League Of Extraordinary Gentlemen, but if you really want to see a genius at work he's got this rom-com streaming on Netflix called Today's Special, and he steals every scene he's in. Extraordinary actor - he makes a lifetime of honing his craft so sexily effortless I may have to watch it again. Soon as I'm done here.
Any future projects beyond Disposophobia you'd like to share?
When In Fear of appeared I was nearly finished with episode six of a seven-part miniseries I was writing, that now glares at me on my desktop - a resentful and impatient little icon, the bastard. It's based on the first (unpublished) manuscript I ever wrote and which I recently learned at least one publisher regrets not having acquired. It's oddly an incredibly timely piece right now, and as soon as Disposophobia is truly in the can, I want to make it all up to my little miniseries for the four months I'll have been away.
Your favourite movies?
Well of course some movies land on the list for a bit and then wander, but I'd say my current faves?
A Wednesday (mostly because it's another Naseeruddin Shah vehicle, I admit - I REALLY AM obsessed!)
The Tenant (Polanski)
I Claudius (TV series - can't help it, nor for that matter can I help:)
Dr. Strangelove
The Insider
The Lion In Winter
The Shawshank Redemption
Gosford Park
Howard's End
... and of course, films you really deplore?

Feeling lucky ?
Want to
search
any of my partnershops yourself
for more, better results ?

The links below
will take you
just there!!!

Find Anne Bobby
at the amazons ...

amazon.com

amazon.co.uk

amazon.de
Looking for imports ?
Find Anne Bobby here ...
Something naughty ?
(Must be over 18 to go there !)

Gladiator (as a Classics major, the historical revisionism makes me absolutely ill)
Moulin Rouge (ditto)
The Vanishing (which is so fucking fucking brilliant it terrifies me to my core just thinking about it!!!)
Zentropa (ditto)
Your/your movie's website, Facebook, IndieGoGo, whatever else?
Our Movie - For The Price Of A Movie Ticket...
Disposophobia is coming - Have You Seen Our IndieGoGo Campaign?
Watch it HERE: https://vimeo.com/72875765
Donate HERE: http://www.indiegogo.com/projects/disposophobia-short-film/x/4447046
Anything else you are dying to mention and I have merely forgotten to ask?
Stop drinking bottled water. Start eating locally sourced foods. Adopt an animal - do something really awesome and adopt an OLD animal. This is a rental - it all goes back to the shop. Treat the world and everything it with honor.
(And see my movie!)
Loved this interview - thanks so much!
Thanks for the interview!