Your movie The Gruesome Death of Tommy Pistol - in a few words, what is it about?
It's about a man who wants nothing more in life then to be famous. But he looses everything and sadly realizes what he did have only after it's too late.
As weird as this may sound given the outrageousness of The Gruesome Death of Tommy Pistol's plot: How much of the film was based on your own personal experiences?
True story. I actually fell a sleep with a penis pump on. I woke up with a blood clot on the head of my penis. So I popped it with a sewing needle. Had a shot of JD and went back to bed. And hoped for the best in the morning.
Other sources of inspiration when writing The Gruesome Death of Tommy Pistol?
When I started writing the screen play I came across Tokyo Gore Police on Netflix. After that movie I swore to myself that if I wasn't going to do something as crazy as that movie I won't do anything at all. I loved that movie, huge inspiration for me.
You just have to talk about your co-writer, co-producer, co-star and wife Karen Sartorio (formerly Gia Paloma) for a bit, and what was your collaboration like? And how did you two first meet anyways?
She's my wife, I'm a lucky man. We first met in Vegas at a party. Funny thing is we never approached each other. We just looked at each other from across the room and smiled. A year later we met again and she just happened to be friends with my boss.
A lot of the writing went like this, Aramis: "So I'm then going to turn a chair over and let it go up my ass because I'm nervous." - Karen: "Yuck why, that's really gay." - I couldn't agree more. It's a keeper.
How did the movie come into being in the first place - and concerning the episodic structure of your film, were its seperate segments all initially intended for The Gruesome Death of Tommy Pistol or did some of them start life as independent shorts?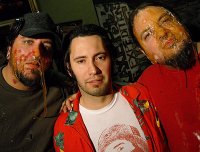 Attack of the Staph Spider
I made a short called Attack of the Staph Spider. It played at the 2009 Backseat Film Festival and won Best Disgusting Movie Award. Karen said why stop with a short, keep it going. The movie took three years to shoot. It was done in segments. I didn't really have a choice. But having that time to go back and fourth really made me realize the message I wanted make.
How would you describe your directorial approach to your film?
I knew my limitation's and made the best of everything I did and appreciated that I was actually making a movie. I was really fucking happy! I had amazing talent and crew that followed me every step of the way.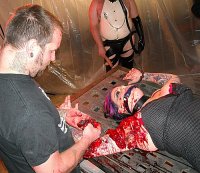 Tom Devlin prepares Mia Tyler
I think to describe The Gruesome Death of Tommy Pistol's humour as over-the-top would be a bit of an understatement.So how would you describe your film's brand of humour?
Vomit inducing humor.
The Gruesome Death of Tommy Pistol doesn't exactly shy away from excessive violence and gore. What can you tell us about your movie's special effects, and was there ever a line you refused to cross?
Tom Devlin of 1313FX gave me the gore I wanted and made it all work better than I could have imagined with the budget I could afford. There was only one scene I didn't get to do what I wanted, only because the actress needed to leave and gave me an hour window to wrap everything up with her. The scene still worked beautifully. I really got to do everything I wanted except that one gag. I'll just have to use it in another movie.
A few words about Aramis Sartorio, the actor?
He has no shame, tons of emotion and will be the first to make an ass of himself if it makes you smile.
What can you tell us about the rest of your cast and crew, and about the on-set atmosphere when filming The Gruesome Death of Tommy Pistol?
Everybody fucking rocked. Nobody ever complained. It was jokes all day and night long as we got work done. A lot of reviews mention how much fun it must have been on set. They're right, it was.
What can you tell us about audience and critical reception of The Gruesome Death of Tommy Pistol so far?
They love it and respect it. Even the sites that trash-talk about how it offended them still say you'll never see anything like it. To me that's a compliment.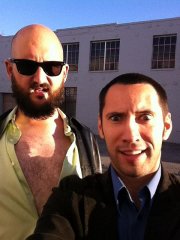 Caleb Emerson, Aramis Sartorio
I have written about The Gruesome Death of Tommy Pistol it "might not be a perfect movie ... but exactly because of that, it's the perfect party movie! It probably should be sold with beer attached to it." A comment you can at all live with?
Your comment confirmed our idea to add a drinking game in the movie. Thanks!
You have recently also starred in Frankie in Blunderland by The Gruesome Death of Tommy Pistol-co star Caleb Emerson, which shares quite a bit of cast and crew with your movie[Caleb Emerson interview - click here]. So what can you tell us about that one?
Caleb Emerson edited my movie and I owe him the world. Amazing man and friend. When he was going to start Frankie in Blunderland, he asked me if I wanted to star in it. I said yes instantly. He shot Frankie in Blunderland in between shooting mine. So it worked out perfect.
Any future projects you'd like to talk about?
I'm writing a spin-off of the character Skanky the movie. But it's too early for the other projects to be announced right now.
Of course, to many people Aramis Sartorio is better known as pornstar Tommy Pistol. So how did you get into porn in the first place, your career highlights ... and how come your film does kill off your pornstar alter ego?
A friend introduced me to Joanna Angel, she gave me my first break. I loved doing the Repenatrator. This past Halloween we did a live show in Chicago. Was very happy about that.
All during your porn career, you have been in a disproportionally high number of porn parodies of horror movies. Any explanation for this, and how much fun are they to make, actually? And is horror a genre you can at all relate to?
I'm around the right friends who make these insane movie. Always a ton of fun. We all love horror movies. This year we should begin finally shooting Evil Head (Evil Dead-parody).
Even before you entered porn, you did standup comedy. What can you tell us about that aspect of your career, and does it at all influence your work as an actor and screenwriter?
I did standup only a handful of times. But I did sketch comedy for 11 years with the troop called Cheese Theater. Just about everything I learned was from doing that. The get up and go attitude was exactly how I learned. My cofindence grew from doing that. If it wasn't for that period in my life I'm pretty sure I wouldn't have the skills or be where I am today.
Comedians, actors, filmmakers, even pornstars who inspire you?

Feeling lucky ?
Want to
search
any of my partnershops yourself
for more, better results ?

The links below
will take you
just there!!!

Find Aramis Sartorio
at the amazons ...

amazon.com

amazon.co.uk

amazon.de
Looking for imports ?
Find Aramis Sartorio here ...
Something naughty ?
(Must be over 18 to go there !)

I love the Marx Brothers as comedians, Jean Claude Van Damme as an actor, Dan O'Bannon as a director and Rocco Siffredi.
Your favourite movies?
Return of the Living Dead, Jaws, The Shining.
... and of course, films you really deplore?
Dream a Little Dream 2! What a let down!
Your website, Facebook, whatever else?
http://www.facebook.com/#!/aramis.sartorio
http://www.facebook.com/#!/pages/The-Gruesome-Death-of-Tommy-Pistol/146900325346114
https://twitter.com/#!/TommyPistol
Anything else you are dying to mention and I have merely forgotten to ask?
18 mind bending, gut stabbing, salad tossing original tracks from the Rapping Russian included when you buy The Gruesome Death of Tommy Pistol this Tuesday 3/27/12!
Promotional code, type in TOMMYPISTOL (in all caps) and get $6 off already discounted price!!!
http://www.shop.breakingglasspictures.com/The-Gruesome-Death-of-Tommy-Pistol-VCF310.htm
Thanks for the interview!