Your film Filth to Ashes, Flesh to Dust - in a few words, what is it about?
Filth to Ashes, Flesh to Dust: It's a classic, old school slasher film, with some present day sensibilites. Yes there are teenagers being somewhere they shouldn't be, doing things they shouldn't be doing, lol. What sets it apart from other slashers is the villian, PURGE. His motivation is scary, because there are people in the real world who think just like he does.
Your inspirations for writing Filth to Ashes, Flesh to Dust?
Wes Craven. John Carpenter. They were the inspiration.
Somehow, I can't help but notice similarities between your film's killer Purge and Anders Behring Breivik of the Oslo twin attacks (which of course only happened a couple of years after your film was finished), at least in terms of motives. Would you like to comment on that?
Yes! I'm glad you got that. There are so many people who not only think like Purge, but are now acting on those hateful urges. Hopefully the viewer looks past the slasher of the film and gets that message.
Filth to Ashes, Flesh to Dust - what does the title mean and how does it relate to the story?
It's simple. When we die, we all become ash and dust. And since Purge sees imperfect people as Filth, hence his motto: "Filth to ashes, flesh to dust".
What can you tell us the man who plays Purge, Nicholas J.Leinbach, and why was he chosen for a role?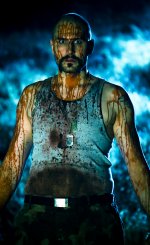 Nicholas J.Leinbach
Well we wanted Purge to have an imposing physical prescence, as well as the acting chops. Several big guys came in and auditioned. But Nick was one who nailed it. Especially since Purge doesn't speak much, Nicks mannerisms and expressions carried it.
You also play a lead role in Filth to Ashes, Flesh to Dust. What can you tell us about your character, and have you written him with yourself in mind or why have you chosen to play exactly this character?
I put a lot of my own personal experiences into my writing. I knew the character of Eric, his loneliness. I figured I'd give it a shot. And yes, I've done a few films and television shows in the past.
You have written Filth to Ashes, Flesh to Dust, executive produced it and acted in it. Did you never consider directing it as well?
I only do something if I have a passion for it. I love writing, and enjoy producing and acting. I've never had a passion for directing. But you never know...
What can you tell us about your director Paul Morrell, and what was your collaboration like?
Paul was great to work with. he brought the script to life in ways that I as a writer couldn't. And we didn't fight, lol. Producers and Directors sometimes butt heads, luckily there wasn't much of that.
A few words about the rest of your cast and crew?
The crew gave 110%. I couldn't have asked for a better crew. They say to be successful, surround yourself with successful people. It's so true. And the actors as well gave their all.
Essentially, Filth to Ashes, Flesh to Dust is a slasher movie. Are you especially fond of the genre, and your genre favourites?
Of course! I grew up on Nightmare On Elm St., Friday the 13th, Halloween. I think slasher has not been so successful lately because of the lack of new ideas. But it will be back.
Among film genres, the slasher is especially prone to sequels. Ever considered a follow-up to Filth to Ashes, Flesh to Dust?
Lol. Well you have seen the film and knows how it ends. I won't spoil it for the readers, but if there is another chapter in the Filth to Ashes, Flesh to Dust-saga, it won't be what you expect.
What got you into filmmaking in the first place, and what can you tell us about your work so far?
I started off working in television production. Filth to Ashes, Flesh to Dust is my first film but I've worked on some television shows you may have heard of. The Office, Ugly Betty and The Tudors to name a few. I wasn't the mastermind behind those shows, but part of the production team.
What made you decide to take the jump and become essentially the showrunner on Filth to Ashes, Flesh to Dust?
It's hard to get other people to believe in your ideas. You have to make it happen for yourself. Becoming a producer was a neccesary step, if I was ever going to share my ideas.
Between writing, acting and executive producing - which do you enjoy the most, what could you do without?
Well I've been writing since I was seven, can't let that go. The producing can be a bit stressful, lol. And I enjoy the acting. Honestly, I've learned to juggle all three, so I'd keep them all.
Any future projects you'd like to talk about?
I'm planning to remake a film that came out ten years ago. It's a werewolf film. And I've written a script for a video game. Can' t say which game, but it's one of the biggest. That's an action film. I don't want to just do horror.
Actors and filmmakers who inspire you?

Feeling lucky ?
Want to
search
any of my partnershops yourself
for more, better results ?

The links below
will take you
just there!!!

Find Armont Casale
at the amazons ...

amazon.com

amazon.co.uk

amazon.de
Looking for imports ?
Find Armont Casale here ...
Something naughty ?
(Must be over 18 to go there !)

My taste ranges from mainstream to arthouse. I like Tom Hardy, great actor. James Cameron is a genius.
Your favourite movies?
All time favorite movie - The Crow. It's got action, love story, great directing. Folllow ups: Terminator 2 and The Notebook, lol. most guys won't admit that.
... and of course, films you really deplore?
umm, I would say films that don't even try. Even if the story is conventional, at least try to put a little something new into the mix.
Your website, Facebook, whatever else?
I can be reached at jeoaproductions@gmail.com, if anyone wants to talk to me about anything.
Anything else you are dying to mention and I have merely forgotten to ask?
I just want to say to your readers, if there's something they want in life, go for it. It sounds cheesy, but it's true. there's nothing worse than not trying, and wondering what if for the rest of your life.
Thanks for the interview!