Your new movie The Thin Man - in a few words, what is it about?
It's about 3 friends that have been making videos together for years, they've been looking for their viral video and a project that would get them noticed, but they have failed time and time again and these friends recently have been under a lot of stress and have been dealing with difficult life situations and in the movie these friends haven't made a video together in about a year because my character Bayden has dealt with tons of issues with health etc - it's derailed their projects and they are basically just looking for their big comeback video but hoping that after years of trying they'll finally go viral and be noticed for their efforts, so they decide they want to chase after a dark and sinister urban legend called The Thin Man and either prove it exists or prove it's a fake... and of course the result speaks for itself.
Over the years, you have returned to the character of the Thin Man time and again - what do you find so interesting about him, and is he based on an actual urban legend, actually, or made up out of thin air?
Back in 2013 a friend of mine named John Von Shelton had started a anthology series called Creep Tales and he had asked me to shoot a short film for this new anthology for him, the theme was Halloween, and I was trying to think of a story, so Dylan and I sat down and came up with the origin story of The Thin Man, I really wanted to do a found footage short, but not only did I want to do a found footage short film, I also really wanted to come up with my own cool urban legend, and after 2 hours of chatting with my brother one evening we had come up with a rough idea of how our short film would go and we had nailed the basic origin story of The Thin Man, and the legend was created and ever since creating it I just have been attracted to the story of The Thin Man and the whole legend of it all, I've loved the story ever since I came up with it and I feel personally that it deserves to be seen on a much wider scale audience and that this could be a modern horror icon.
What were your sources of inspiration when writing The Thin Man, and to what extent was your movie actually based on a script, and how much was improvised?
We wrote a basic shot list, a scene selection so to speak and we basically ad libbed everything, all the lines were pretty much improvised, we had a solid idea of what we wanted for everything but it was all in the mind, not on the paper, spur of the moment type stuff. And I think that it being improvised really helped with it feeling more natural and real and because everyone knew each other so well it just worked a treat.
Why did you choose the found footage approach for The Thin Man?
Well ever since we first started The Thin Man it started as a found footage and the sequel short film was a found footage flick so I wanted to stay true to the roots of it being a found footage flick and I just always had a found footage vision for this particular franchise... I know most people aren't very fond of this particular way of filmmaking, but it was just my own personal creative vision really. If I was ever going to do it non-found footage I'd definitely want to give the origin story of The Thin Man a go and tell that story in a non-found footage film, who knows, I might even want to do a movie on the legend itself non-found footage style, just depends, but for now it's found footage through and through.
Do talk about your co-director, your brother Dylan, and how did you share directorial duties?
We call each other "The Two Man Crew", we've always worked together basically as a 2 man crew, so that means with the directorial stuff... we don't really make a decision or nothing goes ahead on our movie unless we both agree with each other's ideas, so with direction, we don't do something unless we both agree on if that particular thing is right for our movie so I'd say things are pretty 50/50 with both of us when it comes to direction and such. I am more active on social media and such and I'd say I'm publicised on media as more of the visually seen and heard director, Dylan wasn't really and hasn't really been active in speaking out heaps as a director and such, he's kind of like that special force behind closed doors, he's like God, you don't see him much but you hear a bit about him, I'm like Jesus, God in the flesh, you see him and hear a lot about him running around and being amongst the people etc, and that takes me back to the direction and those issues, we are very much like one mind and one body of ideas, in a directorial way, people say Jesus and God and the holy spirit are like one, being all rolled into one, it's kind of like that with me and my brother, we are like one big creative force, no one gets Dylan's vision on this movie but through me and no one gets my vision for this movie unless Dylan approves of it, so we both talk things out and yeah, we share everything and okay everything together and look at it in one big picture and think okay, is this going to benefit our movie? Yes? Okay keep it, if not get rid of it.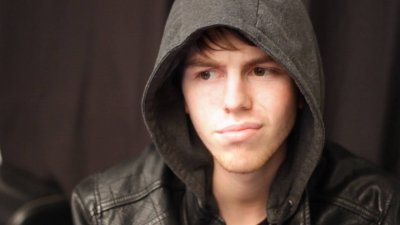 What can you tell us about the character you play in The Thin Man, and to what extent was he based on yourself?
I have had issues with health, so that part is correct, the other part of me being a toad kicking women berating drunken idiot is totally not true, we find that those negative aspects of our characters were for a comedic, silly and original tone to give our movie something different, and we just wanted to have the first half of the movie feel real and have a fun and energetic feeling, Dylan, myself and Jordan Stopforth, we know each other well and have for years so we had the chemistry nailed down perfectly and it felt so natural watching us hang out and act like idiots because we just easily could.
What can you tell us about the rest of your cast, and why exactly these people?
Keearna Lee Westcottwas a friend I knew since I was a younger boy, she was actually the real life ex of Jordan, so not only in the movie were the exes, they were also exes in real life, AWKWARD!!! (laughs) It was actually rather weird doing that Skype call scene because before we did that scene the actual last time they had ever spoken with each other is after they had broken up and Jordan was drunk and called her on Skype and was carrying on like a douchebag, very much so like in the movie... so it was really funny to get them to do that scene together because it was like a revisiting of their final Skype call they had together in real life. But it's funny because everyone involved in this was interested in acting and film etc and we all knew each other well and I wanted the realtionships to feel very realistic and not feel fake or forced, that's why there are a lot of truths thrown into a mix of falses with this movie, because if there is something I hate as a found footage fan, it's gotta be fake and horrible forced acting chemistry that just doesn't work for a movie at all. That's one thing I cannot stand in found footage films.
Do talk about the shoot as such, and the on-set atmosphere!
It was fairly easy going, everyone had fun, we all very much enjoyed making the movie and loved doing it together, it was a very pleasant experience and that was what we needed for this movie for it to be a success and be somewhat decent because when I had made The Victim, which is the title of my first ever feature film which never saw the light of day for many reasons, the shoots were long, hard, and everybody had time frames when they could and couldn't film, of course that kind of thing is always going to be an issue... time itself and shooting hours etc, but with this movie it wasn't as such a big issue as it was in the past, in the past things would have to be rushed sometimes due to everybody's limits and that is never ever good for a movie.
A few words about audience and critical reception of your film so far?
So far everybody has said they have enjoyed it and that it is a very well made creepy flick, and that is what I set out to make, I've not heard any negative feedback of people saying it sucked or anything like that, so it seems we did a decent job, I'm just so thankful to have all the supportive and nice people that have been behind us and supporting our movie. So thanks to the fans!
Any future projects you'd like to share?
Well, I want to make sequels to The Thin Man, I have plans to make it a franchise, I also look to start a franchise of Parasite Pete and that is a franchise of a killer that gets thrown into these certain situations as each film progresses the situations become more outrageous and insane and hilarious, it's a fun idea for a franchise we also want it to be the longest running film franchise of all time, just for the sake of having that title but we'll see how all that goes as we approach that. We also want to make The Doll feature film version, we have plenty of feature film ideas and stuff and we really just want to keep on making movies because that is what we love and Parasite Pete will hopefully be a really cool and very fun franchise that we can start and that fans of comedy, horror and 80s action flicks can really, really enjoy.
What got you into filmmaking to begin with, and did you receive any formal education on the subject?
Well, when I heard of Stephen King's stories as a young boy, I wanted to be a writer and be like him and that is where my creative mind began and then I also at the same time wanted to become an actor and as the years went by I still had creative passions like that but when I was about 14 I started having desires to make my own films but couldn't because I did not have my own film gear, I did my first short film on a webcam when I was about 13 or 14, it was pretty terrible though, did a few other shorts after that but then after that I moved to a town called Albany and met other young people that were interested in the same thing and we started doing films together and we basically progressed as the years went by and then I bought my own gear and just really improved on my own and these other certain friends became less interested in the film stuff so then I started recruiting certain other friends that had a bit of curiosity about being in my short films and making movies with me and so I just started doing films with new friends and trained them like I had basically learnt with hanging out with my other filmmaking buddies from when I was younger so I have passed on the torch to some new friends and shown them what I have learnt by hanging out with my buddies and making movies with them and passing it on to some other friends of mine now.
What can you tell us about your filmwork prior to The Thin Man?
Basically made 2 other feature films, and a load! and I mean a huge LOAD of short films, hundreds of shorts and webseries, I have also done some things on stage, I have done a few musicals like Jesus Christ Superstar and Hansel and Gretel, Oliver Twist, and a few other things.
How would you describe yourself as a director?
I'd say I'm very visual, but I am also very audio as well, with horror itself I like to focus on things like actual terror, I don't like cheap ways of achieving what could be recieved to the public as cheap or as common tools of filmmaking and common ways of achieveing certain things like terror and such, I don't like relying on jump scares at all, I like to rely more on sound and visuals to build up tension and draw the audience in, I also like to allow acting to reel in and hook an audience and keep their attention, acting is very powerful, I find it is all in the performance and the power of suggestion and tension building using certain visual camera techniques and also the power that sound effects and sound design can have can also be very useful in creating a certain atmosphere and acting is a big key factor, I must repeat that so I'd say I like to focus on those things the most and being a filmmaker that would be my style I could say.
Filmmakers who inspire you?
I think a lot of filmmakers are very inspiring and each one has a unique mind filled with lots of different things to offer, we live in a big world with tons of people in it with even bigger minds, people such as Stanley Kubrick, Alfred Hitchcock, Stephen Spielberg, Quentin Tarantino, Martin Scorsese. Also there are a few YouTuber filmmakers, here's some names, Sawyer Hartman, Bloodycuts Films, David Sandberg, the list goes on, there are many filmmakers that inspire me.
Your favourite movies?
I think every genre has something special to offer, and of course they do, but horror, comedies, and animation would have to be my three top genres that I love. I love an animation film called Coraline, it's really great, has those beautiful dark visual elements and it's also quite colorful and the animation in that is so brilliant, I also love the horrifying story of the movie. I also love the Stephen King movie versions of his stories, Cat's Eye, It, Carrie, Riding the Bullet, pretty much every single movie adapted version of his novels that I've seen has been amazing and great fun for me. I love a good comedy, Planes Trains and Automobiles is great, Good Morning Vietnam, Mrs Doubtfire, Jumanji, World's Greatest Dad, The Jungle Book, Frozen, Brave, Inside Out, Terminator 1 and 2, Die Hard, Rambo, Predator, so many movies that are my favourites.
... and of course, films you really deplore?
Dard Divorce, The Hunted, 7500, Jaws.
Your/your movies website, Facebook, whatever else?

Feeling lucky ?
Want to
search
any of my partnershops yourself
for more, better results ?

The links below
will take you
just there!!!

Find Bayden Ray Redshaw
at the amazons ...

amazon.com

amazon.co.uk

amazon.de
Looking for imports ?
Find Bayden Ray Redshaw here ...
Something naughty ?
(Must be over 18 to go there !)

The Thin Man Facebook page: https://www.facebook.com/pages/The-Thin-Man-2015/1431291837100424
Bayden Ray Redshaw's Facebook page: https://www.facebook.com/pages/Bayden-Ray-Redshaw/221586424537289
Parasite Pete Facebook page: https://www.facebook.com/PedoPeteInTheParkAfterDark
Anything else you're dying to mention and I have merely forgotten to ask?
I'd like to thank you for the interview and thank everyone for being so supportive of not only just my films but of myself too, I've really had some tough years with health issues and recently I have had some issues with the actual public health system in Australia also, and everyone has been so supportive in this time of difficulty, I look forward to bringing you all more films soon and starting a career that hopefully will be a very memorable one! I look forward to starting Parasite Pete and the many other films that I want to make.
Thanks for the interview!
My pleasure, anytime!