Your show Ray Bradbury Live (forever) - in a few words, what is it about?
It's a new solo stage portrayal of the great Ray Bradbury, authorized by his estate.
The show is in the grand tradition of solo stage pieces like Hal Holbrook's Mark Twain Tonight (but with dinosaurs and Mars instead of steamboats and the Mississippi). I'll portray Ray, with rear-screen projections by Christopher Cooksey with Chris Young and Val Mayerik, and an original score by composer Brian Lee. We start touring this spring.
Basic question, why Ray Bradbury, what do you find so fascinating about this writer, and what does he mean to you, personally?
His compassion for humanity, in all our foolishness, is what draws me. Bradbury's writing has the same spirit I hear in the music of Mozart, and read in the words of Jesus: a sense that despite our failings, we can make it, perhaps even beyond the stars. Ray said "I'm not an optimist; I'm an optimal behaviorist." That's the Ray Bradbury I love. My only hope is to share that love onstage.
What were your sources of inspiration when writing Ray Bradbury Live (forever), and to what extent did Bradbury's own writings influence the play? And how much research did you do to get things right?
Garrison Keillor once said of Mark Twain: "He lived a remarkable life but, in the end, his own writing is more interesting than his biography." That's true of Bradbury, too. I was determined to create a show in which Ray Bradbury's prose is the only star. It took 3 years and many drafts to get a script I felt comfortable submitting to his estate.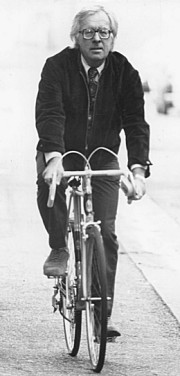 Ray Bradbury
Ray Bradbury Live (forever) is fully approved by the Ray Bradbury Estate - so how easy or hard was it to get that approval?
The show is performed with permission of Ray Bradbury Literary Works (his estate) and Don Congdon Associates, Inc. (his literary agent) with family script approval, so the approval process was thorough. Several people in what I call "Ray World" (of which I'm not a part) were kind enough to help me navigate the challenge of selecting 90 minutes
of material from an author who wrote 600 short stories and 27 novels: Los Angeles Bradbury friends John King Tarpinian and David Clow put me in touch with the family, who approved my initial approach to Ray's literary agency. Dr. Jonathan Eller, director of the Center For Ray Bradbury Studies at IUPUI and the author of two Bradbury biographies, was a patient script advisor and helped me access the Center's archives.
Dr. Eller then vetted the final script, along with Bradbury scholar Dr. Phil Nichols of the University of Wolverhampton in the UK, before I sent it to the estate's representatives. On their final approval, licensing was cleared for the selections from Ray's writings I wanted to include, and a final performance agreement was issued. It was step-by-step, but as Ray said "By doing things, things get done."
Playing the lead in Ray Bradbury Live (forever) - what do you draw upon to bring him to life, and how much Bill Oberst jr can we find in your rendition of Ray Bradbury?
Ray Bradbury was so unique a figure that no one can play him. Only Ray could be Ray. But I can suggest him in appearance and speech, and let his words do the rest. If I faithfully convey his words, his spirit will be there. It's a tribute show. I'm just a fan.
For future showings of your play, you'll be wearing a full facial mask with the likeness of Ray Bradbury - so do talk about that mask, its creation process and its creator Jeff Farley for a bit!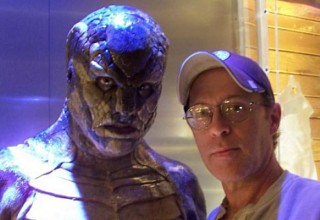 Jeff Farley and one of his Babylon 5 creations
Jeff Farley is a Hollywood vet, an Emmy nominee for Babylon 5, and I'm fortunate that he wanted to help - I don't resemble Ray at all (there are so many actors better suited to portray him) but I had a heart for doing it, and Jeff responded to that passion. He first did a full prosthetic makeup as an older Ray. It worked beautifully, but was a complex makeup to recreate again and again as I tour, so we've scaled back to portray a younger Bradbury requiring less coverage: a suggestion rather than a duplication. Jeff is working on this final makeup right now, and it will debut when the show has its first full performance in March at South Pasadena Public Library in South Pasadena, CA.
Ray Bradbury Live (forever) has already hit the stage on a few occasions - so what can you tell us about the performances so far, and audience and critical reception?
The Off-Broadway reading was directed by Theatre Row's Michael Joseph Ormond, whose influence brought Broadway actors Steven Hauck and Zoe Watkins onboard as narrator and Maggie Bradbury, respectively. It was a dream and it came off like a dream. Critical reception was strong (I attribute this to the professionalism of that director and that cast, and to the words of Ray Bradbury, not to myself). It proved that the material worked for a New York audience, which was important to know before I started touring it. Maybe we'll end up back in NYC for a full performance run someday.
You are planning to take Ray Bradbury Live (forever) in 2019 - any details about that you can give away?
This is a labor of love, so there's not a staff involved – I'm booking the show myself into venues around the country and eventually, around the world. Anyone interested can contact me at billoberstjr@gmail.com. It's a very personal project and, at least for now, I want to keep my hand on where it goes to properly honor Ray's legacy.
Any future projects beyond Ray Bradbury Live (forever) you'd like to share?
Rob Zombie was kind enough to have me on his Three From Hell, which is due in theaters this year. An artistic and mystical horror film of which I'm quite proud, Adrian Corona's Dis, releases this month, and a dream film project, Mark Savage's Circus Of Dread, set in a dark carnival, is close to production. I have 7 shoots lined up so far for this year, besides getting the Bradbury show tour up and running. I like to work.
Your/your show's website, Facebook, whatever else?

Feeling lucky ?
Want to
search
any of my partnershops yourself
for more, better results ?

The links below
will take you
just there!!!


My official site is https://www.billoberst.com and my social links are all there. My IMDb is https://www.imdb.com/name/nm2454994. Thanks for asking.
Anything else you're dying to mention and I have merely forgotten to ask?
Oh gosh, no. Actors talk too much as it is, Mike.
Thanks for the interview!
Thank YOU and your readers, Mike. I appreciate all you do for indie projects, and I wish you well in your own creative endeavors, too!