Your new movie The Terrible Two - in a few words, what is it about?
The Terrible Two is about Rose and Albert Poe. A married couple approaching the one-year anniversary of the death of their 2 girls, Addi and Jade. The day the girls died also happened to be their birthday. As the day comes and goes Rose continues to struggle to come to grips with the loss of her only 2 daughters. She begins hearing the girls voices throughout the house, which leads her to the attic where she discovers an old manuscript that belonged to the previous owner of the house. After reading the book and doing a little research on the house secrets are revealed that something much more sinister is happening with the house and the deaths of Addi and Jade. Soon Albert and Rose become prisoners in their own house to the same little girls they gave life to.
What were your inspirations for writing The Terrible Two?
My wife and I bought a house about a year or so ago. The house was big and long and the first thing I noticed was how much room there was and as a filmmaker automatically I began to think it would be ideal to shoot a movie in the house because of the space. My wife wasnít as enthused as I was, haha. She didnít believe that I would actually do it until I kicked her and our 3 girls out for 2 weeks and we filmed the entire movie in the house the first 2 weeks of December 2015. Well I didnít kick them out, lol, but sheís been so supportive and understanding to allow me and a crew to do what we did in the houseÖ especially 2 weeks before Christmas. Now we cannot show our girls the trailer or the movie until we sell the house, haha.
With your movie dealing with the paranormal - your personal thoughts on the subject, and to what extent are they mirrored in The Terrible Two?
Iím not a big believer in the paranormal. To be honest I donít even really give it much thought. So Iím not saying that the paranormal or ghosts donít exist, itís just not something I think about often. I just want to be able to tell a good story and evoke some fearful emotions in people if we execute the movie properly.
A few words about your movie's approach to horror (as in suspense vs sudden shocks, atmosphere vs all-out gore and the like)?
Iím not a big blood and gore guy, thereís nothing wrong with it but itís just not the approach I want to take as a filmmaker. Iím more about the story as I said earlier, and I think a good story trumps blood and gore any day of the week. The Terrible Two is not so much sudden shock scares as it is going to be more uncomfortable scares and Ďdid that just happen, or did I just hear what I thought I heard?í scares. I want my films to be smart, hopefully, and again hope first and foremost that I can tell a good story that keeps the audience engaged throughout.
What can you tell us about your movie's look and feel?
Creepy and unsettling. The subject matter, in the beginning of the film is heartbreaking touching on the loss of a child and I hope that we can evoke some sorrowful emotions in the audience. I want people to feel sorry for the PoesÖ well until Rose goes a little nuts and secrets are revealed about Albert that he didnít even know happened.
Do talk about your key cast, and why exactly these people?
David Reid plays Albert Poe and he did a good job of playing the dad who is still mournful but is ready to move forward in life and stop looking back. Cari Moskow played Rose and she did a phenomenal job with that character. That role had such a whirlwind of emotions and she was able to bring a great performance in every scene of the film. David had been on the project for months ahead of time, but Cari was a late add and they both did a great job.
What can you tell us about the shoot as such, and the on-set atmosphere?
We shot this movie in 9 and a half days - which is insane. No one believed me when I said it could be done in 10 days but we moved like a well-oiled machine. Of course we had a few hiccups on set, every production does, but it was such a pleasurable experience to be a part of. Our lighting guys were amazing and had a scene lit most times before we ever had the first shot set up and were done with rehearsals. Despite long days we tried our hardest to keep the morale of the cast and crew high on set, and I feel like we did a good job in accomplishing that.
The $64-question of course, when and where will The Terrible Two be released onto the general public?
Thatís a good question. As you know about anyone with a camera and editing software can make a movie these days so the market is over-saturated with films. So what do you do to distinguish your movie? Iím still trying to figure that out. The film is about 90% edited and is looking really good. I know weíve made a good film and Iím weighing my options right now. Iíve got some leads and a plan. The last big movie I did, The Jailhouse, played on the Chiller Network, had a limited theatrical release and was sold around the world, but Iím hoping for bigger and better things with this film because I feel weíve made a better movie. The distribution for independent films is so tricky and there are a lot of shady distribution companies out there that will take advantage of unknowing filmmakers who pour their heart and soul into a film. The Terrible Two will be out soon though, I donít like sitting on projects. Iíve got a plan, just need to execute it, and donít like talking about it until all the pieces have come together.
Any future projects you'd like to share?
I canít talk about specifics but Iíve got a couple of things in the works. Iím very blessed and if the good Lord allows me to keep breathing and more importantly keep finding financing for films then Iím gonna give 110% in every project that I take on.
What got you into filmmaking in the first place, and did you receive any formal training on the subject?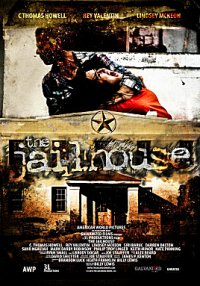 When I was 20 I was really trying to figure out what I was going to do with my life. Growing up it was all about sports and trying to be cool, but I never grasped the concept of the real world until I was thrown into it, haha. Something just hit me around that time to pursue this profession. Iíve never really known the path I was gonna take but Iíve put a lot of trust in God to guide me and lead me and heís put in my heart to be a filmmaker. Iím not the most talented filmmaker but Iíve developed a work ethic over the years that is second to none. As far as formal training I got my college degree in Broadcast Journalism and then I worked in TV news for 5 years but the filmmaking side is something Iíve learned on my own by reading books, watching tutorials, movies, etc. Iím definitely self-taught and if I had to do it over again when I was younger Iíd do things differently but Iím very thankful for the path Iíve had and the path Iím on. Iím a baby where I want to be as a filmmaker and I have a long way to go.
What can you tell us about your filmwork prior to The Terrible Two?
Like I said earlier I did a big film called The Jailhouse that I wrote and directed several years back. That was a great learning experience for sure. I did another smaller independent film before that, and a documentary back in 2012 but since Jailhouse Iíve really been focusing on building up my production company, www.orangestfilms.com. With that Iíve done hundreds of TV commercials, tons of music videos, marketing videos, corporate videos, etc. Iíve done more video work than I can even remember and have acquired a lot of really great clients over the years that have allowed me to pursue other avenues, namely The Terrible Two-movie.
How would you describe yourself as a director?
How do you describe a director? I hope Iíve proven with my work over the years that I can tell a story so with that I try and make actors, even non-actors on my commercial jobs, as comfortable as possible before we ever roll camera. When working with actors I give them a lot of freedom to bring more to the character than was written on the page, to ad lib, to take chances, etc. But Iím very protective of the story and performance and if I donít feel like what we are doing is real or natural we donít move on until weíve done the best job I feel we can possibly do. Iím still learning but am very confident in my storytelling abilities.
Filmmakers who inspire you?
Ummmmm, thereís not many directors that I dwell on a lot, I just enjoy a good movie and story. I do like Richard Linklater, Steven Soderbergh, M. Night Shyamalan, the Coen Brothers, and of course Martin Scorcese.
Your favourite movies?
Love Training Day. Just watched the new Leo Dicaprio movie The Revenant. Really liked that. Itís hard to say I have any favorite movies. Signs, The Sixth Sense, The Town, The Big Short. Again I keep saying it but I just like a good story. Also forgot to mention that I was a big fan of the first Paranormal Activity. Didnít see any of the sequels but I thought the first movie was so simple yet brilliant.
... and of course, films you really deplore?

Feeling lucky ?
Want to
search
any of my partnershops yourself
for more, better results ?

The links below
will take you
just there!!!

Find Billy Lewis
at the amazons ...

amazon.com

amazon.co.uk

amazon.de
Looking for imports ?
Find Billy Lewis here ...
Something naughty ?
(Must be over 18 to go there !)

Films I deplore are ones that get 20-30 million Dollar marketing budgets and you know the movie is going to suck but because itís backed by a big studio itís probably going to make money strictly because of the marketing money put in it.
Your/your movie's website, Facebook, whatever else?
https://www.facebook.com/theterribletwomovie
https://twitter.com/TerribleTwoFilm
https://www.instagram.com/theterribletwomovie
Anything else you're dying to mention and I have merely forgotten to ask?
Thanks for your time and I just ask for people to support independent film. We have to find a better distribution path especially if these independent films are well made. Keep an eye out for The Terrible Two because itís gonna be an original, unique film that I hope will make a splash in the film world and be an entertaining movie for all to watchÖ well all except for my young daughters, lol.
Thanks for the interview!