Your new movie Club Lingerie - in a few words, what is it about, and what can you tell us about your character?
Club Lingerie is about a model who inherited a once prosperous nightclub in a part of town that has seen its better days from her grandfather. In order to turn the club around to the jumping place it used to be, she gets the idea of modeling lingerie and hiring additional models to help with the support of her fiancé. The club is attracting new clientele and making a nice profit until the models start getting murdered in unusual and gruesome ways by an unknown killer. My character is doing her best to appear happy and optimistic, without having a nervous breakdown in order to keep the doors open and promote business despite the killings and all the other problems that arise include dealing with the police, the press, and the threat of being shut down.
What did you draw upon to bring your character to life? And since you're also co-responsible for the story the movie's based on, have you written your character with yourself in mind?
Since I'm a method actress, what I drew upon to bring my character to life was some of my own personal experiences and those of friends and family and transposing them and relating them into the character. When I wrote the story idea I did have myself in mind for the character. However it turned out a little different. My character is strong willed, very creative, and artistic willing to solve the crimes herself if necessary to save the club. Originally my character was also going to model the lingerie, but in real life it would have been too much stress with the murders and everything she was dealing with, trying desperately not to break down, and we wanted it to be as real as possible.
How did the whole thing come into being to begin with, and how did you wind up producing it?
The whole thing came into being when I was looking for somebody very creative, original, and professional with a track record of doing sophisticated horror films and with distribution contacts. I met Jared Masters [Jared Masters interview - click here] of Frolic Pictures through an internet ad. We arranged to meet, got along well, both ambitious and hard working, have the same goals and ideas, and that led to doing Club Lingerie together.
As mentioned, you have co-written the story - so what were your inspirations? And what can you tell us about your co-writer John Van Harlingen?
My inspiration when I co-wrote the story was to do something a little different from the norm that would be scary, funny, entertaining and also sexy with interesting characters along with the weird out of the ordinary characters. I guess the main thing was to give the audience something they could laugh at, be scared, and be entertained while watching sexy girls strut around in skimpy lingerie.
My co-writer John Van Harlingen is very creative, gets the most original ideas out of nowhere, is very funny and good at comedy.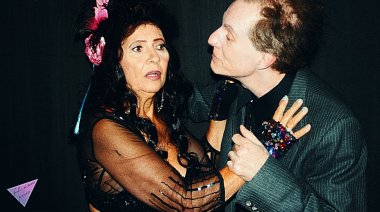 Bouvier and Art Roberts
What can you tell us about your director Jared Masters [Jared Masters interview - click here], and what was your collaboration like?
Jared Masters is an excellent director. He gets good performances out of actors in the shortest amount of time, usually one or two takes. He works fast and furious and gets films done within the shooting schedule and budget. I was especially impressed with his advanced planning for each day and his skill in script breakdown. We work well together and I look forward to doing our next project.
Do talk about the shoot as such for a bit, and the on-set atmosphere?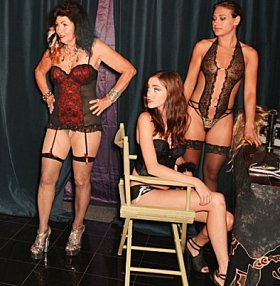 Everything on the shoot went well. It was a lot of fun. Everyone was well-prepared for their parts and knew their lines, which cut down on rehearsal time. The on set atmosphere was friendly, cooperative, and professional, and usually a little hectic getting ready for the next scene which sometimes required a different set. The dressing room was a little cramped since it was a small space that everyone had to crowd into with all their wardrobe and other stuff. There was one scene in an alley when the body of one of the murdered models wrapped in clear plastic was carried out and put in a dumpster to take suspicion away from the club. In the middle of rehearsal a police cruiser drove down the alley, and we were all worried it would stop, but luckily kept on going and we were so relieved. They must have been used to filming in the area. Everyone was on time except for me one day when the call was changed and somehow the message didn't come through on my email. I arrived on the set two hours late, and everyone was waiting for me to start filming. I felt awful holding everything up, but at the same time felt like Marilyn Monroe or something.
What can you tell us about critical and audience reception of Club Lingerie so far?
So far Club Lingerie has received good reviews and great audience reception. At its world premiere in San Diego on Halloween night, it received tremendous applause from the audience.
Any future projects you'd like to share?
I have several future projects. The first now in pre-production is Jared Masters, Ballet of Blood, the second is Blood Tulip to be filmed in Amsterdam. Swamp Witch is in development.
What got you into acting in the first place, and did you receive any formal education on the subject?
To start with, I think I got into acting because growing up my sisters and I always put on plays and shows in our back yard for neighbors and friends and I could never decide what I wanted to be when I grew up. First it was a teacher, then a vet, a scientist, a detective, a doctor, a nurse, a spy, a reporter, an author, an explorer, and on and on, so I decided being an actress I could be all of them. I went on to do plays in school, did shows for the USO in Europe, attended acting schools and had drama coaches in Hollywood, and studied the method.
Can you still remember your first time in front of a camera, and what was that experience like?
My first time in front of a camera was scary but very exciting. I kept telling myself to calm down, concentrate on my character and forget the camera, except don't look directly in it unless asked to do so.
You have starred in Andy Milligan's last film Surgikill - so you just have to talk about that one for a bit, otherwise I'm sure certain readers of my website would tar and feather me! And what was Andy Milligan like to work to begin with?
Working with Andy Milligan was an interesting experience. I didn't realize he was that well known and respected. Actors lined up around the block to audition for Surgikill when they heard Andy was involved.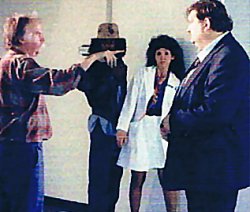 Andy Milligan directing Bouvier and company in Surgikill
On the set you better be prepared to do your scene in one take or he would yell at you. Andy worked fast and did everything himself with just a couple people to assist. I got along good with him because I came prepared and followed direction but he had a quick temper and could be a tyrant if someone gave him a problem.
One day on the set he got in a fight with an investor's rep and a producer had to get in between and separate them before he punched the guy out.
For the hospital, we used a closed up medical facility in a rough area near downtown Los Angeles. There were derelicts and dangerous looking characters hanging out everywhere so Andy had someone walk me to my car at the end of each day's shoot. He was very professional and nobody ever had to be told to be quiet on the set. He got the film done on schedule and within the budget.
Other films of yours you'd like to talk about?
Doing Venice Beach was a lot of fun. It was filmed on location on the world famous Venice Beach Boardwalk and on the beach. Besides starring in it, I did all the wardrobe and props. My character was a homeless runaway who escaped a prostitute mother to avoid being forced into the same profession. She ended up living on Venice Beach eating out of trash cans since the small amount of money she had was stolen. She is befriended by a elderly bag lady who teaches her to beg to survive. It's a love story that shows wealth, living on the street, derelicts, bag ladies fighting, druggies, conflicts, rock'n roll, comedy, arrests, and murders. So far, it's my favorite role. Spencer Davis of The Spencer Davis Group played the policeman who arrested me.
As far as I know, prior to Club Lingerie, you took a break from making movies for some 25 years. Why was that, and what did you do in the meantime?
Prior to Club Lingerie I did take a break from filming for about 5 years, not 25 years, that was a misprint. During that time I did some writing and developed and designed my Bouvier fashion line of hot styles, accessories, and cosmetics. It was very successful and sold in major department stores and boutiques nationwide and also through mail order.
How would you describe yourself as an actress?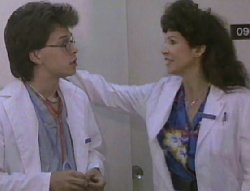 with Doug Eames in Surgikill
The way I'd describe myself as an actress is that I'd be willing to play almost any part.
Actresses (and indeed actors) who inspire you?
There are so many talented actors and actresses, but some that inspire me are Meryl Streep, Angelina Jolie, Jennifer Lawrence, Lauren Bacall, Marilyn Monroe, Johnny Depp, Bradley Cooper, Leonardo di Caprio, Robert De Niro, Robert Duvall, and Billy Bob Thornton.
Your favourite movies?
I have a lot of favorite movies so it's hard to choose but some are Gone with the Wind, It's a Wonderful Life, Casablanca, High Plains Drifter, Easy Rider, Schindler's List, Jaws, and Pirates of the Caribbean.
... and of course, films you really deplore?

Feeling lucky ?
Want to
search
any of my partnershops yourself
for more, better results ?

The links below
will take you
just there!!!

Find Bouvier
at the amazons ...

amazon.com

amazon.co.uk

amazon.de
Looking for imports ?
Find Bouvier here ...
Something naughty ?
(Must be over 18 to go there !)

A film I really deplore, although it was very commercial, is The Blair Witch Project.
Your/your movie's website, Facebook, whatever else?
My website is www.bouvier1.com. More information about Club Lingerie including the trailer, press releases, photos, etc can be seen on IMDb, Facebook, and frolicpictures.com. Also on frolicpictures.com and amazon.com are pictures, trailers, etc of Surgikill and Venice Beach.
Anything else you are dying to mention and I have merely forgotten to ask?
All three films are available on amazon.com and frolicpictures.com in approximately a month.
Thanks for the interview!