Your new series Strange Curiosity - in a few words, what is it about?
Strange Curiosity is a paranormal documentary series on subjects not only about ghosts, but strange phenomena experienced by people around the world and other bizarre subject matter. Not only do we tell the stories, but we immerse the viewer into the action to see if any of it holds truth.
What were your inspirations behind creating Strange Curiosity?
My brother Barry and I have always had an interest in paranormal subject matter through various experiences growing up, and we learned how to do film documentary work through two seasons of being the stars of the Discovery Channel television series Ghost Lab. There was a certain way of telling the story that I wanted to do that didn't always happen when dealing with network television, so I took it upon myself to do it my way.
Before Strange Curiosity you and your brother Barry did Ghost Lab, treading similar territory if I'm not mistaken - so do talk about that old show of yours, and what are the main differences between that one andStrange Curiosity ?
Ghost Lab was an intense investigative series where we employed the use of a mobile "surveillance" lab to research hauntings from a scientific theory perspective through experimentation. Strange Curiosity is more observational with an emphasis on the story, the phenomena, and the people involved. Investigation is minimal, and it is only used to try to quickly validate claims.
So do talk about your brother for a bit, and what makes him the perfect partner in your paranormal investigations?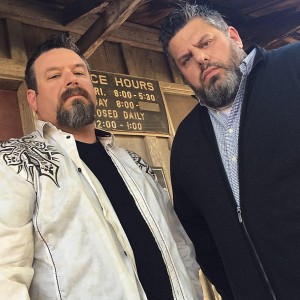 The Klinge Brothers
My brother and I have done everything together for many years. From jumping bikes on homemade ramps to building forts out of cardboard boxes in the backyard. As adults, I had managed to capture an EVP at Alcatraz while on a tour by accident. When I showed him, he was blown away, and that's when I hit him up to form a paranormal investigation team with me. He was the guy with the video camera, and I had an audio recorder. That's how it started out. In addition, there seems to be an energy that my brother and I have when we are together that seems increase the levels of activity in a location. We can't put our finger on it, but it works. So the Klinge Brothers are for life.
Back to Strange Curiosity: How do you come up with the topic for each show, and how much research goes into it, usually?
The topics for each episode usually come from casual conversation with people involved. The John Wayne Gacy episode came about from a dinner conversation I had with the owner of the R Theater where he was telling the bizarre story. I told him right then and there I have to get this story on film. The Black Eye Kids story came from me knowing the author of many Black Eye Kids books (David Weatherly) and the conversations I had with him. He set me up with people who had the experiences, and once I hear the stories, the overall story process goes from there. It is a very organic process, and the stories twist as they naturally occur.
So do take us through the process, how do you go about your investigations on camera, what are some trusted methods you use?
Like I mentioned earlier, the process is very organic. It has to be when dealing with the paranormal because if not, the show is totally scripted. These things don't happen on command, and they don't follow a pre-production story board. So I generally will film all of the interviews first to see how a natural story can flow. I then will investigate in a very basic way to see if I can get voices or other pieces of evidence that will support the stories being told. Then I film reenactments of the stories told to really draw the audience into the feeling I am trying to portray that is in direct correlation to my emotions and thought process. So what you see is a story as it happens, and I will literally change my mind on direction 100 times during filming if I have to. I film a ton of b-roll and I film everything in full color (even in the dark) because I want the viewers to be there with me The result is the roller-coaster ride you see in the completed episode.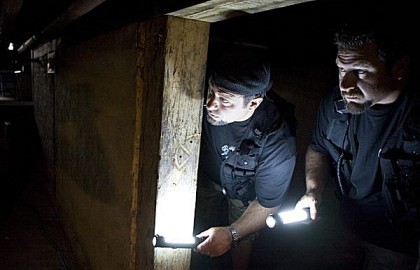 On Strange Curiosity you also do lots of re-enactments - so what can you tell us about those, and how much emphasis do you put on realism and authencity when doing them?
The reenactments are a way to draw the viewer to the picture I see in my mind when I hear the stories. I do all the casting, and I do all of the costuming when applicable. The reenactments follow the telling of the story by the interviewee presicely as the story is being told. The reenactments are a very important part to this show, and I take great pride and detail in making them as accurate as possible. I have four kids, and all of them are in at least one reenactment on Season 1, and most of the Black Eye Kids I used are from the local Middle School drama club, so reenactments are a way I can involve the community in the show as well.
Do talk about the shoots as such, and what's the spookiest thing that ever happened on set?
Well I have been involved in the paranormal pretty much full time for the past 10 years, and not much surprises me; however, during the filming of the Black Eye Kids episode, we drove to Killeen, Texas to interview a random psychic to get his thoughts on a particular case. We showed up to the Killeen Public Library a couple hours before it closed, so it was dark. After the interview, I pulled the car closer to the door so we could load our gear, and that's when I noticed two teenage boys in jeans and hoodies under the street lamp just staring at me. You couldn't see their faces. So I locked the car, and went inside the building. As I went up the elevator and the doors opened, those two teenage boys with hoodies still on walked down an aisle of books. No noise. No expression. And I still couldn't see their faces. The library was closed at this time so there is no way they could have gotten in PLUS there is no way they could have made it up to third level that fast. So I told a security guard, and he had mentioned he saw them. My two camera guys also said they noticed them, but when the guard looked at security footage, no one was there. Still not creepy enough? So as we are pulling out, standing on the street corner are those two same kids watching us drive away. During the course of filming interviews and research, I did hear that when people talk about these beings, they tend to show up. Going one step further... after we interviewed the Reverend on the same episode about the possibility of this stuff being demonic, we were packing up the cars and the strongest stench of sulphur came upon us. The Reverend was frightened and said he had never smelled that before, but pointed to demons being described as smelling of sulphur. In a split second the smell was gone. Welcome to a day in my life!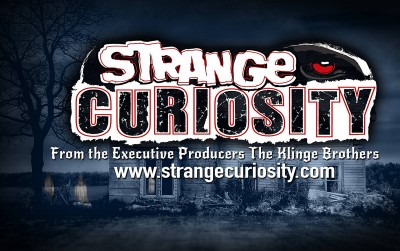 The $64-question of course, where can your series be seen?
Strange Curiosity is now available on iTUNES and will soon be available on Amazon. Just click here.
You've so far shot one season of Strange Curiosity - any plans for more, and other future projects you'd like to share?
We actually have another episode already filmed, and we have a couple other projects underway as well. The great thing about filming your own documentary is you can do it at your pace based on demand. The more people want it, the more we produce. Neilsen ratings are out the window (as they should be anyway, but that is a whole other topic).
What got you into paranormal investigations to begin with, and is there any way to learn this?
My interest in the paranormal goes back to childhood, and the moment that sealed the deal for me making me realize this is a real thing was an experience I had in 1990 at 17 years of age in Gettysburg when I accidently witnessed and filmed a ghost regiment walking through a field. Fast forward to 2007, after nearly twenty years of research I tried my hand at capturing an EVP at Alcatraz while on a business trip to San Francisco. I picked up a recorder at Radio Shack on my way to the dock, and by some freak lucky chance, was allowed by the park ranger into solitary confinement by myself. After a short time of recording and playback, there was a clear voice that answered one of my questions. I was hooked. It seemed too easy, but nonetheless it worked, so I got my brother on board and we set out on an adventure that is still going.
Anyone can do this, but only people with logical but open minds coupled with a skeptical nature can investigate properly. Throw out the magic. Throw out the potions. This stuff is real, but it exists in a natural world bound by the same set of physics but in a different playbook. Hypothesis, experimentation, conclusion, repeat... that is how it should be done.
... and since this is first and foremost a movie site, your favourite and least favourite movies?
I actually love comedies, and the sillier the better. My favorite movie is probably Step Brothers or Anchorman (I am a huge Will Ferrel fan), and romantic movies bottom it out for me... so probably the Notebook or anything similar. I only watch those by force.

Feeling lucky ?
Want to
search
any of my partnershops yourself
for more, better results ?

The links below
will take you
just there!!!


As far as paranormal movies go, I love the thinker movies like The Others or The Skeleton Key. In fact, we have a theory that we have witnessed activity for ourselves that we call "The Others"-theory based on that movie.
Your/your series' website, Facebook, whatever else?
https://itunes.apple.com/us/tv-season/strange-curiosity-season-1/id1162832431?ls=1
Twitter: @klingebros
Facebook: Klinge Brothers
Anything else you're dying to mention and I have merely forgotten to ask?
I think you got it.
Thanks for the interview!