Your In Fear of-episode Agraphobia: Fear of Sexual Harassment - in a few words, what is it about?
It is a simple story about revenge, and a commentary on the corporate attitude which the characters of Nina and Martin represent. The sexual harassment that Martin was supposedly accused of, although we never see it we only hear it from Nina's perspective, you have to understand that here's a man who was done a great wrong at the hands of someone who thinks she's above everyone else. Kind of like certain people in our society. There's a message to be found here about screwing people over. My character of Martin was taken advantage of by Nina for no good reason other than accusations, and the power trip that she believes in her own mind.
What were your inspirations when writing Agraphobia, and why did you pick this exact phobia? And any personal pet phobias of yours you want to talk about?
My inspirations for writing Agraphobia were several. The most prominent is the television show The Hitchhiker. The feel of this episode is similar in many ways to an old Hitchhiker-episode, in appearance, mood, music and acting. The lighting for this episode however came from a more Italian influence reminiscent of Demons and Suspiria. Agraphobia takes place in 1986, and it fells like it in all respects from the clothes right down to the 1986 newspaper that's being read by Arnold, a supporting character in the episode, who is Nina's boyfriend.
I picked this phobia of sexual harassment because it seemed different than what everyone else was doing. It's a dark episode that is classified as a thriller, not horror to me. Also there's so many phobias to choose from, so you really have to think what's relevant for a simple story. I could have done something more complex, but I like simple storytelling, and I think the audience of America would agree that the simpler the story the easier it is to get into it because you can relate to aspects of it. I don't really have any personal pet phobias. The only thing I've ever been disturbed by are worms, other than that nothing else. I'm not afraid of worms, but I wouldn't want them crawling on me, unless it was for a movie role where I'm paid plenty.
Agraphobia has a certain 1980's look and feel to it - why, and how did you achieve that very specific atmosphere?
The look and atmosphere I achieved comes easy to me because it's what I love. I have a knack for re-creating an older atmosphere that resembles the 1980's. I am the 1980's in a lot of ways. Lighting is a very important player when creating the right setting, along with the wardrobe and props. Due to budget constraints of independent filmmaking it's hard to do this sometimes, but I manage whatever I can. I stated earlier that The Hitchhiker is a big influence on the creating for this episode. I also have to use certain cameras and add a slight filter to help give me the official look I'm trying to achieve.
You also play one of the leads in Agraphobia - so what can you tell us about your character, what did you draw upon to bring him to life ... and honestly, how much of Bradley Creanzo can we find in him?
Well, my playing the character of Martin was a lot of fun for me because I like acting and stunt work, and once you watch this episode you can easily see I get beat up quite a bit and plenty of stunts for this episode, but it's all part of the game. I always do my own stunts and take pride in that especially working with weapons. I am a very big weapons collector. What I drew upon to bring him to life was a combination of personal conflict that I pulled from my own experiences in life, and his one-lines are an influence of the 1980's. Any action film of that time had an actor with catchy one-liners, and Agraphobia is no different. I do that quite a bit. Dealing with certain events in my life at the time of making this episode helped contribute to the character. Martin is very driven and he doesn't take no for an answer no matter who tells him! Martin is a machine that just continues until he gets what he wants, which in this case is to punish Nina because in his eyes she is the enemy and did him wrong. He's a simple man with simple goals who's life was ruined because of someone who thought they had power over him, but it's really Martin who has the power. Through a strong will and hunger to achieve his goals, Martin is the real survivor not Nina. Martin wasn't handed a cushy corporate business to run, but Nina was, so therefore Nina is representing the silver spoon society that has ruined good men and a good country for their own personal greed and gain. There's about 40% of me in Martin in certain respects, the rest is all acting and created drama within the building of the character's own mind. Just like a canvas, you can paint away, but you have to know what patterns to paint to make that character come to life, and what texture and shading to do to add even more life, and that's how I look at any character. It's just like a painting that you have to build upon until you reach the finished masterpiece, and then you move onto the next painting, which in this case would be the next acting role for me.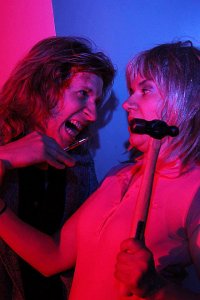 Bradley with Genoveva Rossi
You of course also have to talk about your co-star Genoveva Rossi [Genoveva Rossi interview - click here] for a bit, and what made her perfect for the part?
As for Genoveva Rossi, I was dating her at the time of this production, so that had an influence on my casting her. She put what she was capable of into her character. The only thing I wish had more energy to it was the attempted rape scene near the showers. She played Nina with a solid attitude and full of herself tone. You can hear it every time she opens her mouth.
[Genoveva Rossi's reply - click here]
A few words about the rest of your cast and crew?
The cast was very small, just myself, Genoveva and Scott Perry [Scott W. Perry interview - click here] as Arnold. Scott played a very small supporting part and did a good job with it. There's not very much detail to go into because Arnold is not a primary character.
Now as for the crew, that's a different story. My assistant director and main cameraman was Derek Rafanello, who did a fine job. Then there's Robert Huntley who was 2nd assistant AD and camera operator. Huntley is very good at what he does with the camera. Omar Cordy was the 3rd camera operator and lighting assistant. He contributed a lot to helping out on this production. Steve Glassner [Steve Mark Glassner interview - click here] and Scott Perry were also on set to help out as production assistants, and Steve also helped out with some of the lighting design as well. Another person who helped greatly was Rich Catino, my main special effects and make-up artist, who as always did a phenomenal job with all on-set effects and make-up for the actors. Another person on set to help out was Sean Diehl, who was a production assistant and helped with several scenes in the beginning of the episode.
What can you tell us about the shoot as such, and the on-set atmosphere?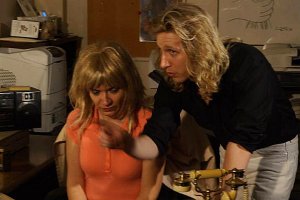 Bradley directing Genoveva Rossi
The on-set atmosphere was very pleasant. We had the complete run of the building for which we were filming in, so that was very nice. In independent filmmaking it's hard to get complete freedom with a location sometimes, especially when you're doing blood effects. Everyone got along on set and there was no drama. I ran this production very tightly. Most days consisted of 10 hour shoot days except for Arnold's small scene in the kitchen. It took 5 days total to film the whole episode.
Anything you can tell us about audience and critical reception of Agraphobia yet?
I haven't had too much critical response yet. I played Agraphobia at only two film events, and the response was favorable, but I haven't gotten a wide range of approval or disapproval for it. Hopefully the upcoming premiere on the web and VOD will get me some responses. Some other episodes are being pushed more than mine, so I don't know what to say except Agraphobia seems to be the more hidden of the episodes for In Fear of. I don't know if it's because people don't care for the time period it takes place in or perhaps the subject matter.
You were also in two other In Fear of-episodes, Scotomaphobia and Glossophobia - so you apparently have to talk about those two for a bit!
Well, the other In Fear of-episodes were entertaining to work on. The Fear of Blindness episode was an interesting piece to perform in. I played the character of Bobby, who is not the nicest of people and just lives to party, or at least that's the impression the story gives from what I had to work with. The other episode I was in was very basic since I was just a zombie character. There's not much to talk about with that one. Jeremiah Kipp [Jeremiah Kipp interview - click here] who directed Fear of Blindness I've worked with before, so that was one of the best things about the episode being able to work with good people including Scott Perry [Scott W. Perry interview - click here] and Steve Glassner [Steve Mark Glassner interview - click here]. Susan Adriensen [Susan Adriensen interview - click here] also did a great job in the title role and I think our scenes are among the best moments. A little side note; in the party scene a lot of the extras in that scene are actually friends of mine, who have appeared in several of my productions before. We shot certain scenes for Fear of Blindness at my house and I was able to get a reliable group of extras to come out for the shoot.
How did you get hooked up with the series in the first place?
I got hooked up with In Fear of through Scott Perry [Scott W. Perry interview - click here] the series creator, whom I had met before. I first met Scott on a short film project that was filmed at my house. I don't remember much, but obviously that led to his interest in my style of filmmaking, which put me in the running for my own episode for In Fear of.
Any future projects you'd like to talk about?
There's a lot to talk about with future projects. The biggest thing going on right now would be Case at Midnight, in which I star as Charles Rainer, who is a cult leader and arms dealer. The movie takes place on the night of my sentencing, but before I can be sentenced my cult of female followers attempt to break me out of the courthouse. They slaughter everyone except a few security guards who take me hostage and try to survive the night. It's a really tight-paced action thriller in which I also perform my own stunts, and I'm also the producer of the motion picture. It's being directed by Louie Cortes, and once production is wrapped I will also be composing the entire soundtrack, which will feature a title song to the movie complete with a music video to help promote the movie, and show off the lovely, but deadly female cast we have as the cult girls. "Case at Midnight" is set for a December 2015 release. Another film that's finally getting some recognition is my feature The Bible Belt Slasher Pt.II: The Holy Terror!, which officially has gotten distribution by Acort International out of Arizona. The movie is going to be released this December 2014, just in time for Christmas, which fits perfectly since it's takes place at Christmas time. The movie is about Jason Fry, who is a religious fanatic that goes on a bloodbath crusade against those he believes to be sinners. Only Dr.Ray Landers, Fry's former doctor, can try and stop him. It's a vicious cat and mouse game through the southern streets of Tennessee as Dr. Landers tries to find Fry before he claims his next victim. I'm also the star of a new feature called Kids Get Dead 2: Kids Get Deader, which has just been released. I'm also in Faces directed by Thomas Ryan. I play one of the primary characters that ends up as a victim of Frank, who's the deranged killer that sees and hears decapitated heads talking to him. I'm also involved with a web series called The SPIES Files, which I am acting in and also the director on one episode.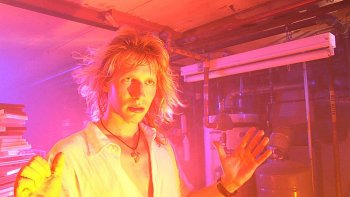 As far as I know, you actually got into film via stage acting - so what can you tell us about your theatrical career, your training, and how does performing on stage compare to acting in front of a camera? And which do you prefer, actually?
Yes I did get into film acting via stage acting. That all started back in high school and my early college years. I was in several plays worth mentioning which included Diary of Anne Frank, Raisin in the Sun and Macbeth.
My training consisted of multiple acting classes at Kean University. A few of my teachers for acting/improvisation/voice were Gail Winar and Ernest Wiggins. I have a minor in Theatre/Acting, and I have a B.A. in Film/Media. I took acting classes for a period of 5 years between Kean University and Union County College here in New Jersey. My acting instructor at Union County was Agim Coma. I was taught a lot of techniques and methods to acting. I weeded through and took a little of everything and applied what I needed depending on the role. Stanislavsky and Meisner methods are among the ones I prefer to utilize in approaching a role, but I have my own style and preference in preparing for a performance. We all take something that exists and make it our own, in our own way.
Both acting on stage and camera are good in their own ways. Acting on stage is more challenging in many respects, but acting on camera is its own monster as well. I prefer acting for the camera because there's more room to create and the option to do another take. If you screw up on stage and can't cover your mistake in the moment you are lost. At least the camera is forgiving in that way. There's also more illusion to be created acting in films. You can't jump on moving cars and do certain action things on stage to their fullest extent. Film allows for the full extent of imagination to come to life through the acting and the visuals. There's also wider appeal to the masses I believe, and the best part is knowing that the performance is preserved and seen by others forever once completed. Sure stage plays can be filmed and seen by millions perhaps, but film acting is where it's at for me at this time in my life. My priorities could change in time because I do love theatre acting, but I will be in film for a long time running. The camera's eye sees everything when it's released and we are projected to a world that is forever created and preserved on film, or in today's case digital cinema seems to be more accurate of a term I guess, lol! You can check out some of my acting credits here: http://www.imdb.com/name/nm3908210/?ref_=fn_al_nm_1
What can you tell us about your filmwork prior to Agraphobia?
My film work prior to Agraphobia is very vast. I've directed/co-directed such films as The Bible Belt Slasher Pt.II: The Holy Terror!, Night Games, The Bible Belt Slasher, Midnight Card Massacre, "What Waits in the Dark, and a slew of music videos (Enemies, Demons of the Night and Rhythm is Your Master) all for my band Midnight Flashback.
As for my acting work prior to Agraphobia, that's a long list. Here's some of the more notable films that I act in which includes: Bible Belt Slasher Pt.II: The Holy Terror!, Attack of the Brain People, Night Games, Blood Slaughter Massacre, Kids Get Dead 2: Kids Get Deader, Sheriff Tom vs. The Zombies and Holidays of Terror.
One can't help but notice that quite a few of your movies are of the horror variety - coincidence, or is horror a genre at all dear to you, and why (not)?
True, a lot of my recent films have been horror, but that is not my only direction in filmmaking. My recent film Case at Midnight showcases a different style that ventures into the realm of action, and it's also quite an acting change for me as well. I really do love horror and I will make horror movies on and off, but I am NOT a one trick pony. I can do comedy, action, drama, Western, anything! As long as it's entertaining I can direct, produce or act in it. I like all genres
You have also written quite a few filmscores and front the band Midnight Flashback - so you just have to talk about Bradley Creanzo the musician for a bit!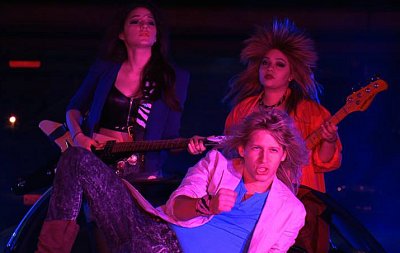 Rhythm is Your Master-music video
Midnight Flashback is my own creation. Originally the band consisted of myself and Andi Harriman, whom is no longer with the band. At the moment Midnight Flashback is a truly solo act. All drum programming, keyboards, vocals and guitars are performed by myself. The first hit we had was Demons of the Night, which was featured in Bible Belt Slasher II and Blood Slaughter Massacre. The music video for Demons seemed to be quite popular and to date is considered to be the band's best song. The two other music videos, Enemies and Rhythm is Your Master, are similar in style, but different in presentation. Enemies marked the last time Andi and I worked together on music and in person. Rhythm is Your Master is probably in opinion my favorite along with Demons. Samantha Quintana who is in the music video for that one really did a great job, as did Missy Heather Byron. All others involved and crew were a huge help in that video. Derek Rafanello and Louie Cortes are my main cameramen when it comes to music videos and film content in general.
Aside from Midnight Flashback other music I perform falls into the soundtrack category. I've composed the soundtracks for all of my own movies and for other independent movies as well. I use only vintage equipment when composing, so a lot of my musical style tends to seat within the 1980's realm of composition, although I can just as easily do early 90's and late 70's sounds also. Some pieces of equipment I tend to favor in my compositions are: Roland-Juno 60, Sequential Circuits-Prophet 10, Yamaha DX7, and the Oberheim-DX Drum Machine. I use a lot of stuff, but these have proved to be the most used synthesizers. You can listen to some of my compositions here: https://soundcloud.com/bradleycreanzo1986
How would you describe yourself as an actor and as a director?
I am a very serious actor and director, and driven at both duties, but acting is where the passion lies for me.
Actors, filmmakers, musicians, whoever else who inspire you?
The people I am inspired by the most, actors, directors, etc include: James Garner, Christopher Lee, Bela Lugosi [Bela Lugosi bio - click here], Bo Hopkins, Rutger Hauer, Klaus Kinski, Warren Oates, Larry Hagman, Farrah Fawcett, Linda Gray, Charles Bronson, Sam Peckinpah, Don Johnson, Wings Hauser, John Huston, Roger Corman [Roger Corman bio - click here], Don Dohler, James Cameron, Don Siegel, Clint Eastwood, Walter Matthau, Darren McGavin, Vincent Price [Vincent Price bio - click here], Peter Cushing, David Carradine, John Carpenter, Holly Knight, Vinnie Vincent and Sigourney Weaver.
Your favourite movies?
Some of my favorite movies are: Nightmare on Elm Street 3, Vice Squad, Die Hard, Death Wish (1, 2 & 3), Treasure of the Sierra Madre, Dirty Harry, Dallas (TV show 78'-91'), Miami Vice (TV show), Married with Children (TV show), Extremities, Bring me the Head of Alfredo Garcia, The Wild Bunch, Escape from New York, The Thing (1982), The Evil, Split Image (1982), Timestalkers, Thunderbolt and Lightfoot, Leviathan, Alien, Night of the Comet, Hills Have Eyes (1977), The Blob (1988), Video Violence, The Park is Mine, It's a Mad, Mad, Mad, Mad World, Rockford Files (TV show), Gremlins, Piranha (1978), Alligator (1980), Day of the Animals, Trancers and National Lampoon's Christmas Vacation. There's a lot more, but that's a good selection for now.
... and of course, films you really deplore?

Feeling lucky ?
Want to
search
any of my partnershops yourself
for more, better results ?

The links below
will take you
just there!!!

Find Bradley Creanzo
at the amazons ...

amazon.com

amazon.co.uk

amazon.de
Looking for imports ?
Find Bradley Creanzo here ...
Something naughty ?
(Must be over 18 to go there !)

I really don't like the whole found footage genre that has spawned, so I would say the films I deplore are: Blair Witch Project, Paranormal Activity, most made for SyFy originals, Heaven's Gate and all remakes within the last 13 years.
Your website, Facebook, whatever else?
Here are some links to check out my work and myself:
Website: http://bradhorror.weebly.com/filmography.html
IMDb page: http://www.imdb.com/name/nm3908210/?ref_=fn_al_nm_1
Soundcloud: https://soundcloud.com/bradleycreanzo1986
Facebook: https://www.facebook.com/pages/Bradley-Creanzo/483482835044680
Anything else you are dying to mention and I have merely forgotten to ask?
If anyone out there would like to meet me you can find me in person at a convention coming up called Blood and Babes Comic Con: http://longislandcollectorsexpo.com/guests.html
Thanks for the interview!