Your upcoming movie The New Neighbor - in a few words, what is it about?
The New Neighbor is about a strange epidemic that is sweeping up a local neighborhood. A college student (Kaylee Williams) & her immature brother (Anthony Del Negro) become convinced that everyone is being slowly turned into vampires. All of this is timed with the arrival of a new neighbor. Problem is, she finds herself inexplicably drawn to the new neighbor (Ryan Sandefur) and in the middle of a torrid affair against her better judgement.
Question is, is she a moth being drawn to the flame? Or is there a greater evil at work?
With The New Neighbor being a vampire movie - is that a genre dear to you, and some of your genre favourites?
I enjoy vampire films (a lot), but surprisingly enough, it is not a genre that is near and dear to my heart.
My two favorite sub-genres of film are slasher and sex comedy, because that is what I grew up on as a kid watching USA's Up All Night.
Anyway, call me cliched but my favorites of the genre are the original Fright Night, the sequel Fright Night Part II, Bram Stoker's Dracula and Near Dark. I also really appreciate the film Martin, because it tried to bring something different and thought provoking to the sub-genre.
How would you describe your approach to the genre?
My approach to any type of genre is I try to think of things that are inherent to that genre and then go about merging those elements into a cohesive film.
When I think of vampires, there is obviously something very erotic about them. I also think vampires lend themselves to secrecy and mystery since they are supposed to be creatures of the night that live beneath the grid.
So with New Neighbor, I tried to bring a seamless blend of horror, mystery and erotic thriller into one film while still giving the film some real heart. I think a sense of heart is what is missing in the horror films of today and that was something that was very present in the horror films of the 80's. Heart is what made those films feel personable and special. That's why I think people connected to those films so well.
I have to say I am extremely excited to be getting closer to filming of The New Neighbor, not only because I think we are bringing something a little different to the vampire sub-genre, but I have to say it has been forever since there was a really good erotic thriller. I think we are going to be doing some different, but at the same time something that hasn't been done in a really long time.
What were your sources of inspiration when writing The New Neighbor?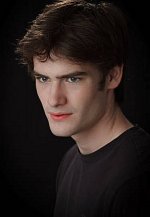 Ryan Sandefur
The main source of my inspiration when writing The New Neighbor was Ryan Sandefur.
Ryan has some of the palest, most porcelain like skin you will ever see in your life. Ryan even has fangs in the back of his mouth. Heck, Ryan can't even stand being out in the sunlight! If he sees the least bit of sun, it drives him crazy. This kid is a walking vampire; he just doesn't know it yet.
So from there, my writing process was, "what if this hunky looking guy, that looks like a vampire, were to move in next door to me, how would people respond to him?" And from there, I developed the script for The New Neighbor.
Since I'm almost sure you have at least at one point in your life had a neighbour yourself: Is any of The New Neighbor based on personal experience (apart from the vampire bit I hope)?
That's very funny that you ask that! While in the process of writing The New Neighbor, I had a neighbor move in that acted very suspiciously. I would only see them about once or twice a week. They only came out at night. And when they did, they never cut on any lights. They actually used candles to navigate through their house at night! So who knows, maybe vampires do really exist after all and they're living next door to me!
As far as I know, The New Neighbor is still in its fundraising stages. So what can you tell us about your fundraising efforts, and how do you plan to proceed from there?
We actually have most of the budget in the bank and have already went ahead and bought props, costumes and bus & plane tickets for the cast and crew, but at the last minute we had an investor not put forth the amount he had pledged, so we are now trying to raise that gap in the budget. We're making this film on a tight budget and so there is just no room to take away anything.
With our Kickstarter campaign, we're not just offering DVD's, but a part of the movie experience. You can get movie props and costumes from the film. There's cam to cam time or a personal training session w/ Ryan, webcam access to filming, even the chance to ask just about any cast member or the director or myself any question personally or professionally and we will record a video response just for you. And on top of that, our perks/rewards are very reasonably priced.
The link to the Kickstarter is: http://www.kickstarter.com/projects/brandonsites/the-new-neighbor-starring-ryan-sandefur-and-kaylee
What can you tell us about your director James Cullen Bressack [James Cullen Bressack interview - click here]?
James and I had talked for quite a few years. He had been wanting to work with me after I let him preview one of my scripts. However, I was very hesitant, because of how young he is. However, after working with Ryan Sandefur this past summer and co-founding a new production company with him (Ryan is only 20), I came to realize if someone is talented, smart and driven, it doesn't matter how old or young they are. Talent is talent.
What do you suppose will James bring to the table as a director?
I was attracted to the fact that in the crowded indie horror field, James is able to stand out and make a name for himself. I know in order to have done that, he has had to put in some hard work and a good amount of time. The people that work with me, I want them to be able to work hard and be willing to go the extra mile. I think James has done that in the past, so I was willing to give him a shot to see if he can bring that same kind of commitment and work ethic to The New Neighbor.
As writer/producer of the film, how much say will you have/do you want to have concerning the look and feel of the film?
I'm going to do my best to explain this. I'm the client and I'm paying James to execute something. James is the director. He has to find a balance of staying true to himself, while also satisfying my needs and my expectations of the project.
Before filming, we will have a lengthy discussion about how I want the film to come out, the mood & atmosphere that I want the film to convey, the overall general tone and if there is anything specific I want to see happen within the context of a scene, and then I will let James at it.
Your leads Ryan Sandefur and Kaylee Williams - what can you tell us about them?
Ryan Sandefur is a fitness and fashion model that is breaking into film. He is the co-founder and President of the production company that will be producing The New Neighbor. He has worked incredibly hard on The New Neighbor, not just acting in it, but helping to raise funds for it, but he works closely with me to help take care of all aspects of the production until we get to filming.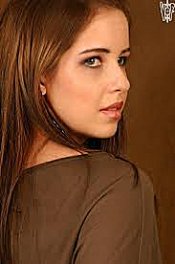 Kaylee Williams
Kaylee Williams is a horror scream queen who has really exploded the past couple of years.
The first time I saw Kaylee, I knew there was something very, very special about her and as such I feel really privileged to have worked with her so frequently these past 6 months. Kaylee and I joke around that one of these days I am going to have to put a ring on it (her finger) - lol.
How did you get them?
Ryan Sandefur and I really clicked this past summer when we worked together on a few projects. After filming was over with, I couldn't let him go back to Georgia, so I convinced him to stay in Virginia instead. Together Ryan & I co-founded our own production company, Beyond Boundaries. The New Neighbor will be the first film from the newly formed company.
For the female lead of the film, I was having a hard time finding the right person to play Alex. Since the Alex character is on screen for almost the entire film, I needed someone that could come to set fully prepared and ready to attack this role.
While I was searching for my Alex, Kaylee e-mailed me saying she would like to audition. Even though I have worked w/ Kaylee twice in the past, for some reason it never entered my mind to consider her. After she e-mailed me, it went off like a light bulb in my head that she would be absolutely perfect for the part. I thought her and Ryan would look really good together on screen. So I offered her the role on the spot - no audition, no reading, no nothing. That was how confident I was that we had the right person for this part.
What makes them perfect for their characters?
As I wrote his character, I tried to think of who Ryan is as a person and how he comes across in the still images that various photographers have taken of him when Ryan works in the modeling side of the entertainment field.
Ryan Sandefur
Ryan is a really nice guy, who tries to protect people, but he is also very shy and secretive. So I incorporated that into his character. When I see Ryan in a still image, his facial expressions are very powerful. There is something haunting and seductive about his facial expressions that pull you into him. Even though he isn't saying anything obviously in a still, it's like you're looking into his soul. I love and hate his stills all at the same time, because I love Ryan's expressions in them, but I hate that most of them are of Ryan in his underwear. I wish these photographers had focused on his face, since those expressions were priceless. Anyway, I made sure that was another shade that I gave to his character.
Since these elements that I put into the script are who Ryan is in real life, he was obviously the most perfect choice to play this role.
Then when it came to Kaylee, I had to find someone that would look like they would be a good fit for Ryan, someone that could be the girl next door, someone that has some vulnerabilities, and someone that I can relate to. I think Kaylee has all those qualities and then some. Kaylee brings a real natural quality to her acting when she is on screen. She makes it look really effortless. That is a quality that I really appreciate about her approach to acting.
A few words about the rest of your key cast and crew?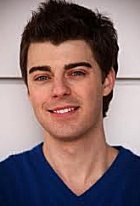 Spencer Harlan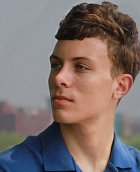 Anthony Del Negro
Joseph D. Durbin is my bromance on the side. (Sorry Ryan!) He has acted in three projects of mine, but he has also worked in some kind of producing capacity in all the films I have done. Joe has been a real asset to me, because he really has been there for me when I needed help or advice. I couldn't have done it without him.
As an actor, I think Spencer Harlan has one of the most unique aesthetics I have seen in a while. He is this good looking guy next door type who is also a comedian and tells dirty jokes. I think Spencer has some Jason Segel (Forgetting Sarah Marshall) type potential with some hard work. I can easily see Spencer doing a family film, but I could also see Spencer doing a good old fashion dirty comedy just like Segel has done in his career.
As for Anthony Del Negro, this will be my first time working with him, but the closer we get to filming, the more and more I grow to think of how perfect he looks for the part of this annoying little brother type in the film. He's a good actor and I think this role is perfectly suited to showcase his strengths. On top of that, he and Kaylee look like they could easily be brother and sister.
It might be waaay too early to ask, but any idea when and where the film will be released onto the general public yet?
The film will debut in late summer, early fall 2013. We will be making the festival rounds.
Generally a film will make the festival rounds for 6 months to a year, then comes distribution, etc.
For anyone that wants to pre-order a copy of the film (they will get their copy before it is available to the general public as well), you can do so by contributing to the Kickstarter campaign at:
http://www.kickstarter.com/projects/brandonsites/the-new-neighbor-starring-ryan-sandefur-and-kaylee
Any future projects beyond The New Neighbor?
I have two projects in the pipeline. The first will shoot sometime in April. It's a horror film about a teen who believes something in his house is out to get him, that can only come out in the dark, but the twist is the teen suffers from agoraphobia and is unable to leave his house. In addition to starring Ryan Sandefur, it will star genre stars Lynn Lowry (The Haunting of Whaley House) and Maria Olsen (Paranormal Activity 3). That film is entitled Afraid of the Dark.
Additionally, we will be shooting some promo material for another film called The Legend of Bloody Mary back to back w/ The New Neighbor. The Legend of Bloody Mary will be part sex comedy, part slasher film w/ some elements of the supernatural thrown in. The Legend of Bloody Mary will be funny where it should be, but scary where it should be as well.
Your/your movie's website, Facebook, Kickstarter, whatever else?

Feeling lucky ?
Want to
search
any of my partnershops yourself
for more, better results ?

The links below
will take you
just there!!!

Find Brandon Sites
at the amazons ...

amazon.com

amazon.co.uk

amazon.de
Looking for imports ?
Find Brandon Sites here ...
Something naughty ?
(Must be over 18 to go there !)

Currently we are running a Kickstarter campaign to raise some last minute funds. We had an investor not put forth the amount he had pledged to do so and now we are trying to cover that gap before we go into filming on Jan. 14th. The link to the Kickstarter is:
http://www.kickstarter.com/projects/brandonsites/the-new-neighbor-starring-ryan-sandefur-and-kaylee

You can also check out The New Neighbor Facebook fan page for plenty of behind the scenes pic at:
http://www.facebook.com/pages/The-New-Neighbor/465977646758846
Anything else you are dying to mention and I have merely forgotten to ask?
I just wanted to take a moment to thank you for giving me the opportunity to be featured on your site and to talk about our film. And thank you for your patience in dealing with me! I have a million things going on all at once. I wish I had a secretary helping me out, but unfortunately, it's just me!
Also, I want to thank the fans that have helped us out and supported us out along the way. Being on set is my favorite aspect about making movies, but my second favorite part about it all is being able to connect with other horror fans out there. Anytime a horror fan has a question or wants to chat, just feel free to hit me up on Facebook. I will ALWAYS do my best to answer any questions or take time out for you all.
Thanks for the interview!
No. Thank you. And thanks again for everything.