Your upcoming movie Dwelling - in a few words, what's it going to be about?
Dwelling is a paranormal horror film about a young couple who deliberately move into a haunted house that holds a malevolent spirit trapped within a painted black mirror.
How did you get hooked up with the project in the first place? And what did you find interesting enough about the movie's subject matter to actually want to produce it?
The director and writer, Kyle Mecca, happens to be a good friend of mine and apparently he has been working on the story of Dwelling for years before I even met him. What hit me the most is that the story is relatable to many people and you usually don't get that in a horror film. It's generally the same typical story over and over again and every time you go see one you just hope they ended up doing it right that time. Kyle was hell bent on having a solid story and I was very bent on making something scary (as he was as well but story was more of a priority to him). After myself, Arlynn Knauff, and our assistant director, Gabe Simon, pitched some ideas to him, he ended up writing a script with not just a strong story and characters you feel for, but something that'll send chills down your spine. That is why I wanted to produce it. It's not only a solid story with substance, but something you can literally picture as you read it.
As far as I know, you are currently in the process of raising funds for your movie - so what can you tell us about your fundraising campaign?
As I am writing this, we are currently at $7,735 with 4 more days to go. We are pitching the Kickstarter campaign to just about everyone we can and are urging others to share with their friends and family. I strongly believe we can make it. We have a ways to go still but I think we can honestly make it happen.
https://www.kickstarter.com/projects/bewilderedmedia/dwelling-a-feature-film
What can you tell us about your writer/director Kyle Mecca, and what has your collaboration been like so far?
Kyle and I have a love/hate relationship. Mostly love. Similar to McFly and Biff (Back to the Future reference). Haha, no really, we see eye to eye on most things especially the way we perceive horror films. What I like is that we sort of balance each other out. As a producer, I'm kind of all over deadlines and stressing things get done and constantly reaching out to find more resources. Sometimes I rush. Kyle is very patient and focused on being 100% on everything he does but sometimes needs a fire lit under his ass. That's where I come in, and in turn, he calms me down. Then when we can't deal with each other, Arlynn (our other producer who works just as hard but lingers in the shadows) fills in for one of us ;-D
Since you are so far mostly known as an actor - will you appear in front of the camera in Dwelling as well?
No I am not cast in this one, but there is a slight chance that myself, Arlynn, and Kyle will make a small cameo as featured extras. Not 100% on that yet. I'd much rather focus on one aspect in this film and later down the road start acting in our own films again.
What can you tell us about your cast, why exactly these people, and to what extent were you involved in the casting process?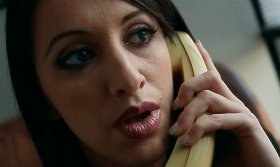 Devanny Pinn
The first person we cast in this was Devanny Pinn [Devanny Pinn interview - click here], and her character changed about 3 times because all we knew is we wanted to use her but didn't know as what yet. I worked with Devanny on Adam Steigert's A Grim Becoming last year [Adam R. Steigert interview - click here]. Arlynn and myself grew an instant bond with her and she expressed interest in wanting to work with us after seeing our latest film trailer Scope of Practice. It was a shot in the dark asking her to work on this film but to my great surprise she was not only interested, but also announced it and got us an insane amount of auditioners. There was some very thick competition for the lead character "Ellie", but Erin Marie Hogan stole it with her audition. Erin and Devanny had worked together recently on House of Manson directed by Brandon Slagle [Brandon Slagle interview - click here]. They apparently work very well together and I am thrilled to have them both as major roles in Dwelling. Shortly after, we cast Mu-Shaka Benson as the co-lead "Gavin". I have worked with Mu-Shaka briefly on A Grim Becoming as well but have been in close contact outside of that. He had the character down pat and this was the character we were afraid we weren't going to find easily. We had many great auditions for Gavin but there was something missing from a lot of them. After Mu-Shaka's reading, all 3 of us (Kyle, Arlynn, and myself) looked at each other and said "yea, that's him".
For this film, the executive decision came down to Kyle but we all had a say in who we cast and everyone we cast was a unanimous decision.
Finding "Marcy" was actually the complete opposite of finding "Gavin". There were way too many perfect fits for this character, but once we Skype auditioned with Alexandra Merritt Mathews, it was all over. No one was more fitting than Alexandra in this role. She currently resides in Chicago but is a Buffalo native, and we are more than happy to have her in our film as well. The rest of the principle actors were actually not hard to cast. Bill Brown nailed the part as Dr. Thorn before we even watched him audition. Josie DiVincenzo is playing the part of Ellie (Erin Marie Hogan) and River's (Devanny Pinn) "Mother". Last but certainly not least, we casted the young Abigail Mary as "Izzy", who is River's daughter. Not only did she have a solid performance and wonderful personality, but has actually experienced paranormal incidences herself. She is literally what we are looking for in this character. This is one of the first films I have worked on where everyone we have cast I am 100% confident with.
From what I get, your location(s) will also play main role in your movie - so any locations pinned down yet?
At the moment, all locations are pinned except 2, but we have the places we want. We are in the process of securing them and should be locked down before the campaign is over. I'd rather not announce them quite yet in case we end up having to relocate, but I am quite excited about them.
Apart from the budget, where do you see the major challenges during pre-production?
Honestly, budgeting is really the only major challenge we have. We still have a good amount of time to organize everything and I feel that once we have our budget locked, that is all we need to move forward with this. Pre-production itself is always a challenge, but nothing we can't handle :)
Once your funds are raised, what's the schedule, and any idea when the film might be released yet (and I do know it's probably waaay too early to ask)?
We are filming July 17-27 and August 4-8. As for release date? No idea lol but hopefully sometime between January 1, 2015 to Dec 31, 2015 :P
Being primarily an actor, you have dabbled into production even before Dwelling - so what can you tell us about these experiences? And what made you pick up producing in the first place?
Producing came more natural to me than directing. I can direct a film but I tend to take on too many things at once and usually each of them suffers because I'm not 100% focused on each other them. I usually get the shot and performance that I want but trying to articulate and convey it to my DP and actors is a hassle. What I was better at doing was building connections and overseeing everything. As a producer, it is also much easier to act seeing that the bulk of my work is in preproduction. The biggest challenge I have as an actor (coming from a behind the scenes background) is just letting go of everything behind the camera and completely diving into a character. It's slowly becoming easier to do that now that I am working on projects where every aspect of the filmmaking process is covered.
Any future projects beyond Dwelling you'd like to share?

Feeling lucky ?
Want to
search
any of my partnershops yourself
for more, better results ?

The links below
will take you
just there!!!

Find Brandyn T. Williams
at the amazons ...

amazon.com

amazon.co.uk

amazon.de
Looking for imports ?
Find Brandyn T. Williams here ...
Something naughty ?
(Must be over 18 to go there !)

The next film we plan on shooting is entitled SIN and it will be written and directed by Arlynn Knauff. I will also be producing that one and acting in it as well. SIN will be a fantasy/action film and shot once we are completely done with Dwelling. As of right now we have another potential opportunity, but that project is still a big "what if". If it does go into works though, we will be making it very well known as it will be a huge project with insane potential. Bigger than Dwelling or SIN.
Your/your movie's website, Facebook, Kickstarter, whatever else?
We don't have an official website just yet but are working on it. Once it's up I'm guessing it'll be something like "www.dwellingmovie.com", but don't quote me on that (I'm asking you not to quote me on an article I'm responding to in writing... lol)
Facebook: www.facebook.com/dwellingmovie
Kickstarter: https://www.kickstarter.com/projects/bewilderedmedia/dwelling-a-feature-film
Anything else you are dying to mention and I have merely forgotten to ask?
I'm sure that Kyle and Arlynn will be mad at me for leaving out quite a few things I can't think of right now, but I think that covers everything I want to say other than PLEASE HELP US REACH OUR GOAL! :-D Seriously though, thank you so much again for the opportunity to interview with you Mike, I really appreciate all your support!
Thanks for the interview!