Your new movie Crazy Fat Ethel - in a few words, what is it about?
In a nutshell, it's about a large insane woman that won't allow anyone to stand in the way of her gluttonous appetite. Even if it means killing.
Crazy Fat Ethel is of course based on the underappreciated cult classic Criminally Insane from 1975 - so how did you stumble upon that movie in the first place, and what made you want to remake it? And did you get any input from the original's director Nick Millard [Nick Millard interview - click here] when making your movie?
Douglas and I saw the movie years ago and loved it. We both wondered how audiences would react to a more modern version. I reached out to Nick and he was very kind and flattered at how much I gushed over his original movie. After the legal stuff, he wished me luck and wasn't further involved in the remake.
Other sources of inspiration when writing Crazy Fat Ethel?
Kathy Bates in Misery for sure.
Crazy Fat Ethel does feature some quite, erm, meaty special effects - so how were they achieved?
I looked at a lot of fx blood till I found one I loved. Everything is practical. Myself and the crew were always against CGI fx. Throw in real pig intestines and the rest is history.
What can you tell us about Crazy Fat Ethel's overall approach to horror?
Everyone involved with the film are huge horror fans. We sought out to make a gory slasher that we'd all want to watch even if we had no involvement in the project.
You also have to talk about Crazy Fat Ethel's rather dark brand of humour for a bit!
I think real life naturally has dark humor. We didn't want to amp up any comedy but I knew the subject matter was darkly comedic.
Do talk about your key cast, and why exactly these people?
Dixie Gers is really what got the ball rolling. After years of disappointment in trying to develop an appropriate cast, Dixie and I met at a film festival/horror convention. I knew right away she was born to honor Priscilla Alden's original role. Hell, it took me 5 years to find her. Her enthusiasm for the part was inspiring. Jenny Coulter stepped in after another actress left us without an Aunt Joyce. We all agree now that this other actress not working out was fate. Jenny brought so much that most couldn't have. Kelli Ellis was originally going to play a mental patient but I upgraded her to the head nurse and was not disappointed with that decision. Bill Nugent played Detective Andy Wilkes. Bill continued to impress everyone and some of our extras thought he was a real detective. Rounding out the cast are Douglas Conner and Fritz Dorton as greasy orderlies. Last but not least, Athena Prychodko plays Ethel's cousin Rose, a prostitute, drug addict whose boyfriend (Shannon Ray Morris) is her lowlife pimp.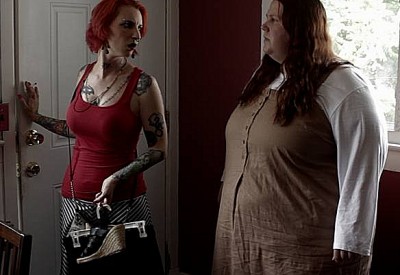 A few words about the shoot as such, and the on-set atmosphere?
In the main house it was often stressful. We shot in June and the house had no air conditioning. Unlit candles would melt from the unbearable heat. When using pig parts the smell was gag inducing. However, everyone was constantly laughing and having fun. Just had to stay hydrated.
The $64-question of course, where can your movie be seen?
We've entered it into many film festivals which Dixie and I will announce dates on social media. Other than that the DVD/Blu-ray will be out by summer.
Anything you can tell us about audience and critical reception of Crazy Fat Ethel yet?
So far all positive. I mostly enjoy hearing from fans of the original. One even thanked me for bringing Ethel back against all odds.
Since Criminally Insane had its (less appreciated) sequel Criminally Insane 2 - will there ever be a follow up to Crazy Fat Ethel - and/or other future projects you'd like to share?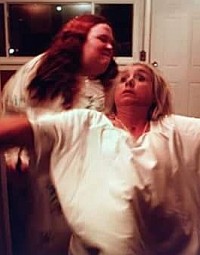 Feeling lucky ?
Want to
search
any of my partnershops yourself
for more, better results ?

The links below
will take you
just there!!!


No sequel plans yet. I will be producing Venom of God which Dixie and Fritz are writing and directing. It revolves around a satanic cult. But I don't know much more than that. I, myself plan to direct my 3rd installment in my Trashology universe. It's titled An Extremely Uncommon Set of Circumstances. So looking forward to that.
Your/your movie's website, Facebook, whatever else?
There are Facebook pages for:
Trashology - https://www.facebook.com/TRASHOLOGY101/
The Horror Network - https://www.facebook.com/themacabremovie/
Preexisting Conditions - https://www.facebook.com/Preexisting-Conditions-1534105836857982/
Crazy Fat Ethel - https://www.facebook.com/CrazyFatEthel2016/
Brian Dorton - https://www.facebook.com/Brian-Dorton-1385500368374006/
reel EPIC entertainment - https://www.facebook.com/Reel.EPIC.entertainment/
+ additional info on IMDb etc.
Anything else you are dying to mention and I have merely forgotten to ask?
I think we covered a lot today Michael.
Thanks for the interview!
My pleasure.