Your new movie Agalmatophilia - in a few words, what is it about?
Agalmatophilia is a low-fi, analog, time-warp, mind-fuck. It's a journey through mental illness, recovery and relapse. It's a love story, a love triangle, a black comedy, a tale of deceit and delusion.
How did the project fall together in the first place?
Jared Masters [Jared Masters interview - click here] had an idea to shoot a "mock-u-mentary" about his life at the office of Frolic Pictures. I told him that it was against his best interest to expose the intimate details regarding the skeletons that may or may not be behind his closet door. Instead, I recommended he turn the idea into a fictional fantasy, and thus was the beginning. That notion turned into a martini-fueled manila envelope filled with sticky notes, napkins, receipts, and sheets of printer paper scrawled with incorrigible hieroglyphics, diagrams, maps, and much, much more.
What were your inspirations when writing Agalmatophilia, and who did actually come up with the idea for the story?
Inspiration was drawn from a multitude of sources, but ultimately the film became what it is all by itself. Funeral Parade of Roses, a 1969 Japanese film, was inspirational for some of the ephemeral imagery and eroticism. My personal lack of ability to assimilate to the ideals of the commonwealth or hold down a job for longer than a few months were certainly a large part of the dynamic between the employee, Iesha, and her boss, Guy Talbot. Veronique is essentially just another side of my multi-faceted personality. She's just a good-time girl who never meant to hurt anybody. Really, Jared and I both came up with the story together. Each night we got together, we threw countless ideas at the wall and whatever stuck was written down and it went right into the manila envelope.
You have written and directed Agalmatophilia together with Jared Masters [Jared Masters interview - click here] - so what was your collaboration like? And how did you two first meet even?
The collaboration was a Rwandan thunderstorm: Dangerous and powerful, deadly, even. It was not at all a walk in the park. Jared, having made twelve feature films who just wanted to get the shot and move on, and myself, an anxious perfectionist with a vital need to do things exactly as I envision them, without having a molecule of experience in filmmaking, made a sort of yin and yang. What Jared lacked in patience, I made up for in attention to detail. What I lacked in the ability to accept, acknowledge, and move forward, he made up for in technical knowledge and experience. The collaboration between us both, however difficult, created an autonomous being that is the film. Jared and I both made sacrifices that were associated with a plane far beyond either of our conscious beings. The actual, tangible stress created something neither Jared, nor myself, ever thought possible. Jared and I actually met randomly at a grocery store in Hollywood. The conversation we had there struck a nerve within us both. I was wearing my "fuck-me jeans" and he had yesterday's makeup on and we became comrades instantaneously.
Do talk about Agalmatophilia's brand of humour for a bit!
A lot of the jokes are things that strange men have said to me throughout my life. My favorite joke in the film is actually something a construction worker outside my Chicago apartment building said to me as I was walking home from my high school. He stopped me as I was walking my usual quickened pace and said, "Are you Russian?" I replied, "No, I'm not in any hurry." He immediately burst out in laughter and I could not understand why. The humor in the film is dry and nonchalant and if you weren't listening, you'd miss it. Many scenes are inspired by classic cartoon television shows. I don't want to give anything away, but the restrictions of reality do not limit the downright hilarious instances that occur throughout the film!
A few words about your overall directorial approach to your story at hand?
I simply stated exactly what I wanted to see. It was not a complicated process, as I am a woman who knows exactly what I want: When, where, and why. Most of the time, I was behind the camera, directing, and voicing the lines of our statuesque star, Iesha Stayput. Because I had no preconceived notions of how a film should be made, it was close to natural. Sure, I had to learn as we went along, but I'm a quick study. I have a very linear, visual mind, and what I wanted to capture I created.
You also play the two female leads in Agalmatophilia - let's start with Iesha Stayput then: How does one even prepare to play a mannequin?
Well, I should certainly not have been sunbathing all summer, one of the reasons why the decision was made to release the film in black and white, but after a martini or two and a trip to the alternate personality center of my brain, Iesha's personification was enlivened. Iesha's belabored, stagnant manner of speech was created due to none other than the fact that I was running the camera, directing, and improvising her lines simultaneously. However, it made sense. She's a mannequin. It works.
Moving on to Veronique, what can you tell us about her, and what did you draw upon to bring her to life? And have you written her with yourself in mind from the get-go?
Veronique is the polar opposite of Iesha. I drew upon my love for the nightlife and the music of the synthesizer. Veronique exudes the confidence and sexuality not allowed in the workplace. Veronique is a personification of everything a woman should not be. Her character was most certainly written with myself in mind from the get-go, but so was Iesha.
What can you tell us about the rest of your cast, and why exactly these people?
Mystic Marlow, Derrick Ingram, Jole Cold, and Poo Bear are a hand-selected bunch of Hollywood misfits wiling to work in a film that will probably never win an Academy Award or shine any amount of limelight on any single one of them. These are the soldiers that make up the backbone of independent cinema. A low-budget or a vague description of exactly what their job entails did not scare these actors away. These people are the actors that will save our industry.
Do talk about the shoot as such, and the on-set atmosphere?
The majority of the film was shot with Jared and I the only living beings present, Miss Stayput being the only exception. I was the head of the hair, makeup, wardrobe, and art department. Jared took charge of all the technical aspects, as well as script supervision and lighting a fire under my ass. Most of the film was shot between the hours of 11PM and 4AM. The communication between the departments was usually marinated in hard liquor. There were nights where Iesha would walk off set because of a simple disagreement that was blown way out of proportion. Two crazy people and a mannequin: We made it happen.
Anything you can tell us about audience and critical reception of Agalmatophilia?
Our investors are pleased with the final product and our first user review awarded Agalmatophilia One Star on Amazon Prime. I deduct it may be too soon to tell, but I'm hoping to make a splash within the counter-culture.
Any future projects you'd like to share?
I am currently honing in on the final throes of a script entitled Feral Female. It's a story of a young woman, abandoned as a baby, who acquires an insatiable taste for human flesh. Local news follows the story of the serial killer at large, and a curious youth decides to capture the "Feral Female" before the authorities do.
What got you into the filmworld to begin with, and did you receive any formal education on the subject?
Jared Masters [Jared Masters interview - click here] is the sole reason I am involved in film at all, whatsoever. I moved to LA by chance, and I had no interest in "the industry" in the least bit. I believed it to be pretentious and any recent film I have been coerced into having the displeasure of having displayed before my retinas had been an utter disappointment. Jared saw something in me and invited me to work on his next picture. Everything I know about filmmaking, I learned from working alongside Jared Masters on Agalmatophilia. I have zero formal education in film, but do I have a degree in fine art and a trove of life experiences.
What can you tell us about your filmwork prior to Agalmatophilia?
I used to make "kung-fu movies" with my best friend when I was a kid. I received a digital camera as a gift in like 2005 and we would go around downtown Phoenix and do "parkour" and "karate" and whatever. I unfortunately do not have access to these cinematic gems, as the digital camera, a Polaroid with about 3 megapixels, was stolen.
Filmmakers, actresses, writers who inspire you?
Winona Ryder, Chloë Sevigny, River Phoenix, Brittany Murphy, Juliette Lewis, Susan Sarandon, Helena Bonham Carter, Wong Kar-wai, Crispin Glover, Klaus Kinski, James Bond, Kathy Aker, Steve Martin, Stephen King.
Your favourite movies?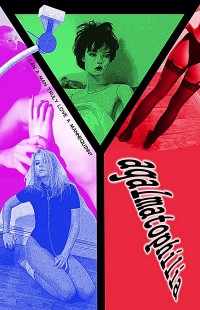 Feeling lucky ?
Want to
search
any of my partnershops yourself
for more, better results ?

The links below
will take you
just there!!!


Colossus: The Forbin Project, Android, Romeo + Juliet, Scenes from the Class Struggle in Beverly Hills, The Florida Project, Wanda, Les Yeux Sans Visage, Metropolis, Brazil, Liquid Sky, Lord of the Flies.
... and of course, films you really deplore?
It's hard for me to think of a film that I "deplore", because I refuse to sit through a film I do not enjoy. The most recent film I shut off was Bandits because it started off as a fun action packed movie about robbing banks and then it turned into a romantic comedy. Another that comes to mind is Stepbrothers. My entire immediate family was obsessed with that movie and it drove me utterly insane because they seemed to watch it on a loop.
Your/your movie's website, Facebook, whatever else?
www.facebook.com/agalmatophiliamovie/
www.frolicpictures.com/agalmatophilia/
Anything else you're dying to mention and I have merely forgotten to ask?
Throughout the film, there are several nods to postmodern design, specifically, Memphis design. The object that Veronique has a relationship with is actually a lamp, Treetops, designed in 1981 by Ettore Sottsass. The architect left his own firm and founded the Memphis collaborative in Milan. One of Iesha's tops and one of Veronique's bodysuits were both printed with patterns designed by Nathalie du Pasquier, one of few women who were a part of the Memphis-Milano collaborative.
The music in the film was chosen and/or created exclusively for each scene. I laid down all of the ambient tracks and the "voice" of Veronique's love object on a microKORG XL. What Does it all Mean, the original song Jared and I created for the film was played on the analog synthesizer, Roland JX-3P and a BOSS Dr. Rhythm drum machine. Jared hit the keys, and I wrote and sang the lyrics. I'm really into 80's post-punk-no-wave, so we had to pay homage to that style of music.
Thanks for the interview!