Your new movie Incall - in a few words, what is it about?
That's tough to explain in a few words (it has a very complicated, twisty plot). It's essentially about a young masseur who, after the accidental death of one of his massage clients and through a bizarre set of circumstances, teams up with a cat burglar/hustler and begins murdering his clients for money so that they can both flee the country.
What were your inspirations when writing Incall, and was any of this based on personal experience (not the killings I hope)?
The film is definitely not autobiographical. But with that said, the film is definitely based on experiences that I have had and or seen/heard about. It's essentially (among other things) a social commentary on a society based on a predatory economic model (without a civilized social safety net for its people) that forces a certain segment of its population through the cracks in order to channel the majority of prosperity to a select few. Those people who are forced through the cracks are slated as "prey" and have every right to "fight back". When they do it aint pretty. But the film does deal with other themes as well.
You also play the lead in Incall - so what did you draw upon to bring Kasey to life, did you write him with yourself in mind, and how much of Brock Riebe can we find in your character, actually?
Again, the film is not autobiographical. But, I did write Kasey with myself in mind for the role. Some elements of the character's personality are definitely based on me. For example, Kasey's travel guide "addiction" is totally based on me. But the specifics of his background are not based on my life.
Do talk about the rest of your key cast, and why exactly these people?
Well... ALL the characters in Incall are inspired in some way by real "types" of people that I have met and known. Because I had a clear idea about who these characters were, it was easy for me to write dialog as I could almost hear them "talking to me." I definitely relied on INTUITION in terms of casting. The actors HAD TO possess somewhere inside themselves certain elements consistent with what of the characters they were to play; whether they knew it or not haha. I knew what I was going for. The talent pool was very limited (as this is a non-union, micro-budget, guerrilla-indie film that was not shot in a premiere entertainment town). Even so, I chose people who I felt could deliver the characters. I was very impressed by my actors.
There is a darkly comical flair about Incall - so could you talk about the movie's brand of humour for a bit?
My favorite types of horrors/thrillers are those that interweave humor with thrills and chills (but ONLY in the proper doses). I'm not a fan of comedy horror. In fact, I wont even watch it. I use humor that is only funny (in my humble opinion) because one can see how something of the sort could and does happen in real life, thus they can relate to it. It was important to me that the "funny" parts be straight acted. Life is funny. It's also many other things (including scary). Juxtaposing highs and lows in a film creates a wide and steep emotional range with lots of ups and downs (like a roller coaster ride - and who doesn't love that). I love watching films like this. It also helps to bond the audience to the characters so they actually CARE about what happens to them.
What can you tell us about your directorial approach to your story at hand?
I'd say my approach was very SPECIFIC. I knew exactly who the characters were and what I wanted. Everything was very specific. I explained in detail to all my actors what the backstories for their characters were. I went over every scene with a fine toothed comb and explained what the motivations were for everything. No accidents going on here. And yes, we rehearsed. I don't look at contemporary film to draw inspiration. I look at what I feel is QUALITY, and what I feel works. I don't care when it was made or by whom.
On Incall, you wore quite a number of hats even besides writing, directing and starring - so how come, and what did you enjoy the most, what could you have done without?
Why so many hats? In a word: BUDGET (or lack there of haha). Incall is a full length (and some change lol) micro budget film. As such, I had to do whatever was necessary to get it finished while making the film I set out to make. So, I did what I needed to do. I didn't take credit for much of what I did because the credits were getting stupid. I am a professional editor and really enjoyed the editing for this film. I also really enjoyed scoring the film. I enjoy working with other talented performers immensely. I do plan to play multiple roles in future films (including writing, directing and acting) to be sure as I consider myself an auteur filmmaker. But there were some roles I could have done without. Doing my own lighting, Argh. No. That wasn't the original plan but that's what happened. Never again... no, just... NO!
What can you tell us about the shoot as such, and the on-set atmosphere?
Hmmm, it was crazy and INTENSE. The film deals with unusual subject matter and has an unusual cast of quirky characters. The making of this film is a film in and of itself! In fact, I'm not into comedy in general, but I have considered making a very DARK comedy loosely based on the making of this film. The whole time I was sweating bullets as I continued to play multiple roles and maintain stability in what is inherently a completely unstable situation (microbudgetville, or what I refer to as HELL lol). There were very long hours involved, a LOT of multitasking, and lots of creating "natural" behavior in very unnatural/confining spaces/circumstances. But the experience was ultimately very rewarding. This kind of filmmaking is NOT for the faint of heart, but really, if you can make this type of film you can make any type of film.
A few words about critical and audience reception of Incall so far?
So far, I've received excellent reviews/reactions for the film. It's so rewarding to bust your ass to make a film and then have a random person walk up to you (after a screening) and reflect back at you your exact intentions for making that film. It's really great.
Any future projects you'd like to share?
Yes, I have two film projects in the works. I am putting finishing touches on one of the screenplays and have a solid outline for the other. What I will say is that they are both horror/thrillers and very "culty".
What got you into acting and filmmaking in the first place, and did you receive any formal education on either?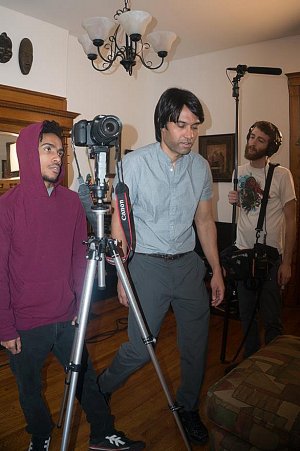 I've wanted to be a filmmaker for as long as I can remember. I do have a degree in Communications from the Univ. of WI. But the art departments at that school are/were pitifully underfunded. So... I learned very little in college with regards to filmmaking. I did the best I could with things and moved to NYC after graduation, becoming a professional editor. While working as an editor, and after several years of contemplating whether or not I wanted to be yet another victim of the American FOR PROFIT "education" scam (going to get my MFA in film), I applied to The University of Miami (my top choice program). I was accepted but they would offer no financial assistance for their $32K/year program; so I didn't go. I knew I could make a full length film on FAR less than it would have cost to attend that school. I also felt they (and schools like theirs) are crooks whose main objective is to prey on artists and dreamers. I decided to strike out on my own (SO glad I did). I am basically a self-taught actor and filmmaker. I'm also a singer/songwriter. I do plan to integrate that into my films as well. I "learned" filmmaking pretty much by watching films that I like (a million times) and then just making a film/films.
What can you tell us about your filmwork prior to Incall?
As I mentioned, I am a professional editor. I have also made four zero budget short films (ranging from 15-22 mins) before Incall. The way I learned is by FAR the best way to learn filmmaking (in my humble opinion). From these experiences (and others) I learned to be VERY resourceful. I learned how to make something from "nothing". I am also a student of human behavior. Without having a solid understanding of human behavior (something NO book will ever teach), it's not possible to write strong characters. It also plays a MAJOR role in making/finishing a micro-budget film! You pretty much need to understand the types of things that people can/will do BEFORE they do it in order too keep up with the MAJOR demands and overall lack of control associated with this type of filmmaking.
How would you describe yourself as a director and as an actor?
As a director I would describe myself as serious, focused, artistic and genuine. With Incall, I made the type of film that I would want to watch. I refused to allow current "trends" in filmmaking (most of which I do not like and I feel lower the art form) to influence my vision. I'm interested in quality not quantity. As an actor, I have much to learn (and I will). With Kasey, I was a bit concerned that his character is so depressed during the whole film (otherwise it makes no sense) that the portrayal wouldn't be "likeable". With that said; I am very happy with my performance and have no regrets.
Filmmakers, writers, actors, whoever else who inspire you?
Um, that's always a hard question for me to answer. I don't really "survey" film and/or directors. I basically just watch what I like. The only director that I would say that I "borrow" from would be Brian De Palma. I like his films (at least the early ones). With Incall, the three films that were the most inspirational (and I LOVE them all) were:
1) Apartment Zero
2) Eating Raoul
3) Henry: Portrait of a Serial Killer
All of those films are distinctive, well made, and cleverly interweave humor with pointed social commentary and dark human themes. Incall is definitely in the same vein.
Your favourite movies?
I have so many. I'll just name a couple of the top ones here:
1) Salem's Lot (the '79 version, the remake is CRAP)

Feeling lucky ?
Want to
search
any of my partnershops yourself
for more, better results ?

The links below
will take you
just there!!!

Find Brock Riebe
at the amazons ...

amazon.com

amazon.co.uk

amazon.de
Looking for imports ?
Find Brock Riebe here ...
Something naughty ?
(Must be over 18 to go there !)

2) Apartment Zero (but the fact that there is no physical intimacy between the two leads is ridiculous)
3) Dahmer
... and of course, films you really deplore?
Oh God, anything that came out of Hollywood after about the early '90s (with a few exceptions). Don't even get me started.
Your/your movie's website, Facebook, whatever else?
Incall website: www.incallmovie.com
Incall Facebook page: https://www.facebook.com/pages/Incall/208473859186290
Anything else you are dying to mention and I have merely forgotten to ask?
To watch the Incall trailer, learn more about the characters, read about details of the film/trivia and learn about upcoming screenings/ways to see the film please check out the Incall website! Also like us on Facebook.
Thanks for the interview!