Your new movie Lunchtime is Over - what were your sources of inspiration when writing the script, and is any of this based on actual workplace experiences?
I'm sure the answer in a global sense is absolutely! Everyone who is stuck working in that dry run for purgatory that we call the "corporate world" will have wanted to bludgeon at least one of their coworkers. We all know this happened somewhere, at some time… Possibly even as you read these words. But, as far as in my own life goes, no. I never lasted long enough in a corporate environment to hit DEFCON Kill! My record for being respectable lasted about two weeks and ended with me speaking philosophically about whether my manager conducted his home life in a similar fashion to his office and if that resulted in the same levels of efficiency. This speculation was not appreciated. I ended up making a much better consultant type, I enjoyed being paid gobs of money to officially not care.
Do talk about your co-writers Gilbert Feliciano, Thekla Hutyrova and Katie O'Donovan for a bit, and what was your collaboration like?
Writing is such a funny word, it makes it sound like pencil was put to paper, thoughts were thought out and in the end we had something that resembled a script. It didn't work that way here.
Gilbert was the first person on board as my producing partner and costar. Thekla was suggested by the man who trains us to do the stunt coordinator job. Thekla then brought in Katie as her partner and backup since Thekla is an in-demand stunt woman and there was the possibility that Thekla might book work. Katie is also an in-demand stunt woman but between the two it was covered.
Our collaboration was one of tossing ideas around, putting pieces together and then seeing if it all came out to funny in the end. It started with a discussion about what the short was going to be, some of the comedic set pieces I wanted and then Thekla and Katie would go away and a few days later they would have choreography built around it, with other comedic moments and transitions they've come up with added. We'd then work through what they came up with and then in the rehearsal things would evolve. It was almost like repeating an improv to come up with your script. Gilbert would add a set piece here, Thekla would see a forklift and insist we have to use it. I'd want an homage to Civil War, Katie would want to do a spin fling of a book to hit someone and out of this a story came together.
In this, it should be noted that Ted Endres the DP also played a part as it was his idea that the short be completely and always alive with movement and that shaped how the story played out as well.
There is next to no dialogue in Lunchtime is Over - was this a conscious decision from the get-go or did it just develop like that over time?
The lack of talking was a very definitive choice. I had a very practical reason as well as an artistic one to not have actual words. Let's start with what we were doing was stupidly ambitious. We decided to shoot something that would normally take four or five full days with a decent sized crew in just two 12 hour days with a crew of seven very tired and abused people. That is no time with all that action going on, we are lucky we had any footage at all. So, from that standpoint, we really didn't have time to worry about capturing sound. Even if we tried, I'm guessing most of it would be unusable, but then we really wouldn't have had a chance to get enough footage to make a complete project. I knew this from the moment we said "Let's make a movie!" I really didn't have much choice so I turned that weakness into a strength by making the whole short into something comedic, a little Buster Keaton [Buster Keaton bio - click here] to go with your Streets of Rage. Lets be honest here, the action and the body language are telling you everything you need to know about what's going on. Would dialog really have added anything to it? Plus it makes the one line really special. I'm happy to have had the chance to do a modern take on a silent comedy.
Lunchtime is Over features quite a bit of action - so do talk about the fight scenes in your movie for a bit, and how were they achieved, how much preparation was necessary to get them on film?
The action sequences were the brain children of Thekla and Katie. Originally, we just had the idea of we are going to do a fight scene, ideally highlighting the skills of the performers involved. However, this is great if all you want is footage, if you want someone to actually watch and enjoy your movie, it needs to appeal more broadly than that. So, I hit upon the idea of making it a comedy about the office and the conflict between middle management and the warehouse workers, just about everyone could relate to that. With that idea in place, our choreographers began putting together a string of fight events that we could follow from group to group, you might have read a little more about this a few paragraphs above this one. As ideas were added, they would be brought in and placed into the flow of the fight. Some of the set pieces were later additions, such as the Jackie Chan Rush Hour tribute or the pen disarm.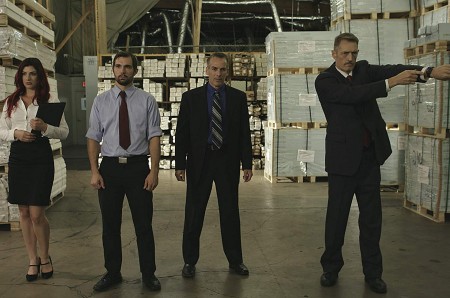 We had a three-week run-up to the shoot and due to scheduling conflicts, we only managed six rehearsals, of those, there was just one rehearsal where everyone was present to work the whole thing from start to finish. We never had the chance to practice on location before we shot. It was the night before our first day of production that Katie and Ted were figuring out where all the action was going to happen in the warehouse. I think they might have managed four hours of sleep before starting their shoot day.
Another thing I would like to say about the preparation for the action was that Thekla and Katie did a wonderful job of taking the character descriptions I laid out and adapted the action to fit each individual performer. Everyone has something distinctive in their movements that tells you who they are and what they do.
Lunchtime is Over was almost exclusively shot in a warehouse - so do talk about that location for a bit, and what was it like filming there?
You've seen that location before, except last time you saw it I was trying to break in :) The company is called Eternity Flooring and I used to work for them doing IT. The owner, who for some reason is very entertained by my filmmaking and against all logic and reason was very receptive to "Hey, can I fight all over your place?" He said yes. It's a warehouse that is jam-packed with flooring product, has a nice office area and is completely closed on the weekend so nothing was in our way. Doron, either out of generosity or just to get me to stop talking, was even willing to allow me to use one of the forklifts, as this was a big desire for Thekla who said something along the lines of: "I'd even consider it my payment for doing this." Since her boyfriend is a professional stunt driver, I was able to sell the idea as safe.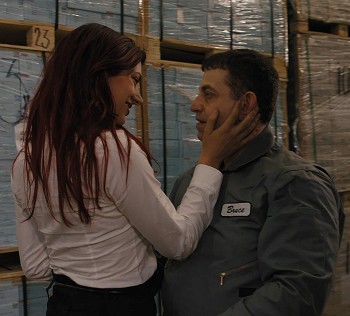 Shooting at Eternity was helpful because it required next to no set dressing, few props nor any additional cost to make it look like a legitimate place of business. I don't know about you but you can always tell that in a lot of fighting shorts, they take place in an abandoned warehouse that has a dirty yet sterile look to it because someone either rented, or broke into an empty building that is currently on the rental market. But, by Doron allowing us to use his place of business, it gave Lunchtime is Over a much more expensive and lived in feel to it.
What can you tell us about your overall directorial approach to your story at hand?
This was my first attempt to direct so I surrounded myself with people I could completely trust. I've worked with my DP Ted Endres for several years now and the guy who was my 2nd AD is Manuel Gutierrez, one of my longest standing professional relationships. I knew they had my back and would keep me on track. The stunt action on set was under the supervision of Katie O'Donovan, which she had well in hand at all times so I was able to focus on the emotional performances and the comedy. I come out of comedy so I had a clear vision of how I wanted the humor to play out.
Since I've worked with a few great directors, I'd seen what good directing is so I tried to emulate how they would guide me. It was important to speak to my actors about the intentions that their character would need to carry them from comedic bit to bit. We were moving fast and since I was also performing in it, I would only have a moment before we rolled to explain what I wanted and then I'd have to perform and then run to the monitor to see if we got what we needed. It didn't leave a lot of time for reflection.
You also appear in front of the camera in Lunchtime is Over - so what can you tell us about your character, and have you written him with yourself in mind from the get-go?
Here's the character description I wrote for myself:
"Bruce - Supervisor: A summer job that was supposed to help pay the bills to help bolster a career as a touring musician had turned into a way of life. The warehouse supervisor has been in his warehouse for as long as there has been a company. Laid back but effective, he knows his warehouse and his job completely and isn't receptive to criticism. He treats his employees like friends."
I always intended to be part of the performance ensemble of this project, even before I had fully formed the premise and story. We knew we were going to make something, but there was no idea at first beyond kicking each other's asses. Once we had the idea of the war of the White collar versus the Blue, I knew I was going to be the warehouse supervisor facing off against Bill the CFO. I also wanted to have my combat style to be a that of a hard hitting brawler, more bone crushing than finesse. I'm more agile than I look and I can do a few things people my size normally don't do. The real set piece of my fight choreography was built around me taking a flip directly onto the unpadded concrete floor. Was that smart? No, it was not. Was it cool to pull off? YES, yes it was.
Do talk about the rest of the cast, and why exactly these people?
With the exception of the CEO at the end, who you might remember as the HEAD head of the office hydra from Under the Doghouse, everyone in the short came out of Mike Chat's XMA Action Stunt Class. These are the people I have trained with for most of the past year so when I wanted to film something that I could use to show off my skills, I wanted to bring in the people who had grown to be my friends in class to perform with me. I had a good idea of what they could do, knew them to be reliable and I could trust them. Trust was the most important part.
Individually
Bill Ferris (CFO) is someone I've filmed a few fights with and we just look like we naturally want to wail on each other until one rises no more.
Jeff Karr (Accountant) is someone who has also worked with me on my flips and dive rolls outside of class.
Marine Madesclaire (HR) is an amazingly diligent and talented performer who just needed a platform to show her badassery off.
Gabriel Fiorindo Bellotti (CSR) works hard, first to arrive and last to leave.
Talin Chat (New Guy), as young as he is, is a very experienced and professional performer but I wanted to show him as the comedic actor I know he's a natural at.
Reuben J. Lee (Materials) was the person I originated the idea of shooting something with and he works hard at being a professional.
Graham Hooper (forklift) was brought in by his girlfriend Thekla since he is a stunt driver and we wanted to do that gag with the forklift. He saw those glasses I bought for him and he knew exactly what I wanted from his character.
Finally Gilbert Feliciano is talented, hungry and ambitious, he wanted to produce something good and was willing to work his ass off both in front of and behind the camera to make this project the best it could be.
A few words about the shoot as such, and the on-set atmosphere?
The shoot was a very tight schedule so it had a bit of a tense feel while still being a friendly set. We had promised that we weren't doing more than 12 hour days, mostly for the safety of the performers but also because people were working this shoot as a favor. The crew was ultra-professional, and our camera team were straight up rock stars. All and all, the shoot went far smoother than it had any right to go, it helped that the cast were classmates and friends, the camera crew had all worked together before and the people who started as our PAs stepped up and took ownership of other duties. It was a great time, I just wish I could remember some of it.
The $64-question of course, where can Lunchtime is Over be seen?
You can find it on YouTube here: youtu.be/DmlFS2lS7ho
Go watch it and then leave me a like and comment on the video with your thoughts, or praise… either one works for me. Also, enjoy our exploitation trailer that we cooked up for it: youtu.be/NhT1XO68Mj0
Anything you can tell us about audience and critical reception of Lunchtime is Over?
So far, everyone who has seen it has loved it. It's fun, it's silly but never at the expense of the action. It's a love letter to Jackie Chan… written in blood!
Any future projects you'd like to share?
It's not out yet, but here is the trailer for Dark Specter 2: youtu.be/gtrGDdKPd7U
As a bonus bit of silliness, enjoy my dog playing Rocky: youtu.be/Np7ufKc6Xnw
Your/your movie's website, Facebook, whatever else?

Feeling lucky ?
Want to
search
any of my partnershops yourself
for more, better results ?

The links below
will take you
just there!!!


Lunchtime is Over doesn't have a website beyond its YouTube page but you can find more of me:
Instagram: @bigguysmalldog
Twitter: @brucenachsin
Facebook: www.facebook.com/brucenachsinfanpage/
My "deeply in need of a revamp" website: www.brucenachsin.com
Email: me@brucenachsin.com
Anything else you're dying to mention and I have merely forgotten to ask?
If you enjoy my work and find the mind droppings I've left here funny, then subscribe to my YouTube channel: www.youtube.com/channel/UCp68Bn5LmnQXMouTQdX9lmw
Email me, connect to me and let me know what you think.
Thanks for the interview!