The Scarehouse, a new movie you have worked on - first of all what is it about?
Well, it's about two sorority sisters plotting and executing their revenge on their former sisters in a haunted house. It's sick and twisted in a really awesome women revenge type of way.
How did you get involved with the project, actually?
I've known the director Gavin Michael Booth [Gavin Michael Booth interview - click here] for quite some time now. We first worked together just when I had started off in my makeup career. I was 18 and it was 2010. I worked on two of Gavin's music videos (one specifically for SPFX makeup) that spring and summer and we've stayed friends ever since. I had heard of the project from other people in the industry in Windsor after moving home from Toronto and then got in touch with Gavin only to find out he hadn't put together a makeup team just yet. I basically stood there with a big sign saying "Pick me! Pick me!" We talked and then I got Taylor Vigneux on board and we started production I think like 10 days later.
Some of your favourite effects in the film, and how were they achieved?
Hmmmm … Well I love them all, but my one of my favourites was the rib being broken and pulled out of the Emily's dead body by Shelby. There was so much gelatin involved because I really wanted Teagan Vincze's (Shelby) [Teagan Vincze interview - click here] reactions to be authentic as though she was actually putting her hands into a dead body's open wound. It was very squishy and very bloody which I'm sure she very much appreciated.
Another one of my favourites which is just so simple, but highly effective (and hilarious) is the blood on Corey's hands. She just never even cares to wipe them off throughout the whole story, so they just stay bloody and dry. It was so funny each day for continuity doing the blood on her hands. By day 10 she had it down pat. Even how we got the marks to look the exact same each time. Never underestimate a bloody thumb print.
There was also that one time I had to make a fake breast in less than 5 minutes … we were also in the basement of the building with the makeup room on the very top floor. I don't think I've moved that fast in my life. I also just went into the makeup room looked around and thought to myself hm... what could act as a fake breast? I opted for gelatin and ceiling wrap from the kitchen which was next to us. Hurried, back downstairs and Gavin looks at me, looks at the breast and says "Looks like a fake breast to me." I then bloodied the hell out of it and it worked fantastic.
What can you tell us about your director Gavin Michael Booth [Gavin Michael Booth interview - click here], what was your collaboration like, and how much freedom did he give you when creating your effects?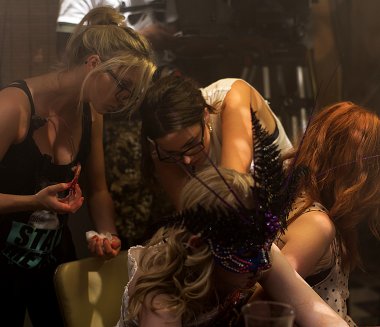 Taylor Vigneux and Carly touching up the actresses
Gavin is such a pleasure to work with. He and Sarah [Sarah Booth interview - click here] both were just awesome collaborators as writers and director. I really had an understanding for the characters and how far they were going to go with each killing, so the effects were easy to do and to kind of go over the top with them. I didn't just want it to be another cheesy horror film. Taylor and I wanted it to look so real that the audience would never question it being fake. Gavin really let us take it there too, he never questioned us or told us no. He trusted us. Sometimes I look back and think "wow I'm sick" (ie. bone being ripped out of body), but then just laugh because it's like as much as all that grosses me out a lot, I love replicating it and making up my own scenarios.
Another great part of a collaboration was with Taylor Vigneux. She is so talented at making things look so gross and real. Her special effects work is fantastic. One of the biggest compliments we keep getting is that the blood looked so "real". She is partially to blame for that. I remember making the blood and her telling me her SPFX secret on how you really get it to look real. That trick helped make a lot of the film look authentic.
As far as I know, The Scarehouse gets quite violent at times - so was there ever a line you refused to or weren't allowed to cross (for other than budgetary reasons)?
Honestly? No. We went there. I went there. I'm just gonna throw this out there … I get sick from horror films. The Saw movies? Ya, no. Took me years after they were made to watch them. I literally had to force myself to go out and buy them and then sit there and watch them. I watched the first four in one night. I can't handle the sadistic plots and blood together, but I like SPFX makeup.
Weird that I worked on this film …
I never really put the sadistic part and then actually killing (SPFX part) together, so I was able to push the limits on some things. It was just work for me, part of the job. The rib breaking and tearing out scene? I was all for making it more gross and more bloody. I did it as close to the real thing I think possible. I even used a real pig bone, that I boiled three times over, then bleached two times and then once overnight, painted it with nail polish (bone colour on point), and then cut it to look as though the break was the most real it could be. I remember standing at my Father's work bench with a hammer and knife making the ends serrated just as the break would have happened. PROPS 101.
There were never any lines to cross really. Each killing was plotted out so well that the makeup enhanced it and put it all together. I never really felt that any of it was going too far … we let the writing and acting do that part.
What can you tell us about the shoot as such, and the on-set atmosphere?
Well, every indie film has it's stories. This film? Has about one for each shooting hour. I really enjoyed the shoot and the people that were all part of the project. On one of the main floors of the building where each department's gear was being held the crew made fun with it. We had Propville, Grip Land, Spark City, and Pretty County (the key grip made us a nice work bench for a satellite makeup area because our room was on the top floor), which was so kind. The hours were long and we worked our asses off. There were some moments of tension, but there were so many other moments of laughter that completely override everything else. My favourite parts of being on-set included: black licorice and Red Bulls … how else do you expect me to make it through the night? (Don't ask how many times I ate licorice with bloody hands).
This shoot tested me like no other. Being in a key position there is a lot you have to handle and it taught me a lot about the management of the makeup room and people. We had a couple big things happen that totally threw me for a loop, but I am always one to say "don't come to me with a problem, come to me with a solution", and solutions are what I did. We had a pretty major hiccup in the makeup department for one of the scenes that we contracted out the SPFX for. It was a bigger prosthetic piece that Taylor and I, in the time frame of pre-production to shooting, didn't have time to handle ourselves. What we thought was going to be a breezy and easy three days turned into the exactly opposite. It really put us on the spot and with our team work together and with the talent behind both of our hands and brains we really held it together. The final product of that particular scene (a.k.a the boob scene) really came out quite great considering what the conditions we had to do it under were.
At the end of the day Taylor, who is my partner in crime, was fantastic to have as my partner on the SPFX makeup. Along with the many other volunteers we had come out and help in the makeup room, the team did an amazing job. I appreciate everyone so much.
Any future projects you'd like to share?
Taylor Vigneux and I just recently wrapped up another feature shot in Windsor called The Performance. I am continually working on commercial work, music videos, couture and fashion photography, and other creative projects. I also am an entrepreneur and have a couple business adventures on the go. This past Summer I launched a second product line of makeup called ESVIE. You can check us out at esviecosmetics.com and on social media @esviecosmetics. You actually will see the You Makeup Kits (our first product line) in the flashback scenes in the movies as props.
What got you into makeup and subsequently special effects makeup in the first place, and what can you tell us about your education on the subject?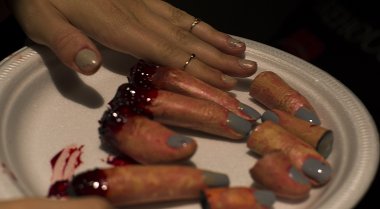 I was always a creative child. I loved creating. Painting, drawing, colouring, sculpting, etc. were always things I loved doing, so it makes sense that makeup ended up being a creative outlet for me. I didn't gain interest in the subject until senior year of high school. The summer after I graduated I became obsessed, watching the now YouTube gurus start their channels. I was one of the earliest fans of people like Michelle Phan. Traditionally I went to study at the University of Windsor where I immediately knew it wasn't for me. I then talked my parents into letting me take a makeup course at night at the local college St. Clair. From there it all sort of just fell into place. I was 18 and I started working on short films and music videos (one for Gavin) doing SPFX makeup that I self taught. I kept googling how to do everything and one day came across a school called Complections International Makeup Academy. I looked that school over and over for about an entire year before making the commitment to go. This was also after a makeup certification, a diploma in Esthetics, a year of University, and a semester of Business School. It took a producer at the Windsor International Film Fest who I didn't know tell me to go to Complections, and a week later I was enrolled, a month later moved and started a new education path. Complections is a top notch school for makeup artistry. I learned from the professionals, the people working behind major films, theatre productions, fashion magazines, and huge projects. I was true pupil, almost like sponge. I soaked up everything I could and when I finished I was ready to take on the makeup world in a completely different way. The SPFX makeup I learned was out of kit SPFX and prosthetics. My three teachers in those subjects were absolutely incredible and extremely talented, both in their makeup work and their teaching. I learned a lot of what the fundamentals are, so I could handle anything out in the film world (ie. the boobs).
Do talk about your filmwork prior to The Scarehouse for a bit!
My filmwork prior to The Scarehouse included music videos, commercials, short films, and feature films such as Beyond the Deep and The Birder.
Some of your favourite techniques?
Flecking. Using a fleck brush to fleck blood. It's the best and it takes everything to the next level (I mostly just like saying the word flecking). I also love using Ben Nye creams to do bruises and I use my fingers! Sometimes I hate brushes. Also, when it comes down to time your fingers and hands are the best tools.
Makeup and special effects artists, filmmakers, whoever else who inspire you?
I've always been a huge fan of Ve Neill. She's absolutely and incredibly talented. It's also super cool that she's a female. I cannot wait to see the makeup for the next Hunger Games movie Mocking Jay: Part 1. When you look at the people of the Capitol your imagination will just flutter off to a whole new dimension. It's amazing how she ties 18th century inspiration into futuristic colouring and style. One of my favourite directors is Cameron Crowe. He made movies that are timeless and true staples for every generation, even the millennials.
Your favourite movies?

Feeling lucky ?
Want to
search
any of my partnershops yourself
for more, better results ?

The links below
will take you
just there!!!

Find Carly Nicodemo
at the amazons ...

amazon.com

amazon.co.uk

amazon.de
Looking for imports ?
Find Carly Nicodemo here ...
Something naughty ?
(Must be over 18 to go there !)

This is the most difficult question, I hate you (kidding)… My favourite movies are Almost Famous, Lord of the Rings Trilogy, Lion King, Toy Story, and Perks of Being a Wallflower.
... and of course, films you really deplore?
There are some horrible RomComs out there … I just can't.
Your website, Facebook, whatever else?
Check out esviecosmetics.com - where beauty and music meet.
My Instagram is @misscarlynicks
@esviecosmetics
FB: /esviecosmetics
/lipsntipsmakeup
Anything else you are dying to mention and I have merely forgotten to ask?
Why did Jesus lose at hockey? Cause he kept getting nailed to the boards.
Thanks for the interview!