Your new movie Portal Man - in a few words, what is it about?
The film is about a nameless man who is stuck in an inter-dimensional loop where he has to constantly travel to new dimensions and kill the same person over and over again.
Your sources of inspiration when writing Portal Man?
The main inspiration for the film was a combination of a B-movie from the 80's called Trancers and Rick and Morty. Basically, I saw Trancers for the first time and then the next day my wife and I binge watched the 1st season of Rick and Morty and then poof - Portal Man was born, lol. I should also mention the short film Kung Fury too - which I loved and had a very 80's vibe to it and the main character also says "I'm in God damn ...." when he travels through time.
With Portal Man being set in a multiverse and the limitless possibilities this brings, did you do any research on that subject, and would you care to explain this in a bit of details to those who haven't seen the film yet?
I would sound so cool and sexy if I could tell you I did a bunch of a research and then dropped the tidbit that my father actually used to be a rocket scientist (literally) and that physics was in my blood... buuuuuut... the truth is I did no research at all and I have to take off my shoes and look at my toes to count to 20. I honestly just made it all up. The only thing I did do a little bit of research on maybe (spoiler) was the stuff when Bearthra explains how a battery works. Outside of that, everything else was mostly just driven by me trying to think of interesting ideas for each dimension.
Portal Man is a film that creates a world and logic all of its own - so how easy or hard was it to not lose the plot (both literally and figuratively) in the process?
I didn't find it that difficult really. I knew throughout writing it that the main focus was the characters trying to circle their way closer and closer to the big bad guy at the end and I mostly just held onto that idea. When I realized that (spoiler) Portal Man was the power source for the bad guy, it was pretty easy to hold onto how everything else worked. As with most things I do, I didn't have a clear linear logical plan when I started writing. Most of the time I just have a jumble of random things in my head and then start writing with those ideas ping ponging around my brain. For this one, the main ideas that were just kind of there as I was writing were (spoiler) Bearthra getting mud on her shoes and chasing him, Portal Man constantly saying "I'm in God damn ..." whenever he lands in a new dimension, and the very end of the movie when they are all sitting on the porch with the baby and Bearthra is talking to her duplicates with the giant in the yard.
At least for me, Portal Man seems to also have a high tongue-in-cheek factor to it - would you at all agree, and if so, do talk about your movie's brand of humour for a bit!
Absolutely! My last two films (Solus and Eddie Glum) were both darker horror movies, so I intentionally wanted to do something lighthearted this time around. When people were asking me why this movie wasn't darker like my last few films I kept saying "because I've been dark for years and now I want to eat some candy." I think the humor was important for this film too, because going in I knew I had no idea what I was doing special effects wise (clearly). As such I felt like if I was going to have people get into the movie, it had better be able to laugh at itself.
What can you tell us about your overall directorial approach to your story at hand?
Fast? Lol. As with all my movies so far this movie had basically no budget, so as such we just needed to film things as fast as we possibly could. That was mostly the focus really. We had a nuts amount of shots to do each day so it was all just being as direct as I could and getting down to business. One thing I did to help was that I memorized the storyboards the night before on each day of filming so I didn't have to keep looking at them as we were shooting, which believe it or not helped A LOT in keeping things moving.
You also play the lead in Portal Man - so do talk about your character, what did you draw upon to bring him to life, and did you write him with yourself in mind from the get-go?
I did write him for myself from the get-go. I enjoy acting a lot and I always wanted to be in a sci-fi action movie so that was it really. The whole aesthetic of him with the trench coat is something I'm really into too. One of my friends jokingly told me that the only reason I make movies is so that I can run around wearing a trench coat, lol. As for drawing upon stuff, I think on a subconscious level I was actually drawing upon the feelings and frustrations I have had as a filmmaker. My friend Todd, (one of the people who worked on the movie also) psychoanalyzed the film as being about me making movies - with every new dimensions I jump through representing another film I'm making. I guess I didn't see it that way at the time I was making the movie, but reflecting back on it - yeah. I see a lot of the confusion, frustration, aggression, determination and humor in Portal Man that I think I probably feel in myself when I'm trying to get projects done.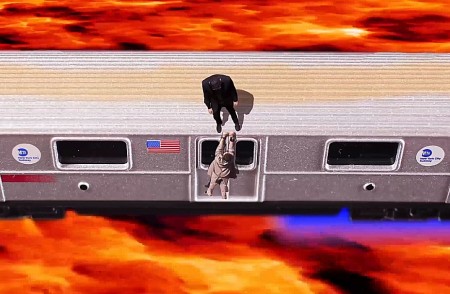 What can you tell us about the rest of your cast, and why exactly these people?
I've worked with Hope Stamper and Reagan Church on nearly every movie I've made so it was like falling into old habits with them. However, this was the first time we had done a real action movie together. I specifically wrote these roles for them too, because I love Hope's ability to do voices/accents and I just always had this vision in my head of Ron as a sci-fi guy with sun glasses on. The newcomer to the party was Jennifer Eiffert, who was someone I had never met before. She did such a great job and really took the character in a lot of different (and better) directions then I had initially thought of and was a great person to work with. Not to mention that she was up for the challenge of making a Chunkle Freaky's Movie too, which is never easy!
A few words about the shoot as such, and the on-set atmosphere?
It was hard! This was easily the most difficult movie I've ever made. We were constantly shooting on location, the weather was either freezing cold or boiling hot and we had to do a bazillion shots every day. At one point we even had a stunt accident and Ron got punched in the face. The fact that everyone stuck through it to the end is amazing and something I will always be incredibly grateful for.
Anything you can tell us about audience and critical reception of Portal Man?
The movie just got put out so we are still getting feedback, but so far it seems like it's been pretty good. We've gotten good reviews on it so far too which is certainly nice. We also just signed up with Troma to have them stream the movie on TromaNow and when I went to go drop off the files everyone at Troma HQ seemed to be very excited about the movie and said they loved it, which was also great.
Any future projects you'd like to share?

Feeling lucky ?
Want to
search
any of my partnershops yourself
for more, better results ?

The links below
will take you
just there!!!


I just finished a short horror film called Athas which I'm submitting around to film festivals and I've started the pre-production work on another film called Circle which I'm hoping to shoot this spring/summer (if we are lucky).
Your/your movie's website, Facebook, whatever else?
www.facebook.com/chunklefreaky
Twitter and Instagram: @chunklefreaky
Website: www.chunklefreaky.com
Anything else you're dying to mention and I have merely forgotten to ask?
We filmed the entire movie on a GoPro!
Thanks for the interview!
Thank you!