Your new movie Attack of the Morningside Monster - in a few words, what is it about?
In a nutshell, the film is about a series of murders that start occurring in a small town in New Jersey. The town's police chief and his officers are forced to search for the killer. Everyone is a suspect. And the killer wears a very unusual mask, a little different from the typical masked killers you've seen before.
How did the project fall together in the first place, and to what extent could you identify with the film's horror theme?
Jayson Palmer (screenwriter) and I have worked on several smaller projects together, including an authorized short film adaptation of Stephen King's short story Survivor Type. We wanted to do something bigger. Jayson pitched me a story he had been working on in various forms for a long time (20 years, I think). I really liked some of the key aspects and we worked together on building the full length film from his initial concepts.
What can you tell us about your screenwriter Jason Palmer, and what was your collaboration with him like?
Jayson and I have worked together for several years, so we have a pretty solid collaborative relationship. For the writing process, we went through a bunch of drafts on Attack of the Morningside Monster, and he would write a draft and then I would read and make notes and slowly we worked our way to the shooting draft. In that respect, it is similar to a traditional writer/director relationship. However, Jayson is also a producer on all our films, so I regularly sought his opinion (and that of our other producer, Michael H. Harper) during the shoot and post-production to make sure I delivered the best film possible. He was heavily involved all the way through production.
What can you tell us about your directorial approach to your subject at hand?
I wanted to make a film in the masked killer genre that dug a little deeper. The movie still contains the core genre component of a guy in mask stalking his prey, but we also dig into motivations and relationships among the people of this town. By the end of the movie, I think you know the town pretty well, or at least the main players, and you understand why everyone made the decisions that they made leading into the climax. I have called it a dramatic horror film, and I think that's a pretty appropriate way to classify it.
Attack of the Morningside Monster does get quite visceral at times - so what can you tell us about that aspect of your movie, and was there ever any line you refused to cross (for other than budgetary reasons)?
I never looked at the gore of the film in terms of lines to cross. I just wanted to serve the story properly. If anything, I tried to make sure we balanced the gore as carefully as possible. In many of the scenes, it's limited and specifically cut so that you think you see more than you do. The one scene, however, that I think you are referring to, is definitely the most visceral and graphic, and I really wanted to go for it in that one. The action that occurs in that scene (without being too spoilery) is necessary and important to the storyline, and I wanted to visualize the graphic nature of the killer's choices. And I wanted to make sure that fans that love the blood and guts got their payoff - it is a horror film after all.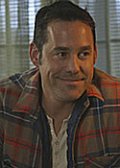 Nicholas Brendon
Attack of the Morningside Monster stars Buffy the Vampire Slayer-star Nicholas Brendon, who also co-produced the film - so how did he come on board, and what was your collaboration like?
Nicholas came on board in a fairly typical manner - initially through discussions with his manager. He appreciated the mystery elements of the script, particularly some of the red herrings, and he brought an incredible level of professionalism to his onscreen work. He was only with the production for a short time, but he helped elevate our little indie production a great deal.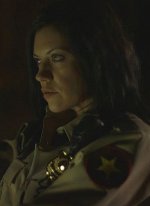 Tiffany Shepis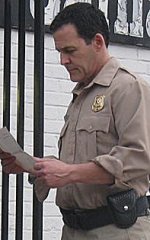 Robert Pralgo
Attack of the Morningside Monster also stars indie horror icon Tiffany Shepis [Tiffany Shepis interview - click here] - so what was it like working with her, and what made her perfect for her role?
Tiffany Shepis came to us as a recommendation from a producer friend who knew her. I am so glad that he recommended her. She is an extremely talented actress who brings a metric ton of indie horror experience to any production. She is also a furious ball of energy both on screen and in real life. Scenes just seem to come alive whenever she is in frame.
What can you tell us about the rest of your cast, and why exactly these people?
The very real short answer is: Because they were the right actors for the roles.
The longer answer: We always knew that we were going to approach Rob Pralgo to play Sheriff Haulk. He's an Atlanta native who has worked in the industry for a very long time and is such a powerful, charismatic actor. I knew he was going to anchor the film with a strong presence. Rob knew and recommended Cat Taber (Mandy), and as soon as she read the script and gave her thoughts, I knew she was going to work out perfectly. In fact, the epilogue of the film was heavily influenced by some of her notes. Rob and Michael knew Amber Chaney (Abby), and we were fortunate to be able to bring her on board in a role that's very difficult to get right - the nuance she brought was unbelievable. It took us a while to find an actor to play Clyde. We were beginning to worry, but Mike Stanley had met our producer Michael at a film festival, and he sent in an incredible video audition, and then we had our guy. Everyone else we met and cast through a fairly traditional casting process, with the exception of Jens Rasmussen (Professor Ragsdale) who we had worked with on Survivor Type.
Do talk about the shoot as such for a bit, and the on-set atmosphere?
Indie films are always a bit rushed, there's never enough time or money. I always try and make sure things are at least fun, I prefer a set with a little bit of good humor. Attack of the Morningside Monster was a split shoot, and the first section was long and tiring, and I am so proud of my cast and crew for the way they handled all of the long days and obstacles with such grace. The second half was a little less stressful and more laid back, we had a little bit more room to breathe, and I think those shoots days went a little smoother just because we were functioning better as a team.
A few words about audience and critical reception of Attack of the Morningside Monster so far?
It has been extremely fascinating to watch the critical reception of the film as it has rolled out these last couple of months. The film is very character-driven, and we spend a lot of time getting to know these people before any heavy action starts (the searchmytrash.com review makes note of this!). I like to remind people that the original Halloween played the same way, an initial kill and then Michael Myers didn't kill anyone else until 40+ minutes into the movie. Some people love that style, and really get what we were going for, which pays off powerfully in the conclusion. Some people are turned off by it - they want more action up front. My producers and I aren't straddling any lines, we knew exactly what kind of film we were making from the beginning. In the end, I made the film that I wanted to make and I am grateful to the people who appreciate it.
Any future projects you'd like to share?
We are actively developing multiple follow-up projects. I'm not sure what is going to shoot next, yet, but we have a couple of action-oriented projects, a psychological thriller, a more traditional murder mystery, and potentially a low-budget thoughtful sci-fi in the vein of Primer. Lots of genre stuff, I really love to play in those worlds.
What got you into filmmaking in the first place, and did you receive any formal training on the subject?
I am, like so many filmmakers of my generation, self-taught and inspired by the Kevin Smith/Robert Rodriguez indies from the 90's. I just made a bunch of films, over a dozen shorts. Many of them were not very good, but it's all part of the learning process. I have nothing against film school, I think it can be extremely beneficial to a young filmmaker, but it wasn't my path.
What can you tell us about your filmwork prior to Attack of the Morningside Monster?
As I mentioned above, Jayson and I adapted Stephen King's short story Survivor Type with permission from Mr. King. Before I met Jayson, I did a lot of things with smaller film competitions and generally made one or two quick shorts a year. Survivor Type was pretty much the moment where I decided to buckle down and take the work more seriously.
How would you describe yourself as a director?
I would describe myself as a technical director who wants to be a better actor's director. Particularly early on in my filmmaking career, I gravitated toward the cinematic components: camera and lens and FX and shot choices to tell story. More recently, I have tried to focus on making sure my actors have what they need from me to deliver the best performance possible. I am working hard on figuring out the best way to guide actors through their process, and I still have a bit to learn in that regard. However, I feel like one of my strengths is casting - I spent a lot of time (again, with the input of Jayson and Michael) to make sure that we got the right actor in every role. We've gotten some really strong reviews on the acting in Attack of the Morningside Monster, and I credit that entirely to the talent of the people we brought on board.
Filmmakers who inspire you?
Kevin Smith and Robert Rodriguez were the instigators. Joss Whedon, Quentin Tarantino, Kathryn Bigelow, David Twohy, Richard Kelly, Spielberg, of course, been watching all of them for years. More recently, Jen and Sylvia Soska [Soska Twins interview - click here] and Nicholas Winding Refn have made strong impressions on me. TV people, too, creators like Amy Sherman-Palladino and David Kelly. I just recently binged Sons of Anarchy and I think Kurt Sutter broke my brain. And those people are just off the top of my head. So many inspiring filmmakers are out there making things every day.
Your favourite movies?


Feeling lucky ?
Want to
search
any of my partnershops yourself
for more, better results ?

The links below
will take you
just there!!!

Find Chris Ethridge
at the amazons ...

amazon.com

amazon.co.uk

amazon.de
Looking for imports ?
Find Chris Ethridge here ...
Something naughty ?
(Must be over 18 to go there !)

Such a difficult question - I love so many. I really like movies that use genre or story to sort of smuggle powerful thematic ideas into a fun film. That's my favorite type of movie. I always come back to Dogma as a great example of using comedy to handle complex subject matter. The Town is a great action/heist movie that is really about geographical identity. Jen and Sylvia Soska have made a couple of really strong films that wrap feminist themes in the context of traditional gore and slasher films. Genre films that work on multiple levels always hit me the hardest. Some other random ones I love: The Social Network, American Mary, Serenity, Shawshank Redemption, Die Hard, Star Wars.
... and of course, films you really deplore?
I'm not sure I deplore too many films. If I don't like it, I can usually just walk away and let it roll off. There are some exceptions: I actively disliked Man of Steel, and Cop Out just made me sad. It's rough when one of your heroes makes a bad movie.
Your/your movie's website, Facebook, whatever else?
Website: http://www.themorningsidemonster.com
Facebook: https://www.facebook.com/themorningsidemonster
Twitter: https://twitter.com/MrningsideMnstr or @MrningsideMnstr
Anything else you are dying to mention and I have merely forgotten to ask?
Not really, these were some great questions.
Thanks for the interview!
Thank you for putting it together!