Your new movie Blessed are the Children - in a few words, what is it about?
It's about a young woman who's just lost her father, fled from an abusive finance, and is in a dead end "friends with benefits" relationship with a narcissistic med student who discovers that she's pregnant. She decides to get an abortion and that's when these creepy anti-abortion protestors decide to follow her home and make life hell for her and her friends.
With Blessed are the Children being (among other things) about abortion - your personal thoughts on the subject and the controversy?
This was an idea I'd had since I started attending a Catholic school back in my 7th grade year. I don't even think I'd heard about abortion until that point. I'd seen the protestors outside the clinic when I was driving past with my mom one day and I asked her what they were doing. She seemed to think it was in bad taste to display signs with dead babies on it and such, but that was really all I knew about it. Once I got to this school, it was ALL about abortion. There was even a special pro-life assembly every year in January or February. They seemed to take it so seriously and I kept thinking "what if one of these people took it a little too far?" That was the basic genesis of the project, but I kinda put it on hold until last year when I started hearing all this anti-abortion rhetoric in the news from people like Carly Fiorina and then there were the shootings at the clinics themselves. It seemed like the perfect time to finally make this film. Personally, I'm pretty pro-choice. It's really none of my business if a woman wants to have an abortion, nor do I think it should be the government's business.
(Other) sources of inspiration when writing Blessed are the Children?
I'm a big fan of moody, old school horror, so I'd say films like Alice Sweet Alice, The Redeemer, Carnival of Souls, Halloween, etc. were my biggest influences. I love creating an atmosphere. There's even a little Italian horror references in there, too. A little Deep Red, Suspiria, A Blade in the Dark, etc. I even threw in some DePalma for good measure. There's a few dollops of lesser known films like Deadly Blessing and Curtains in there.
With Blessed are the Children being a slasher movie of sorts, is this a genre especially dear to you, and some of your genre favourites - and what do you think makes your movie stick out of the crowd?
Yes, I'm a huge slasher fan. Ever since I was a kid, I made a point of tracking down the most obscure slashers I could find. Websites like Hysteria-Lives and The Terror Trap helped me tremendously when I was starting out. I'd track films down based on their recommendations. Some of my favorites are Hell Night, Happy Birthday To Me, Silent Scream, The Redeemer, Prom Night, Sleepaway Camp, Hospital Massacre, He Knows You're Alone, Alone in the Dark, Curtains, Silent Night Deadly Night, The Last Horror Film, Night School, Final Exam, The Initiation, and The House on Sorority Row. I feel like all of these have a little something extra going on than just a body count. I think a slasher film can be so much more than just "a handful of teens go into the woods and face a killer." I swear, every time I'm on Bloody-Disgusting or one of those horror news sites, I see some new film trying to get funded and that's all the description says. I think "why would I want to help you finance a film that sounds like 50 others that were made last year?" I think that's what makes Blessed are the Children so different. It's very character-driven and a little more mature. We don't just open with carnage and the characters aren't made of cardboard. It's a bit of a slow burn. It also, hopefully, has legit suspense and scares that work. I think a lot of slasher films focus only on the money shots and the effects and stuff, but I was always more interested in building tension.
You just have to talk about the baby masks of your killers for a bit!
Aren't they creepy? I had the idea that they'd wear these baby masks from the get-go. That and the recording of a baby crying that they'd play to lure their victims outside to kill them. I'd read a story somewhere about a real life killer who did that. I can't remember if it was a recording of a baby or not, but I think it might have been. That always stuck with me as really scary, so I decided to use that, too.
Blessed are the Children does feature some rather gruesome murders - so do talk about those for a bit, and how were they achieved?
Honestly, they were all fairly low-tech. There's one nasty bit with a tongue that, on set, made us laugh so hard that we were crying, but on film, it's really disturbing. I think the tongue was made out of some sort of really stretchy material and it would just keep stretching and stretching until it looked like someone yanking a string of bubble gum out of their mouth. The rest of the effects were all normal prosthetics and blood gags. We had wigs and fake heads and hands and other various body parts. There were two death scenes that were totally re-shot after a test screening - one that was simplified a good deal and moved to earlier in the film and the other was slightly expanded to make it even more horrific and cover up an effect with a fake hand that didn't work the first time. I think the death scenes certainly deliver. I never wanted to make them the centerpieces of the film, but when they happen, they're pretty nasty.
What can you tell us about your overall directorial approach to your story at hand?
I wanted classic suspense. There's lot of wide shots with things moving in the background while our characters in the foreground have no idea. I love stuff like that. I think it builds tension and mood incredibly well. It allows the audience to shout out "behind you" without thinking that the characters are absolute idiots. It gets them invested. I wanted the film to feel, at times, like it could just be an episode of Sex and the City or something. I want to lull everyone into forgetting that it's a horror film and just focus on the characters. There's a lot of humor in the film that you don't usually see in films of this sort and I'm proud of that.
Do talk about your cast, and why exactly these people?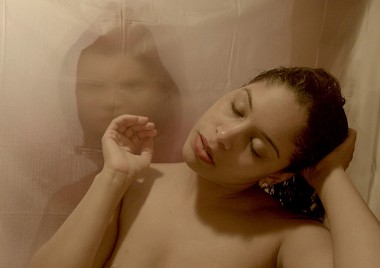 I'm madly in love with my cast. We had an open call, which was where a good handful of the cast came from. I remember it being very difficult to find Traci, because everyone that read for the part either oversold the drama or oversold the comedy or even worse, came with a horribly affected "theatre student accent". There was no happy medium and then Kaley Ball came in after being recommended by a friend and blew me away. She was perfect for it and just the right amount of quirky that I wanted. I'd written the part of Mandy with Keni Bounds in mind from the start and she was the first one to sign on. She has that perfect mix of bawdy humor and motherly nurturing. I'd worked with Arian Thigpen before on a production of Stephen Sondheim's Company (where I also met Jennifer Wilder who plays Tina, the bitchy girl in the restroom) and she came in to read for Erin and she had the part right then and there. Erin is a role close to my heart, because she's very much based on me. Arian just nailed it. I'd worked with Cheryl Abernathy, Wayne Thomas, and Eric Riggs many times before in a group called The Detectives, which is also where I met Keni, so casting them was super easy. Jordan Boyd, who plays Ben, was also a part of that troupe, so it kinda all goes back to The Detectives. Casting John was tricky, too, because he's not-so-loosely based on someone I knew in my life. David Moncrief came in to read and made the choice super simple. He had the right look and managed to be incredibly funny while saying some of the most awful things. I believe Michael Kinslow was the 2nd person I cast after Keni. We'd done Rocky Horror together and I had written the part with him in mind. I was thrilled when he read the script and said "yes."
A few words about the shoot as such, and the on-set atmosphere?
I wish I could say it was filled with drama, but it was a pretty relaxed shoot. I remember the only really scary time was when we'd planned a big chase scene for one character and things just wouldn't work out for one reason or another. That was the only time I remember feeling incredibly stressed, because we had to literally rethink the entire death scene on the spot. That's never fun, but I think what we ended up settling on was far more horrifying, unexpected, and brutal than we could have imagined. There was a little drama before the shoot, because Keni thought she wasn't going to be able to juggle the film and a stage production that she was directing, but we moved the start date up by a week and managed to get all of her big scenes shot within that week. Everyone seemed to have a great time and were super game for anything. I'd work with all of them again in a heartbeat.
The $64-question of course, when and where will your movie be released onto the general public?
As of now, we've been talking to distributors, but the film is making the film festival rounds, so we're not settling on anyone at the moment. I'm hoping the film just plays really well on the festival circuit and that people like it. Who knows, maybe some distributor will see it there and scoop it up. I'd certainly love that.
Anything you can tell us about audience and critical reception of Blessed are the Children yet?
It's been pretty astounding. I wasn't expecting people to love it so much. The majority of the reviews have been extremely positive and we just had the official premiere about 10 days ago in the town where it was shot and people were loving it - laughing, screaming, gasping, shouting. It was wild. I always felt like we made a great movie, but to have people come up to me, especially non-horror fans, and say how much they loved it and liked the characters really means a lot to me.
Any future projects you'd like to share?
There are a few in the pipeline. I'm hoping to start a new one in the late spring if all goes well. It's a mood piece along the lines of Carnival of Souls or Let's Scare Jessica To Death. There's a fairly strange project I started back in 2003 that might finally be getting released in the next year or so entitled The House of Covered Mirrors, which stars genre faves Lynn Lowry and Debbie Rochon [Debbie Rochon interview - click here]. It's a very bizarre David Lynch meets Dario Argento kind of horror film. It's sort of like the Boyhood of horror films since the production spans so long. You get to see a lot of the actors, myself included, age over 10 years within the course of the film. I can't speak for the finished product as I haven't seen it, but it should be a pretty neat movie.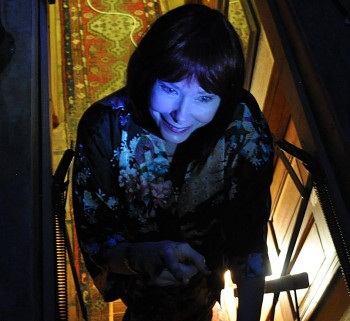 Lynn Lowry in The House of Covered Mirrors
What got you into filmmaking in the first place, and did you receive any formal education on the subject?
I think it all dates back to my Grammie. Going to her house was always an education in film, especially the classic era of the 30's-60's. Besides that, I was a video store brat and I owe my film vocabulary to a place called Video Library in Jackson, MS. I was probably the only 9 year old renting Argento and Fulci films [Lucio Fulci bio - click here]. I think the employees thought I was funny and would always give me great recommendations. I can't tell you how much that place shaped me. Every time I pass the spot where it used to be, there's a little tug at my heart strings. I attended The University of North Carolina School of the Arts for college and I studied filmmaking there. I learned a lot of the fundamentals about everything there, but I'd already been making films for a while before then, so I'd almost have to say I learned more from those early trial and error days of just borrowing my family's camcorder and making films with my friends. Film school taught the surface filmmaking skills, but they never taught troubleshooting the way a no-budget film shoot can. I remember some of my fellow film students freaking out and not being able to deal if, say, a location canceled or it started raining on an exterior day. They'd sit there, cry, and feel like it was the end of the world. After you've been on a few no-budget film sets, stuff like that is a piece of cake. You can always rewrite on the day and, sometimes, you get something even better than you'd planned. I feel like every filmmaker should take an improv class to learn how to think on their feet. It's such an important skill to have.
What can you tell us about your filmwork prior to Blessed are the Children?
I started really early. I used my family's camcorder to make a sort of Scream fan film called Killer when I was in 5th grade. I knew nothing about editing, so I'd just have my mom press stop on the wide shot, move in close, and press record again for the close up. It was very primitive. I didn't know how to get music in the film, so I'd have my mom over in the corner with a boom box pressing play when I needed a film score. It was ridiculous. I'd say my first "official" film was called North Woods, which morphed into The House of Covered Mirrors. That was a nearly decade long obsession. I'd film for a few months, edit, test screen, go have reshoots, recut, test screen, go have more reshoots, etc. It was never perfect. I think that one taught me a lot about going in with a clear idea of exactly what you want. It saves everyone's time and sanity. I made two features my senior year of high school, Lock In, which was a truly awful slasher throwback for my school's film society, and Perversion, a super dark and gritty film about sexual violence and repression. All of those films are super lo-fi and mostly shot on camcorders. Weirdly enough, I feel like my film school years were my least productive. I just didn't feel very creative while I was there. I did a few comedy shorts with a college friend of mine, which grew into a web series called The American Dream, which grew into a feature called A Star is Stillborn. It's a dark comedy which was sort of like a gender swapped version of the musical Gypsy with a crazed stage dad trying to make his untalented children into stars so that he can live vicariously through them. It's a lot of fun. Blessed are the Children is my first horror film in a while and, I gotta tell you, it was great to be back.
How would you describe yourself as a director?
I have my quirks, but I'm always looking for the realism in a scene. I think it comes from my acting background. I've been coached by directors before who just want a lot of business to make a scene look real, so they'll have you move to the couch for no reason or pick up a cup for no reason. That's bullshit to me. I like to work with the actors and see where they feel like their character would go during the scene. I love when actors give me ideas. I love trying anything I can get my hands on. It's always worth a shot. If it doesn't work, it doesn't have to be in the final cut. I really believe that 98% of a director's job is to get a good script and a great cast. If you have those two, the rest will usually fall into place. If you don't have either of those, you better be an amazing visual stylist, because that film is going to blow. I'm also a little strange when I direct certain suspense or scare scenes. I've kinda pre-cut the film in my head to see how the scare will work best, so I'll tell the actors to wait 30 seconds before making it to end of the hall or turning the door knob. They'll always be like "why 30 seconds?" and I'll have to say "just trust me." It's an odd way to work sometimes, but it doesn't usually fail me. You have to be almost like a musician when you do these scenes. It's all about tempo and timing.
Filmmakers who inspire you?
I love George A. Romero, John Carpenter, Wes Craven, Brian De Palma, David Cronenberg, Dario Argento, Mario Bava [Mario Bava bio - click here], Hitchcock... there's something special about all of them. I especially love Romero and Craven's seamless blending of real social issues into horror stories. It's never preachy and it's super subtle, but it gets the message across and I love it.
Your favourite movies?
If we're talking non-horror: Terms of Endearment, Serial Mom, Ordinary People, Drop Dead Gorgeous, Young Adult, Singing in the Rain, Meet Me in St. Louis, Matilda, Death Becomes Her, 9 to 5, Mrs. Doubtfire, Look Who's Talking, The Witches (although, that can totally count as horror), and this really odd version of Snow White that starred Diana Rigg. If we're talking horror: Psycho, Halloween, Carnival of Souls, Carrie, A Nightmare on Elm Street, Hello Mary Lou: Prom Night II, Night of the Living Dead (original), Alice Sweet Alice, Suspiria, Phenomena, The Stepford Wives, Tenebrae, Deep Red, Dead and Buried, Opera, Hellraiser, House on Haunted Hill (original), The Redeemer, Lady in White, Night of the Creeps, Friday the 13th, Candyman, The Fly ('86), Paperhouse, Black Christmas, Sole Survivor, Scream, Rosemary's Baby, Dressed to Kill, and Repulsion. I never tire of any of these films.
... and of course, films you really deplore?
I'm usually the kind of guy who tries to find something interesting or admirable in every movie I see, but I can't stand films that have no heart. Even with a really bad film made in someone's basement in Detroit, there's always a feeling of fun and wonderment. The acting might be terrible, the picture maybe be way too grimy looking, and the script might make zero sense, but there's this joyful quality to it that I can admire. The worst ones are the soulless studio films that feel so cynical. They look and sound like a few million bucks, but you can tell everyone - from the writers to the actors - are just cashing a paycheck. That's my idea of a horrible film. The remakes of The Fog, The Stepfather, and Prom Night all come to mind. You just know no one behind the scenes of these films was feeling it at all.

Feeling lucky ?
Want to
search
any of my partnershops yourself
for more, better results ?

The links below
will take you
just there!!!


Your/your movie's website, Facebook, whatever else?
Our official Facebook is www.facebook.com/childrenareblessed
We even have a Twitter which is @ChildrenBlessed
Anything else you're dying to mention and I have merely forgotten to ask?
Just keep your eyes open for the film and follow us on Facebook for updates. I can't wait for everyone to see the film.
Thanks for the interview!