Your film Nina: Crazy Suicide Girl - in a few words, what is it about?
Nina: Crazy Suicide Girl is basically a genre-mix with of genres such as as Tarantino-style pulp, Italian giallo and a little martial arts.
To me, Nina: Crazy Suicide Girl is the perfect hommage to grindhouse cinema from the 1970's, with its giallo-style plot, samurai-sword carrying babe, Satanists, sex and whatnot. To what extent did these movies of old actually influence your film's style and story? And some of your grindhouse favourites?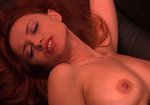 Yes, as I told before it's inspired by films I've seen when I was much younger, and some of these have influenced me consciously and unconsciously. I'm a fan of Chang Cheh, and when I was a child I watched many movies by him and one of my favorite was One-Armed Boxer ("With a hand I'll smash you, with two legs I'll crash you" in Italian!!!). I love Lucio Fulci [Lucio Fulci bio - click here], and many people told me that in Nina: Crazy Suicide Girl there are many influences of his way of making films - but if this is true, I did it unintentionally. Tarantino is one of my favorite director cause he makes movies that I'd like to make if I had a decent budget, he realizes my dreams. I really love Japanese movies and I admire the great Takashi Miike, every film of his amazes me, he has the ability to make great films in different styles and genres.
I have a lot of grindhouse favorites, but if I had to choose: The Beyond by Fulci, Cannibal Holocaust by Deodato, The Exorcist, Dawn of the Dead, Maniac by Lustig, Audition by one of my most favorite directors Takashi Miike, Evil Dead, and Peter Jackson's filmography.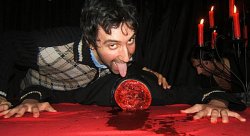 Christian Arioli on set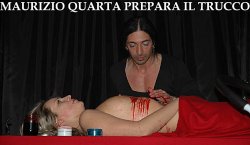 Other sources of inspiration when writing Nina: Crazy Suicide Girl?
When I write a script I try to create a plot that is interesting to people. I like write a story with subplots and with many endings: when you think that the film is over, I add another way to end the film. I hope to surprise the audience with this approach.
Nina: Crazy Suicide Girl contains several outbursts of violence. What can you tell us about the creation of your gore effects, and was there ever a line you refused to cross? And in general, how important are blood and guts to your kind of movies? Oh, and a few words about your special effects man Maurizio Quarta, with whom you have collaborated quite a few times during your career?
My gore effects were created by Maurizio Quarta, a friend of mine who has collaborated with me since 1998. When I conceive a gore or a splatter scene I present it to Maurizio, and then he tells me if it is possible to create, or gives me advice about it. When I put a cruel scene in a movie, I do it only if it's necessary, I don't make films around special effects. A special effect is only a way to mark a certain moment in a film. Me and Maurizio have made all my films together, from Profondamente (Deepmind) in 1998, my first work, to Fiaba Nera (Dark Fairytale) in 2011.
A few words about your leading lady Irene Giordano, with whom you have a long professional and, as I understand, also personal relationship?
Irene is a genuine actress and her way to play a role in a movie is very natural, essential, direct. She can play any role, and in Nina: Crazy Suicide Girl she's strong, cynic and much more pragmatic than males.
And yes, we have been living together for 11 years now.
The ending of Nina: Crazy Suicide Girl leaves the doors wide open for a sequel. Anything planned in the foreseeable future?
I planned three sequels, actually, but then I had to give up the idea because my producers changed their minds. In the independent world, in Italy, it's very difficult (impossibile) to make movies, you always depend on your own budget - but you know, I'm not a producer, I'm a director and screenwriter. In the future I want to make a dramatic film, a road movie between Milano and Amsterdam but, as I said, without a producer I have to suspend the project. At this moment I'm writing a novel Osaka monogatari (Tale of Osaka), a romance set in Osaka in the 1960s and 70s, where a Yakuza tells us his story from when he was a child until when he became a Yakuza.
Nina: Crazy Suicide Girl is itself a sequel to your short Crazy Suicide Girls: Operation Bioterror. What can you tell us about that movie?
Crazy Suicide Girls: Operation Bioterror is a manga-in-motion, really gory and full of splatter, and it tells the story about two girls, Nina and Ai (a Japanese girl). They are like bounty killers but they aren't positive characters. Their only purpose is to make money, a lot of money. When terrorists steal their money, Nina and Ai, with Yarj's help (Yarj does return in Nina: Crazy Suicide Girl), track them down - but in the base of criminals there's a biovirus that has transformed the terrorists into zombies.
Let's go back to the beginnings of your career: What got you into filmmaking in the first place, and did you receive any formal education on the subject?
The most important thing in a movie for me is the script. When I write, every situation must have a meaning, everything had to be logical - even in a horror movie where for example zombies rise from their graves. I make movies without any school-like training, for me the best school was movies themselves - and thus I went and shot my first movie learning by doing not studying.
Your directorial debut was, I believe, the short The Drop from 1994 - what can you tell us about that one, and what are your feelings when watching it today?
The Drop for me was a real shock: I realized that without equipment (no editing, no lights, no actors...) I can create nothing good - and for 4 years I lost my passion for moviemaking. Then, in 1998, with Maurizio and his equipment, I came to life and I restarted my "career".
A few words about your debut feature Abbazia Sec XII and its troubled history?
Abbazia Sec XII was my first feature film. It was a real tribute to Ossorio's Blind Dead-saga, shot in two mounth with good gory effects and a good story. The first part is the research of the place where many centuries ago a bunch of evil monks were burnt and buried in the church. The second part is a carnage without exception. At that time editing was made analogously, and the film was on tape. We added some effects after the editing - but I don't know why we lost all material, maybe we overrecorded...
After ten years, going through my old movie stuff, I have found an old tape of Abbazia Sec XII, unedited. So, I transcoded it onto my PC and then I digitalized it. I called actors to double the voices, and finally, Abbazia Sec XII rises from the grave! In this film me and Maurizio are two of the main actors.
Your 300 minute Nightly Presences - you just have to talk about that one for a bit?
I wrote the Italian version of Da Vinci Code in 2003, before that romance! The story is set in Bergamo where Gaetano Donizetti was born and lived. The idea was to make a miniseries where real historical characters meet characters of my imagination. Even people who know the historical facts, the actual historical characters, believed the fake history I included in the story. In the 1970s in Italy there were many miniseries like Nightly Presences, but now there are only mediocre productions.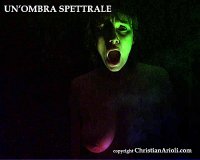 Laura's Breath
Since Nina: Crazy Suicide Girl, you have made two more movies, Laura's Breath and Dark Fairytale. What can you tell us about those?
Laura is a dramatic story about a young woman who falls into a coma after a carcrash. After some days she comes back to life, and she goes to live in their country homewith her husband Guido and their friend Ewa. But here, Laura believes she becomes crazy and she has horrible nightmares and doesn't know if they are true or not. Maybe it's a plot to drive her crazy by Guido and Ewa.
Laura's Breath is a complex movie where melancholy is the main ingredient, and there's a kind of sadness throughout the film that gets the viewer involved even after the end titles.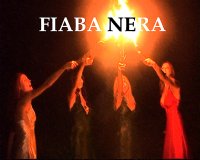 Dark Fairytale
Dark Fairytale is, as the title suggests, an adult fairytale where a young man accidentally kills a beautiful hitchicker and hides her body in the woods. But a car is approaching, and Marco, the killer, runs into the forest to escape. There, he loses his way, and in the night he sees four girls dancing around a campfire as part of some ritual. Suddenly Marco is bitten by a serpent and faints. The day after he wakes up in the house of the girls who are so different from the night before. From here a new life starts for Marco, a life with joy, love, peace. But not all is a bed of roses, and it seems that the girls know much more about his recent past than Marco thinks.
At the end of the movie, as in all fairytale, there's a morality lesson. Oh, yes, there are horror and blood too.
Any other films of yours you want to talk about, any future projects?
In the future I take a break because I have been shooting without pause. Now I'm writing a romance, a book, set in Ōsaka in the 50s about memories of a yakuza. The title is Ōsaka monogatari (Tale of Osaka).
During your career, you have returned to the horror genre time and again. A favourite genre of yours, and why?
I love horror movies because until I was 12 I had never seen any movies of this kind - I was so scared! But then, with two friends, we bought Creepshow at the video rental and we watched it with our hands in front to our eyes - but after few minutes we were really excited, and so next time we bought Hellraiser... I think that horror films may be the easiest way to make a movie because you can focus on ways to scare the viewers and not so much on other important things like the plot or the actors. Growing as a filmmaker, I learned to concentrate much more on the plot than special effect or blood itself. In my newest productions I've created a story, a plot much more complex than in my early works, and now, when I look at a film, I want much more that blood and guts, I want a good plot, real situations, good actors and a great ending!
Directors who inspire you?

Feeling lucky ?
Want to
search
any of my partnershops yourself
for more, better results ?

The links below
will take you
just there!!!

Find Christian Arioli
at the amazons ...

amazon.com

amazon.co.uk

amazon.de
Looking for imports ?
Find Christian Arioli here ...
Something naughty ?
(Must be over 18 to go there !)

Mario Bava [Mario Bava bio - click here], Lucio Fulci [Lucio Fulci bio - click here], Riccardo Freda, Takashi Miike, Quentin Tarantino, Chang Cheh, Amando de Ossorio, Aristide Massaccesi [Aristide Massaccesi bio - click here], Enzo G. Castellari [Enzo G. Castellari bio - click here] ...
Your favourite movies?
The Deer Hunter by Cimino.
... and of course, films you really deplore?
I hate movies made only to make cash ... and Vanzina's Italian "comedies" ... and Nanni Moretti who makes films only to self-psychoanalyze his frustrations. The cinema is not made for ourselves but for the people. Oh, and the new wave of romantic vampires, terrible!! It's only fashion movies.
Your website, Facebook, whatever else?
My website is http://www.christianarioli.com. I'm on Facebook as Christian Arioli, and if someone wants to mail me: csg.nina@yahoo.com.
Anything else you are dying to mention and I have merely forgotten to ask?
I hope you enjoy my movies - and thanks!
Thanks for the interview!