Your new movie Delusion - in a few words, what is it about?
I'll give you the synopsis: Three years after the death of Frank's wife a mysterious woman appears. As their attraction grows Frank struggles with reality and his loss. He tries to start over not knowing his choices could lead him to his own downfall.
Delusion plays like a mystery-thriller with some horror thrown in the mix.
What were your sources of inspiration when writing Delusion? And is it in any way based on personal experiences (not the demon part I hope)?
No demons in my life. At least not that I know of ha-ha! This is actually a hard question to answer because Delusion was based off of an old script I was working on that just wasn't coming together so I stole some elements from that and started over. From a shooting standpoint I was very influenced by Bella Tarr. Not that we were trying to do what he was doing because it's completely different, but I love his use of longshots, pans, and tracking. We tried to do our own version of that. We always try to find our own voice in what we do.
Some of it was based on personal experience in the sense that the thoughts and ideas that the characters have are based on random thoughts and conversations I've had in my life. Ideas of life and death, spirit worlds, do they exist or not, and the psychology of people in certain situations. I was trying to find things in my life that interest me and make that work in a film. One of the biggest goals was after making A Life Not To Follow, which was very raw and real, I wanted to make something that we had to be more patient with, a little slower, smoother, and surreal.
In Delusion, the line between (the film's) reality and its lead's nightmares and imagination is blurred quite a bit - so how hard was it at times to not just lose the plot, and what can you tell us about your movie's narrative structure as such?
It wasn't hard. I just had to make sure I was explaining what was happening to my cast and crew. Not that they couldn't follow but to make sure we were all on the same page.
The structure was all about a feeling for me. As long as the story was moving and there was tension along the way I was happy. I had a lot of room to play and experiment because the main character was struggling with reality. It allowed me to take calculated risks. I also used the leads psychology when thinking what direction to go next. I can't say too much or I'll give away the story. I just wanted to make something that interested me and I wanted to create a good atmosphere for this story to live in.
Do talk about Delusion's approach to horror for a bit! And to what extent is Delusion based on any actual demonology, did you research on that aspect of your story?
I always do some research when I make a film. Santa Muerte makes an appearance in the film. She is a very cool saint. You should check her out! I absolutely love Mexico too. I have been there a few times and hope to go back again many more. So like I was saying above about finding things that interest me Mexico is a place that interests me a lot so having a character that spent time there was great because it made me look into her and Mexico more. Also with the character Isabella she talks about researching the Mayan Oracle, which is from Mexico again, and also shamanism. She's clearly searching the whole realm of spirituality to find her place. Something I think a lot of people go through. I've researched that a bit so I knew what I was talking about in the film.
The horror in this film is very psychological. We definitely have some blood and violence but it's more about reality and psychological fear than anything. Fear of the unknown and fear of starting over. It's not an in-your-face gore flick but it has a build-up to horror. It goes from creepy to bat shit crazy. Like how in real life things sometimes take a bad turn and there is nothing you can do but act or not.
What can you tell us about your overall directorial approach to your story at hand?
My goal is to always make sure the actors have all the information they need to prepare. Make sure they understand what they're doing in each scene and we can make adjustments if needed. Pretty much once we're set with the idea of a character it's really about continuously sharing my vision and giving the actor a very supportive and encouraging environment. I always try to be calm and collective on set. Everyone is going to ask you a bunch of questions and you have to have the answers for them. I also know I need to be a leader and my attitude sets the tone for the shoot. I have the same approach every time. I experiment with a new technique once in a while. It's small things that change from story to story. David, who plays Frank, and I talked a lot about psychology and his character being in denial. I also gave him a piece of music that was about 19 minutes of this drone pulsating sound and every time his character was in a nightmare or just confused I wanted him to play that song in his head.This is not a new approach but an example of stuff we would be talking about or doing. You may give an actor a painting to look at, maybe you're having them watch an old film, read a book. It's all about the results. Keep sharing your vision and make sure you always listen as well.
Do talk about your key cast, and why exactly these people?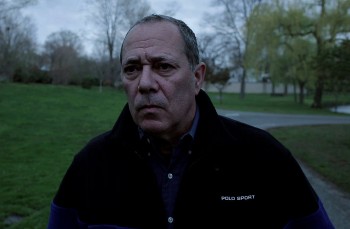 David Graziano
David Graziano [David Graziano interview - click here] worked with me in the past and after A Life Not To Follow I wanted to make a film with him as the main lead. In A Life Not To Follow it has three parts and is not a normal film structure. I knew I can work with him and get great results. He gives 110% all of the time.
For Mary I saw actress Jami Tennille in a few things and loved her look. She is strong and very talented. She can play tough and she can play sweet. That's what I needed.
I saw Kris Salvi in a short and again I thought his look would fit the role. He again is very talented and goes above and beyond when he performs. I worked with Justin Thibault in the past as well and for him it was just about taking a really good actor and giving him a role. He's very smooth and has a lot of range. I also worked with Irina Peligrad before. She is another great person to work with who really fit the role. She has great timing. Carlyne Fournier was someone I have known about for a long time and I always wanted to work with her. I had a role that was a fit and was happy she accepted. Renee Lawrie was someone we auditioned and thought she would be great after seeing her act. She does a great job and is very easy to work with. For Jessy Rowe, she was one of the leads in my film Under the Dark Wing and I wanted to make sure she got in on this feature. She's really talented and a really nice person too. Everyone in this film was so professional and has a lot of talent. Our crew was just amazing to work with as well. They're all hard working and very smart.
A few words about the shoot as such, and the on-set atmosphere?
Amazing! Really we just had a group of people that had fun with the material and got along with one another. It was about as positive and smooth of a set you're ever going to find and I'm very grateful and want to take the time to thank my cast and crew again for just being amazing, hard working people. It was a fun film to make.
The $64-question of course, when and where will Delusion be released onto general audiences?
We have been picked-up by Cinema Epoch and the film is now available at Amazon. Free to watch with Prime. Please check it out. We need your support.
Link to Delusion: https://www.amazon.com/exec/obidos/ASIN/B01MF9KFQL
Anything you can tell us about audience and critical reception of Delusion yet?
So far the critical reception has been great! My last two films I've really been lucky to get a ton of positive reviews. For Delusion we have been getting great responses from the audience as well. People seem to really be digging it and are very intrigued by the story.
Any future projects you'd like to share?
I'm going to be releasing a short film called Kinnari free online in the next few months. It's an arthouse film about a man who is frustrated with life and looks for an escape. I'm also going to start looking for funding for a new feature.
Your/your movie's website, Facebook, whatever else?

Feeling lucky ?
Want to
search
any of my partnershops yourself
for more, better results ?

The links below
will take you
just there!!!


My website: http://www.christopherdinunzio.com/
Delusion Facebook page: https://www.facebook.com/thefilmDelusion/
A Life Not To Follow Facebook page: https://www.facebook.com/ALifeNotToFollow/
Anything else you're dying to mention and I have merely forgotten to ask?
My other feature A Life Not To Follow is looking at a spring release from Random Media. I'm very happy about getting that one out. The last two features we made have been picked-up for distribution and we couldn't be happier. Keep a look out for this one!
Thanks for the interview!
As always thank you for the having me!