Your new movie Director's Cut - in a few words, what is it about?
It's a twist on the old adage of 'be careful what you wish for' set to the making of a no budget indie horror movie.
How did you get involved with the project in the first place?
Claire 'Fluff' Llewellyn [Claire 'Fluff' Llewellyn interview - click here] and I had already shot some of our comedy feature Psycho Magnet: A Love Story and realized we're going to have to raise a bit of cash to get some of the people and locations lined up to finish it. If you're going to do crowdfunding for something like that, you need to start smaller and prove you can make something funny. She pulled out an anthology script made up of 3 shorts about horror filmmaking titled Tales From The Scrip'. Of the three shorts, I immediately liked Director's Cut because I could identify with the no-budget indie horror moviemaking experience. She was concerned that we couldn't pull off the effects it needed. My argument was if the short doesn't work and impresses nobody, we're still in the same situation, but if it does, we can probably use it as a step towards raising funds to finish Psycho Magnet - PLUS Tales From The Script is already 1/3 finished.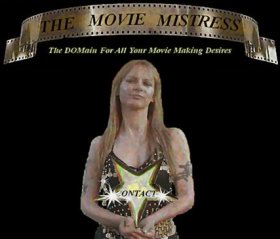 What can you tell us about your scriptwriter, producer and star Claire 'Fluff' Llewellyn [Claire 'Fluff' Llewellyn interview - click here], and what was your collaboration like, both of in front of and behind the camera?
Her cute English accent becomes maddening to hear when she nags me about deadlines ! Actually our collaborations are very easy going otherwise since we both share a twisted sense of humor and have our designated duties on any production. We don't share much screen time in Director's Cut, but there's a whole lot in Psycho Magnet. I just haven't figured out how to shoot that a bit discreetly though. I must remind everyone that she's the naughty one behind these movies, not me.
In all honesty, to what extent could you identify with Director's Cut's Damon the sleazy director? (And yes, I know this is a mean question.)
Happy Dave as Damon with Janet Mayson
Oh, geez ! I'd love to say I don't, but I get a bit of an ego at times. That's probably true of any artist. The scary thing is I've worked with people a lot like Damon whose egos far outweigh their talent. Unfortunately they've also tried to mask this by trying to get some of their cast to lose their wardrobe in the process. I avoid that and have even turned down actress offers to do nude scenes that aren't needed in the first place. It makes for a better working relationship if you treat your cast like people instead of naked props.
How would you describe your directorial approach to your subject at hand?
Fast and frantic. I do all of my own editing and filming so there's nobody in between to explain my intentions. There's never any storyboards to show anyone else. When we're on set, I'm pretty much just placing people the way I've already seen the finished movie in my head when reading the script. New castmembers always think I'm nuts, but my regulars assure them I'm always like that and it will all make sense when they see the edited scene.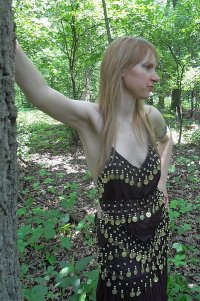 Claire 'Fluff' Llewellyn
With Director's Cut being a comedy - to what degree could you identify with your movie's brand of humour, and what can you tell us about your personal sense of humour?
No-budget horror filmmaking is often a ridiculous process in itself, but taking that step back to see it as others likely see it to exaggerate the characters and situations was priceless. 'Fluff' really nailed it in the script since it was based on some of her true experiences. Yes, there is a lot that is based on real people here ! I have a horrible sense of humor since I can laugh at anything.
Do talk about your key cast for a bit, and why exactly these people?
Nobody ever said "this gag is ridiculous and I'm not doing it", but everyone would say "What can we do to make it more ridiculous ?" Everyone was so opposite of their real life personas. Happy Dave is a rather humble perfectionist which is very unlike Damon. Yvonne Nieves actually wins karate competitions and isn't such a pushover. Dana Bernadine runs a comedy troupe, but is even more hilarious with her stone face glaring at Damon throughout the movie. Tina Boivin is about as sweet and generous with her time as a person could be. Janet Mayson is hardly a bad girl prostitute since she's an award winning filmmaker on a series of movies starring her dogs. Alex Roach was a P.A. who stepped up to fill the Belinda role after the original actress bailed after we began production which just made her constant participation even more valuable. Every interview has people gushing about how awesome and amazing people are to shoot with that it tends to come across insincere. I'd rather just say I'm very lucky to be surrounded by some insanely talented friends that I can't wait to work with again.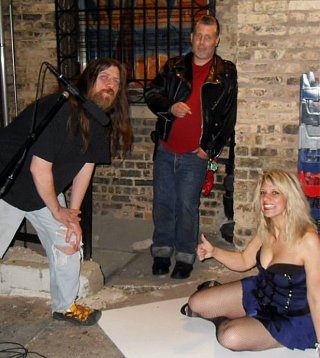 Christopher Kahler, Thom Thunder, Janet Mayson
What can you tell us about the actual shoot and the on-set atmosphere?
One actress became a no-show on the second day of shooting and we lost maybe a third of a day due to rain. Other than that, it went about as smoothly as expected. Everyone got on well and had a good time. At least I think they did. One of us had more of a good time than others since she just had to giggle uncontrollably during a key scene that just kept making everyone else laugh, but I won't say it was Yvonne since she'll karate kick me for my indiscretion.
The $64-question of course: When and where will the movie be released onto the general public?
The movie will premiere at The Short Bus To Insanity Film Festival Sept 21 in Des Plaines, IL and DVDs will be made available there. Online sales will pop up some time that weekend as well.
Any future projects you'd like to share?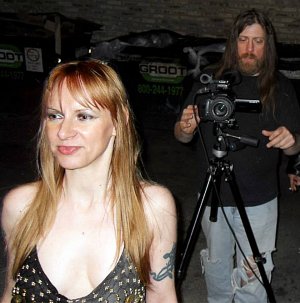 Claire Fluff Llewellyn, Christopher Kahler
There's always projects in some state of progression. Besides the aforementioned Psycho Magnet: A Love Story and Tales From The Script with 'Fluff', I'm still slowly getting production work done on Grave Robbers from Outer Space which has been stop and go for awhile, but looks like it might finally have a location problem resolved. The big news of the day is I will get to helm Deadheads: Evolution, based on the Franklin E. Wales novel. It's a story about a biker leading a small rag tag bunch of apocalyptic survivors against mutated zombies that have knocked mankind a few notches down the food chain. Best part is there is already a decent budget in place and shooting will be somewhere warmer than Chicago this winter.
What got you into filmmaking to begin with, and did you receive any formal training on the subject?
I started as a composer and figured I'd make better use of my music if I was using it on my own movies rather than shower scenes of the local stripper in somebody else's movie. I've never had any formal training on anything. Experience is the best teacher so I'd P.A. on other people's productions and learn from that. I still do every chance I get. I often get the feeling that film school kids graduate and expect to just be handed director jobs without ever having stepped foot on a set a day in their lives. Crowdfunding sites pretty much open that door as well. Everybody wants to be the boss without knowing how to do the job. I guess as long as you get enough 'likes' on your Facebook movie page, you can pretend to be anything.
What can you tell us about your directorial work prior to Director's Cut, and your growth as a director?
Lots of horror-based movies of course because I love the genre. I occasionally branch out to do drama or comedy once in a while because even if pizza's your favorite food, why only eat pizza every day ? I just feel like it rounds out my skills as an overall storyteller through movies. There are always a few elements to any movie I do that I'm never entirely happy with, but some of the older work just makes me cringe now and wonder just what the hell I was thinking when I made some choices then. I guess that could be considered growth. I'm sure I'll still be cringing years from now at movies I do now. I remember when Akira Kurosawa was given a lifetime achievement award and he said he still didn't understand cinema, but he thought he might be catching onto it just a little. That was the most humbling thing to hear since the man basically invented movies. Seriously? He's Akira Kurosawa! He never even had a Facebook movie page to 'like' in the first place.
Besides directing, you have worked in pretty much every capacity in the filmmaking realm, including acting, writing, cinematography, editing, composing, effects work and whatnot. So what do you enjoy the most, what could you do without - and to what extent does working in all these positions influence your work as a director?
When you don't have big budgets to spread around or you don't want to lose whatever creative control you have, you learn to do things that are important to you out of necessity. I would guess I enjoy writing the most because there's more freedom in that. There's no budgets, effects, or locations to be concerned about since there is no restrictions on the imagination. Best part is the outcome can still be uncertain at the time I start writing.
I could do without the special effects work. It's very time-consuming and I can never get it to look as good as I think it should when I'm done with it. I try to minimize the shots I have with effects since the more someone can look at something, the more they can start picking up on flaws and the effect loses it's intended purpose.
I'd say the multi-tasking gives me the option of showing the viewer a more accurate and complete picture of what I want to express. I've had other directors try to explain to me what they want for a certain piece of music and get frustrated that they can't put it into words to translate into the tune. I can watch my own footage and jot down a musical score exactly as I want it on the spot. It's quite liberating.
How would you describe yourself as a director?
Tall, dark, and handsome ! Well, maybe not. I'll just say as far as directing is concerned, I'm an excellent editor.
Filmmakers who inspire you?
Russ Meyer is still my all time favorite. Anyone who does it with passion or is innovative. You can tell when someone puts their heart and soul into entertaining you and who just phoned it in to collect a paycheck.
Your favourite movies?

Feeling lucky ?
Want to
search
any of my partnershops yourself
for more, better results ?

The links below
will take you
just there!!!

Find Christopher Kahler
at the amazons ...

amazon.com

amazon.co.uk

amazon.de
Looking for imports ?
Find Christopher Kahler here ...
Something naughty ?
(Must be over 18 to go there !)

I'll say A Clockwork Orange this time just because I have the DVD out to watch some time this weekend, but I would give a different answer to this every time asked. Planet of The Apes, Strangers on A Train, High Plains Drifter. Any mid-70s grindhouse film. No idea. There are so many that have influenced me for many reasons.
... and of course, films you really deplore?
Bucky Larson? Anything that overuses shaky camera in the darkest setting possible while being as loud as possible and expects the result to be considered scary. Any indie film where people forget dialogue, look at the camera, and expect me to be in on the inside joke that they don't give a damn about making a movie since it makes me wonder why they think I'd give a damn about watching it.
Your/your movie's website, Facebook, whatever else?
https://www.facebook.com/Directorscutshort
Anything else you are dying and I have merely forgotten to ask?
Nah. I talk too much as it is.
Thanks for the interview!