Your new movie The Dark Stranger - in a few words, what is it about?
The Dark Stranger is about a troubled artist who begins work on a new graphic novel only to find that a character she has created seems to be coming into the real world, tearing her life apart.
What were your sources of inspiration when dreaming up The Dark Stranger, and to what extent could you actually identify with your lead character Leah and her phobias?
When I was younger I struggled with serious depression. Many of my friends also struggled with mental health issues. I wanted to make a film that dealt with how creative people often battle depression and suicidal feelings. What if that depression took the form of a demon of the mind that went from artist to artist, trying to make them take their own lives in order to get stronger. But I wanted the film to ultimately have a positive message: that we can overcome the dark strangers within us. We don't need to give in to those bad feelings.
The Dark Stranger seems to create a world of its own that from time to time defies logic - so what kind of a challenge was it to not lose your story in the proecess?
During the script process, I was constantly asking myself if an audience would be able to follow what was going on or if things were getting too weird. I'm influenced by filmmakers such as David Cronenberg, David Lynch and Tim Burton, to name a few, who create their own worlds in their films which often defy conventional logic, yet they create a logic of their own. It makes sense to them; it's not just random surreal imagery. You get on their wavelengths as you watch their best works. That's what I was trying for with The Dark Stranger. Making sure the audience is with you is important to me, along with expressing a unique vision. It's a delicate balance.
The Dark Stranger makes deliberate use of paintings, a graphic novel and even animation - so do talk about the art in your movie for a bit, and how closely did you work together with your artists?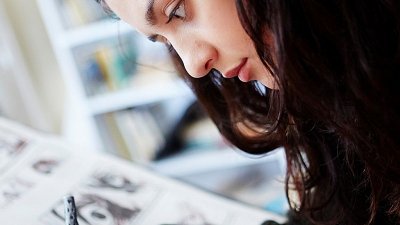 There were many artists involved with this film. The original paintings by Leah's mother in the film, which hang on the walls throughout the house, were all done by my mother Janet Trebilcock, who is an amazingly talented artist herself. She ran an art school and gallery in Toronto for many years. The graphic novel images were created by Sean Scoffield, who is an exceptional comic book artist who has drawn for DC and Marvel in the past. He did the graphic novel version of David Cronenberg's Existenz, which is how I first discovered his work. I've worked with Sean on many of my short films before making The Dark Stranger. Sean created the original character designs and landscapes for Leah's storyboard. He created the graphic novel pages you see Leah working on in the film. The company Keyfilm Digital took Sean's character designs and landscapes and turned them into animation. Keyframe also did all the live action CGI that appears throughout the film. Keyframe did an incredible job, doing both the all the animation sequences and the CGI FX, over our long post process.
Do talk about your directorial approach to your story at hand!
My approach, both in the writing and directing, was to make the characters and situations as real as possible. The more we could believe and root for Leah, the more we could accept the fantasy elements of the story. I feel a lot of horror films today put all their energy into gore effects or cool lighting, and not nearly enough effort into creating dimensional characters. It was also important to create an atmosphere of menace that begins very subtly and grows stronger as the film goes on. Making sure the audience always knows where they are and what's going on was very important, both as writer and director, and having a sympathetic though complex main character that they can root for. Staging suspense and scares is always fun cause you try to surprise your audience with where the monster is going to pop out next. Ultimately, the directorial approach was balancing crafting a realistic family and delivering on genre expectations of scares and dark imagery.
What can you tell us about your cast, and why exactly these people?
I admired all of the actors in previous films and TV shows and thought they were right for the part. Katie Findlay is an amazing strong actress. What's extra great about her is she is also a huge comic book nerd. So it really helped to have someone who is familiar with the world of comics and graphic novels play a comic artist. She brought an authenticity to it. Stephen McHattie is a fabulous actor and a really interesting person. He has such a unique presence. He's played lots of bad guys in the past but he always makes it new and brings something different to each character he plays. He was excited about playing the dual role of The Dark Stranger and Mr. Toth. He made lots of good suggestions which enhanced both parts.
The fantasy world notwithstanding, The Dark Stranger is limited to only a handful of sets - so do talk about your location(s) for a bit, and what were the advantages and maybe also challenges filming there?
We shot in my house for thirteen days. I wrote the script with my house in mind, partly out of budgetary concern. To keep the location costs down. But it's also a great old three storey house. Because I was so familiar with the place I was able to plan out shots very thoroughly. However, when you bring a fifty person film crew into a house the place feels much smaller. Cause it was a real house getting the crew into one small bedroom to shoot a scene could be very cramped at times. We were filming at the end of winter. One of the radiators on the second floor started leaking so we had to shut off the heating system. The house became freezing. We brought heaters in but the actors would rehearse scenes with winter gear on. I was still sleeping in the house at night and I would go to bed wearing a sweater and a toque hat.
Do talk about the shoot as such, and the on-set atmosphere?
It was a fifteen day shoot in total so it was a fairly aggressive fast pace. Yet there was never any tension. I tried to keep things light but focused. I don't believe in screaming at people. My cinematographer D Gregor Hagey was terrific to work with and never complained about the fast pace of the schedule. He did excellent work and just won the Best Cinematography Award from the Blood in the Snow Film Festival. Our production designer Lisa Soper did a fantastic job dressing the sets and also building the magic forest set for the end of the film. Another hero was our 1st AD Ryan Hyland who kept us all moving and was highly organized but not a screamer.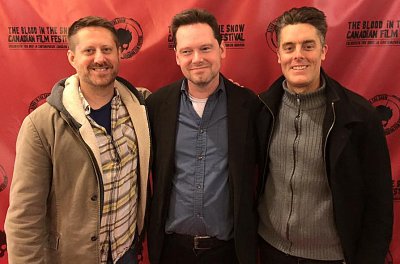 Producer Glen Wood, Chris, cinematographer D Gregot Hagey
at the Blood in the Snow Film Festival
Anything you can tell us about audience and critical reception of your movie yet?
I've just started reading some reviews online in advance of the screening at the Blood in the Snow Festival. And I'm happy to report that the five or six reviews I read for the film have all been really good. I was worried about how people would respond to the film. It's not a straight ahead horror film loaded with gore. In some ways, it's more of a personal film with some horror overtones. I hope more good reviews will come and that will get people curious about seeing the film.
Any future projects you'd like to share?
I have three new feature projects I've been developing for some time now. The first is called Beneath Planet Cronenberg, a dark coming of age story about a alienated teenage boy who becomes obsessed with filmmaker David Cronenberg and loses himself in a fantasy world inspired by Cronenberg's films. The second is Hangman, which is about a bullied teenager who gets protection from a vigilante serial killer. The third is Hatchetface about a down and out genre actress who returns to one last slasher film in the series that made her famous only to be targeted by a killer based on the one in her films.
What got you into filmmaking in the first place, and did you receive any formal training on the subject?
When I was a teenager I was a magician-ventriloquist for several years. Then I wanted to be a novelist. When I finished high school I decided to focus on film because I always loved movies, particularly horror or offbeat films. I went to Ryerson University in Toronto for their film program. I worked on set as an assistant director for many years on various local movies and TV feries. Then I was admitted to the Canadian Film Centre in 2007 in their directors program.
What can you tell us about your filmwork prior to The Dark Stranger?
I made several short films while working as an assistant director. They tended to be more personal coming of age stories with fantasy elements in them. They were a great training ground to learn how to work with a crew and work with actors.
How would you describe yourself as a director?
Hmm. It's hard to be objective about yourself. I try to be open to collaboration with others but still retain a strong vision for how I see the film.
Filmmakers who inspire you?
Long list. David Cronenberg, Steven Spielberg, Brian De Palma, Dario Argento, John Carpenter, Alfred Hitchcock, Tim Burton to name a few...
Your favourite movies?

Feeling lucky ?
Want to
search
any of my partnershops yourself
for more, better results ?

The links below
will take you
just there!!!

Find Chris Trebilcock
at the amazons ...

amazon.com

amazon.co.uk

amazon.de
Looking for imports ?
Find Chris Trebilcock here ...
Something naughty ?
(Must be over 18 to go there !)

Jaws, Psycho, Halloween, Videodrome, Deep Red, Dressed to Kill.
... and of course, films you really deplore?
I'd rather not single out anyone's movie to say I hate it.
Your/your movie's website, Facebook, whatever else?
Right now, we don't yet have a web site for The Dark Stranger. The best way to find out more about the film is to contact our Canadian distributor Raven Banner. They have a web site and they are on Facebook.
Anything else you're dying to mention and I have merely forgotten to ask?
The film would not have been possible without the hard work and dedication of my two producers Paula Devonshire and Glen Wood, as well as the generous support of our executive producers Mark Gingras, Jay Firestone and Vanessa Piazza.
And thank you for interviewing me!
Thanks for the interview!