Your upcoming movie Angel of Reckoning - in a few words, what is it about?
Angel of Reckoning is the latest movie from prolific indie filmmaker Len Kabasinski [Len Kabasinski interview - click here]. It is a revenge thriller involving a female soldier returning from war only to start her own personal vendetta when a close relative dies under suspicious circumstances. Thereís lots of action and drama, babes and bullets.
What can you tell us about your editing style on Angel of Reckoning?
Itís a fairly straightforward narrative style. But Iím adapting my editing decisions from scene to scene based on the needs of the moment. My number one rule is not to do anything that would pull the audience out of the story. I think Requiem For A Dream is a great example of changing editing styles that still serve the narrative. But I donít do anything quite so experimental in Angel of Reckoning.
How did you get involved with the project in the first place?
Len and I had a very favorable experience working on the re-edit and DVD mastering of Warriors of the Apocalypse so he invited me to be involved in his next film: Angel of Reckoning.
As far as I know, you were very much involved in the actual production of Angel of Reckoning, more so than usual for an editor - so what can you tell us about that aspect of the movie, and about your collaboration with its director Len Kabasinski [Len Kabasinski interview - click here]?
Len has very definite ideas and opinions about his films, but he can also be very collaborative with people he trusts. Ultimately he wants the film to be the best version possible. So after our experience working together on the special edition of Warriors of the Apocalypse, he invited me to edit Angel of Reckoning and even come out for the shoot if possible. At first I was reluctant to make the drive for financial reasons (Len lives in Erie, Pennsylvania and I live in southern Ohio), but my wife insisted we could manage and supported my being present for almost the entire production. The night before every shoot, Len would meet with myself and producer Ruth Sprague to plan the logistics in detail. On the day, we would arrive at each location and I would immediately start planning the lighting to suit the needs of the set. Itís one thing to talk about an environment, itís another to actually be there. Since I was coming from out of town I really didnít have time to personally see the locations in advance, so often I wouldnít have any real idea of the space until we arrived. Fortunately I had a good understanding of what Len was trying to do stylistically so we developed a kind of shorthand. I remember a particular moment during the climax when we did a sudden switch from one lighting scheme to the next without Len and I communicating to each other in advance. It turned out to be exactly what he wanted, thatís how in sync we were at that point. We often consulted with each other on the actual shots, and if I had an idea I really thought would work, Len would accommodate getting it. However, as time went on I really came to appreciate just how much Len understood about what the film needed. Eventually I only made suggestions when I really thought it would add in a significant way.
How did you and Len Kabasinski meet in the first place even?
I happened to see a Facebook post from Len in which he was looking for someone to do a re-edit of his film Warriors of the Apocalypse. I had seen him on a couple of episodes of Best of the Worst by the Red Letter Media guys, so I knew he had a reputation of someone in the indie world who gets things done. If thereís anything that attracts me most to someone in the industry, itís when they actually see their projects through to the end. I donít need to tell you how rare that is.
As mentioned, you've recently also re-edited Len Kabasinski's Warriors of the Apocalypse, to be re-released as Apocalypse Female Warriors - so what can you tell us about this new edit of yours, and what were the challenges there?
Len had recently reacquired the rights and wanted to make about five changes to the original film before releasing a brand new DVD. While I was making those changes I became aware of other ways it could be improved. Sound effects, tighter pacing, additional special effects, color grading, etc. So, with Lenís permission I started making additional changes. Len began to get excited about the movie again and began submitting more tweaks and changes as the edit progressed. I ended up spending over one hundred hours on the film before we both felt we had the best version of Warriors of the Apocalypse possible. Len wanted to add a commentary track with us talking about the new version. In addition, I suggested he contact the guys at Red Letter Media and see if they would be interested in adding their own commentary as well. Fortunately they were more than happy to do so. Since I was the one remastering the DVD I had the distinct privilege of being the first person to hear it. Needless to say, it was very entertaining.
Any future projects you'd like to share?
Iíll be working on Lenís next film Bite of The Mummy this summer and possibly more after that. I also have a project of my own Iím writing and plan on shooting in a couple of years. Itís a supernatural western and I already have the location and several of the principal actors secured. I can safely say I wouldnít be able to do it without all the things Iíve learned working with Len.
What got you into film editing to begin with, and did you receive any formal training on the subject?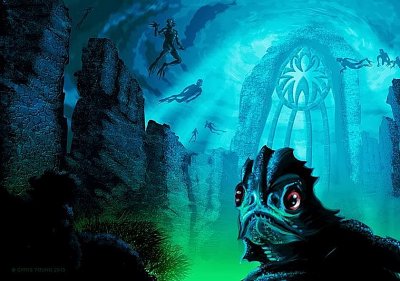 art by Chris Young
My classroom has always been the theater. You know the J.J. Abrams film Super 8? I was that kid. My dad bought me a Super 8 camera and projector so I could make my own movies with friends. I did that all the way through the transition to video tape. At one point I attended school for two years with the intention of creating soundtracks for film as a career. However, I lost both parents in my early twenties and ended up taking a few years off to get my feet under me again. Eventually I went back to school and earned a Bachelor's in Fine Arts with an emphasis in video and animation. Over the next twenty years I used my skills to work for ad agencies, sports franchises and various corporate clients, doing motion graphics and video production. About three years ago I started to network with people in the indie film industry over social media and was able to use my artistic abilities to provide concept art and posters for several productions. Iíve spent decades editing for retail and corporate so finally getting to return to my first love of movies has been gratifying.
What can you tell us about your filmwork prior to Angel of Reckoning?
I love many genres of film but have a warm spot for horror in general. Iíve been fortunate to provide concept art for indie horror actor Bill Oberst jr [Bill Oberst jr interview - click here] and his pet project Lord Bateman. Iíve created illustrations for the Lovecraftian atlas app called The Pnakotic Atlas and movie posters for a variety of projects. One of the most notorious is Snake With A Human Tail and of course thereís the poster for Angel of Reckoning. Billy Blair has also been great to work with and uses several of my promotional pieces at his convention appearances.
How would you describe yourself as a film editor?
I want each film to be the best at whatever it is trying to be. I like to be able to implement whatever style is appropriate. If I have any personal preferences it is to cut to the chase and keep the storytelling tight and efficient. Nothing makes me turn off a film faster than a lot of extraneous footage that does nothing to further the story. Thereís a big difference between atmosphere and just padding for time.
Editors, filmmakers, whoever else who inspire you?
Iím kind of in awe of Kurosawa and his complete artistic control of every aspect of filmmaking. Val Lewton and Jacques Tourneur invented many of the horror tropes that are still used today. Hitchcock is certainly the grand master everyone says he is. I agree with William Friedkin when he said that ďeverything you need to know about filmmaking you can learn by watching Alfred Hitchcock filmsĒ. No one can come close to David Lynch for crafting stories that are more like waking dreams than reality. Cronenberg makes everything he does look easy which is baffling to me. Early Spielberg is a wonder and Darren Aronofsky is without peer when heís on his game, that also goes for James Wan and Leigh Whannell. Thereís more but thatís the short list.
Your favourite movies?
If I have to choose, then Iíll start with Saw. That first movie in the series does just about everything right and it also almost works as a one scene stage play. The Evil Dead is a thing unto itself. Big Trouble In Little China benefits from John Carpenter at his height and a great script from W. D. Richter, The Thing, Terminator 2 may be one of the most perfect screenplays ever written. Silverado, Shadow Of A Doubt (1943), Insidious and too many to mention here.
... and of course, films you really deplore?

Feeling lucky ?
Want to
search
any of my partnershops yourself
for more, better results ?

The links below
will take you
just there!!!

Find Chris Young
at the amazons ...

amazon.com

amazon.co.uk

amazon.de
Looking for imports ?
Find Chris Young here ...
Something naughty ?
(Must be over 18 to go there !)

In general, lazy filmmaking. That goes for any genre or budget and can be found in both. It sometimes makes me angry. I see it as a waste of my time.
Your website, Facebook, whatever else?
You can follow my work at cyoungmedia.com including interviews and reviews, my Twitter handle is @DarthDragon, and FaceBook is https://www.facebook.com/profile.php?id=1588384584
Anything else you're dying to mention and I have merely forgotten to ask?
If you want to do something then do it yourself. Donít talk about it or gripe about how hard it is and why others wonít help or give you money. Grab your smartphone and shoot it if necessary.
Thanks for the interview!