Your new movie Hobo with a Trash Can - in a few words, what is it about?
Hobo with a Trash Can is a no budget anthology, comprised of 8 shorts by indie genre directors. It's set in the fictional town of Retroville & centers around an empathic homeless man, who has visions upon touching certain items of trash. It's a mixture of genres: horror, sci-fi, black comedy, B-movie, with a central storyline of local government corruption & alien conspiracy which ties the first segment, Frying Saucer, to the hobo character.
What was the idea behind Hobo with a Trash Can, and why did you insist on very low budgets for the separate segments of your movie?
The idea to produce an anthology came from the need to find better distribution solutions for short films, as features appear to hold more value. After previously releasing two short films, Conscience & Director's Cut, I wanted to expand my portfolio but was not ready to undertake a full feature. Therefore, a collection of short films, an anthology, seemed like a very viable option. I also considered this to be a good opportunity for like-minded indie filmmakers to get some exposure & help each other out.
Once I was set on this path, I watched many horror anthologies to get a feel of what worked & the various styles. I decided that I wanted the look & feel of a continuous, flowing story, not a string of random stories thrown together with a narrator in between (not that there's anything wrong with that ;) lol). So, I needed a theme. What's a common struggle that holds most Indie filmmakers back? Money. What style of cinema &/or word, is equated with no budget films? Trash. The cogs started grinding over these answers & my epiphany was to give each filmmaker an item of trash to base their film around, & a $1 budget. True "Dollar Horror". I then had to incorporate these items into a central story, thus the hobo character was born & everything fell into place.
So, the budget restraint was intentional, to truly create a 'Trash Cinema'/B-movie vibe. Also, a lack of cash forces people to be more creative & use their skills & resources to the best of their ability. Most importantly of all, most indie filmmakers don't have access to the kind of funds needed to make an impact in the industry today (I'm including quality gear in this statement as funds are needed to secure such equipment), & crowdfunding is over-saturated & requires good marketing skills to be successful. I did not want a lack of personal funds to prevent people from participating, or a failed campaign to squash the project. By providing each filmmaker with the same minimal budget, they would all be on an equal footing in that respect.
How easy or difficult was it to find filmmakers willing to participate in your project, and what was your collaboration with these people like?
The hunt for participants began with a filmmaker group page on Facebook, & a 'challenge'. Interested filmmakers were messaged with an item of trash, & asked to submit a 30-second teaser for a short film. The clips were then posted to the movie Facebook page for a public vote. I have seen this technique work well for others, however, I am, admittedly, very weak in the marketing/promo arena. I did receive a number of requests for trash items, though the majority did not follow through. I guess the "prize" of a $1 budget to make their short, was not a big enough incentive! lol. Seriously, though, some were intrigued by the unique concept, but the reality of the challenge was not for everyone. It's not an easy task, so big kudos to my guys who rose to it: Steven Grainger, Lloyd Emmons & Kyle Leonard, Mark Charles Adams [Mark Charles Adams interview - click here], Tonjia Atomic [Tonjia Atomic interview - click here], Vincent Marshall.
I guess the short answer to the first half of your question: "How easy or difficult was it to find filmmakers willing to participate in your project?" is, it was quite difficult! Lol. As for the collaboration aspect, each filmmaker was given some basic guidelines, then left to 'create'. It was quite exciting waiting to see what they came up with. Deadlines did cause a little turmoil & had to be extended several times, but as you can imagine with no budget films, you're relying on people to volunteer their time & resources, so you shoot when availability is open, & well ... 'life' (& weather) happens. So you really can't rush these things. You have to be patient & understanding when you're working with a group of people with different personalities & life situations. This can be a challenge in itself, & as a selfproclaimed "stress-head", I found it difficult at times.
So what can you tell us about your own segments, Welcome to Retroville and Frying Saucer - what was the inspiration for those?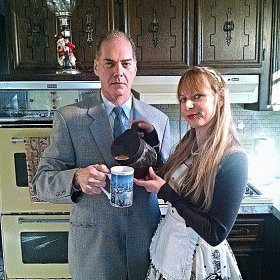 Frying Saucer
Well, Welcome to Retroville is the wrap-around story that ties everything together, so I had to incorporate the items of trash used by the other directors. To create a seemingly cohesive feel to the film as a whole, I invented the fictional town of 'Retroville' - "Home of the past, present & future" - that suggests an ambiguous time zone in which anything can happen. This would help to add validity to the different styles, & possible time periods, used by the various directors. The 'hobo' character was inspired by the many homeless background roles played by Christopher Kahler [Christopher Kahler interview - click here] in local TV productions. He has a great 'look' for it ;) lol, & I thought it would be fun to give him a larger role in this guise. The segment Frying Saucer' was actually written first. I liked the idea of an 'homage' to 50's low budget sci-fi, but with a modern twist. I had to have an item of potential trash as the focal point of the short, so with a little word play, I came up with a great title & "reverse engineered" the story from there. As the trash item, frying pan, had to ultimately come into contact with the hobo, what better way than to hit him over the head with it! Lol. This also leads into the main story of Welcome to Retroville. The conclusion of Frying Saucer is played out through the hobo & there's an overlap of characters, again lending to an overall "fluid" storyline. The other segments come into play at various points in the Welcome to Retroville'story as the hobo encounters them.
What can you tell us about your directorial approach to Welcome to Retroville?
Hmmm, as a director, I'd say I'm only as good as my DP. I heavily rely on my camera crew, i.e. Chris lol, to know all the technical details, like lighting, angles etc. Chris has a cinematic vision that I don't. I know what I'm looking for from my actors, but I can be a bit timid on set. I do need to gain confidence in directing & would love to work with a monitor to help me get a better grasp of the cinematography. (I did run the camera, under Chris's instruction, lol, whilst shooting him.)
Interestingly, in Welcome to Retroville you direct Christopher Kahler [Christopher Kahler interview - click here] while in Frying Saucer, he directs you. So could you talk about that "reversal of roles" for a bit? And was there any payback involved at any point? ;)
Well, there really wasn't much of a role reversal, as I mentioned above, Chris helps me a lot when I direct. He, however, doesn't need my help lol. We do have different ideas, & that occasionally leads to us butting heads on set. So, payback? ... from my side, absolutely ;) Some rather unpleasant things happen to the hobo, but that just adds to the humour & creates some sympathy for the character. It was well intentioned, & he was a good sport about it, anything for the movie, right? Lol.
So what can you tell us about your character, and have you written her with yourself in mind? And how much of Claire 'Fluff' Llewellyn can we find in Mindy Goodfellow?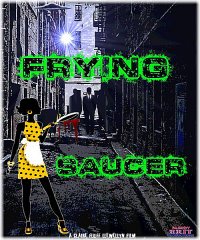 I knew I would be playing a role, logistically it just makes sense, but wasn't sure what. So, I didn't intentionally write Mindy for me. My initial thoughts for her were for someone younger & sexier lol. As I finished writing & thought about scheduling, the Mindy role required a large time commitment & as our shoots require us to be very flexible, it was just easier for me to assume that role. (I'm also not opposed to playing a larger role ;) .) This also meant that I would have to cast someone with a British accent to play Mindy's mother, as I suck at American accents, so I convinced my own mother to participate lol. As for how much of myself is in Mindy ... well, it helps to use your own personal experiences & insight into others when you write, it adds to the realism of your characters. So, yes, there is a part of me in Mindy. I wouldn't get married on a first date at this point in my life, but there was a time when I could easily have been swept off my feet! lol.
What can you tell us about the shoots of Welcome to Retroville and Frying Saucer as such, and the on-set atmosphere?
We were very fortunate that our executive producer/bad cop, Frank Kam, was able to provide us with a location that covered the majority of our interior scenes for both. The property was under major renovations, so he even provided the furniture we needed (& a heater). Frank's our hero :) It really is a team effort & people are always happy to help out where they can. Locations are always tricky to find. Other cast members, Anthony Cooney, Catherine Dennis & Thom Oswald, also provided one scene locations. We also got people to send us footage for the commercial & montage scenes, which was a great time saver, & allowed for non-locals to be part of the film.
Many of the Retroville exterior scenes were comprised of Chris & I running around town & back allies at night with the camera lol. Not forgetting the daytime shoots with our dog, Schatze, who wasn't always in the mood to take direction! Lol
On both sets, everyone had fun & did a good job. I appreciate everyone who participated in the project, especially our loyal PA, Alexandra Roach, who is always game to lend a hand. We will always remember Alex's pet rat, Scotty (RIP), who peed on Chris's chest during his scene lol.
The $64-question of course, when and where will the film be released onto the general public?
It is currently available as a streaming rental here: https://www.reelhouse.org/bloodybrit/
hobo-with-a-trash-can
We are looking at other VOD platforms also & it will soon be available digitally at FilmVolt.com, a UK based distributor, & Amazon Instant Video. We are currently working on packaging the DVD, which will be available on our website & at various conventions via the Death Is Coming Productions booth. There may also be some convention screenings.
Anything you can tell us about audience and critical reception of your movie yet?
We had a theatrical premiere screening in Chicago in June 2015, & people seemed to enjoy it. We've had several reviews by various sites & the majority, being fans of this genre, said positive things about it [(re)Search my Trash review]. Of course, it isn't everyone's cup of tea, so we did get some not so favourable reviews too. You can read all the reviews on our IMDb page, website & Facebook page. At the end of the day, it's best to judge for yourself, but if you like B-movies & can appreciate no budget indie fare, then I think you'll enjoy it :)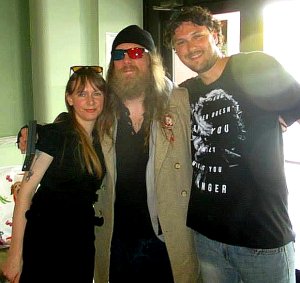 Claire, Christopher Kahler, Vincent Marshall
Based on your experience with Hobo with a Trash Can, will you ever do another low budget anthology like that one - and other future projects you'd like to share?
Short answer: NO!
One thing I've learned from this film, is that I'm too highly strung to be an effectual producer, & also manage all aspects of the project, creative & business. It's just too much for one person, & it's not fun. It was difficult enough to manage my individual short films, but when you add a string of outside directors, the workload obviously increases. I only produce out of necessity, I'd have no films otherwise. Ideally, given a realistic budget, I would be able to hire an experienced producer, or production team even, so I could concentrate more on the creative side. It's on my list to Santa next Christmas, along with a crew & some gear ;) lol.
As for future projects, I'm always working on something. I have a long list of scripts in various stages, I find it hard to focus on any one idea, so I'm trying to approach each from a business mind & pick the most viable as my sole focus, so at least I finish one lol. If you follow my company page, Bloody Brit Productions - https://www.facebook.com/BloodyBritProductions/ -, you'll keep up to date with what's in the works. I'm also working on a couple of poetry books as a respite from filming. One is a gothic vampire novel, (see the Victorian Vampire on Facebook), the other is a creepy children's poetry collection, (working title: Kreepy Verses for Kreepy Kids). The kids book will be illustrated by our talented Hobo artist, Hannah Walker Rose, who drew the caricatures you see in the opening title sequence of the film. (Oh, & I'm always open to purely acting gigs ;) )
Your/your movie's website, Facebook, whatever else?
Hobo IMDb: http://www.imdb.com/title/tt4299616/
Hobo Facebook: https://www.facebook.com/HoboWithATrashCan/
Hobo Twitter: @TrashAnthology
Hobo website: http://hobowithatrashcan.wix.com/hobowithatrashcan
Company Facebook: https://www.facebook.com/BloodyBritProductions/
Personal Facebook: https://www.facebook.com/claire.fluff
Anything else you're dying to mention and I have merely forgotten to ask?

Feeling lucky ?
Want to
search
any of my partnershops yourself
for more, better results ?

The links below
will take you
just there!!!

Find Claire 'Fluff' Llewellyn
at the amazons ...

amazon.com

amazon.co.uk

amazon.de
Looking for imports ?
Find Claire 'Fluff' Llewellyn here ...
Something naughty ?
(Must be over 18 to go there !)

I do want to mention the charity aspect of this film. As the title figure & main character of this film is a homeless man, I wanted to give back to the homeless community. So, to coincide with the movie premiere, I approached local businesses & artists for a donation to a charity raffle. I also initiated a food drive to take place at the event. I chose to split the proceeds between four charities, two of which I visited personally. These charities were: Cornerstone Community Outreach, Chicago Canine Rescue (for the raffle profits), The Friendship Center and Friendship Pet Pantry (for the food donations).
To continue supporting charities, I recruited a small team of ladies from the movie to join me in the Chicago charity walk for suicide prevention, raising donations as Team Hobo. Further still, over the Christmas period, proceeds from the movie rental were donated to St. Jude's Children's Cancer Hospital.
I certainly don't get rich from my projects, but it's nice to give back even in a small way.
Thanks for the interview!
Thank you for some very thought provoking questions, Mike, I hope I didn't waffle too much ;) Cheers :)