First of all, why don't you introduce yourself to those of our readers who don't already know who you are?
My name is Cyndi Crotts and I've been in the acting & modeling business for over 6 years. I've worked in many indie films and have been in magazines.
What got you into acting in the first place, and did you receive any formal education on the subject?
I've always wanted to be an actor ever since I was a little kid. Yes I've taken classes off and on since being in the entertainment business.
Can you still remember your first time on a movie set, in front of a movie camera? What was the feeling like, and in what ways have you changed/grown as an actress since then? And what can you tell us about your early days as an actress?
It's been a while but yes I think we all remember our first time on a film set. It was really pretty cool and you just felt like wow, I've finally made it through my first step and I can't wait to keep going and do more. Of course from your very first film until now, you can grow so much from one film set to another. Biggest thing is you really become more comfortable in front of a camera and from there you watch what you've done and you improve on your skills each time you're on a film set. You will always learn something new each time. My early days as an actress was always a great time because you see your faults and you go for whatever until you really become your own and you find out what really sets you apart from others. Then as you grow, you begin to mold your self into the actor you want to become.
Among your early credits are a handful of appearances on the Japanese TV-show Sekai Gyoten News. You just have to talk about working on that show for a bit!
That's been a while ago but from what I do remember, it was fun and the Japanese people that we worked with were different from what Americans do. From my experience and again from what I can remember, everything was really quick and to the point. They got in and got out so not a lot of messing around on sets or a lot of retakes so to speak. They did have fun but when it was time to shoot they wanted to get in done in one or two takes, so not a lot of "let's shoot this same scene 4-5 more times."
In recent years, your career has gravitated more and more towards the horror genre. How come, and is horror a genre at all dear to you?
Yes it has gotten more into that genre and yes I admit, I really do enjoy the horror side. To me I find it much more interesting and people in general love the horror biz. There are so many horror icons that people know more than they know those in other sides of the biz. It's like the funhouse at the fair, everyone talks about it and people pass by it, but once they go inside the spooky funhouse, they realize how much fun it was and they keep going back and repeat the same experience over and over. It's kind of like horror films, people are afraid and they get scared but they keep watching them just for the scare factor.
Women in horror are almost invariably labelled Scream Queens. A label you can at all live with?
I enjoy being known as a scream queen. There are so many women that I admire that have been labeled as scream queens through the years and to me it's an honor to be put into that same category as those women.
I'd like you to say a fews words about several movies I have picked from your filmography, and about the characters you play in them:
Jason Liquori's Death Plots and Stopped Dead?
Death Plots was the first film that I had worked on with Jason. I play Agent Magnum in this, so the fun part to me was I got to have a gun and shoot the bad guy but instead of getting killed... lol.
For his other film Stopped Dead, I got to play the smartass waitress which of course I enjoyed. Anytime I can play a part like that, I say yes. It's always fun to be that person in a film.
Delivery?
That was a film I was in a few years back when I was getting started back in the entertainment business. It was actually the second film I had been cast in that Jose Cassella was the director on [Jose Zambrano Cassella interview - click here]. I had a really great time with everyone and really enjoyed working with Jose again. It was great to be on set and I learned so much from the other actors as well by watching them. The character that I play in this film is film producer. Itís been so long ago but I remember a few bits an pieces of the film. Itís really cool to find out that a film youíve been in made it to the shelves of rental stores and to retail stores. Itís also available through Netflix as well so for those that havenít seen it yet, you need to check it out!
The wonderfully titled Captain Cosmos and the Gray Ghosts?
Captain Nick Cosmos & his daughter survey, explore and deliver freight to alien worlds. His ship is haunted and it forces him and his daughter to relive past adventures.
My character in this film is Myra and during this episode, I was just a girl who admired one of the captain's closest shipmates so to speak.
Brainjacked?
My characterís name is Jane and she is the mother to Tristan and her husband is Dwight, which is Tristanís step-father. Basically Jane is treated badly by her husband and he also treats her son badly as well. He likes to beat up on them both so in turn Jane does anything she can to please her husband. She does tend to stay drugged up a lot of times around her husband just to tolerate the madness so to speak. He likes to throw parties and uses his wife as the play toy for his buddies when they come over. For those that haven't seen it yet, you can rent it online at amazon.com for a 7 day rental. Just go to this link http://www.imdb.com/title/tt1226745/, and on the IMDb-page for Brainjacked you click on the box that says "Watch Now".
The Stories of the Paranormal-series?
These are just great fun I must say. There has been so many of these stories filmed I don't know where to begin... lol... These are all written, directed and produced by Kelly Weaver of Terminal 52 Films. I've been in 3-4 of these episodes so far. They are great. It's more of like ghost & paranormal story tales. Each one is played out very differently from the other. So it's not a series that you have to keep up with but more of a great series that has different stories each time.
Bikini Monsters?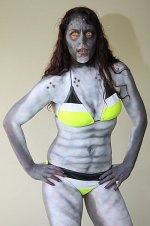 Bikini Monsters
This feature film is about a guy known as the Beach Bum who saw a mermaid when he was younger and when he grew up, he wanted to genetically manufacture himself a mermaid. Things keep going wrong and no matter what, he keeps doing test after test on more girls hoping for the perfect mermaid like creature. This was such a great movie to work on and it was actually my first time being air brushed for a film. It was filmed entirely in Florida as well as cast and crew being from Florida also. This film is considered a creature feature with a cheesy/campy B movie feel to it, like from back in the day. It had its moments at times especially when we had to stand on our feet for like 2-3 hours getting airbrushed. Itís definitely tiresome just standing there but in the end itís all worth it when the finished product is all done. I had a great time with everyone on set and Terence Muncy was such an awesome director to work with [Terence Muncy interview - click here]. I am so looking forward to working on more films with him. The director is talking about having a premier showing in FL sometime in 2012, so we're keeping our fingers crossed. Also a few of the characters from Bikini Monsters including myself made it on the front cover of the debut issue of Horror Underground Magazine. Its first issue debuted at Paranormal Fest in Columbus, Indiana at the Crump Theatre May 2012. So we were very excited about that. If you get a copy, be sure to read my interview inside the issue as well.
The Bailey Case?
This film is about 15 contestants that hear about a paranormal TV show called "Mysterious Hauntings" that was having a contest at the infamous Bailey House. The rules were simple. Stay at the house for a week and win a grand prize. What happened at that house is still a mystery as the 15 people have gone missing without a trace. The only evidence left were a couple of cameras used by one of the contestants. I play the ghost of Christina Bailey in this film. I must say we had a great time on set making this film. We actually filmed this in a house that actually had real ghost in it which made it even more creepy to be there. No one encountered the ghost in the house during filming but just knowing that it does have ghosts, that's what made it even more real to everyone.
Eye Can Hear You?
PLOT: A mother gives birth to twin babies but something went terribly wrong with one and she abandons the baby in the woods. After 10 years she takes her revenge. This was a fun film as well. Of course it's got lots of blood in it so how can you go wrong here. I play Lucy Bell in the film and am one of the campers amongst many. I'm sure you can only imagine what happens to everyone... lol... What a great cast I got to work with! This was a film by Douglas Vater of Vater Entertainment Films.
B.F.F.?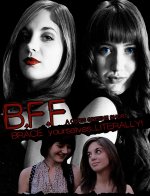 The synopsis of the film is about 2 girls, Raven Rellik & Anna Setib, and they are going through what they consider to be the most important year of their high school lives... SENIOR YEAR! Not only do they have the everyday problems of most seventeen year old girls, they are also under the constant pressures of maintaining a certain status and reputation among their peers! To make matters worse, both girls have recently been told that getting BRACES is a "requirement" for them to achieve their goals! Realizing braces are a sure way to destroy their popularity among fellow students, the girls go and visit an Orthodontist to see about concealing their new and unwanted dental jewelry. Constantly shooting for perfection, Raven & Anna will do anything to make sure that they are liked by everyone... however they are about to make more of an 'impression' on the folks of Canales, FL and Greene High School than even they ever imagined! I play the Librarian in this film but there is a twist to it as well but I can't tell you that or it will give it away. Let's just say, you'll for sure know the twist when you see the film. This was a film by Chris Greene of Detour Entertainment.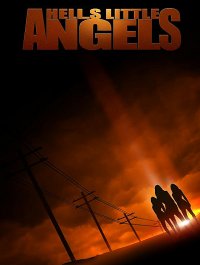 Any other films of yours you'd like to talk about? Any future projects?
I am actually working on my very first feature film that I wrote called Hells Little Angels. Here is the plot to the story for you... The film is about 3 girls, Sky, Zoe & Raven, who came from childhoods of pain, abuse & sorrow. As devious fate would have it, the three girls eventually wind up at a bar searching for safety and security. They cross paths with each other there and with a bar owner named Butch, who decides to take the girls in and teach them everything about the business. Several years later, once the girls become of age and Butch feels they are ready, he teaches them something else...
It's a grindhouse-style horror film with a mischievous bar owner, a mysterious drug dealer and three bad-ass chicks that have a lust for something more.
I am very excited for this project and am so looking forward to when we get to film it. We still have a few odds and ends to fill before we can film it yet but we are getting close. We are hoping by the end of 2012 or sometime early 2013 we can start the filming process. You can keep up to date with the film by checking out our Facebook fanpage at http://www.facebook.com/HellsLittleAngels. I also have an official website as well for Hells Little Angels at http://www.hellslittleangelsthemovie.com, which is still in working stages so it's not done as of yet. So everyone can keep up to date right now by being a fan of the Facebook site.
Going through your filmgraphy, one can't help but stumbling upon director Kelly Weaver ever so often. What can you tell us about him, what is your collaboration like, and how did you initially hook up?
I've known Kelly for a long time now and have worked with him on many of his projects. He is a writer, director and producer and his company is called Terminal 52 Films. I just recently was on another one of his films in May. He's a really great person to know and work with.
Besides making movies, you also work as a model, right? What can you tell us about that aspect of your career, and how does modelling differ from acting in front of a camera?
Yes this is true. I enjoy doing modeling and mostly that's been pinup modeling. It's really not a whole lot different except for the fact there are no lines from a script to remember when modeling for print. It's fun and exciting and has many rewards as well. Keeps things open and lets people know that you have more than just an acting side you also have a modeling side as well. So leaves things open for others that are directors and producers to see you play other roles and be very versatile. Plus it's fun to play dress up which as a young girl I used to pretend to be in front of the camera getting my picture taken and here I am, actually really doing it.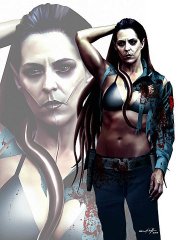 Ginger-Stein: Rise of the Undead
As far as I know, you are also part of the Ginger-Stein: Rise of the Undead-comic-series. Now what can you tell us about that experience?
I was contacted by Dennis Willman [Dennis Willman interview - click here] to be involved in this comic book series. The comic book is created by Dennis Willman of Iron Dead Studios. Dennis also is the man behind the artistic drawings for each and every character in this comic. To give you the short and skinny: "Ginger-Stein is the story of an ordinary woman called upon to become extraordinary as the world falls victim to a zombie apocalypse.Ē My character in this series is Officer Kate Sully who is a Detroit police officer. She's tortured by the fact that she was betrayed and lost her entire family, she's angry and deeply saddened. Sully is a predator, a cunning and intelligent creature that stands apart from her undead brethren. So far the comic has made a few appearances at conventions, starting around the last part of 2010 and on into 2012. There is an awesome list of actors attached to this comic book series as well. It will definitely be a comic that will for sure catch the interest of B-Horror movie fans. To find out more on this awesome comic and where to keep a look out for it, here is the link where you can go to keep up to date on it, http://www.gingerstein.com and also for the Facebook fanpage as well at http://www.facebook.com/gingerstein313.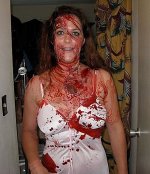 You also run a website dedicated to the indie movie scene called Cyndiland. You just have to talk about that one for a bit!
Oh yes. See at first I basically started CYNDILAND as a place for me to talk more in depth about the projects that I am in and to let people see more and read more about them all. Since these other sites only allow you to post up so much I figured what a better way to do it and be able to post up more about it. As it went on I thought, why not help others out as well by posting up and talking about their indie projects also. Maybe this would be a great way to help other independent people who are trying to get the word out about their projects or TV shows or radio shows etc. So I starting letting people know that if you want help in spreading the word about your indie projects, then let me know and I'll post up about them for you. So now I have a Friday Rants and Raves Day where I post up about who's making a buzz in the entertainment world, then there is my Weekend FREE-For-All where I post up about various ads from people & companies in the entertainment business that would like to get a little extra exposure. I've had so many people send me info and ask if I would post up for them and ask if they could link my site back to theirs. It's been so exciting that people have caught on to it and are coming from all over to ask to be posted up on CYNDILAND. I'm happy that it's becoming a real fun craze with a lot for people. I just wanted a place where us indie people and companies could have a place that was only about the indies. So I wanted to help out and do that. We even now have CYNDILAND bumper stickers and people ask for those all the time. I have to put up a Paypal button on there as well so people can buy one of them. For thosewho have never been, come check it out at http://cyndicrotts.blogspot.com... CYNDILAND.....GET ADDICTED!!!!! All Things Independent!
Actresses (or indeed actors) who inspire you?
I have a few actors and actress that I pay attention to in the Hollywood light and in the indie light as well. There aren't just particular ones, there are just things about certain ones that grab my attention at times. I really am inspired by all those in the entertainment business that stay with it and stick it out and do everything they can to make it work for them. The strong survive in this bizz
Your favourite movies?

Feeling lucky ?
Want to
search
any of my partnershops yourself
for more, better results ?

The links below
will take you
just there!!!

Find Cyndi Crotts
at the amazons ...

amazon.com

amazon.co.uk

amazon.de
Looking for imports ?
Find Cyndi Crotts here ...
Something naughty ?
(Must be over 18 to go there !)

I don't know if I have any real favorites... I mean there are so many out there to choose from that have a lot of great qualities about them. Here are just a few that are favorites...
Your website, Facebook, whatever else?
I have many sites that my fans can go to and find out about me and my new projects.
Official Cyndi Crotts website: http://www.cyndicrotts.com
CYNDILAND: http://cyndicrotts.blogspot.com
My IMDB Page: http://www.imdb.com/name/nm1962680
Twitter: http://twitter.com/Cyndi_Crotts
Facebook: http://www.facebook.com/people/Cyndi-Crotts/561415203
Hells Little Angels movie fan page: http://www.facebook.com/HellsLittleAngels
Anything else you are dying to mention that I have merely forgotten to ask?
I have a few projects in the works but nothing set in stone yet that I can announce.
Thanks for the interview!
Thank you as well for the opportunity!!!