Your new movie Sebastian's Unholy Flesh - in a few words, what is it about?
Sebastian's Unholy Flesh - my latest magnum opus - chronicles the emergence of a new evil, as an unholy trinity of entities emerge (Sebastian, The White Spider, & Nezaah) to obtain Luciferís ancient Unholy Book. The film is a cinematic descent which leads directly into the heart of evil.
What can you tell us about Sebastian's Unholy Flesh's underlying mythology, and was it made up from scratch or did you draw from any existing mythologies?
Indisputably there is mythology surrounding Sebastian's Unholy Flesh - the filmís mythology that I assiduously created from scratch as I was writing the script for the film. Additionally, as I filmed Sebastian's Unholy Flesh, I consistently contributed to the lore of the film, further expanding the mythology and universe within the film. As an established filmmaker and artist, I have my own sensibility regarding the themes I continually employ, but the primary reason for me to to create Sebastian's Unholy Flesh was because I had a strong desire to eschew the narrative-driven style of my previous film The Dark Days of Demetrius. I wanted to make a film that enabled me to have unlimited artistic liberties, and Sebastian's Unholy Flesh was my vehicle that would enable me to do that.
The genesis of Sebastian's Unholy Flesh originated when I initially conceived the basic storyline for it in the fall of 2019, amidst the release of my previous film The Dark Days of Demetrius. The script for Sebastian's Unholy Flesh was finished in early 2020 - although as I previously stated, I continually added on to the script as I filmed, so in some regards the writing process did not end until the film was completed. The film itself was filmed and executed between the months of March and early October 2020.
I cannot really contextualize the mythology of the film because it is so vast and multifarious, and from an artistic standpoint, I completed the film literally only a month ago, so I am trying to disconnect myself from the film. However, the more increasingly detached I become from the project, the more I can expound upon it. However, I would like to state that each viewer watching the film should immerse themselves in it and allow themselves to be permeated by the filmís atmosphere and then interpret it according to their own sensibilities.
I can clarify however that the film primarily revolves around the extra-dimensional being Sebastian and the fulfillment of his destiny, which is to bring about the annihilation of mankind by controlling Luciferís powers which have been sealed into the manuscripts of the Unholy Book. It should be noted that I designed the film to be a glimpse into a universe that is absolutely devoid of light - for me personally, the film stands as a diabolical visual and auditory odyssey.
(Other) sources of inspiration when writing Sebastian's Unholy Flesh?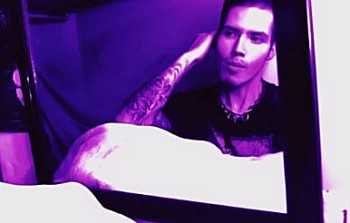 Going into the writing process of the film, I did not rely on any kind of inspiration, other than the fact that I was (as always) trying to explore a new facet of my filmmaking style and sufficiently bring my vision of the film and script to the screen. My main objective was to create a demonic fantasy film, and I believe that I succeeded immensely. Going into Sebastian's Unholy Flesh, I was worried that the experimental nature of the film would render it too identical to my fifth film American Antichrist - but Sebastian's Unholy Flesh has its own mythology and managed to vastly exceed the malevolence and experimental nature of any of my past films. Once I began filming Sebastian's Unholy Flesh and began viewing the footage and seeing what was materializing, I knew I was creating something powerful. As stated before, Sebastian's Unholy Flesh is extremely experimental and thematically complex so it is quite strenuous to actually interpret the film in words. I can however say that major themes permeating the film are occultism, nihilism, demonism, cruelty, decadence and the absolute overindulgence of Absinthe. Aesthetically black metal imagery (specifically Darkthoneís early album covers) were paramount in inspiring the aesthetic of The White Spider and especially Nezaah. Actors Fred Epstein (The White Spider) and Nick Benning (Neezah) both utilized corpsepaint to portray their characters.
Sebastian's Unholy Flesh has a much trippier feeling to it than all your previous movies - now what's the story behind this stylistic choice?
The purple tint of the film has received universal acclaim, but truthfully, I have consistently experimented with colors - just look at my oeuvre: My Master Satan had a dingy sepia tint, American Scumbags and a majority of The Acid Sorcerer (excluding the acid trip scenes) were filmed in black and white, The Rise and Fall of an American Scumbag and American Antichrist were filmed in a nauseating green monochromatic tint, and The Dark Days of Demetrius was filmed in a degraded, cold, blue color filtration. So, with Sebastian's Unholy Flesh I decided very early on I wanted to apply a purple monochromatic tint. It looks phenomenal, and is integral in establishing the filmís Hellish, ethereal, dreamlike atmosphere that I was striving to create.
What can you tell us about your overall directorial approach to your story at hand?
My directorial approach was to not only allow myself to have an unlimited amount of artistic freedom, but I also wanted to create a chaotic atmosphere on and off screen. So to achieve this, when we would film the scenes involving The White Spider and Nezaah, (myself, Nick and Fred) would throw Absinthe parties - drinking copious amounts of it during the course of the filming. I consume Absinthe on a daily basis, but once the three of us got together, pandemonium would transpire. For instance, the filming of Nezaah burning the Bible occurred during one of our parties, and it was a very intense scene to film. Additionally, the sodomy scene between Nezaah and The White Spider was filmed during one of these parties and was as equally intense. Then there is the unscripted scene where The White Spider is shown profusely vomiting.The scene was filmed at the end of one of the parties. Fred had over-indulged which is why he became so violently ill and (fortunately) I had the ability to capture the moment with my camera and integrate it into the film.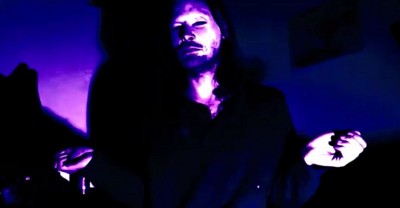 You also play the lead in Sebastian's Unholy Flesh - so what did you draw upon to bring your character to life, and have you written him with yourself in mind from the get-go?
Yes, going into the film, I designed it so that I would play the titular character. Sebastian was honestly a character that was initially hard for me to approach from an actorial standpoint, primarily because I had difficulty attempting to find something to identify with in the character. Fortunately I came to the realization that Sebastianís objective is to achieve the fulfillment of his destiny and obtain the Unholy Book, and because of his tremendous willpower and ambition, he acquires. Once I had come to this revelation, I had a sufficient vision and direction as to the method I would utilize to effectively bring Sebastian to life. As I stated before, I consume Absinthe on a daily basis, and I had the ability to add that to Sebastianís aesthetic. Sebastian is one of (if not) the most bodacious and decadent character Iíve created and portrayed thus far.
What can you tell us about the rest of your cast, and why exactly these people?
Well, I have a tendency to continually utilize cast members who I am comfortable to be around, cast members who know what to expect from me, which is why I would undoubtedly recruit my friends/collaborators Fred Epstein (The White Spider) and Nick Benning (Nezaah). We're friends in real life, weíve known each other for years and I prefer to continually work with them.
One new additional actor who came into the fold is Dr. Ullrey, who is a longtime friend of Fredís as well as a professor at the University of Denver. He possesses an encyclopedic knowledge of religion and transgressive cinema, and it was beneficial to work with him, and I definitely hope to work with him again.
Then there is longtime actor L.B. who played Dr. Ullreyís counterpart in the secret organization that is concealing the book.
And finally there is Svetlana who portrays Lucretia, the sorceress responsible for Sebastianís manifestation into flesh. I am tremendously satisfied with the cast's performances.
Do talk about the shoot as such, and the on-set atmosphere?
As I previously stated, I tried to orchestrate chaos on and off screen, and the filmís atmosphere was fun and party-like, slightly reminiscent of the on-set atmosphere of The Acid Sorcerer.
The $64-question of course, where can Sebastian's Unholy Flesh be seen?
The film is available physically @ https://www.storenvy.com/stores/868254-dakota-ray-r-a-productions.
I intend to release the film for free on my YouTube channel. As always, I want as many people to see my films as possible, so I am not opposed to releasing them on my YouTube channel for the public to see.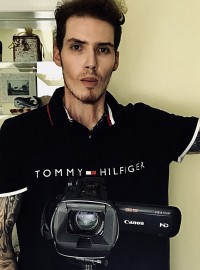 Feeling lucky ?
Want to
search
any of my partnershops yourself
for more, better results ?

The links below
will take you
just there!!!


Anything you can tell us about audience and critical reception of Sebastian's Unholy Flesh?
The reception has been somewhat volatile, similar to the audience reception of American Antichrist. Due to the experimental nature and mythology of the film, there is a contingency of people who love it and hate it for that very reason. Ultimately, however, Iím not making films to serve anyone but myself, and I continually intend to operate this way as a filmmaker and artist.
Any future projects you'd like to share?
I am laying down the basis for my next film. I cannot comment too much on it, other than saying that it will be fundamentally nihilistic, dark and introspective.
Your/your movie's website, social media, whatever else?
The official Dakota Ray-R.A. Productions WordPress can be found @ https://dakotarayfilmmaker.wordpress.com - it extensively covers my films and features a large photo gallery that spans my entire filmography/career. The WordPress site also contains several interviews Iíve done through the years.
Official Dakota Ray-R.A. Productions Facebook page: https://www.facebook.com/dakotaraydirectoractorartistdenver/
Anything else you're dying to mention and I have merely forgotten to ask?
I'd like to say thank you for consistently covering my films, and for this interview. An additional thanks to everyone who supports, watches and is involved with my films.
Thanks for the interview!