Your film The Eschatrilogy - in a few words, what is it about?
Frustrated and angered by man's arrogance and lack of fear, a demon called "The Storyteller" brandishes his own punishment on a small community. Infecting the inhabitants, he causes them to release their own Inner Monster, turning friend against friend and father against son. Observing their turmoil the demon logs and documents three stories which take place amidst the chaos. These tales offer a warning for future generations to come, to be remembered and revered by all...
Basically, The Eschatrilogy consists of three shorts, right? Were they always intended to eventually add up to one feature film or did that just happen in the process?
No, I never Intended this to become a feature originally. I had just shot my first feature, and wanted to up my game and mess with makeup and special effects, so a zombie film seemed logical, cheap but with the right mix, extremely fun, I also had never shot in high definition before, so this was my practice piece.
It was actually after we had shot the first version of A Father for the Dead, I was a little unhappy with the fact the film had no real depth, it was just a zombie film, so I started looking at the hundreds of zombies we had in it, and I began to imagine what their fates had been... this is how the layers grew.
With The Eschatrilogy being a zombie movie - is that a genre you are at all fond of, and some of your genre favourites?
I am not a huge zombie fan at all. I do love the original Romero trilogy, especially Day of the Dead. It's a very dark and grungy film, it has the same seediness of Fulcis' movies but a hell of a lot more class [Lucio Fulci bio - click here]! Zombie Flesh Eaters also has one of the best "Rising" scenes, which always had an impact. I was especially interested in the thought of a "zombie" which had memories and the capability of controlling their hunger and rage - they evolve as such. Romero did this so well in Day of the Dead (less so in Land of the Dead) that I wanted to try and get a balance... that's how my "stalker" zombie grew, I gave him a particular memory and reason, which I also shared with the audience, hopefully they can also connect with his pain.
(Other) sources of inspiration when writing The Eschatrilogy?
Ah! Where to begin! I am a huge John Carpenter fan, and have tipped my hat in numerous places throughout the movie. Also Stephen King his stories have had a massive impact on me, especially his anthology collections. The Stand and his TV movie Storm of the Century were also a big inspiration.
A few words about your zombies, and of what denomination are they (as in slow moving vs marathon running, the voodoo vs the flesh-eating variety, ...)?
They are the classic kind, slow and marauding (easier to control 250 of them at a time). And it is more the voodoo aspect, as it's a supernatural force that brings them out... not an infection.
How would you describe your directorial approach to your subject at hand?
Like my sex life - Hard and Fast.
No modern zombie film without violence - so how far are you going in terms of blood and gore, and what can us about your actual effects work?
The original short was very gruesome, we went full-out blood guts and shit everywhere! We had no help then from outside companies, that we used the raw meat/corn syrup route. We had some fantastic MUAs and a good team on SFX, using latex and sillicone, to make whatever we could! The gore toned down as the stories developed, I started to focus on the right effect rather than any effect, but the hounds still get their share and there are several big gags throughout the movie. Due to the fact we had no real budget, they are all pretty much practical on-set effects. As time went on we have had some great help and donations from companies like Skulls Direct, Dempsey's Blood and Charles Fox, that we were able to do a little more than your average Joe zombie flick. Nikk Sanderson and Sally Laughton did a fantastic job on The Storyteller's make up and design, and my wife developed the costume which was very impressive.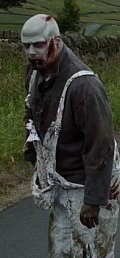 Dan Wellard
What can you tell us about your key cast, and what made them perfect for their roles?
They are all very hungry for the game, which I admire immensely! If it wasn't for my "Stalker" zombie played by Dan Wellard, I'm not sure if any of this would have happened. His performance in the original short was very impressive and he had a tortured soul expression on his face that had me asking what had happened to him in life that was so sad and terrible. I then sat down and wrote his story, which then escalated into three more.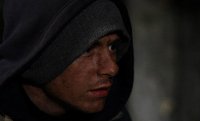 Tim Grieveson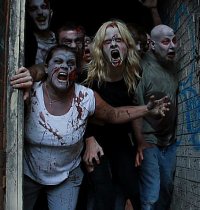 Tim Grieveson and I have been best friends for years so it seemed a good idea to have us playing opposite each other, Tim is relatively new to acting but has a charm that make people warm to him, It was very hard working with him though, as the little shit always tries to make me laugh, and succeeds the majority of the time!
A few words about the actual shoot, and your on-set atmosphere?
Ha Ha! I think it was tough on a lot of people, I am very demanding and aggressive in my approach to filmmaking, and when there is no real budget, and everyone has jobs and lives to get back to, you have to work fast. Which means there has to be some level of order, which can be hard when you are all basically mates at the end of the day and I am screaming at people for smoke machines and all sorts, I'm surprised I haven't taken a kick in!
As far as I know, The Eschatrilogy has premiered only very recently. So what can you tell us about audience and critical reception so far?
It was a great night, everyone really seemed to have fun and it was a great atmosphere and a damn fine turnout! It was quite tough for me, because the film wasn't ready yet, but we were under deadlines for festivals and such and we wanted to gauge a reaction and a feel for what needed to be done for the final cut and world premiere. It was a good test screening.
You actually started out as an actor, right? So what can you tell us about Damian Morter, the actor, and did you receive any formal training on the subject?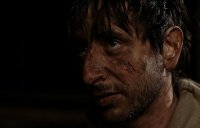 Damian Morter in Eschatrilogy
I acted a great deal as a kid, I was involved in Drama at school and outside workshops, performing in plays and other workshops around the country, I even had the part on a radio soap called The Seasiders when I was thirteen. I drifted out of it in my teens as I felt it wasn't "cool" and felt that pissing away several years of my life drinking and playing rock music was far more important to my development. I got the bug again in my early twenties, and posted my ugly mug on Star Now, and started applying for small student films. I couldn't afford much at the time, so experience was going to be my only means of training.
What can you tell us about your first time in front of a movie camera? And do talk about some of your early acting jobs!
Well, the first film I was in was a short film for an Oxford Brooks student. I played a Russian drug dealer... (my accent came out sounding like Arnold Schwarzenegger, as do all my other accents) It had a scene at 3am in a busy Oxford Underpass, I was there with the director and camera man, and one other actor, and we were harassed by some drunk blokes as they made their way through the subway. I took one look at the other actor and the two crew members, and thought I was going to have to fight fucking hard if it goes awry with this back up behind me! Luckily the drunks got bored and left!
I haven't been in anything fancy at all, a couple of B grade movies, nothing to talk about... sorry to those filmmakers... mainly me! lol
What made you eventually pick up directing? And what can you tell us about your filmwork as a director prior to The Eschatrilogy?
I have been obsessed with film since I was four or five years old, and my old man brought me home a VHS of The Terminator... I went mad for it and have not stopped watching films since, literally I watch a film a day! The main reason I started to direct was all the crap films I was acting in. Everything I did was just... well... not very good. Not to say I could do any better but I was going to try damn hard. A lot of the student films I was doing, and smaller production company stuff was either gangster, or shit comedy... nothing original anywhere, but it did give me the opportunity to learn from all the filmmakers I worked with. I would invite myself out with them, and even persuade them to let me watch the editing process asking annoying questions along the way. In the end, their parents supplied my education through them.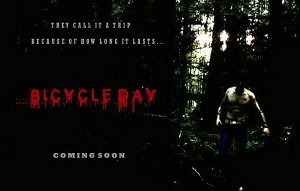 My first film was a short thriller type thing called Loose End. It was a 45 minute betrayal action flick shot with two of my friends as crew and actors. It wasn't very good.
My next project Bicycle Day was different, I had married Nicola who came on as a producer (basically to organise the mess I left wherever I went), but she took on so much more and pulled me a small crew together. We shot the film over the course of a few weeks in the forests of Loxley South Yorkshire. The cost of DV tapes was our budget which came to £90. It was a revenge/slasher film with a very small cast of 6. The film went on to be screened at a few festivals as well as being nominated for 5 awards winning 1 in a US festival. Although hugely flawed I have a soft spot for that film and would one day like to revisit it with a little money invested.
Actors and directors who inspire you?
Richard Stanley (Dust Devil, Hardware) is a director who hugely inspires me, a proper rogue. He has great vision and storytelling qualities, and has had a terrible time within the industry but has the grace and courage to hold onto his ideas and not let them be corrupted. I've also had a slight obsession with Corey Haim since I was a kid, I think it's the drama that surrounded him, the kid that had it all and we all wanted to be... and obviously his descent into drug addiction... I always hoped he would make a comeback, damn tragedy!
Your favourite movies?

Feeling lucky ?
Want to
search
any of my partnershops yourself
for more, better results ?

The links below
will take you
just there!!!

Find Damian Morter
at the amazons ...

amazon.com

amazon.co.uk

amazon.de
Looking for imports ?
Find Damian Morter here ...
Something naughty ?
(Must be over 18 to go there !)

The classics! Psycho, Alien, Dust Devil, The Fog, The Thing, Halloween, Nightbreed (waiting to see the Cabal Cut this month), The Wicker Man, Jacob's Ladder... and could write them down all day! I also like a lot of the Stephen King TV movies like Storm of the Century, The Shining and The Stand.
... and of course, films you really deplore?
Rom-coms - I like a decapitation or two!
Your/your movie's website, Facebook, whatever else?
www.facebook.com/pages/The-Eschatrilogy/243455982380587
Anything else you are dying to mention and I have merely forgotten to ask?
Grimfest World Premiere 7th October!!!
Thanks for the interview!
Anytime!