Your new film Bloodlust Zombies - in a few words, what is it about?
Bloodlust Zombies is the story of how people who work for big corporations are treated like rats in a cage, and when there is a security problem, the employees find themselves locked in the building and becoming part of the lab experiment themselves... just like the lab animals.
Your main inspirations when writing the film?
I had lunch with a friend at a pharmecutical company and I was amazed by the security... badges, electronic locks, photo ID checks. Many big corporate centers are more secure than banks... the employees were in essence in a corporate prison. This was the inspiration for the office setting.
Dan Lantz directing Alexis Texas
What can you tell us about the directorial approach to the subject?
I am a big fan of comedy and I wanted the audience to be entertained during the "non-zombie" portions of the film. As a result, my approach was to have humor through the character development scenes and extreme violence during the bloody action scenes.
Why a zombie movie, is that a genre especially dear to you? And your genre favourites?
Zombie/Mutant-flicks are a genre that is traditionaly funny. I love horror movies that make you laugh at one moment, then crap your pants the other. Return of the Living Dead and Zombieland are two of my favorites in this genre.
How would you describe your brand of humour?
I try to be as universal as possible with our jokes. Things that everyone can identify with.
I also like to be either subtle or go all the way.
The elevator scene was subtle, the sex-on-the-desk was over the top.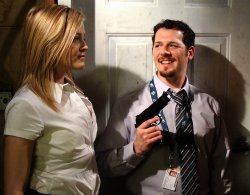 Alexis Texas, Adam Danoff
According to a statistic most of the readers of my site are male (no idea how they found that out, or why they even bothered to check), so you just have to say a few words about your leading lady, porn star Alexis Texas! And how did she get the job, and what was it like working with her?
For budgetary reasons, we could not afford to make a union movie. However, I wanted celebrity that woud draw an audience. This left me with either a reality show personality or an adult star. A very close friend of mine runs conventions and he had worked with Alexis. He said she was very nice, professional and great to work with. Based upon that recommendation, I cast her and she lived up to her reputation. She was fantastic to work with, great with the crew and a real professional all around. I hope to work with her again .
One of my favourite performances in your film comes from Lauren Todd as the little temp. What can you tell us about her?
Lauren was my little Dynamo. I love her too. I wanted to add wat I call " a left field character" - someone unrelated to the main plot. I also wanted to give Darren a love interest (well sort of). Originally her character was only supposed to swear a little. However, it turns out that she has a gift for swearing, so we just went further and further... I actually recorded one of her rants and turned it into a ring tone.
FYI - she is NOTHING like the character - she is actually very sweet and cute. In the behind-the-scenes, she is out of character and being cute and cuddly - cudos to her acting.
A few words about your co-producer Adam Danoff, who also gives a pretty hilarious performance in your film?
Adam is awesome, my right-hand-man. We started working togther a few years back on Ninja Babes from Space (google it). He was just the stunt coordinator back then, but I liked his acting so much, I made Louisina Smith and the Bastard Son with him in a main role (along with Janice Marie). This film is in the DVD extras. As we moved forward with feature films, he carried more of the load. This month he is producer on another film for me called Into the Lion's Den.
The character I wrote for him was the "Anti-Adam"... he is the most polite, respectful person you will ever meet - the character made me laugh because I got to see my close friend be someone he is NOT.
With the inept security guard, you have saved one of the funniest roles of Bloodlust Zombies for yourself though. How did this character come into being in the first place, what made you decide to play what I would probably call the least courageous role in the whole film yourself? And a few words about Dan Lantz the actor?
For the record, I make NO claims to be an actor. The ONLY reason I am in the movie is because I ran out of money and couldn't afford another actor... if you look carefully, Lauren Todd only does scenes with ME and ADAM. That being said.
Like Adam, I thought it would be funny to write the "anti-Dan". Personally, I hate ALL rules, regulations and behaviors we are supposed to follow. SOOOO my character was te exact opposite - he wouldn't do anything unless he was instructed to do it... a little personal fun.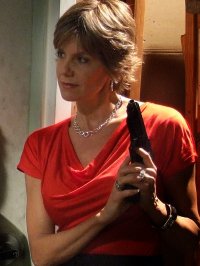 Janice Marie
What can you tell us about the rest of your cast and crew?
Janice Marie is the heart and soul of the movie. She is the best actor I know, so when I wrote the script, I put ALL the acting "heavy lifting" around her her... we had a joke on set "Janice monolgue, one line, Janice monologue, one line". She is so good, I gave her a rewrite of a two page scene filled with monologues and she memorized in ten minutes and nailed it one take... she is superhuman!
So far, Bloodlust Zombies has only been screened a few times, right? What can you tell us about initial audience reactions?
So far so good. They laugh at the right points, ooh and aah at some others and dig it. I was really concerned that the "Core" Zombie fans would want more gore, but they seem to enjoy the humor and story telling. It ain't no Zombieland, but for what it is, I think the audience wil not be dissappointed - we have a fullfilling ending that everyone seems to enjoy.
Let's leave the present behind for the time being and head forward into your past: How did you get into filmmaking in the first place, and did you receive any formal education on the subject?
WOW. When I was 16-years old I read a book on the Making of Return of the Jedi. I actualy enjoyed the behind-the-scenes more than the movie. Over the years, I would absord every article or book of what went on behind the scenes. So I went to Temple University to study film. Made My first feature at 21-years of age and never looked back.

Feeling lucky ?
Want to
search
any of my partnershops yourself
for more, better results ?

The links below
will take you
just there!!!

Find Dan Lantz
at the amazons ...

amazon.com

amazon.co.uk

amazon.de
Looking for imports ?
Find Dan Lantz here ...
Something naughty ?
(Must be over 18 to go there !)

What can you tell us about your early experiences as a director?
Well, in the beginning I was a stupid know-it-all. I though I was the next Spielberg and was gonna take on the world. I made alot of enemies and was miserable. I made tons of mistakes, but over time, each mistake was a lesson learned and now in my 40s, I actually can make a film and still be on speaking terms with the cast and crew when it is done. Nowadays, my main goal is to just have a good time... we are the "court jesters" as filmmakers, nothing more.
Your short Felix Melman already seems to anticipate the office satire-aspects of Bloodlust Zombies, wouldn't you say so?
Absolutely... actually, both movies were made in the same building.
What can you tell us about your irresistably titled webseries Ninja Babes from Space?
That was one of those ideas that was so silly, we just had to make it. We were talking about the web and what kind of product sells, Ninjas are big, sci-fi is big, hot girls are big, so we went.. "What about Ninja... Girls... from... outer space?", then we said "No that's stupid... no... it's awesome, let's do it!!!" It turns out everyone agreed. We raised money in a week and we were off to the races. FYI we have more episodes on the way.
Any other films of yours you want to talk about, any future projects?
Actually, I work on a film right now called Into the Lion's Den.
Thanks for the interview!