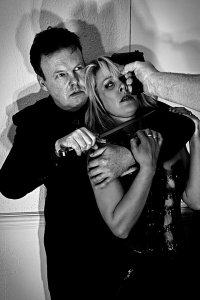 Dean Sills with Melissa Hollett
First of all, why don't you introduce yourself to those of us who don't already know you?
Hi, I am an actor and writer from South Yorkshire, England, who began acting in indie feature films last year. I started out as an extra and soon became a supporting actor/co-star. Every acting job just gets bigger and better. I believe that everything happens for a reason and The Eschatrilogy: Book of the Dead gave me the perfect opportunity to follow my dream, I'm loving every moment of this remarkable journey so far and it's only just the beginning.
As far as I know, your first acting job was on The Eschatrilogy: Book of the Dead - now what can you tell us about that movie, and how did you get involved with it?
It was my first acting job on a feature film. Today we have more zombie horror movies being churned out than chocolate at Mr. Willy Wonka's factory, but this one is totally different. The fantastic director, Damian Morter [Damian Morter interview - click here] brings to the screen his stunning storytelling and makes a great vision come alive. The Eschatrilogy gives us three amazing stories which charts three stages of a zombie outbreak.
I got involved by contacting their website http://www.safehousepicturesuk.com, I applied to be a zombie and thanks to the lovely Louise Beaumont, I soon found myself on-set many times during the summer of 2012, the rest is history. Working on this film was just amazing and I loved every moment especially all the friends I made from this, including the actor Paul Sutton [Paul Sutton interview - click here].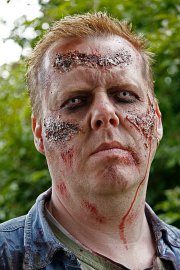 The Eschatrilogy
photo courtesy of Kath Alexander, Damian Morter - make-up by Anne Derbyshire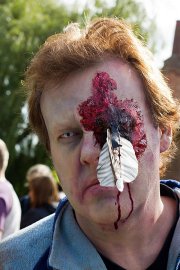 courtesy Light Films Ltd, make-up by Deborah Bennett
Now seriously, how much fun was it playing a zombie - and do you personally enjoy the zombie genre as such? And yeah, how do you even prepare for playing a zombie (always assuming you've never actually been one)?
It was huge fun playing a zombie. I am not really a fan of the zombie genre like a lot of the zombie actors I worked with on The Eschatrilogy, but I did enjoy playing one. We all went to zombie school, learning how to walk like zombies. This was so hilarious watching people walk like Frankenstein instead of a zombie. The fantastic make-up artists did a superb job, we all got covered in mud and fake blood plus many of us wore zombie contact lenses, you soon got into character and had nothing but fun from start to finish. I've never been a zombie before The Eschatrilogy: Book Of The Dead, after this I played a zombie again in the feature film Wasteland and the short film Zombie Run.
Speaking of zombies: Wasteland - you have to talk about that one and your on-set experiences for a bit!
Wasteland was a great film to work on. The director Tom Wadlow [Tom Wadlow interview - click here] is a really nice guy and a fab director, very calm and relaxed on-set - unlike a lot of directors I have worked for. I met some great people on this film including Mike Rhodes, plus I got to work with Sandy Slade [Sandy Slade interview - click here] for the first time. The movie follows the story of Scott, played by Shameer Seepersand, who is caught up in a world taken over by the walking dead. I was in make-up for a long time but it was so much fun, and I even scared the hell out of the actress, Rachel Benson, thanks to my zombie contact lenses. What I enjoyed most about this film was the fact it was totally different from The Eschatrilogy, yet it was still a zombie movie. I would love to work for Tom and his team at Light Films Ltd again and hope I get the opportunity in the near future.
You have recently also worked on two of Philip Gardiner's recent features [Philip Gardiner interview - click here], Exorcist Chronicles and Dead Walkers: Rise of the 4th Reich - now how did you get involved with these projects?
I saw a post on Facebook asking for actors/extras for Exorcist Chronicles, and I just contacted the producer, Michelle Gent [Michelle Gent interview - click here]. I did a day playing a possessed villager. At the time I never knew much about Philip Gardiner, but I loved how quick he shot everything unlike a lot of directors who do many takes for one scene. I then asked for a small speaking role in Dead Walkers: Rise of the 4th Reich and was thrilled to bits when I got the role of Lt Botis. I've also worked for Philip Gardiner this year playing the part of Mr. Lutz in the USA documentary An Exorcism of Evil.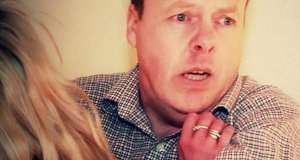 An Exorcism of Evil
What can you tell us about your experiences on these sets, and what kind of a director is Philip Gardiner to work with?
Awesome. Both experiences I enjoyed very much, each one was totally different. Exorcist Chronicles was filmed outside in the summer, I was just playing a possessed villager in the crowd scene. Dead Walkers: Rise of the 4th Reich was filmed in a freezing warehouse during the winter, the location was perfect but it was bloody cold. I worked on this film for a week and the cast and crew were all like family, happy memories.
You of course also have to talk about A Total Thug Up, your character in it, and your on-set experiences?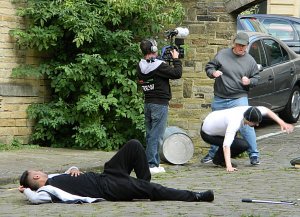 picture courtesy by Blackrose Effects (Sarah Taylor)
A Total Thug Up was a real joy to work on. I only went into the film as an extra but the director and producer ended up casting me as Chris. My character is basically a thug, but a likable one. The film is all about two lovable rogues who get a job working for a gang boss. Everything is going well until he tells them to pick up a stolen antique sword and sell it on.
It was great working with the director Steve Call for the first time and producer/actor Terry Barron Turner, I loved every moment especially since it was a comedy action movie. The cast were all amazing to work with, including Wayne Phillips, Azz Mohammed and Kuljit Singh. It was probably the most relaxed I have been on-set. I loved doing the big fight scene which was amazing and so much fun. I also enjoyed working in different locations during the filming.
Any other past films of yours you'd like to talk about, any future projects you want to share?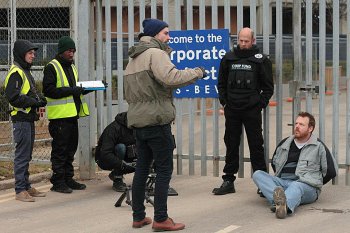 No Place - picture courtesy Joe Beverley
I've worked on a number of different projects in the last year including acting in a video game, and playing a football Hooligan in the feature film, The Hooligan Factory. I've also worked on A Robber's Tale, which is a new BBC drama starring the Hollywood actor Luke Evans about the great train robbery - plus I played a Victim in the film No Place. This was a great little drama to work on, I got to do my own stunts and film at Canary Wharf in London. The film is all about a young man's slow corruption and how in life there is always a personal reason to break a moral code. The director Joe Beverley did a superb job and all the cast and crew were amazing.
I am currently learning my lines for a stage play plus I'm doing some filming on a few future projects, including Blaze of Gory. This new horror movie is going to be fantastic. The film is 10 short stories adapted for the screen and brought to you through the eyes of 10 independent horror directors. I will be working on the segment Young and Naive, which is directed by Antoni McVay.
How did it all start, when did you decide you actually want to be an actor? And did you receive any formal education on the subject?
It all started with The Eschatrilogy: Book of the Dead. This is the film that gave me the acting bug big time. In the past I did act in two short films (one which was shown on TV in the UK) plus I did a Direct Line TV commercial. I have always enjoyed acting but never followed my dream of becoming an actor until last year. The Eschatrilogy: Book of the Dead just gave me a real passion to do this and it was the perfect film to make my feature film debut in. When I was a kid my two sisters and I would always put on shows for our family and friends. The only formal education I have on the subject is Drama CSE at school, which was my best subject at school.
How would you describe yourself as an actor, what are your strengths, and some of your techniques to bring your characters to life?
I am reliable, dedicated and passionate about acting and what I lack in experience I make up for in enthusiasm. I try to visualize exactly what my character would be like in real life and how I can make each one more convincing on screen.
Actors (or indeed actresses) who inspire you?
I am a huge Clint Eastwood fan and have over 70 of his films on DVD. I love his style of acting using little dialogue and how he started out as a bit-part actor, moving on to TV with Rawhide and then "The Man With No Name" in the Dollar-trilogy, which would lead him to stardom in the 'spaghetti westerns' and then 'Hollywood'. Clint Eastwood has established himself as one of the most respected actors and directors of his time, a true movie icon.
Your favourite movies?
My favourite movies are The Good, the Bad and the Ugly, The Outlaw Josey Wales, Dirty Harry, Unforgiven, Young Frankenstein, Die Hard, Mad Max 2: The Road Warrior, King Creole, The Evil Dead, The Thing and Raiders of the Lost Ark.
... and of course, films you really deplore?
Crappy sequels to great movies, films like Jaws: The Revenge. It's one of the worst movies of all time and I really hate stuff like this.
Your website, Facebook, whatever else?

Feeling lucky ?
Want to
search
any of my partnershops yourself
for more, better results ?

The links below
will take you
just there!!!

Find Dean Sills
at the amazons ...

amazon.com

amazon.co.uk

amazon.de
Looking for imports ?
Find Dean Sills here ...
Something naughty ?
(Must be over 18 to go there !)

Facebook: https://www.facebook.com/pages/DEAN-SILLS-Actor/457478424320885
Twitter: https://twitter.com/dean_sills
IMDb: http://www.imdb.com/name/nm5088823/
Anything else you are dying to mention and I have merely forgotten to ask?
Yes, I also write for Awesome Online Magazine so please check it out. I recently did a feature on Kyle Eastwood. Kyle actually got to read it, thanks to his manager sending him a copy of my three page feature. http://www.awesomeonlinemagazine.com/
Thanks for the interview!
You are welcome, thanks. Keep up the great work with your fantastic website.
Photos courtesy of Philip Gardiner unless otherwise noted