Your upcoming movie Miss Poppins - in a few words, what's it going to be about?
Miss Poppins is a comedic action short film.
How did the project come into being in the first place - and how did you end up wanting to produce it?
I had an idea about doing a short action film. So I figured "just go for it" … and here we are!
What were your inspirations when dreaming up Miss Poppins - and a few words about your co-writers Brett Wagner and Michael K. Snyder?
I have to say my inspiration was kinda Angelina Jolie and Tomb Raider. I think it's a fun film where the chick gets to kick some ass… That is what Miss Poppins will do!
The story and idea is mine, and Michael K Snyder is the writer. I have NO clue how to write down what is in my head, all I can do is talk about it. And he writes, it's amazing how it can work that way!!!
What can you tell us about your character in Miss Poppins, how do you plan to approach your role, and how much of yourself do you find in her?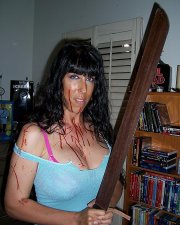 Machete Betty
Miss Poppins kicks some serious butt… So I have to work at this. First, I have to train and stretch my muscles. I will be working with our Stunt Coordinator Sean Wyn on the action scenes and stunts, which all has to be done before we get onto set. There is a lot of preparation to this before we start rolling the cameras.
And I'll try a little Tomb Raider personality, if I can pull it off like Angelina! HAHAHA!
What can you tell us about the rest of your projected cast?
I can tell you that the rest of this cast is nothing short of talented and amazing!
Brett Wagner (The Crazies, Machine Gun Preacher) is an extremely experienced and professional actor who knows his craft very well. The same goes to Don Scribner (Alien Armaggedon, The Cooler)!
I worked with Jesse Nelson on another project, and I just knew he was perfect for the role in Miss Poppins.
As for Ron Kari, Roger Torres and J.R. Gennuso, it will be my first time working with all of them. But they have all come VERY highly recommended and that means more to me than anything. I cannot wait to work with each of them on this!!!
Your director Felipe Schmidt - how did he get involved with the project, and why is he the right choice in your eyes?
I just worked on a film called Terminal Descent: Curse of the Jiang Shi. I brought in Felipe Schmidt, Matt Susterich and Michael K Snyder to help crew this film. It was right then that I knew. They are an AMAZING group of young filmmakers with so much talent and passion. I knew immediately that they were my main crew for Miss Poppins, and Felipe wants to direct ... so he has become our fearless leader, and under his directorial skills, this will be a GREAT film!!!
Anything you want to say about the rest of your crew, and what will they contribute to the film?
Everyone on my crew is the best! They are all a great group of people, and are all very excited about filming. So I know its going to be a fun and exciting day!!!
As far as I know, Miss Poppins is intended as a short at the moment, but you're planning to extend it into a feature or series or whatever, right? Care to elaborate?
I think the possibilities are endless with Miss Poppins. It could easily be a fun, comedical action film. Or, it could serve as a great TV-series, in my opinion. We will have to give it a run at some cool film festivals and see how much attention we can get. I would LOVE to see something more become of it, so we shall have to see what happens. Either way, its going to be a fun ride!!! J
As we speak, Miss Poppins is still in its fundraising stages - so what can you tell us about your fundraising efforts?
You can check out our IndieGoGo page at www.indiegogo.com/misspoppinsmovie
We have so cool perks left, like actual props used in the film, signed scripts, an Executive Producer spot left AND an actual walk-on role! The more money we can raise, the better the production value is going to be AND the more film festivals we can submit to!
You can contribute to Miss Poppins until November 18th!
Once sufficient funds are raised - how are you intending to proceed from there, and any idea when Miss Poppins will be released onto the general public (might be waaay too soon to ask I know)?
We are shooting on December 9th. Once the film is edited and gone through post and is complete, we will start the festival circuit. Depending on how that goes will determine when it will be released to the general public. We are "hoping" to be done in time to submit to Cannes, fingers crossed!
Any future projects beyond Miss Poppins you'd like to share?
You know, I'm ALWAYS looking to be in new and great projects!
I just filmed Terminal Descent: Curse of the Jiang Shi, which will be released next year.
Pain is Beautiful is another film, we have our red carpet premiere in February 2013. This will be a great film to watch out for!
And Spreading Darkness will hopefully be complete and out in 2013. It has Eric Roberts, James Duval, John Savage and Louis Mandylor in it, to name a few.
Interestingly, I am also in 2 comic books. One is called Ginger-Stein and the other is called Frosty. This has been a fun experience to see me drawn as a comic book character. The drawing for Frosty is named Helen O'Holiday – I just LOVE it!!!
And I'm attached to several films shooting next year! Awakening, The Glass Circle, The Fallen One… and several more in talks.J
AND I'm auditioning and hoping to grab some other cool projects!!!
Let's go right back to the beginnings of your career: What got you into acting in the first place, and did you receive any formal training on the subject?
I was living in Vegas and have always been fascinated with the movie business. As a young child I would watch certain movies (Star Wars, Krull, etc) over and over again, until I had them memorized.
So when I moved to Vegas and saw this ad to audition to be on a reality show, it was intriguing. I auditioned to play "Traci Bingham's Biggest Fan" for Surreal Life Fame Games. Now, I auditioned in a Baywatch swimsuit, so I naturally got the part. Obviously everyone knows on a reality show, the camera NEVER stops rolling.
When we were done shooting for the day, I was hooked! I set myself in motion to move to Los Angeles to pursue my passion in acting and filmmaking, and I have been working hard on it ever since (which has been about 6 years).
And I have had NO formal training, I let my passion and love for the craft drive me!
Can you still remember your first time in front of a movie/TV camera, and what was that experience actually like?
I'll never forget it! It was Surreal Life Fame Games, as mentioned above.
How would you describe yourself as an actress, and what do you draw upon to bring your characters to life?
I use my passion and love for the craft of acting to push me forward.
Would you like to talk about some of your movies prior to Miss Poppins for a bit?
I have been in some great films to date. I suppose there are several that people could rent/buy to watch. Some are good, some are not! LOL
Some are All About Steve, Dead Air, First Dog, The Chicago 8, Alien Armaggedon…
And if you can look them up, there are 2 short films that have been great to be a part of. One is called Choices and one is called Machete Betty!
Actresses (or indeed actors) who inspire you?
I would have to say I've always been an Angelina Jolie fan, and Michelle Rodriguez! That girl just kicks ass…She's great!!!
As far as actors, I would say Brett Wagner, my fiancé! He is such an important part of my life and pushes me every day to become what he knows I can be in this business. For that he inspires me every day!!!
Your favourite movies?
I have to say I LOVE all movies! I don't have any favorites or genres. I can watch Star Wars or Krull for the 323rd time. I love action with comedic situations like Independence Day. Any and all fantasy type films, Lord of the Rings, First Knight and In the Name of the King. Romance like Ever After and Disney-films like Tangled. I really just LOVE the movie business all together!!!
Although most I only watch once, but a good horror film is also very entertaining. And I get to be scared and grab on tight to my man, which I think we both like!!!
... and of course, films you really deplore?

Feeling lucky ?
Want to
search
any of my partnershops yourself
for more, better results ?

The links below
will take you
just there!!!

Find DeeDee Bigelow
at the amazons ...

amazon.com

amazon.co.uk

amazon.de
Looking for imports ?
Find DeeDee Bigelow here ...
Something naughty ?
(Must be over 18 to go there !)

I suppose it's hard for me to watch the idiotic comedies that are coming out now. They aren't the same as Bachelor Party in the 80's, to me that are just dumb and a waste of 2 hours. I don't find myself attempting to rent or buy these kinds of films.
Your/Your movie's website, Facebook, IndieGoGo, whatever else?
You can find me at www.imdb.me/deedeebigelow
Also at www.facebook.com/deedeebigelow
Miss Poppins page at www.facebook.com/misspoppinsmovie
And OF COURSE our funding page www.indiegogo.com/misspoppinsmovie
DONATIONS UNTIL NOV 18TH – BE A PART OF SOMETHING SPECIAL!!!
Anything else you are dying to mention and I have merely forgotten to ask?
Yeah…Never let anyone tell you that you cannot follow your passions and dreams, because you can make them come true if you believe in yourself! Always believe and always be positive… And good things are bound to happen!!! J
Thanks for the interview!