Your movie Dead Girls - in a few words, what is it about?
Itís about girls who have been terribly abused and cast aside who come back from the dead to exact their revenge.
How did the project come together in the first place?
I had this idea for a couple of years and tried to get it going with a couple of other people. That never worked because they had other projects in the works or did not see any value in the project.
What were your inspirations for writing Dead Girls, and what can you tell us about your co-writers and your collaboration with them?
A long time ago I worked at Buena Vista Pictures Distribution, part of Walt Disney Studios, doing market analysis of films, stars, directors, the industry. The studios had these positions in house so they could compete better with the other studios. Now there are computer services like Baseline and Movieline/Reelsource, etc. which have taken over that role. Anyway, after looking at dozens of horror films, it occurred to me that there were certain elements which were key to the current marketplace - films which told compact, immediate stories; films which featured girls in the 15-25 demographic; and horror films. The more I thought about it, the more I realized something as simple as Dead Girls would work. That was my initial inspiration.
I had been working with Neal for over a year on another project, and he was trying to help get that off the ground. We could see that the mid-sized studio we were working with was going to take some time getting that project going, so I tossed out the idea of doing a micro budget feature. We both wanted to direct, so I suggested the horror anthology. Something we could share directing and producing responsibilities on. I had a story, he had a story, and a friend of his had a third story. We needed a connecting story and I put that together in a couple of days. The conceptualization really did not take long at all. Neal is such a great person to work with, and Drake Linder, who wrote the final segment - Vengeance Is Mine - is an amazingly talented writer. So it all happened fairly quickly and seamlessly.
Do talk about your movie's approach to the horror genre, and how far did you go in terms of creepines and gruesomeness? And is horror a genre at all dear to you, and why (not)?
Well, we knew we would only have about $20,000 to $30,000 to make a feature. And as it turned out, we made it for $25,000. Iíve been making films for decades, and have a pretty good feel of what we can and cannot get away with insofar as budget is concerned. We knew we couldnít be outlandish with the special effects. At the same time, we knew we wanted to make a film which was as fun for our core audience as it was gruesome. So we worked within those parameters. We pushed the envelope as far as we could. We had the help on set of a great practical special effects artists, Josh Gaetz. Plus an amazing costumer in Amber Stevens. And a number of other folks who pitched in with effects help wherever they could - Shannon L. Novak, Brittany Vogel, Zoe James, and a bunch of other great folks I know Iím forgetting right now. They did amazing things to help us get the most gore and goo we could out of our local Wal-mart and Dollar Stores.
Yeah, Neal and I both love horror films, so we approached this film as a labor of love more than anything else. We each had our own approaches and were respective of them.
What can you tell us about Dead Girls' look and feel?
We were trying for a different decade for each segment. The first segment, Over My Dead Body, was supposed to look '70s. The second, Theta Phiís Never Die, was supposed to have a strong Ď80s feel. And the third, Vengeance Is Mine, was supposed to be more contemporary. Iím not sure we achieved that, especially considering how few lights and how much run-and-gun we used, but between our two DPís Leo Flores and Bret Hamilton, and lighting crew Nathan Olson and Alex Hughes, and our superb editor/colorist Kevin Kirchman, we tried.
Your co-director Neal Fischer - what can you tell us about him, what was your collaboration like, and did the two of you in any way agree on some aesthetic basics before going ahead and filming your stories?
As Iíve said, a great guy to work with. He has an extensive knowledge and understanding of film, film history, and a very positive attitude. We would both make suggestions and try to help each other out from the very beginning, so it really was one of the best working experiences I have ever had. We mapped out each segment, discussed ways we could try to make them the same or different, how to save money on each one, ways to make the schedule work easier, ways to make each one look better. And during the actual production process, strived to stay on top of every aspect as we went along. We really had a very good third partner in our line producer, Garrett Woods, who was equally positive - if not frazzled - and helped keep us both straight as we jumped from producer to director roles. We shot this film over four weekends, at about eight different locations, with a total cast head count of nearly 70 people, including extras. So there was a ton of coordination going on.
Do talk about your key cast for a bit, and why exactly these people?
We both have made a lot of short films and worked on a number of projects in the Chicago area. We had certain people in mind for specific roles, based upon their talent. Of course, often as not scheduling becomes an issue, or there are always people who are drawn to one genre more than another, and we would have to change a cast member last minute in one or two places. But for the most part, that really did not happen as much as it could have with such a complex project.
We held auditions, knowing in advance some of the people we wanted for key roles. Some surprised us and a few were disappointments, most likely because their hearts werenít in it. But we went through the audition process in a matter of five evenings, spending four to six hours at a time on auditioning. We made our choices for each role in each segment, had call backs, and were locked on cast within a matter of two weeks. And we were very lucky in that there were so many wonderful and talented actors who were able to be a part of the project. The worst part was having to turn away several dozen extremely talented actors after auditions. Itís always that way and you always appreciate their efforts, but it is tough to have to make those decisions.
Also, we needed a strong voice-over actor for the wraparound. I have been a huge fan of actress Lynn Lowryís since forever, and was so extremely grateful when she agreed to do it!
What can you tell us about the shoot as such, and the on-set atmosphere?
The on-set atmosphere, from my own perspective, was intense. But I approach almost every film that way. I have heard from dozens of people involved and many of them would like to work together again. That speaks volumes to our on-set atmosphere, I think. The days were long - sometimes 12 to 14 hours at a time - but everyone was resilient and stayed focused. Towards the end we had a very long overnight shoot on the edge of downtown Chicago. Our script supervisor, Ali Hadley, had played a key role in another segment and was back to supervising. I remember she was so tired she almost could not stand up a few times, but she still got the notes and did an amazing job. That was the kind of work everyone did on the film. Truly amazing stuff. The energy was positive and upbeat, in spite of the long hours. So many great people involved, we were truly fortunate.
A few words about audience and critical reception of your movie so far?
Well, letís be honest - itís a micro budget horror anthology which is almost as much comedy as it is horror. The reception so far has been extremely positive. Weíve been fortunate to get the film into two different cities for the Days Of The Dead festival and the Chicago Horror Film Festival. And we havenít really even tried to get it into any festivals, so thatís pretty positive, I think. Weíve had about ten reviews and only one was semi-negative. Not a bad ratio.
Any future projects you'd like to share?
Yes actually. One is a horror script under consideration with a well known mid-sized LA. production studio. Weíve got Donít Save Me, a vampire film which brings back some of the talent from Dead Girls as well as introducing some new talent. Itís about a young woman who does not know sheís been destined to become the leader of a vampire clan. And another horror script Iím working on with the aforementioned Lynn Lowry, which is a re-imagining of a 70ís classic horror film. And two other feature scripts in the work which are dramas, one of which is faith-based. And Iím producing a horror-comedy feature, Night of the Living Dong, for friends Ryan Marshall and Calin Johnson, who are also excellent cinematographers. The story is pretty funny; itís about Hitlerís spirit passing on from one inanimate object to another until it winds up inside a vibrator, and the havoc it wreaks once itís loosed upon the world. So, yes, pretty serious and dramatic stuff.
And thank you for allowing me to shamelessly plug them!
How did you get into filmmaking in the first place, and did you receive any formal training on the subject? And what can you tell us about your filmwork prior to Dead Girls?
I started writing fiction when I was 6 years old. I was trying to make my own Robert Louis Stevenson stories. When I was eleven I made an experimental short which won an award from the State of California. I was hooked. I never had formal training in anything but writing, but went on to make dozens of shorts and even worked production on dozens of features and a few TV shows in LA. A few years ago I had to get a degree to continue teaching film, and now I have a Masterís. But I learned story by being an intern for TV writers Ivan Goff and Ben Roberts. And I learned how to make films by watching movies since I was about five years old. Nosteratu, Citizen Kane, all the Hammer horror classics, Hitchcock, David Lean, biker films, and several versions of Chushingura. All of those fed my brain and gave me an understanding of the visual art. By the time I got my degree, Iíd already been teaching how to make films for years, and had already worked at Disney Studios, Lucasfilm/THX, and the Directors Guild of America.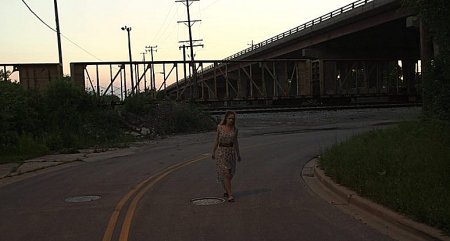 How would you describe yourself as a director?
Intensely focused. I have learned to see the big picture - the entire film - and try to communicate that to the people in front of and behind the camera as best I can so that we are all collaborating on brining a certain vision to life. Of course, thatís a lot of different entities at work and it takes diligence and sticking to the plan. Iíve been fortunate to find people who are willing to help me achieve that vision.
Filmmakers who inspire you?
John Carpenter, Tony Scott, Johnnie To, Tony Gilroy, David Fincher, John Huston, Orson Welles, Jane Campion, Gordon Parks, Akira Kurosawa, Katheryn Bigelow, Alfred Hitchcock. David Leanís and Dean Cundy's cinematography.
Your favourite movies?
Just saw The Rover and absolutely loved it. The post-apocalyptic film starring Guy Pearce? All-time favoritesÖ The Maltese Falcon, The Birds, Halloween, Blade Runner, Blood Simple, Man On Fire, Johnnie Toís Exiled, Park Hoon-jungís New World, Ghost Dog, Demolition ManÖ okay, enough. LOL.
... and of course, films you really deplore?

Feeling lucky ?
Want to
search
any of my partnershops yourself
for more, better results ?

The links below
will take you
just there!!!

Find Love Death
at the amazons ...

amazon.com

amazon.co.uk

amazon.de
Looking for imports ?
Find Love Death here ...
Something naughty ?
(Must be over 18 to go there !)

HmmmÖ Iíd have to say any French films where the ending just sort of trails off or takes a sudden left turn to someplace completely unexplained.
Your/your movie's website, Facebook, whatever else?
https://www.facebook.com/deadgirlsmovie
http://igg.me/at/dontsaveme/x/194814
Anything else you are dying to mention and I have merely forgotten to ask?
Thank you very much to anyone I forgot to mention. And thank you, Mike, for the opportunity to talk about the project!
Thanks for the interview!