Courage in the face of adversity.
God loves a trier.
What happens when you lose everything? You start again. You start over again.
Pick your platitude, but when Derek Franson had the rug pulled from under him on his first day of filming on a £1.7 million budget, his patience must have been tested. But come back he did, and is now proudly showing his first ever feature Comforting Skin, round the festival circuit.
First of all, tell us about your background, and your role in the movie?
Well, Iím originally from the prairies of Canada. I lived in the country, but we didnít farm so when I wasnít chopping wood and shelling peas I spent a lot of time drawing and reading sci-fi novels and comics. I have a degree in English and have always been a connoisseur of fine storytelling. As far as the film goes, Iím the writer/director of the film, plus one of the producers alongside Justin James and Andrew Webster.
What was the inspiration for the movie? Did you get a bad tattoo sometime?
No, no Ďhorrific tattoo experienceí to report. Iíve actually had no Ďdirectí tattoo exposure at all. And contrary to what one may think, this movie is not about, nor does it comment on the tattoo culture. Additionally my inspiration wasnít the visual of a moving tattoo on someoneís body (something I deem a gimmick and whose concept alone wouldnít have sustained my interest in the decade itís taken to complete the film.) Instead my inspiration came after I created the main character for the film. Her complex mix of narcissism, feistiness, and vulnerability captivated me. I was driven to see her struggle for survival make it to screen.
How long have you been trying, and what did it take, to get this project of the ground?
I wrote the first draft of the film in 1995 and we have been battling in one way or another to get the film made ever since. Within that seventeen year period we had one ill-fated start: we shot one day in 1999 on a 1.7 million dollar version of the film before it imploded around us. After that drama I shelved the script, only to return to it eight years later determined to finish what I started. We reduced the budget heavily, and I massively overhauled the script. Finding Victoria Bidewell for the character of Koffie was a major catalyst in getting the film made for two reasons: not only was it essential to find an actor of her talent for the challenging lead role, but her agent Andrew Webster came on as producer and invested a sizable amount of the 95 thousand dollar shooting budget. And while the remainder of the money came from relatives, friends, and acquaintances, we pulled all the favours we could. Particularly our visual effects supervisor Ollie Rankin shepherded our relationship with CIS/method and the talented company came on to do most of the tattoo FX. Finally, post-production of this film was possible due to the generosity of Telefilm Canada.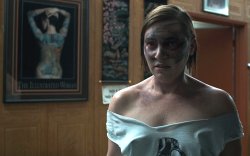 What problems did you have to overcome in the making of this film?
Everything. No money. No time. We had five phases to our main characterís descent, so makeup-wise we were always yanking her in and out of the chair. We also had to deal with a 2D character living atop a 3D surface.
Who are your influences?
Film-wise itís the usual suspects: Kubrick, Spielberg, and Hitchcock. Then throw in a whole lot of: Scott, McTiernan, Carpenter, Fincher, the Coens, and Weir.
Outside of film Iím presently influenced by the design aesthetic of Daniel Simon, the artistic genius of Andy Goldsworthy, and the primal narrative and thematic instincts of one ĎStephen Kingí.
Do you think this is the genre you will stick with, or do you want to explore other things in your next film?
For certain Iíll be exploring other genres in the future. Wherever the stories feel like existing Iíll go.
Would you like to say a few words about your cast and crew?
A few words will never cut it. Without my crew, many of whom invested much more than required (and I did demand a lot!), the film would not be finished yet nor ever look and sound as good as it does. As far as my cast goes, the primary reason this film is accessible to the viewer is because of their brilliance. Take away their courageous, brave, honest, and humorous performances and this film would have fallen flat.
Have you seen any movies recently that really impressed you?
Drive was fantastic. Shame was compelling. And I have a whole lotta love for How to Train Your Dragon.
Given a bigger budget, is there anything youíd have done differently with this film?
I would have taken a bit more time technically. There is a lack of precision and refinement in the film, due to our equipment and 15 day shooting schedule. Certainly, with a bigger budget I would have attempted more challenging shots. That said I wouldnít have done anything else performance-wise other than give my actors more of an arena to explore.
What are your ambitions for this movie? What would you like to achieve with it?

Feeling lucky ?
Want to
search
any of my partnershops yourself
for more, better results ?

The links below
will take you
just there!!!

Find Derek Franson
at the amazons ...

amazon.com

amazon.co.uk

amazon.de
Looking for imports ?
Find Derek Franson here ...
Something naughty ?
(Must be over 18 to go there !)

My ambition for this film is for it to find its audience! This film isnít for everyone, but those that will love this tale are out there and we will find them. As for what I wish to achieve? My ambitions are for the film to be a starting point in my career; that the film serve as an indication of abilities. Iím more than proud to say Comforting Skin is my first film - but it wonít be my last!
What would your advice be to someone who is thinking of making an independent movie?
First - find a good story. Then make it better. Then? Make it even better. Then, only then - if the story is truly that good, and it has the potential rise above the endless hiss of crap out there, should you even consider it. Be ruthless. Prepare for failure as it will only fuel you. And most importantly: have stamina. Then go for it. If the film means that much to you, you will find a way to finish it.
Time for a kooky question. UFOs, ghosts and God. Do you believe in any of the above?
What I do believe in is the power of oneís imagination and that sometimes the mindís canvass ends up being high in the clouds, down a dark hallway (and even an odd-looking potato chip).
Anything else you want to plug?
Hmm. Watch out for a film called Smartparts. Itíll be a riotÖ
Thanks for the interview!