Your movie The House - in a few words, what is it about?
A character-driven, one-of-its-kind psycho-thriller/drama about lost souls stuck in self-imposed spiritual and psychological entrapment in a haunted mansion.
What were your inspirations when writing The House? And to what extent do you identify with your main character?
In terms of concept and style, The Shining, The Others, Solaris were sources of inspiration. I wanted to craft a story that is not a typical horror or thriller for "cheap" scares but a genre film that challenges the heart and mind in spiritual, emotional and intellectual ways. A story that has something to say and ask of ourselves about personal and socio-political issues like infidelity, moral ethics, spiritual conscience and so on.
The main character is actually inspired by a real life former Wall Street banker turned journalist that I know named Nomi Prins. I've been inspired and intrigued by Nomi's story of how she found success on Wall Street but ultimately her moral and social conscience led her to leave that world and became a whistle blower of that whole scene. Personally, I feel that Jean in The House is a character that one can relate to if they have been through the deep self-transformational stage of life when one finds themselves at a certain crossroad in their lives that begs the question: "Am I being true to myself in living the life I am meant to?" In other words, "Am I being honest to myself about who I am and who I really want to be?" Anyone who has truly looked deep within for an answer to this would be able to identify with Jean in some way. As for myself, I have certainly come to that crossroad quite a few times in life, the most major awakening being first to come to terms with myself as gay and subsequently coming out to the world around me.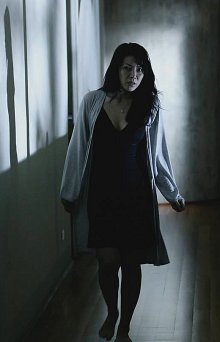 The House deals with death and the afterlife in a rather unusual way - so what are your personal thoughts on the subject?
I was brought up as a Buddhist and have always believed in reincarnation. We are mortals caught in this cycle of reincarnation until we have learned all our karmic lessons and cleared our karmic debt through the cycle of life and death. In other words, until we are completely "enlightened" and free from samsara. I also know that our physical lives are limited, but our souls live forever. The purpose of our physical lives is to serve our spiritual life and soul journey. In my spiritual belief, often times souls who have not come to terms with their death find themselves stuck in limbo in between the soul world and the physical world. They don't know where they are and why they are stuck until there is some kind of divine intervention. Unfortunately, there are a lot of these kind of "lost souls" still roaming from hundreds and thousands of years ago... so haunted mansions (and more) do actually exist beyond the silver screen!
What can you tell us about the look and feel of your movie?
It's nice that you were able to appreciate that the mansion in The House is actually also a character in the film. It was my intention to design the shots and ambience of the mansion that would turn it into a character like Hal in 2001: A Space Odyssey, even though the mansion doesn't talk back. It's like the silent observer who sees everything without judgement. The mansion is also like a spaceship hovering in oblivion, completely isolated from the rest of the world. Even if all the human beings are disconnected from the "real" world, they are still trapped in their own quagmire. So it doesn't matter where you are, or whether you are still breathing -- ultimately, you cannot run away from yourself and the demons within.
Do talk about your key cast for a bit, and why exactly these people?
Natalie Skye who plays the main character has been a long time collaborator of mine and I wanted to cast her in a role that would challenge her to dig deep within and also allow her talents to shine. The rest of the cast are all some of the finest actors we have in Vancouver and we were lucky to have them on board. The casting just sort of organically fell into place and I am grateful that everyone just really took their characters and ran with them in brilliant ways. It's never easy to direct an ensemble of actors who have never worked together, especially for an intimate setting like The House where all the characters needed to gel in one limited location and under time constraints. Every single actor plays such an important part in the whole puzzle that if the chemistry didn't work in one place, the whole piece just wouldn't stick together.
What can you tell us about the shoot as such, and the on-set atmosphere?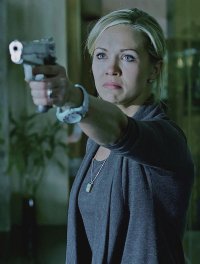 As it was a low budget production, we had long shoot days and everyone worked very hard. Most of the crew were relatively young and new, so the production wasn't like a well-oiled machine. There were challenges due to lack of crew, time and other factors, but we managed to find creative ways to work around issues. I am grateful to everyone on the team i.e. cast and crew for going the extra mile to challenge themselves on every level. On a shoot with limited number of days like this, it's always a blessing to have a team of actors who "get" the characters and can deliver good performances once the cameras roll – like we did. We didn't have time for rehearsals and the actors just all dove right in, fearlessly. They really brought the characters to life beautifully. As we were always racing against the winter sun and chasing the (ever fading) light in this house of glass, there were certainly moments of high tension and stress for everyone! There's also the underlying stress for the producer (myself) that someone could break some glass or cause some kind of costly damage to the mansion which belongs to a good friend of mine. Fortunately, God was on our side… Thank God.
A few words about audience and critical reception of The House so far?
We've been fortunate to have earned some accolades from several film festivals i.e. at the Vancouver Women Film Festival - Best Screenwriting Award and Best Performance Award (Natalie Skye), and at the Female Eye Film Festival, we garnered the Best Canadian Feature Award.
Any future projects you'd like to share?
I have several projects in development - romantic drama, thrillers, fantasy drama. Updates can be found at www.desireelimfilms.com
What got you into filmmaking to begin with, and did you receive any formal education on the subject?
My career started in broadcast journalism where I directed news stories and documentaries. I studied journalism and communications in university but did not receive any formal education in film studies. My knowledge in filmmaking is mostly self-taught, and from my experience working in TV productions.
As far as I know, you started your filmmaking career in Japan - so what can you tell us about your early days and early films?
I went to university in Japan and my career in broadcast journalism started there. As a student, I started making experimental short films mainly on the themes of sexuality as I was very involved in the gay community and activism in fighting for visibility in the face of homophobia. My first short drama won a small award at the Tokyo Lesbian and Gay Film Festival and gave me the sense of purpose and confidence that I needed to continue making films as an independent filmmaker even after I started working in broadcast journalism. Most of my early films contain social and political jabs at the Japanese society in humorous ways. I liked to use humor to tell a story or send a message back in those days. My short films led to my first dramatic feature Sugar Sweet, which was a lesbian erotic romantic comedy that takes a jab at the Japanese porn industry.
Floored by Love was your first English language movie, right? So what can you tell us about that one?
With my ongoing interest and commitment to tell undersold stories with some kind of social message, Floored By Love is my first Canadian film that continues along those lines. It's the first Canadian drama aired on primetime TV that dealt with same-sex marriage as soon as the law passed in British Columbia where I live. At that time, the same sex marriage law was not a federal law yet. Floored By Love also gives voice to immigrant families that are still struggling to find a place in the western society and deals with the generational gaps between the young and the old. It's a family comedy about how an Asian lesbian couple and a mixed race gay teen struggle with their cultural identities, and how to balance their family needs and relations, just after same sex marriage is legalized in Canada. It is available to watch on demand at Wolfe On Demand : http://muvi.es/w2014/46523
How would you describe yourself as a director?
I am a collaborator. I especially enjoy the collaborative relationship with my actors who bring more than any director or screenwriter can ever imagine to the characters. They truly are the artists who bring the characters to life. As a writer/director, it is such a joy and privilege to see the characters I have created from my imagination come to life through actors. I also love working with the director of photography who understands story and character and can enhance them through the lens. Every production is always another learning curve that takes a director to the next level of challenges and rewards. I'm sure I am not the only director who feels they have grown up (or old?) a little more after each film.
Filmmakers who inspire you?
There are many but to name a few: Krzysztof Kieślowski, Ang Lee, Woody Allen, Pedro Almodovar, Dardenne Brothers, Deepa Metha, Ann Hui, Stanley Kwan, Jia Zhang Ke, Wong Kar Wai, Kenji Mizoguchi, Akira Kurosawa… the list goes on.
Your favourite movies?
The Three Colors trilogy (Blue, White, Red), Certified Copy, Baghdad Cafe, Harold and Maude, Undertow, Brokeback Mountain, Talk To Her, Fire, Yesterday, Today and Tomorrow, Hedwig and the Angry Inch, The Rocky Horror Picture Show, 2001: A Space Odyssey, Solaris, Star Wars, Chungking Express... the list goes on.
... and of course, films you really deplore?

Feeling lucky ?
Want to
search
any of my partnershops yourself
for more, better results ?

The links below
will take you
just there!!!

Find Desiree Lim
at the amazons ...

amazon.com

amazon.co.uk

amazon.de
Looking for imports ?
Find Desiree Lim here ...
Something naughty ?
(Must be over 18 to go there !)

Any film with gratuitous sex, violence and dehumanizing intentions, especially misogyny and homophobia.
Your/your movie's website, Facebook, whatever else?
The House is coming to VOD across North America starting June 1st, 2014. The film will be available on all major and minor Cable/Satellite VOD operators as well as major internet platforms including iTunes, Amazon Instant Video, Google Play, Vudu, Xbox Video and more. Please check it out and spread the word!
Visit The House official website for more info: www.the-housemovie.com
Watch the trailer of The House at http://www.the-housemovie.com/THE_HOUSE/About.html
Watch Floored By Love on demand at http://muvi.es/w2014/46523
You can like The House at https://www.facebook.com/pages/The-House-a-feature-film/181176908561453
Anything else you are dying to mention and I have merely forgotten to ask?
I think you've got it covered.
Thanks for the interview!