Your new movie Death Rot - in a few words, what is it about?
The plot involves a death metal band on tour who happens to break down in a remote area, which is never a good thing. They are helped by a group of god-worshiping cannibals who run a business selling human meat. For me, it boils down to preconceived notions. People think that because you listen to or play death metal that you're evil and because you worship God, you're good. It was fun to flip that around.
What were your inspirations when writing Death Rot?
I was living in Vermont and I would drive by this old abandoned drive-in every day. I always thought about what could potentially happen there. So I wrote the opening and then filed it away. Then years later, I attended a Chimaira concert (one of my favorite bands) and something sparked. I wrote the entire script building off that opening. My film influences were a couple that I consider to be classics in the horror genre. Motel Hell, Wrong Turn, Texas Chainsaw Massacre and a dash of Friday the 13th - The Final Chapter.
Since Death Rot does feature quite a few bloody bits, do talk about the gore effects in your movie, and how were they achieved?
We did a mixture of practical and digital but I tried to stay as practical as possible. We had a very limited budget to pull off what we did. It's actually less gory than I was hoping for because of that. I feel most of it comes from the editing and the sound effects. The sound effects in the butcher room scene really sell the limited amount of gore we show. When I was editing it together, it got uncomfortable listening to a variety of squishy effects and then placing them over the images. So I knew I was on to something when it made me uncomfortable. We actually got a lot of compliments about going old school and letting the viewer's mind create most of the gore.
What can you tell us about your movie's overall approach to horror?
I feel it's pretty straight forward. There's very little humor there and what is there is pretty dark. I'm a huge fan of horror and have been for most of my life, so I created something that I wanted to see and enjoy
Since Death Rot is about a death metal band, you of course have to also talk about the music in your movie, and is death metal a musical style you listen to, personally?
I've been a huge fan of all forms of metal, particularly death and thrash metal, for years. It seems to surprise people that I listen to such aggressive music but I love the beat and the flow of it. When I'm writing, it's metal that is playing through the speakers. The beat seems keep up with the speed of thoughts in my head. Some of my favorites are Pantera, Machinehead, Chimaira, Lamb of God, etc. For the actual music in the movie, we're friends with a local metal band named Tennessee Murder Club (who have sadly disbanded since). They supplied the music for the film's band. When we were shooting the concert scene, we actually put on a real concert with local metal bands including TMC. We had our band of actors take the stage between sets and ran the CD for the TMC songs we wanted. We shot each of the three songs twice. Once from behind the band and once from the audience. The concert-goers totally had a blast with it. Although there were a few people that didn't seem to get what we were doing and were overheard labeling Death Rot as a TMC rip-off. One of our actors got asked if he and his band were playing again the following week. The actual score of the film was composed by Dan Wilcox and he did a great job with the short notice. He really enhanced the mood of the film.
Do talk about your directorial approach to your story at hand!
There's no way it would have gone off without having a solid crew of reliable people in place. Most of directing is all about pre-planning for issues to arise. The producers and I spent a couple of weeks going over the schedule, breaking down the scenes and trying to figure out a plan of attack. None of us had ever tackled something this big. Once shooting got rolling, I was along for the ride just like everyone else. I really like fostering an environment where people are free to come up with their ideas and contribute. It really gets the creativity flowing. I let the actors be in charge of their characters. The script was their guide and I told them to say it the way your character would say it. A few things were changed because of that. It's all open to collaboration. Some of the best ideas come from working together and building off one another's ideas.
What can you tell us about your cast, and why exactly these people?
We did some auditions and pulled from the local talent. In fact everyone was a local actor. Well, Benny Blades lived like 5 hours away, but for South Dakota that's still local. I do feel bad that he had to drive so far to get to set, but he never once complained. Many had no film experience so it was pretty much trial by fire. They had stage experience and they were comfortable in front of the camera, which is a huge plus. They all had a look that I was going for. I had worked with a few of them in previous projects. Kevin Kunkel (Earl Truman, the leader of the bad guys) was cast in the Oscar nominated film Nebraska while we were shooting this. In Death Rot, he has facial hair and for Nebraska, they wanted him clean shaven. Since we had no budget and who am I to say no to Alexander Payne, we had to change a few things in the script. A big change came in the final showdown in which you never see Kevin's face. In hindsight, I feel actually helped the scene. We also had to change a few shooting dates around to wait for his facial hair to grow back. Everyone else did a solid job for the aggressive schedule and all the challenges we had. It amazes me how everyone just pulled together to get this thing shot.
A few words about the shoot as such, and the on-set atmosphere?
Like I mentioned, we had an aggressive schedule. We shot 14 weekends straight and many locations. We were always shooting with two cameras which definitely helped, but made the editing process a little more challenging. On set, we had an extremely small crew. Two cameras, audio and like 2 or 3 grips, depending on who was free to help. Everyone pitched in an did multiple jobs and there was very little complaining. Everyone seemed to be happy to be there and making a film. We had a lot of fun as well. The gag reel was like half an hour long and that's just what we captured when recording. But we always made our day. We had a lot of help from the community as well. We staged a full concert. We shot at a drive that had closed for the summer. The owner gave us free reign and even two of his employees to help out. We shot at farm that was totally open to us doing whatever. It turns out that we were shooting in the second largest barn in South Dakota. It was huge. We tried to showcase it as much as we could in the film. We shot on two different tour buses because one ran and the other didn't. It was a very ambitious schedule. But we did it.
Do talk about audience and critical reception of your movie?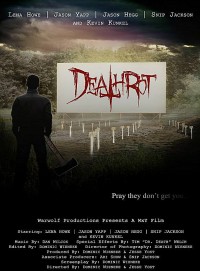 Feeling lucky ?
Want to
search
any of my partnershops yourself
for more, better results ?

The links below
will take you
just there!!!


We showed at a few festivals and held a few screenings. Everyone seemed to enjoy it and understand that it's not a high budget feature. They liked that it was a throwback to the films of the 80's where things are a little rougher and not as polished. I added in the cigarette burns in the corners of the screen just because I loved seeing them when I was growing up going to horror films. It's impossible to tell people who are viewing it to please judge it for what it is. It was made for much less than the average film pays for catering. We've got a few negative reviews since it's release, but I don't let them bother too much. We made a film with no budget and it got released by a distributor. No one is harder on the project that I am. There's so much I would change, but it's now a little time capsule for people to view.
Any future projects you'd like to share?
We still have Casefile 293610 on the festival circuit and it's doing well. We'll probably be releasing that online by the end of the year. We should be releasing a short titled Last Exit to Jupiter very soon. It's a drama. We have a couple of shorts in pre-production that we will be shooting in the next couple of months. I'm really excited for those. I'm also working on writing a handful of features. So there's always something in the pipeline. I'm always trying to stay busy and be productive.
Your/your movie's website, Facebook, whatever else?
https://www.facebook.com/Death.Rot/
https://www.facebook.com/Warwolf.Productions/
https://vimeo.com/warwolfproductions
Anything else you're dying to mention and I have merely forgotten to ask?
Nothing at this time. As always, thanks so much for your honest review and keep up the great work.
Thanks for the interview!