Your upcoming movie Orgy of the Damned - in a few words, what is it about, and what can you tell us about your character in it?
I believe Orgy of the Damned is about pure decadence, and boredom. The sort of life a heroin addict would embrace for instance. I always felt a deep connection with the world of the darkest drugs, and this film. Maybe because here in LA, you can easily meet so many people who seem to have everything from exceptional looks, to great life styles, and then if you even get the chance to get to know them a bit closer, you find out that they don't have anything. It's all in the surface, and they are understandably so, either livid, or simply broken down to pieces and embracing drugs as a way to wait for death, without pain.
Our leads are vampire 'condemned' to live forever, but they are obviously from the get-go so terribly bored. They spend night after night, wasting the dawn, engaging in orgies of any kind, and without limits or morals, or engaging in terribly hurting and self-destroying "dangerous liaisons" without any scruples, sort of numbed by the cruelty of the world that is surrounding them, too! Then, one fine day, or night I should say, the gorgeous son, Dimitri, meets a couple of humans who don't seem afraid in an S&M trendy club, and especially the beautiful girlfriend Fauna. She will prove a defining character in finding the main key that my character, Fosco (the vampire leader, who's also most affected, blinded and suffocated by the betrayals of all others) will use to try (despite many adversities) to resurrect the honor of the original legacy.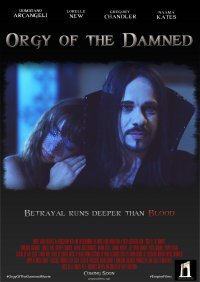 I always liked the premise, because it always brought me back to one of my favorite contemporary authors, Brett Easton Ellis. His splendid, and wildly introspective, almost philosophical novels, have been so unfortunately mistreated, especially when you think about masterpieces such as Less than Zero or The Informers. I guess they fared a bit better with American Psycho, but that was mainly for the exceptional cast in my opinion, and not for the execution. We did not try, nor could make any justice to Ellis' novels, believe me. At least, I thought that for a vampire movie, this particular one had all the right references to what has interested me the most, for a long while: existence and its mysteries.
What did you draw upon to bring your character to life, and to what degree could you identify with the vampire side of Fosco, actually?
I can only tell you that I am Fosco. No, I will re-phrase that, I was Fosco while we were shooting the movie a while ago. Then I must have found my Fauna, because my life has really changed 360 degrees, especially since I have became the father of 2 gorgeous fraternal twin brothers, Sky Cameron and Thor-Lyndon.
You are credited with co-writing Orgy of the Damned - so what were your inspirations, and what was the writing process like?
The inspirations were real, at the same time highly seductive, and obscure, and intense. It was like digging inside of myself to discover where I had ended up since I had moved to the Hollywood Hills from Europe, after a life dedicated to acting. It was quite interesting to find out how truly low my self esteem had fallen down, and to what extent my existence was deprived by real emotions, and real feelings, but most likely by chemically induced processes, or by relationships that were almost claiming my life in the name of beauty, or other idiotic, shallow dismal. I learned how to re-discover myself, in more ways than one. I guess I should say that the writing process was extremely wonderful and analytical then!
What can you tell us about your director Creep Creepersin [Creep Creepersin interview click here], and what was your collaboration with him like?
Oh well, I won't lie, since it is well known! Creep and I have very, very different visions in filmmaking, so the relationship was tempestuous indeed, but it is also true that I have done quite a few movies with him, so maybe it is true indeed (to say) that sometimes opposite poles attract each other?
What can you tell us about the shoot as such, and the on-set atmosphere?
Oh my Goodness! I am a gentleman! I should not reveal nor talk about such stormy weather, such conflicts. Ultimately, it was indeed extremely creative and magical, because I have lived through Fosco, an extraordinary experience of learning, modifying, changing, challenging myself, and finally purification from a sort of oblivion had taken me over. I am a new man, and that is quite wonderful. I believe in changes, and I am a clairvoyant, extremely advanced, so it all felt very natural, very necessary, after all!
Let's move to another upcoming film of yours, Travel Well, Kamikaze - what's that one about and what character do you play?
This is a completely different film for me, and for my company Empire Films. It was based on an idea, a concept, almost like a true nouvelle vague experience. The 2 young directors convinced me to produce it, just by sending me a collage or quilt, if you'd rather, of polaroids shot by them during a certain suggestive period of time. The whole thing was "only" linked by a series of brief, but extremely beautiful and touching poems. I felt I had to say yes, also because I had been doing genre and TV movies for too long at that point. I really felt I needed to go back to my origins, my true passion, auteurs' art films. It has been almost another way to find myself again, and in fact the character I play, it's extremely emotional. I can only tell you that each time I saw it in the long post production period, that followed the completion of the 5 week LA-shoot, I have been crying unapologetically like a baby!
How did you get involved with the project in the first place?
It was the idea of making a new film, some sort of manifesto, voiced by 2 young rebels (the directors), who happen to also be 2 great artists, and the sons of a famous European family of conservative filmmakers! I adored the idea! Their uncle was producing exploitation films when I was naked at 15, and now I am producing their rebellion to all corporate systems! Are you kidding me? I couldn't say no! The movie is also all shot in POV, meaning that the protagonist is the camera. An American citizen trying (maybe successfully?) a terrorist attack in the city of Los Angeles, aka Tinseltown!! Ha!
Do talk about your directors Damiano D'Innocenzo and Fabio D'Innocenzo for a bit, and what was working with them like?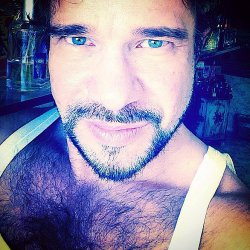 Again, the process was so extremely internal, and progressively wrenching. At one point I thought I was going insane! I felt like they were way too young (they were only 22 at the time of filming) to know all that, and especially to know me so well. I was asking myself: "Are they just pretentious, or are they simply genius?", and kept on wondering, and at times I even found myself fighting them. It's funny, they used to write to me these amazing little notes (some of them I had to keep!), or poems that were so pertinent, and deep. In fact it was so disconcerting to me, and my reasoning. Over all it was formidable. It was a very creative shoot, and an incredible one at the same time. We had 31 exterior sets in Los Angeles, which for an indie movie is almost unthinkable. Sometimes the scenes were frantic, almost too real, and too happening on the spot! Aaron Benore, one of my business partners/in charge of production, was I think extremely worried. This was also because I was laying often as if I were in a trance! In the end, everything went more satisfying, and I must say I am so happy with the movie. Now it's almost finished, and ready to start its film festivals run! We also have on board another great producer, the Italian Alex Infascelli. He is also a famed European director, his first feature was a great horror film, Almost Blue in 2001. He's also the son of a huge Italian family of great filmmakers. I knew him quite well, and think that his father produced one of my favorite giallos ever, The Sunday Woman, by Luigi Comencini, with Marcello Mastroianni, Jacqueline Bissett, and Jean Louis Trintignant (back in 1975!).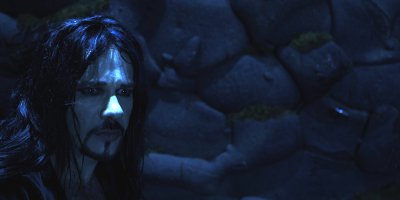 On both Orgy of the Damned and Travel Well, Kamikaze you have also worked as a producer. So what was it that drew you to these projects, and what were the main challenges on each?
The main challenge in each movie I produce, and star/co-star in, is always the same: trying to step out of the acting role, which I take extremely seriously. It requires for me extreme concentration, and some sort of spiral down into the character itself. Then having to, at the end of the day, step out of my fantasy world, or my head/acting world, if you rather, and become as harsh and logic as any film producer should be. This is true, especially these days, considering the difficulties, and the crisis we face in the creative, but absolutely penniless independent world. A world made of projects that all turn out to be mainly labors of love! If they turn out to be good, then some distributor comes across and basically steals the project from you! We keep on moving forward, and trying to make it, because this is the life we chose. After all, we were all supposed to be artists, or at least artisans, and not just mere merchants!
How do you choose which projects to produce to begin with, and what can you tell us about your production company Empire Films, and the philosophy behind it?

Feeling lucky ?
Want to
search
any of my partnershops yourself
for more, better results ?

The links below
will take you
just there!!!

Find Domiziano Arcangeli
at the amazons ...

amazon.com

amazon.co.uk

amazon.de
Looking for imports ?
Find Domiziano Arcangeli here ...
Something naughty ?
(Must be over 18 to go there !)

We always want to be creative. I think so far we have done a fair job. Some films have been more artistic, such as House of Flesh Mannequins. Others are more commercial, such as Virus X, or The Ghostmaker. Even Matt Riddlehoover's comedy Scenes from a Gay Marriage, for example. Now, I think that with my producing partners, Aaron Benore, John Placencia, and Jason Fisher, we are trying to go for a more mainstream film tone that still let's us incorporate all the integrity, or the personal directorial genius of, let's say a great director talking about a very timely and ground breaking scenario. An example? I think Christopher Nolan's Memento would be ideal. Nicolas Roeg's Don't Look Now, or P.T. Anderson's There Will Be Blood would be like the most beautiful dreams coming true! But, can we still make movies as such in these today? We are really trying hard, my friend!!
Your/your movies'/your company's website, Facebook, whatever else?
Company website: www.EmpireFilms.net
My website : www.DomizianoArcangeli.com - and please follow me on www.Twitter.com/DomizianoA, www.Facebook.com/Domiziano-TenderistheNight-Arcangeli and www.Instagram.com/domizianoa
Thank you!!!
Thanks for the interview!