First of all, why don't you introduce yourself to those of us who are unfortunate enough to not already know you?
Hi! First of all, let me start by saying how privileged I am to do this interview. It's such a pleasure! I live in the fabulous Las Vegas and have had the opportunity to be involved in the film industry for many years.
What got you into acting in the first place, and did you receive any formal training on the subject?
I actually started out modeling, an agent of mine posted an audition for a movie. I said ''Why not?" I didn't get the part but it was there that I discovered my love for theatre and acting. My first gig, I had 6 hours to rehearse a complete scene. It was The Wool Gatherer. My partner's ''partner'' dogged out last minute, it was at the Debbie Reynolds Hollywood Hotel. I pulled it off, shocked everyone, including myself, but what a challenge, stepping out on stage for the first time. I knew this was the life for me. This is my love. I have had several coaches for many years including training at the Second City Theatre.
Can you still remember your first time in front of a camera, and what was that experience like?
Oh yes! It was incredible! The nervousness went away as soon as they said ROLLING! I have learned so much since... The excitement was unexplainable... It's something you just have to experience to explain.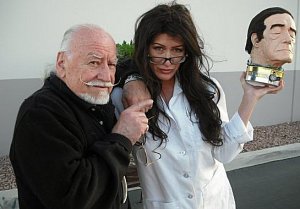 with Ted V. Mikels and John Carradine's head
Over the years, you have made quite a few movies with cult fave Ted V. Mikels - so how did that come about, what can you tell us about your movies with him as such? And what's it like working with him?
Working with Ted V Mikels is such a pleasant experience. I will say it again, I have developed a worldwide fan base due to working on his movies. I started out with Mark of the Astro Zombies, then went on to Demon Haunt. And was fortunate to star in Astro Zombies M3 Cloned. I have a fond friendship with Ted to this day due to working with him. He's such a sweetheart. Ted gives you a lot of leeway as an artist, yet he has his boundaries. I love visiting his house. You never know what you will see.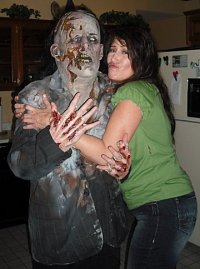 on the set of Steve Sessions'
Sinister
Likewise, you've been in a handful of Steve Sessions' movies - so what can you tell us about those?
Steve Sessions is such a gem to work with. I love his movies and feel honored to work with him as often as possible. He brings old horror genre to the plate and dishes it out with a touch of his class. He is incredible producer, director, movie maker and friend. He's such an amazing talent to this industry as well. I would hope any actor could have the opportunity to work with him.
He is so easy to work for and has a pleasurable personality. He takes simple stuff and makes it into something big. When people watch his movies, I will say ''He did this in the garage with this and that''. You can see their brains thinking : Huh? What? Really? Wow!
Recently, you've starred in Blood Mercury - what can you tell us about that movie and your character in it?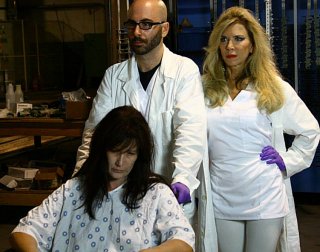 with Luc Bernier and Deborah Dutch in Blood Mercury
Blood Mercury is about a experiment gone wrong. I play a patient with, let's say, issues. It should be out soon! It has a cast of very talented people whom I felt was a honor to work with, including Len Kabasinski [Len Kabasinski interview - click here] himself. I have no speaking parts in this movie, yet my scene rocks! I am extremely pleased with it! It's a scene I always wanted to do. Not giving away any more. You will have to watch! He he!
What can you tell us about Blood Mercury's director Len Kabasinski, and your collaboration with him?
I was introduced to Len's work through a dear friend of mine, Luc Bernier [Luc Bernier interview - click here], who had worked with him and showed me some scenes from Warriors of the Apocalypse, etc. I was astounded by his quality and professionalism. I knew after watching them I wanted to work with Len. After experiencing that, I feel blessed to have had the opportunity to do so. I know his product is good! I will work with him again for Angel of Reckoning, a gritty thriller/action movie in which I will have a wonderful part.
Blood Reunion 3: Hunters - what's that one about? And do talk about your character for a bit!
Blood Reunion 3 was done and produced by Jim Devault. I play Vanessa, an unlikely ordinary person who eventually becomes a victim.
Vanessa is a property owner who rents out a house to Nathaniel, the main vampire hunter, who is closing on their trail. Her lover has been bitten thus the same is to happen to her.
Hunters are on Morgan Locke's trail. Morgan is played by Jim Devault himself. Jim has been making films since the 70's and has published many books on filmaking as well. He is pretty much an expert in his field. I would encourage anybody in the industry to work with him. Filming in Texas with his talented cast and crew was a lovely experience. There's much to say about the Texan's hospitality. He's just an all around great guy and definitely a person I look up to. You can learn all about him via his website www.stonebellcreations.com
Other past movies of yours you'd like to talk about?
Yes. Sinister by Steve Sessions is huge in India to this day. I receive fan mail from people there who love the movie! Newly released Ted V Mikels' Paranormal Extremes: Text Messages from the Dead, Dead Ink. Killer Biker Chicks was a popular classic with a great cast I was honored to be part of. And of course, I had a blast with local Chad Clinton Freeman doing Project M.
Any future projects you'd like to share?
Absolutely! Len Kabasinski's Angel of Reckoning is filming this summer back east [Len Kabasinski interview - click here]. I'm really looking forward to filming with Len and his cast and crew. Going to be nice seeing all the people involved again! There will be another film, titled Bad Illusions, directed by Amira Lyn, a psychological horror film. Also I'm in talks to do Valeria, with Jeff Schneider, whom I have been wanting to film with for some time now. Hopefully I will have the opportunity to do so. And we shall see if I have time in between for other opportunities that arise.
How would you describe yourself as an actress, and some of your techniques to bring your characters to life?
I have been describe as an ''old world with exotic flair'' as an actress. I find that extremely pleasing. As far as techniques, I have been trained in many different forms : theatre, improv, film, etc.
Fortunately, most of the scripts I have received have been so well written you evolve the character while reading it. It's fun to put a touch of flair in your character and flattering when the director allows you to do so. You always crave for more challenge in this field. I would love to do more comedy someday but whether comedy, action, sci-fi and horror, it's all fun to do as an actor. You always want to do more and be better at it. No matter what you have accomplished, you still learn from each experience, which I find so gratifying.
Actresses and indeed actors who inspire you?
Undeniably, Marlon Brando. He was such a natural to watch and very pleasing to the eye in his day. I am inspired by Jimmy Stewart, Sir Anthony Hopkins among many extremely talented actors and actresses in this day and age. I do tend to lean toward the older generation of actors. You can learn so much of your craft by watching them. I love older movies, even enjoy watching silent movies!
Your favourite movies?
My favorite movie of all time is A Streetcar Named Desire. Next I would have to say The Birdcage. And last, but not least, old Godzilla movies! And of course all the movies I have worked on. I love it all! I really enjoy all the new horror movies made to this day. Can't get enough of them!
... and of course, films you really deplore?
There really aren't any movies I dislike. Some may be slow to me but I don't dislike them.
Your website, Facebook, whatever else?
www.facebook.com/donna.hamblin.54

Feeling lucky ?
Want to
search
any of my partnershops yourself
for more, better results ?

The links below
will take you
just there!!!

Find Donna Hamblin
at the amazons ...

amazon.com

amazon.co.uk

amazon.de
Looking for imports ?
Find Donna Hamblin here ...
Something naughty ?
(Must be over 18 to go there !)

Anything else you are dying to mention and I have merely forgotten to ask?
Yes, to all of you independent filmakers and actors out there, keep up the awesome work! Don't let anyone ever beat you down! Love what you do and drive forward with it! You all rock! There are so many I aspire to work with someday and would feel blessed to have that opportunity. It's a great business and even a better art.
Thanks to all who have written me with compliments! From all over the world! I take each letter and hold it close to my heart. Makes me hungry for more!
Thank you Search My Trash for this wonderful opportunity! You are awesome!
Ever so welcome, and thanks for the interview!