Your new movie Meathook Massacre II - in a few words, what is it about?
Meathook Massacre II picks up "10 years" after the events of the original film. We follow the final girl's twin brother as he tracks the killer down at a new hide-out and comes face-to-face with the meathook wielding maniac and his entire sadistic family!
Meathook Massacre II is of course a sequel to your own Meathook Massacre - so give us a quick rundown what that one's about, and what prompted you to make a sequel? And how closely related are first and second part, narratively?
The original film takes place in 1989 and was shot on S-VHS. It follows a group of 3 girls traveling to a Dragonsclaw concert only to encounter car trouble along the way. One by bloody one they each wander to a secluded old farmhouse containing a meathook-obsessed Killer. Needless to say, things get a little gory and no one really survives. The whole film was sort of a love letter to the original The Texas Chainsaw Massacre (1974). I wanted to make a serious but also "sleazy" slasher film that had a dated look, allowing me to create a "period piece". All my films are big throwbacks to the horror I grew up with, but this one in particular was a movie for "fans". At the time, I didn't anticipate doing a sequel, but it was left open-ended so once the film was released and started to grow a cult following it became obvious we should do another, only this time "bigger". It's a direct sequel, but picking up a decade later so this time around we shot it on HD and gave it a more "updated" late 90s/early 2000s look. It's since spawned an entire franchise with T-shirts, posters, a comic, a Nintendo game and a prequel film planned for next year!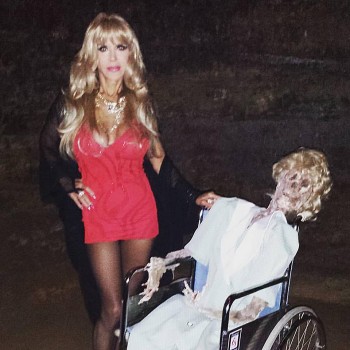 (Other) sources of inspiration when dreaming up Meathook Massacre II?
Like how the original Meathook Massacre was inspired by The Texas Chainsaw Massacre, the 2nd film was inspired by its sequel. Like The Texas Chainsaw Massacre 2, we also feature a crazy, cannibalistic family living in an underground cavern. The film also draws elements from American Gothic (1989) with the "adult children" aspect and even House of 1000 Corpses (2003) as Mother Dawna's character is an homage to the late Karen Black as Mother Firefly. Also, the character of "Justin" was molded after Matthew McConaughey in Return of The Texas Chainsaw Massacre (1994). It's a giant hodgepodge of camp and terror and I think fans of the original are going to be pleasantly surprised by the new direction of this film.
Do talk about your movie's approach to horror for a bit!
I'm known for my "campy horror" approach and this is no exception. In fact, it may be one of my wildest films to date. The original movie was more serious and I wanted to keep that aspect of it, but I also wanted a more "cult horror" film approach, with campy one-liners, memorable characters and some really fitting music. I wanted something scary, but something fun and would make you want to watch it again when it's over. I think I achieved that. We got music by Velvet Acid Christ, Leaether Strip, Dragonsclaw and Rob Robinson did the score. What's a good horror film without a KILLER soundtrack?
Now the "massacre" part in your movie title implies quite some bloody nastiness - so what can you tell us about the gore effects in your movie?
There are some decent kills for sure. The original movie had all female victims with one male victim. This time, the tables are turned. It's all male victims with only one female. As Joe Bob Briggs likes to put it, here's the "Drive-In Totals":
1. Bloody Car Attack
2. Hook to the face
3. Meathook Hanging
4. Grandma's Rotted Corpse
5. Hook to the throat
6. Sexual Torture
7. Cannibal chow
8. Beartrap brutality
9. Caged human animal
10. Bloody Body Parts galore
11. Chest Stabbing
12. Body dragging
A few words about your overall directorial approach to your story at hand?
I just wanted to have fun. During production of part 1 I had a lot of things happening in my personal life that was making me depressed. The overall production experience felt rushed and stressful. I made the film I wanted to make, but felt it could use so much more story. That's what I wanted with part 2. I wanted to recreate the simpleness of the original while amping up the camp, gore and background of the characters.
As far as I know, Meathook Massacre II does feature a couple of genre favourites - so do talk about them for a bit, and how did you get them and what was working with them like?
Deborah Dutch [Deborah Dutch interview - click here] plays "Aunty Deb". I've been a big fan of her since Hard To Die (1990) and she's pretty much a staple in early Jim Wynorski flicks [Jim Wynorski interview - click here]. Dawna Lee Heising [Dawna Lee Heising interview - click here] plays "Mother Dawna", both of them were introducted to me via mutual actor friend Luc Bernier [Luc Bernier interview - click here]. I needed a couple B-movie actresses for the parts (and to have "names" to help sell the film) so he hooked me up with them. They both flew in from California and we had a big 3-day slumber party at my house while filming. It was a lot of fun getting to hear old stories of Hollywood in the 80s and 90s and getting to be personable with them. I had a great time and they both did so wonderful in the film!
What can you tell us about the rest of your cast, and why exactly these people?
My own "Scream Queens" Jennii Caroline [Jennii Caroline interview - click here] and Breana Mitchell [Breana Mitchell interview - click here] both appear. Jennii plays the daughter in the crazied family and Breana is actually a surviving victim from part 1, now Jennii's brainwashed playmate. Daniel Stier plays the lead, who goes to the cave and attempts to "rescue" Breana or anyone else he can find. Nebraska Senator Colby Coash plays "Pa" and Robert Lankford returns as "Bubba The Killer". There's also newcomer Justin Milani as a brother in the family. Everyone else plays victims: Lucas Schmidt, Jake Bockoven, Edwin Garcia, Jason Bracht, Clint Beaver, Donna Hamblin [Donna Hamblin interview - click here] and Luc Bernier. Almost everyone I've worked with at least once in the past. It was a very "family"-like production for sure.
Do talk about the shoot as such, and the on-set atmosphere?
In typical Dustin Ferguson fashion, it was a fast and crazy shoot. But a total blast! Shooting in Robber's Cave was amazing and it was a perfect set. Adds so much production value to the movie! Everyone had a lot of fun working together and just "camping it up" with their roles. As usual in Nebraska, the weather didn't want to agree with us and seemed to want to thunderstorm ONLY when we were out filming. We worked around it and it all is good in the end, but it wouldn't be a low budget indie production without a few stressful elements. We filmed the whole movie in a total of 4 days plus one brief "pick up" day.
The $64-question of course, when and where will your movie be released onto the general public?
It was originally announced to be released in February of next year, but we may bump it closer and release in January. There is a lot of interest in the film and there's no point keeping the fans waiting!
Any future projects you'd like to share?
Yes! We start filming Tales For The Campfire 2 next week, I'm wrapping up my documentary Mondo Shock now, then in 2017 I have a documentary called Penny Pinchers about no-budget filmmaking coming out, a webseries called Tales From The Grave, a sequel to The Amityville Legacy called Amityville 2017: Evil Never Dies and finally the launch of my international production company with Tony Newton called Reaper International Pictures (R.I.P.) just happened last week!
Your/your movie's website, Facebook, whatever else?

Feeling lucky ?
Want to
search
any of my partnershops yourself
for more, better results ?

The links below
will take you
just there!!!


Sinister Studios: https://sinisterstudiosblog.wordpress.com/
Sinister Studios store: http://sinisterstudiosvod.storenvy.com/
R.I.P. Facebook: https://www.facebook.com/ReaperInternationalPictures
Personal Facebook: https://www.facebook.com/dustin.ferguson.18
Anything else you're dying to mention and I have merely forgotten to ask?
Indie horror filmmakers should watch my Facebook page for announcements soon regarding submitting short films for several of our anthology films R.I.P. will be producing. If you have a short you've made you'd like to see released, or are willing to make one, we can get it distributed for you! More information on my Facebook in the next several days.
Thanks for the interview!