You have only recently produced The Frankenstein Syndrome, which is being released these days. In a few words, what is the film about?
The film is Sean Tretta's [Sean Tretta interview - click here] modern re-imagining of the classic Mary Shelley novel The Modern Prometheus most commonly referred to as Frankenstein. In essence the film follows the same lessons and moral questions raised in the original Frankenstein, but it has a fresh take for modern times. The film revolves around a group of underground stem-cell researchers trying to create a universal healing serum for the group's funder and overseer Dr. Walton. Through their research they uncover the very serum they've been trying to create, but it comes with a price and the tensions between the group start to escalate as their research takes a sharp and dark turn and they find themselves in way over the heads both legally and morally. What ensues is a tale of ambition, questionable morality and true to life horror!
What did initially draw you to the project?
Basically it was the chance to work with Sean Tretta again. We had just gotten done filming our first film together The Death Factory Bloodletting, which turned out really well despite its limited budget and I was itching to work with Sean again as he really is a brilliant filmmaker. One of our other producers for the film, the late Noah Todd, had introduced us to some semi-heavyweight Hollywood executive producers, who after seeing The Death Factory Bloodletting wanted to work with us. They had a decent budget they were willing to give us so we jumped at the chance.
While The Frankenstein Syndrome is not an adaptation of Mary W.Shelley's Frankenstein as such, it was quite obviously inspired by the novel. What convinced you the world needed another Frankenstein film, and how does your approach differ from other Frankenstein-movies?
Well Sean's approach was much different that other adaptations done in the last 100 years. First off we tell the story in modern times with modern problems. We like to think if Mary Shelley was to write the film in today's times, she would use elements and issues that plague our doctors today, stem cell researching being a great example. I think the film uses some of the same elements as the original but stands on its own as its own movie. This film was not a parody, it was not another Frankenstein-film, and the film was not inspired by the Frankenstein "monster" we all think of when you say the name. It's an extremely original adaptation of a classic, yet still its own film in its own right. What I really like about this film is it is not a monster movie, something that the story has somehow turned into over the last 100 years. The original Mary Shelley story was not horror, it was a tale of early science fiction. Over the years through the theater and plays the film turned into a monster movie, as it was easier to adapt for the stage, but the original story did not center around a green monster with bolts in his neck, something we've been accustomed to seeing in recent portrayals of the story. I believe this story is a closer representation of what Mary Shelley was trying to achieve than 90% of the re-creations out there, and the film isn't even a re-creation, it's Sean's vision and re-imagining of the classic tale of early horror and science fiction.
Related to this: Your favourite Frankenstein-adaptations?
The 1994 Robert De Niro version is probably my favorite.
The film has quite a strong basis in modern medicine. How much research went into the medical background of The Frankenstein Syndrome, and your personal thoughts on stem cell research?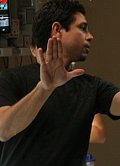 Sean Tretta
Sean talked to a lot of doctors and specialists so we had our information correct when referring to medical treatments and proper terminology. Surprisingly much of the information in the film related to stem-cell research is dead on and taken from trusted sources in the medical community. My personal thoughts on the subject lean considerably left. I do not agree with stem-cell research bans based on religious moral arguments as to its validity. Religion and science have always butted heads, but it is getting to the point where lives can be saved and diseases cured if the political rhetoric was taken out of the equation.
How was the collaboration with The Frankenstein Syndrome's writer/director Sean Tretta, whom you have worked with before, right?
As I have said before, Sean is a brilliant filmmaker. I have never worked with anyone who is as focused and driven as he is. Every film he has written has been a success and he did it his way, without much help from anyone. I am just honored to work with him and help him create his visions. As far as I'm concerned he is one of the best indie filmmakers out there, with a resume to prove it.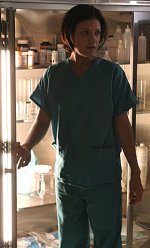 Tiffany Shepis
A few words about your principal cast:
Tiffany Shepis [Tiffany Shepis interview - click here]?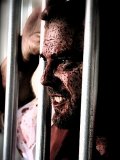 Scott Anthony Leet
Tiffany is the best! She's a pro bottom-line. We always knew Tiff had chops, but she blew me away with this role. There was some intricate dialogue in this film and she nailed it. She brings a wealth of knowledge to any set and she's a sweetheart through and through. I am glad she was able to show what a stellar actress she is with this role and I hope it opens doors to more substantial roles.
Scott Anthony Leet?
What can I say, Scott nailed this role! Scott had a slipped disc in his back that was killing him throughout the entire shoot, but he fought through the pain and delivered and solid performance, even if we had to roll him on set in a wheelchair half the time. Scott's a talented guy.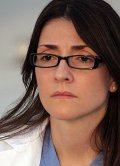 Patti Tindall
Patti Tindall?
Patti is always amazing. I have known Patti from Sean's 2nd feature Death of a Ghost Hunter, another role she knocked out of the park. Patti is super nice and always knew her lines inside and out. She was Victoria, no one else could have played that role.

Louis Mandylor
Louis Mandylor?
Louis rocks! He's got tons of charisma, he's funny and charming as hell. Louis has been doing this for a long time and he brought his A game every day.
Ed Lauter?
Ed is a walking encyclopedia. In between takes he would tell odd stories and was a wealth of knowledge about everything from history to politics. He's a walking trivial pursuit.
Anyone else I've forgotten you are dying to mention?
Everyone in this film did great in my opinion. Sebastian Kunnappilly, David C. Hayes [David C.Hayes interview - click here], Jonathan Northover, Noah Todd, Kristina Wayborn, there are just too many to list.
What can you tell us about The Frankenstein Syndrome's production company Ominous Productions, and how did it come into being?
Ominous Productions is owned and operated by Sean Tretta. He really is Ominous Productions. Ominous has released 4 features to date and is pre-production on its 5th.
What got you into film-producing in the first place, and what can you tell us about the movies you have produced so far?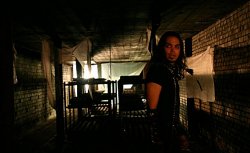 The Death Factory Bloodletting
Well I got my start in the entertainment industry working for WEA Distribution and Interscope Records in the early 90's where I was a A&R rep and distributor rep. I went to the Art Institute of Seattle and got training in film production, even though I ended up in music for the first part of my career. I got into the film business about 8 years ago when I started working for my friend and boss Darrin Ramage at Maxim Media International and Brain Damage Films where I worked in acquisitions and most recently in sales and marketing for Midnight Releasing, a domestic film label mostly dedicated to horror and sci-fi. I love working in this industry and meeting new people who share the same passion I do about film and music. I've had the opportunity to make a living in this industry, which is a feet all in itself and I consider myself blessed to have this job.
Through my job at Maxim Media, I met Sean Tretta, whose first film The Great American Snuff Film we distributed. When an opportunity to produce The Death Factory Bloodletting and work with Sean came up, I jumped at the chance. The rest is history.
All of your work within the film world seems to be somehow horror-related. Is this a genre especially dear to you, and why?
Not really. Even though I love horror, it is not the only genre I am into. I love all genres like I like my music. The reason we have made horror films is because it is typically easier to make a low budget horror film than it is to make a war drama or science fiction. Someday I hope to have enough clout to make a big budget thriller or action monstrosity, but for now we try to shoot to our means.
Your favourite movies?

Feeling lucky ?
Want to
search
any of my partnershops yourself
for more, better results ?

The links below
will take you
just there!!!

Find Dustin Lowry
at the amazons ...

amazon.com

amazon.co.uk

amazon.de
Looking for imports ?
Find Dustin Lowry here ...
Something naughty ?
(Must be over 18 to go there !)

True Romance, Immortal Beloved, The Lord of the Rings-trilogy, Reservoir Dogs, Star Wars, Avatar, Requiem for a Dream, Saving Private Ryan to name a few.
... and of course, films you really deplore?
Not a huge fan of horror comedies, tween films like Twilight or anything with Anne Hathaway.
Your/your film's website, Facebook, whatever else?
Facebook - http://www.facebook.com/pages/The-Frankenstein-Syndrome/153367781371272
Official website which should launch in a few days - www.FrankensteinSyndromeTheMovie.com
Netflix Queue for TFS - http://movies.netflix.com/Movie/The-Frankenstein-Syndrome/70180185?strkid=2114273298_0_0&
lnkctr=srchrd-sr&trkid=222336&strackid=31748bbec
877f397_0_srl#height409
Ominous Productions IMDb - http://www.imdb.com/company/co0156304/
Trailer - http://www.youtube.com/watch?v=UQeM56J1Tdo
Anything else you are dying to mention and I have merely forgotten to ask?
Nope, I think that is it. Thanks again for your support and a big thank you from Ominous Productions!
Thanks for the interview!
No, thank you.