Your upcoming film Survive - in a few words, what is it about?
Survive is a about the fears we face as a society today and how these dangers range from global political issues such as terrorism, down to the more intimate fact that as individual people we are often our own worst enemies. A terrorist group attacks NYC by poisoning the water. The poison kills people only to reanimate them. As the undead plague spreads, a small group of strangers tries to survive by hiding in a house. By the end of the story the people are as dangerous to each other as the zombies are to them.
As far as I know, the film will actually be directed by your 13 year old som Liam Makrogiannis - now how did that come about? And what sort of experience does Liam bring to the table?
Liam has been involved in theatre and film since he was eight years old. He has been a student at Manhattan's acclaimed HB Studio and has been involved in my films as well. The bulk of his work has been acting, much of it in horror films. This past winter he wrote and starred in a short film called Devil Moon, which was about a werewolf. Liam is constantly writing and has come up with some great ideas. I have been busy the past four years co-writing/directing The Super and The Turnpike Killer. It's been four years of hard work and finally I have some free time before I start my next feature, so when Liam came to me with the idea of Survive, I thought it would be the perfect time for him to do it. I have the time to help produce, but I am also able to take a step back and allow him to grow as an artist. Liam has grown up with theatre and film and he has been around amazing artists who have influenced him. He is young but I trust his talent and senses.
How was the project conceived in the first place?
As I mentioned, Liam is constantly writing. He has dozens of notebooks filled with short stories, treatments and ideas. Survive was one that really made me stop and think, because while it is a zombie gore-fest, the underlying theme and symbolism in the story revolves around the experience of a kid growing up in post 9-11 America, more specifically, New York City. Liam has grown up in an era of terror level threats, war in the middle east, hysterias over Mayan calendars declaring the end of the world and so on. I found it fascinating that he drew the parallels of real life fears with the realm of horror. Once he showed me his story, I knew I wanted to produce it and give him the chance to make it a reality.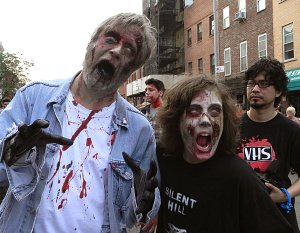 Liam Makrogiannis (in Silent Hill-t-shirt) and fellow zombies
What is your actual function on the Survive-set - and to what extent do you reckon you can remain hands-off with your son calling the shots?
Well, I am one of the producers first and foremost. I have scouted locations, helped with casting, found financial backing and done a million other things to help make this movie happen. I am also managing the script. The story and dialogue are all Liam's. Once we start filming, the ship is Liam's to steer. I will be on set to help with lighting, set design, and any other kind of work but I will not be involved with the direction. I trust Liam's vision and besides, if I were to intervene it would only detract from his experience and vision. He wanted this, so he has to be the one to make it happen. It's a learning process for him as well, but I think in the end horror fans will be happy with the result.
As far as I know, at this point Survive is still in the fundraising process. So what can you tell us about your fundraising campaign?
The fundraising campaign is being done through Indiegogo.com. We reached an agreement with New York Horror Film Productions, who released the Turnpike Killer big box, and they will release the film on DVD as well as through a glorious big box VHS format. Not having to worry about promotion and distribution has been great, but we obviously still needed money to make the movie happen. We're doing this bare bones so we turned to the fan base for help. This is a true DIY, indie endeavour so any help is appreciated. We've set up some very cool "perks" for different levels of donation, which range from getting a copy of the box set to actually getting producer credit and a cameo in the movie. Money is tight for many people these days, but any little help will do. We've assembled a cast and crew of talented people who are doing this for the love of the genre and for Liam as well. So we can get this done with a "shoestring" budget.
http://www.indiegogo.com/SurviveVHSBigBox?a=816538
When will the film go into production, actually, and what can you tell us about your shooting schedule, locations and the like?
We will actually begin filming this week in Brooklyn. We're doing a series of scenes in historic Coney Island, so that should be a lot of fun. After that the bulk of shooting will start on August 23rd. We will be filming in various locations throughout New York City, the bulk of which will be in Brooklyn and Queens. The Survive house is in queens as is the water refinery that is poisoned in the movie. We are also shooting on the trains, in various parks and neighborhoods and more. The New York landscape will definitely be a big part of Survive!
What can you tell us about your projected cast?
We have some stellar actors, and most are people I've worked with in the past. Horror icons Manoush and Ruby LaRocca have joined the cast and we also brought some alumni of The Super and Turnpike Killer with the additions of Demetri Kallas, Edgar Moye and William McLaughlin. Along with old friends, we casted some other talent as well such as 15 year old filmmaker and horror jack-of-all-trades Johnny Dickie, and goth music legend Baron Misuraca. The talent is superb and I have nothing but the utmost respect for these folks who are giving their time and talent in the name of art.
Your special effects man Johnny Dickie is likewise only 15 years old. What can you tell us about him?
Johnny is an amazing kid. He wrote/directed/acted/did FX in his own film called Slaughter Tales just shy of his 14th birthday. Aside from being a film talent, he is also an immense fan and collector of old school horror, especially on VHS. Many know him from his review site called Video Vendetta. We're really happy and honored to have him involved. Johnny will be doing FX and acting. I think it's pretty cool to see two young teens teaming up to create a horror film. There's hope for the future after all!
And since we're talking effects: No zombie movie without blood and guts, and I happen to know from experience that the teenage mind often comes up with a lot gorier ideas than an adult mind. So what can you tell us about your projected gore effects, and will there be a line you refuse to cross (besides the unachievable)?
Liam and Johnny promise a lot of blood, intestines, brains and more. There are limitations because of budget, but without giving away too much what I can tell you is that there will be butchery, cannibalism, zombie flesh eating and more gory fun!
Your thoughts about the zombie genre as such, and some of your and Liam's zombie favourites?
Well one of my top five horror films ever is the original Dawn of the Dead. It is an amazing film in all aspects and I think that the reason why it is so powerful is that there is the socio-political depth. It's the watermark of all Romero's zombie films no doubt. I love Night of the Living Dead and Day of the Dead, but I think Dawn is just spectacular.
I am also a huge fan of Fulci's undead classic Zombi 2 [Lucio Fulci bio - click here]. Fulci's opus is a gore fest but it also touches on subjects beyond the gore. Then there are zombie movies that I love for the blood guts and fun like Re-Animator, Burial Ground and Return of the Living Dead. I watched those three films religiously when I was a kid!

While I grew up with the slow zombies who dug their way out of a grave or who slowly lurched around for brains after being reanimated, Liam has grown up in the era of fast zombies which are a whole different type of living dead monster and threat. His favourite zombie films of all time are 28 Weeks Later and Dawn of the Dead. The idea of a fast undead predator is terrifying to him - but he also has an appreciation for the classics. We had a lot of fun watching Return of the Living Dead together. I know zombies have saturated art and media alike, but the zombie film will always be an integral part of the horror genre. I am looking forward to working on Survive. Liam is looking to pay homage to the old school zombie films but he is also looking to maintain some of the spirit we find in modern zombie movies.
Survive will be released in a retro-VHS Big Box by New York Horror Film Productions. Why did you choose that format of release, and what can you tell us about New York Horror Film Productions?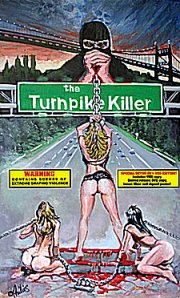 The first edition of the film will be the VHS big box. It will feature the correct dimensions and construction of the old school Wizard and Comet classics, complete with a retro style box design and hand painted cover art. We will include a poster as well and it will be a limited release, hand numbered. I think the plan is to include the DVD as well, so basically it will be a VHS/DVD combo just like The Turnpike Killer was. I am a child of the 80's, so I have very fond memories of renting and buying horror films on VHS back in the day. VHS was how I discovered and explored the realm of horror, from commercial releases to the video nasties and on. I still collect horror on VHS and it's a hobby that I have passed on to Liam and his brother as well. When The Turnpike Killer was being shopped around, we had many standard deals offered to us, but New York Horror Film Productions stood out above the others. Their interest in releasing The Turnpike Killer in a VHS Big Box was just too much to pass up. They did an amazing job with the The Turnpike Killer box set and I'm sure they will nail Survive as well. New York Horror Film Productions is a small Brooklyn based company that cares about the indie scene, especially the retro revival. I knew Survive would be the perfect fit.
So ... any idea yet when the film will (tentatively) be released then?
Well, we hope to be done by mid September. After that it's off to post production. We'd love to have it ready for the holiday season, but we're not going to rush things to make the Christmas deadline or anything. As much as we'd love to see the Survive big box in every horror fan's blood soaked stockings on Christmas morning, we are more concerned with a proper edit and good product. So I'd say anytime from December to late Winter. The sooner the better though!
Any future projects beyond Survive?
Once Survive is done, I plan to shoot a trailer for a vampire film based on the In Flesh and Spirit-comic put out by Overtone Comics. The book is based on a vampire character created by my friend and goth music legend, Baron Misuraca. Baron started his career with New York hardcore legends Sheer Terror, then marched through the years with successful bands such as Desecrator, Vasaria and eventually his more recent solo projects. Baron will star as the main character and we will shoot in Brooklyn. The goal of the trailer will be to raise interest, and hopefully funds, for a full length. I am a huge vampire enthusiast, so it would be a dream for me to work on a classic style vampire horror. Lots of sex, violence and classic scares!

Feeling lucky ?
Want to
search
any of my partnershops yourself
for more, better results ?

The links below
will take you
just there!!!

Find Evan Makrogiannis
at the amazons ...

amazon.com

amazon.co.uk

amazon.de
Looking for imports ?
Find Evan Makrogiannis here ...
Something naughty ?
(Must be over 18 to go there !)

I will also be writing a script for a movie called Archangel. The script will be based on a story written by my good friend Sam Glass Jr. Archangel is a story about a serial killer on the prowl in NYC. This is going to be tense, dark and violent. I can't wait to start on this, and the writing will surely carry me through the winter. We have high hopes for this one, and the tentative cast is powerful. I cannot divulge anything else, other than what I've told you, but I'm sure it will be a project that will please many horror fiends!
Your/your film's website, Facebook, indiegogo, whatever else?
Here's the Indiegogo site: http://www.indiegogo.com/SurviveVHSBigBox?a=816538
The Facebook Survive fanpage: http://www.facebook.com/survivethedead?ref=hl
The Turnpike Killer official site: http://www.turnpikekiller.com/
And please check out my 70's exploitation stye film The Super: http://www.thesuper-movie.com/
Anything else you are dying to mention and I have merely forgotten to ask?
I just want to thank you so much for the interview! It's a great chance to promote my work and reach out to the fans. Speaking of which, I want to thank everyone who has supported The Super and The Turnpike Killer! Much love and thanks for making this all worthwhile. Keep a look out for Survive! coming soon!
Thanks for the interview!
Cheers brother!