Hot Picks

Drive-In Horrorshow Presents: Ghoulish Stories by Greg Ansin and Michael Neel - A Book Review


February 2018



A newly developed app has taken over thinking for us humans - but what if the app goes bad ...
There might be more monsters in the cupboard than we may ever dream of ...
Who says circus freaks can't also hand out justice?
A woman has been attacked and left in the streets to die - but recollecting her memories she has to find out the "attack" might not have been what she thought it was ...
A submarine crew on a mission to check out the Mariana Trench lands on a weird, female-controlled island built on trash instead - this one is a very detailed throwback to sci-fi pulp literature of the 1930s and 40s, complete with a submarine crew bringing firearms on their underwater mission!
There's a special place between heaven and hell where sadists and killers of all kind can redeem themselves by creating nightmares for the living.
What if the acid-heavy urban legend about the freak next door actually holds true?
What's the secret of Big Al's donuts? Well, you'll be sorry you asked ...

Drive-In Horrorshow Presents: Ghoulish Stories, pretty much a sequel in book form to the two writers' movie Drive-In Horrorshow, is a fun collection of horror stories from all corners of the genre, often (but not exclusively) harking back in style and content to drive-in movies (duh) of yesteryear and vintage pulps, comicbooks and simply macabre short stories of old. And ir works, too, as the stories don't come across as pretentious or post-modern but are written by two people who love but also actually understand the genre as such and who just enjoy telling twisted stories.

Basically, it's really great genre fun!

Feeling lucky ?
Want to search for books by
Drive-In Horrorshow Presents: Ghoulish Stories
yourself ?

The links below
will take you
just there !!!


© by Mike Haberfelner




Legal note: (re)Search my Trash cannot
and shall not be held responsible for
content of sites from a third party.






Thanks for watching !!!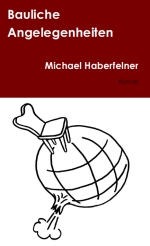 Stell Dir vor, Deine Lieblingsseifenoper birgt eine tiefere Wahrheit ...
... und stell Dir vor, der Penner von der U-Bahnstation hat doch recht ...
... und dann triffst Du auch noch die Frau Deiner (feuchten) Träume ...
Und an diesem Tag geht natürlich wieder einmal die Welt unter!!!
Bauliche Angelegenheiten
ein Roman von
Michael Haberfelner
Jetzt kaufen bei
Lulu.com