First of all, why don't you introduce yourself to those of us who don't already know you?
Well what can I say? I am an actor/horror film critic/webdesigner/sketch artist and hope to be a singer one day as I've been doing all of these for a long time.
I was born in North Vancouver, BC, Canada and was adopted plus was diagnosed with a form of autism as the doctors said I wouldn't have been able to speak properly or function normally - but I proved them wrong on all of that. I moved away from North Vancouver to Abbotsford for my schooling in special needs classes. I hated living there and missed Vancouver with a passion.
I did more of my sketch art in school and won some certificates. I even did some independent comic books as I loved Charles Schultz Peanuts. I was interviewed on some local papers and the 6:00 News at one point of my life due to that. Plus did comic strips for my school newspaper.
I had it tough in school as I was put through hell having to go every day first thing in the morning but yet I loved the dances as there was music videos playing on groups I loved to listen to like AC/DC, Motley Crue, Aerosmith, Rolling Stones, Guns N Roses, Poison and Warrant to name a few. Although school sucked for me I missed the memories and plan to go to my 20 year reunion.
After I graduated I moved back to Vancouver. Had some financial problems but nowadays live in a co-op apartment and enjoy life a lot better.
Ever since I discovered the internet I always wanted to make websites plus when I read movie guides and saw other people's reviews when I started acting I always wanted to have a chance doing so but never had the opportunity. While I was getting the feeling of making sites Owen Keehnen contacted me out of the blue and asked me to design his horror film reviews site and asked me to review movies as well as interview some people in the horror industry too called Racks & Razors at www.racksandrazors.com - and the rest is history. My dream finally came true. Also I did a podcast talk show on there for a while as well as some 10 minute short podcast plays in a Tales from the Crypt type fashion but it was voice over acting.
I also made my storage area into a rec room making it look like a video rental store having posters and VHS tapes stocked up as I miss those types since I used to rent a lot of movies back in the days. I love watching movies or TV shows on DVD or on my flash drive when I have a quiet night at home to watch them or listening to music while working at my computer. I also enjoy rollerskating at rinks although I am rusty at it. With sports I am into bowling and weightlifting too whenever I have a chance to do those as well.
So as you can tell so far there's not a dull moment in my life.
What got you into acting in the first place, and did you receive any formal training on the subject?
Well ever since I was a child watching TV shows I wanted to do the same thing but didn't know on where to start. I remember getting my special needs class in elementary school to be a part of the Christmas plays in 1985 as I had the lead role in it playing Santa. In highschool I took drama classes but was painfully shy. Eventually during my grad year I acted in small student scholarship plays but they weren't talked about either.´ When I moved back to North Vancouver in 1995 I took some small theatre acting workshops on improvisation, monologues, dialogues, voice over work, preparing for a musical or other theatre auditions too. I felt for myself by getting better is to keep auditioning and performing and learning from them.
What can you tell us about your first time in front of a movie or TV camera and your early acting experiences?
After I graduated from highschool in 1993 I volunteered doing camera and audio for my local community cable station and one of the employees named Rob Kowalchuk advised me to do my own shows. So the first one I did was being a video jockey for a late night music video special titled the Friday Night Halloween Howl, as they used to have a late night music video series called Nightshift as the plus was pulled shortly before I did that special. I put on make up, dressed like Paul Stanley from Kiss and portrayed a crazy character. The show was well-watched by locals.
I then created, produced and co-starred in another late night show, but this was a sketch comedy-variety TV special titled I Love Rock N Roll, which was driving me insane to make as I was inexperienced and it was planned to become a series - but I was too overwhelmed to make it that way. I even brought my sister on board to help out as it was hard to find entertainers living in Abbotsford. It finally got done and aired. It was supposed to be a show like Saturday Night Live - but it looked more like You Can't Do That On Television. I knew I had a long way to go when it came to acting even if I was in denial at the time. I wasn't good with eye contact if you watch any of the skits. Of course I was only 19 at the time.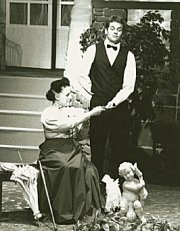 After I took those small workshops I landed many supporting roles in community theatre first playing a Butler named Francis in A Woman Of No Importance with the United Players of Vancouver, which I was scared of not doing a good job and worried on being fired which is normal for any actor starting out. I always rented VHS tapes at my local rental store to try to get things off my mind while not being in rehearsal. We were almost sold out every night. That was a great time in my life but I had a hard time getting work later on as well as suffering from a near breakdown due to bad medications I was taking.
I also remembering getting one of the lead roles in 1998 as the heroic Peter Princely of a production called The Diligent Daughter, which was a Christmas family melodrama production performed at the Footlights Village Museum Theatre which I was happy to have done a role on. The show was always a full house.
Another lead role was an independent play I helped produce called Wolfboy which I was put through hell working on but won't say on what happened, yet it was a real challenge to play a role I did as a pussy type jock confused about his sexuality and having a hard time dealing with his dysfunctional father named Bernie living in a psych ward with another fellow who thinks he's a werewolf. It was a psychological drama and performing the piece was intimidating enough for me.
I also worked steadily with a musical and pantomime theatre company called the Fraser Valley Gilbert & Sullivan Society. A show I really cherish the most to this day is playing a character named Gormless in Sleeping Beauty as this role was someone who is hideous and utterly stupid and the son to the evil one who forces Beauty to marry me or death by the spinning wheel. I got to act as crazy as I wanted to plus I had a couple of duet songs with the one who played my Mom which was great to get my singing out there.
Another show I fondly cherish with the company is a supporting part to the lead character named Charley in our first Broadway based musical called The Pajama Game. Rehearsals were very long as our regular theatre space was under construction and the other space we were going to perform in was already in use until a later date that we had to wait to perform in. To top it all off there was a 3 month transit strike as it was hard to get to the show and the topic in the play was about a strike for not getting their 7 and a half cent raise. A scary thought indeed.
You broke into the horror genre with the short Streaks in the Mirror, right? So what can you tell us about the film and your character in it - and how did you get hooked up with the project in the first place?
The story is about a troubled newlywed housewife named Jess whom is getting threatening phone calls and uses black magic to protect herself from harm, and then her friend Edwin which is played by me comes to visit as I have a sister named Susie who was once married to the husband she is married to now named Matt and fears that Susie is out to be kill her for revenge for taking Matt away from her. There's a shocking surprise in the end. I wrote a story idea which I saw a short film called Birds of a Feather directed by Terrence Smith which was a simple plot taking place all in one house which inspired me to do the same thing by writing a story idea for it.
I eagerly wanted to be in horror films as that was my favourite genre since I was 18 years old. I saw a site with postings on directors and contacted a fellow named Apostolos (Toly) Kouromalis and another guy in which the other one left with when we all met as I had a lot to learn about making films and I came across to that other person as flakey and unorganised. It was embarrassing. Toly was eager to do my project. Toly and his now ex-wife Helen Tzoutis (who also starred as Jess in it) wrote it and made it very gothic-like and out of the ordinary. Plus this was made on a film budget instead of video quality which was cool.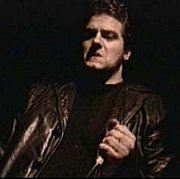 My role as Edwin seems like a cool cat but yet a little too invasive and mysterious too. At the end he happens to be the killer. I had to grow some sideburns for it but there was extra make up on that as it wouldn't fully grow. Plus had a gothicy Elvis type of hairstyle too which worked well for my character. I don't remember a heck of a lot being on set but I had major back pains so if I seemed stiff on set you can see why. I took some physiotherapy afterwards. Doing the film was like a one big party for me and it was shot in their building. There was a scene I stab Helen's character and I had to plunge the knife into a mango I think as they showed the camera plunging the knife down looking like I was stabbing her. I had a hard time getting the knife out of the fruit which was a struggle to do.
There was a situation in rehearsal when I put my hand on Helen's lap talking to her in a scene as I was nervous about that since she was Toly's wife so we played around with that and she decided to take my hand off which was added into the story and it made both of us comfortable.
Everything went smooth until after the shoot as there was a lot of drama that happened which I won't discuss as Helen is a professional editor and was supposed to have edited this piece together - which she didn't so Toly did and put in sound effects drowning alot of the dialogue in it. This was a good film and by doing that it got ruined. I still hit the roof every time I watch it and can't hear myself or some of the other cast members that did this with screeching or other loud sound effects getting in the way of the dialogues used in the story. I keep in touch with Irena Huljak who played my psycho sister Susie as she was disappointed with this too. Yet we were both happy that it finally got done. It took 2 years to finish it, which was insane as I thought there was no hope for it.
It was also supposed to go to many film festivals as well as Nim Vind's band Mr. Underhill doing their number "Killer Creature Double Feature" at the closing credits in which they had a cameo in the film, but that never happened either although they did a music video for it with clips of the movie in it. Surprisingly in 2005 it was shown at the Halloween Horror Picture Show in Florida so I was happy it got some sort of a public release.
I enjoyed playing someone evil as I often play creepy roles in other flicks since then.
Shortly after Streaks in the Mirror (at least if I'm not mistaken) you made Room for Rent, a short you don't only star in but have also written and directed. Now what can you tell us about that movie, and how did it get off the ground to begin with?
Yes this was my next film I starred in after Streaks in the Mirror as I met cameraman Arseniy Vodopianov through another project we were doing that I wasn't happy about and discussed a horror short. I asked a stage actress and friend Jacquollyne Keath to play the opposite of me as the landlady in the flick.
The film is about a college student named Richard Thomas which is me renting a room to study his exams to be an English teacher and is instructed not to open this certain door without any explanation. Yet after a couple hours the place is way too quiet and he is too curious as to what is behind that door. Something terrifying is behind it.
One of my regrets is that we shot it on a nice sunny day instead of at night which could've looked scarier. Yet at a private showing two women screamed on a scene where a creature drags me into a room ... so it turned out okay.
It did get shown in 2005 at the Horrordance Film Festival in Texas as well as recently in San Francisco at the A Nightmare to Remember Festival hosted by Miss Misery who has her own show on a community channel as she plans to show it on her show too. I'm excited about that.
What were your inspirations when writing Room for Rent?
I fully wrote this one as I admit I'm not a write,r but it popped into my head when I was doing my regular job which is window estimating walking door to door as exercise really helps me get ideas. I vaguely remember when I was 5 years old watching the series Zoom with a kid pretending to be an adult telling someone else not to pen a certain door as something spooky happens and decided to make that into a horror story. Plus reading my favourite young adult horror stories Fear Street by R.L. Stine inspired me to add more into all of this.
What can you tell us about Greg Russell Tiderington, the director, and based on the experiences you've had with Room for Rent, could you ever be lured back into directing?
Well I didn't direct it so much. Arseniy did most of it and should've gotten the credit for it. I had to take a break when I wasn't in a scene as I was tired out. I wasn't proud of my acting skills as I had no one directing me and seemed to be just myself in it as I have a hard time watching myself in it. I won't be a director too much stress involved nor will I produce anything by myself again although Arseniy helped me alot with this one. I felt with a couple of people working with me like I was being treated as a walking cheque book asking me to buy them cigarette's as well as having to pick them up when they were told specifically to find their own transportation and I wasn't impressed by any of that at all.
The Horror Seasons you not only star in but have also executive produced and delivered some story ideas - so what can you tell us about that one? And was it actually always meant to be an anthology movie, or is it just a collection of originally unconnected shorts?
It was meant to be a horror anthology as I wanted to do the same thing that Creepshow did. However I was not impressed with the completion of the film or on how it was cast with certain people. It was a four chapter anthology taking place a different season per chapter. One in autumn which is naturally on Halloween, the next in the winter on Christmas, then spring at Easter and the final one in the summertime. The wraparound segment is a French conductor named Jacques Pierre composing music introducing each chapter and then it gets into the stories while we are watching it only to have the grim reaper getting him in the end even if we don't see the reaper at all but spot some of the characters from the chapters in the audience clapping for him after he finishes his composing which was a nice touch to the anthology.
I was in the first flick named Gareth Freeman who travels away from his dark past only to have a dark secret in the end and it's not what it's cracked up to be. He rents a room in an elderly lady's home while she is preparing for trick or treaters. This chapter was a bit of a spin off from Room for Rent. I have to admit I enjoyed performing this piece and had a great time carving a jack o lantern off set to prepare as a prop for a night scene in the chapter. Plus the catering was great too. It was fun doing my dialogue sequences with both West McDonald who played my dead brother as well as Fleur Jacobs who played the old lady of the house ... but she was 4 years younger than me and had to wear make up. Although she still looked young she did a great job in it. There's another scene where a zombie man played by Boyd Crockett that I think is a trick or treater warning me about my fate and then he grabs my throat. Next I had to go down on my knees. I requested a pillow to fall on so I wouldn't hurt myself. I found this moment to be challenging.
I did have an idea from what I spotted in another anthology hosted by Gunnar Hansen called Campfire Tales, in which there's a chapter that takes place on Christmas and the legend of Satan Claus killing people who have done evil deeds in which I wanted to do a feature of my own version but this was instead used in our story. Someone wrote the chapter to make it good but due to Shawn's budgeting in the flick he was rewriting it and although it was a fun chapter to watch it didn't make much sense. I had a bit part in it playing the character Satan Claws as the make up effects were hilariously fake looking in which I wore a Santa suit with my body looking green. Plus I had these rubbery monstrous claw for hands. I felt like a Grinch gone wrong. It took a very long time to shoot my scene and when I thought my scene was done I washed me make up off which took a long time only to realise I had to be in some other shots. So I had to put on the make up all over again. It felt never ending.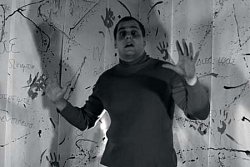 Yet I wrote a story idea for the fourth chapter taking place on Easter which was my idea from a Creepshow chapter on Father's Day with a corpse returning from the dead obsessing about getting his cake. This chapter had a similar kind of theme but yet Shawn Buffington changed that into a Charlie Chaplin horror style which I was disappointed about, but this was to be in his budget range. I'm not the kind of person who argues on stuff like this since I only contributed as a story idea and am not a writer. The story turns out to be her dead husband as a geeky looking Easter Beast who seeks revenge on his wife and her new boyfriend for poisoning him to death. The picture was black and white but there was supposed to have been audio in - which got ruined, so Shawn made that piece into a silent movie. Ho hum. I found that to be the most boring chapter in the flick.
I had an appearance in the last chapter taking place in the summer and it was later summer when we shot this piece as I played a geeky and gross cafe owner in which I had to grow a mustache for my scene in it which wasn't comfortable for me at all since I like to be clean shaven and it didn't suit my looks at all either. This scene was about a suggested lesbian vampire moment on someone who has to live each minute on the fact that she's a reborn vampiress. There's annoying hallucinations and effects which don't make sense to the story too much.
I didn't put much money into the film so executive producer wasn't totally true for me but it was a flick I wanted to do and met Shawn Buffington and assistant director Samantha Seltenreich to have this made.
He tried to do fundraising but lost money with that so we put up as much money as we could which was a total shoestring budget. This was a film that I'd like to change with most of the chapters and wasn't too fond of. Thankfully this was one of my first flicks and moved on to do better ones, but it took a while. However, the film did have cast members like Lexie Huber who had appearances in the flicks Boot Camp, Canes and White Noise: The Light as well as Krystal Vrba whom had a memorable appearance as a hooker in the beginning of Joy Ride 2: Dead Ahead as they were starting out in this one as well.
They Came from the Attic - you just have to talk about that one and your character in it!
Now this film was a total blessing for me and the one that I cherish the most so far. I remember seeing an ad on craigslist of auditions for a horror feature and had to try out for it in which I met writer/director Jason Mills and producer Garnet Campbell in which they gave me the sides to read for Jack Dubie as I could relate to him and felt good about it all. Plus I talked to them about me being a horror film critic for Racks & Razors afterwards. The chemistry was all there. I felt very confident that I was going to get this part.
Then I got an email asking me to come to the callbacks which made me more excited as I was visiting my parents on Vancouver Island and took an earlier boat back to make it in time as they told me to improvise. Then Jason told me that I got the part. I felt so full of life.
Jason found out that an actress who was going to play my sister - which was a bit part - dropped out and I told him that I knew someone who'd be great for it whom at the time was my newsanchor for the podcast talk show I did for Racks & Razors named Monique Vande Plas in which she credited herself as Quey Phillips on my podcast show. Then we all had a meet and greet which was a lot of fun too, as well as quick rehearsals near the house where the terror all starts as the place reminded me of the house in Amityville Horror.
The story of course is about a family that continues to move away from their troubles after the death of a twin child in which the sibling is in a catatonic state over ,and into a new home where a family resided there but disappeared without anyone knowing as to why. They are greeted by a strange family called the Dubies as I have a creepy part named Jack and I'm spying on this family and trying to warn them on what has happened there. My character is mentally challenged and just very freaky. The terror really piles up as there's creatures residing up in the attic of their new home and come down to feast on living things.
I remember in a rehearsal that Jason was instructing me on a scene taunting a pizza delivery girl played by Krista Fowler and how to react to her when there's a moment that she is fixing the chain on her bike. This was one of the funnest moments on what to do here and one of my favourite performances in the film.
Jason's family helped out on set with catering and it was the best catering ever. We had chicken and potatoes with gravy etc as well as cupcakes and other types of desserts on top of that. It was a real feast.
The shootings were mainly graveyard shift which I enjoyed doing since I'm a night owl.
There's a scene where I had to do my own stunts in which I try to talk to the lead actress who is Nicola Elbro playing the role of Jen Hooper who tries to get away from the terror by hiding in a car and she punches me in the face as she really showed great energy within her blocking that I jokingly said to her don't try to hurt me as she was pretty tough - that I could tell. Then I am attacked by one of the monsters which is played by Jason himself and someone coached me on how to fall down in which there was a mattress for me to fall on. My hip ached like crazy just falling down numerous times as I was scared at one point that I was gonna hit the car while doing this. I thank myself now that I never played football cause getting tackled down several times can be quite painful.
Then when I was preparing for the shoot - Nathan Dashwood was in his last scene with prosthetics on him looking all chewed up and dead which was shortly before my scene. While he was going to be on set the film crew used up so much energy, a fuse box on a telephone pole exploded and the whole power went out on the neighborhood as someone said a fire was happening and to call the fire department. I freaked out like crazy and I think others were scared too. Thankfully that never happened but shooting was cancelled for that night and poor Nathan had to get all that stuff off him till they arranged another shooting date. The sun was starting to rise too. Ahh the struggling moments on making a feature. But things worked out in the end as I feared it wouldn't get done since Jason and everyone was working overtime as it was and they were spending more than they hoped to for this flick.
A year later Jason told me that more scenes were going to be filmed for the movie as I had a bigger part than planned which was very exciting. I was a bit of a pest to find out when they will shoot my scene but I was so eager to do this. This scene was a moment where I'm playing with stick people pretending they were victims of the house as well as Nicola's character spying on me and finding me to be too creepy. Then my onscreen father played by Dick Pugh whacks me with a belt for spying on the family of the house where the creatures reside in. This was indeed my favourite scene to do as I got to act as outrageous as I wanted to be. Also there was a moment where Dick accidently hits me with the belt that I briefly yelped in real life.
During that shoot it was in the morning as I didn't get much sleep so I was napping on a chair when they didn't need me. I remember that suddenly I almost fell into a dream and then I heard Nicola calling for me that I was on set and then I was ready to go and all wound and tensed up due to no sleep which helped my role. It took 2 and a half years to finish it but it looked so good while we watched it at the premiere close to Halloween and then a year later got shown at the Eerie Horror Film Festival in Pensylvannia as I helped Jason submit it there and he went to promote it and it was a good house and a big theatre too. He even claimed his hotel room was haunted there. The film got picked up by York Entertainment for foreign DVD releases and there's good news on it which I don't want to give away just yet.
It's also showing at the Days of Terror Fest in Sacramento, California hosted by Miss Misery, which it's a combination of a festival and a horror convention this September the 28th. Also Jason is working on his company's website and wants to do a character short on Jack Dubie. He's also making action cards on the film and there may possibly be a creature action figure and other merchandise on the film.
A sequel is in the discussion as I will be reprising my role but I'm not who everyone may thinks that I am when they watch this. Plus it will be done in a found footage style. Think of Paranomal Activity or Blair Witch Project.
With They Came from the Attic's director Jason Mills you recently also made the short Jessica - a few words about that one, and what can you tell us about the good Mr Mills to begin with?
Jessica was being made while Jason was finishing up with They Came from the Attic as a bonus material for his self distributed DVDs that he sold on his site or to screenings to promote the film. So this wasn't recent as it was made a few years ago but however it was shown at the A Nightmare to Remember Festival by Miss Misery not too long ago as she's been a great support for the flicks I was in and owe a great deal to her.
The film was based on true events at a bible camp where a girl named Jessica gets possessed and is running away at super speed. I play her father and try to catch up to her in my vehicle that she's running so fast. I've felt really good about my performance which isn't always the case when I do the show thinking that I need to improve more so and really had a feel for my role big time. Doing this short was a ton of fun as Jason was videotaping me on top of the vehicle roof in one scene while it was driving filming me in the windshield which was nuts for him doing this as that was risky. He complimented me big time doing both of these films. Also Miss Misery is going to show this one on her local TV show as well.
Rather recently, you have starred in Midnight Matinee Psycho. Again, what can you tell us about the movie and your character in it?
Midnight Matinee Psycho is about a filmmaker named Clyde played by John Birmingham who makes horror films and falls in love with a woman who is a customer at the theatre showing named Sarah played by Randi Nelle and plans to marry her, but she has a nasty dark side to her along with someone whom is mysteriously killed while one of his movies are shown at a movie theatre shown at midnight of course. Other people get killed along the way. Clyde's son Carl which is played by Derek Young doesn't like this woman and has issues with her and calls my character Charlie on what to do as my role was a bit of an eccentric nut.
The film was shot in Derek's hometown of Virginia but I shot my scene's in my apartment as someone I knew who was involved as a crew member on a student film for the Vancouver Film School that I had a bit part playing a punk in called Miko, shot my scenes talking on the phone. No one directed me so I did criticise my performance in it but Derek liked my work in it. I sent the footage for Derek to edit in. Derek made this feature into a grindhouse flick. Also it was introduced by Paul Ehlers who played Madman Marz in Madman giving it a Tales from the Crypt type of feel to it. The film was cheesy but fun to watch if you were in the mood for it.
The film was shown at various festivals and convention screenings mainly around Derek's local areas. Also it got picked up by Gawid Entertainment for a DVD release.
Plus a soundtrack is going to be released soon as well. I'm also behind the official site for it at www.midnightmatineepsycho.net
What can you tell us about Midnight Matinee Psycho's director Derek Young [Derek Young interview - click here], with whom if I understand correctly you might collaborate on some future projects? And how did you hook up to begin with, and what was your collaboration like?
I plan to be in his future projects but don't wanna name them just yet as they're in negotiations but am excited about them.
I did a blogtalk radio show after the podcast show on Racks & Razors had the plug pulled on it in which I shared doing Racks & Razors with the Eric Morse Project for a short while as we interviewed Derek on there whom was starting out in the horror industry with Family Property, and he brought me on to be in Midnight Matinee Psycho and the rest is history.
Other films of yours you'd like to talk about? Any future projects you'd like to share?
Well I had a special appearance in Jason Mills' upcoming flick called the Changing of Ben Moore, which is a found footage type of horror flick in the same kind of vein as Paranormal Activity in which I play a weirdo pretending to be a priest. It should be completed next year. Also I plan to be in some shorts he plans to make along with hopefully other feature films as he mentioned one of them being called Roadkill. We'll see how they develop.
Last November I played a lead role as a misfit in a short western drama called More than You Can Chew as we had to do the flick outside and it was freezing cold. It was a struggle to do that film but it's another one I cherish the most and I hope it goes to film festivals. The company who did that one was Snakewater Films and Garnet Campbell is behind the crew for that company as he was a connection for being in this one. I had a challenging scene where I was fighting with my other actor played by David Vandas falling down and rolling around. Take after take we asked each other if we were okay before having to do it again.
Two summers ago I played a police officer in a music video for the band State of Shock with their song "Have a Nice Day" which I had a blast doing where it shows me entering a property with another police officer and then later on we're dancing with the band members. It felt like a total party environment. It's showing on Muchmusic and MTV nationwide.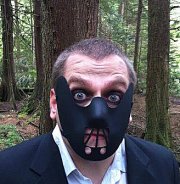 Fraternal
2 years ago I had a special appearance as a news reporter calling myself Jackie Jackson as a joke to my role in They Came from the Attic and alongside with me questioning someone was played by Monique VanDePlas and I sent it to Miss Misery for her upcoming horror anthology Forgotten Tales, which some of the chapters are still being shot as we speak. I can't wait to see the finished product of it.
Recently I played a Henchman for the Vancouver Film School's production of a futuristic sci-fi action flick called Fraternal which they hope to make it into a series on either the internet or on TV after they graduate. If it is a series I will be a semi regular. I think their goal is to show it at film festival's first to see if it does well.
One can't help but notice that many of your films are of the horror variety. A genre at all dear to you, and why (not)?
It is a genre dear to me. As a child I was too terrified to watch them and worried I'd get grossed out by the gore in them or have nightmares. My older cousins used to watch them as well catching them watching an Italian flick called Tentacles on TV at my grandma's house. But the first horror film I watched when I was 8 was Jaws on TV.
My family didn't have a VCR player at the time as they were expensive back then and wanted to watch more movies and we saw on the TV Guide that The Shining was shown with a picture of Jack Nicholson on it and my Mom warned me the movie is very scary and can watch a little bit of it before I go to bed. It did creep me out when there was a hallucination sequence of blood spilling out of an elevator door so then my Mom said it was bedtime for me. I watched the odd horror film while growing up like Aliens, Poltergeist and the Lost Boys, but then during my grad year I really got into them while watching all the Friday the 13th movies and learned to overcome my fear of them.
I'm a fanatic with them and am glad to be working regularly in them as while watching these flicks I automatically knew where I stood by acting in a genre but yet it took me a while to be in them since I started doing stage shows that were mainly comedies which I find that genre too overrated.
Besides movies, you have also done quite a bit of theatre, right? How does performing on stage compare to acting in front of a film camera, and which do you prefer, actually?
Acting on stage is the true craft of acting and I advise anyone who starts off as an actor to do lots of it to get the feel of it all. There's no take after take as doing it live is a real challenge. If you screw up on a line you have to carry on with it. It tests your talents big time.
I prefer acting in front of the camera as there's maybe only one or two rehearsals for them even if the days are long doing the shoot. But with stage there's like 6 to 8 weeks of rehearsals and takes up more of my time. The last stage show I did was in 2004 and I was getting overwhelmed doing stage at that point that I made a conclusion that I did it for a long time and now it's time to throw in the towel and focus on screen acting since it's done more justice for me nowadays.
How would you describe yourself as an actor, and what do you draw upon to bring your characters to life?
That's a tough question. I enjoy playing someone different than me. I am eccentric in real life and enjoy portraying roles that are freakish and just take them to the extreme. I am often typecast playing the negative types as they're fun to do.
Actors (or indeed actresses) who inspire you?
I really enjoy watching Jamie Lee Curtis' flicks as she was great in all of them. She's my favourite scream queen as well as my favourite actress. Plus I enjoyed Bruce Willis' charm in shows like Moonlighting etc. Another great actor is Johnny Depp who has no boundries when it comes to acting. I loved his work in Sleepy Hollow as he never played a role like that or in Charlie and the Chocolate Factory. John Travolta was another one I enjoyed performing in the 70's playing a tough guy like in the series Welcome Back Kotter or in the films like Carrie, Saturday Night Fever and Grease. Matt Dillon is another one who does well playing heavy type roles. I always wanted to be a heavy in shows by watching those two perform. I also enjoyed Jack Nicholson in The Shining as I want to portray a challenging role like what he did.
There's other actors I enjoyed in their performances like George Kennedy and David Huffman too. Of course there's other actresses I enjoyed in their performances like Sigourney Weaver, Sissy Spacek, Tracey Ullman, Carol Burnett, Pat Ast, Linda Blair and Nell Carter.
Your favourite movies?
Here's the huge list: Dazed & Confused, Saturday Night Fever, St. Helens: Killer Volcano, Charlie & The Chocolate Factory, Carrie, Alien, Aliens, The Blair Witch Project, True Lies, Terminator, Terminator 2: Judgement Day, A Nightmare on Elm Street, Black Christmas, Halloween, War of the Worlds (2005), Star Wars, Empire Strikes Back, Karate Kid Trilogy, D.C. Cab, Reform School Girls, Look Who's Talking Now, Poltergeist, Friday the 13th, Texas Chain Saw Massacre, E.T.: The Extra Terrestrial, The Polar Express, My Bloody Valentine, Rocky Horror Picture Show, Watcher in the Woods, What's Eating Gilbert Grape, Andy Warhol's Heat, Fast Times at Ridgemont High.
... and of course, films you really deplore?

Feeling lucky ?
Want to
search
any of my partnershops yourself
for more, better results ?

The links below
will take you
just there!!!

Find Greg Russell Tiderington
at the amazons ...

amazon.com

amazon.co.uk

amazon.de
Looking for imports ?
Find Greg Russell Tiderington here ...
Something naughty ?
(Must be over 18 to go there !)

Gee there's alot but I will try to remember some of the movies I really hated. Violent Shit which I wouldn't really consider a movie as it only focused on a killer tearing out someone's guts for a long length of time and then jumping into the next victim by doing the same thing. Good thing Andreas Schnaas made a bit of a better effort with his films later on. I wouldn't even review this one on my site.
Don't Go in the Woods Alone is pure torture to watch it was that bad and boring. There was no reason to make this cheapo. Lots of bad acting too.
Alien Dead just as bad too. Fred Olen Ray at his worst. Nuff said.
If Lucy Fell - I went on a date watching this lame comedy flick. Not the least bit funny and very tiresome. I couldn't wait till it ended.
Class of Nuke Em High 2. Not a Troma movie so bad it's good. So bad it's avoidable.
Xtro is in the same league too.
Blood Freaks.
Your website, Facebook, whatever else?
My official acting site is at www.gregrusselltiderington.com
My horror film critic site is at www.racksandrazors.com
My website creations to browse at other is at www.tideringtondesigns.tk
My Facebook for Racks & Razors is at http://www.facebook.com/racksandrazors
Also check out my video shows at www.youtube.com/racksandrazors
Anything else you are dying to mention and I have merely forgotten to ask?
My main love is my Racks & Razors-site and reviewing horror films on there. I've always wanted to do this and it was a true dream of mine. I hope others will look at my site as this is my little baby.
Thanks for the interview!
Thanks so much for doing this as I enjoyed it.