Your movie What They Say - in a few words, what is it about?
Itís about a girl whom weíve all been at one point or another. Not in the physical state, obviously, but in the emotional state sheís found herself in. The film is about this successful, smart, privileged girl who seemingly has everything going for her, yet for some reason is on this downward spiral of destruction. Itís extremely surreal, visual, and dark. At points you might find yourself asking ďWhat is actually happening or is this all just in this girlís head?Ē You will find yourself cringe, relate to, and ultimately feel bad for this girl who just canít seem to overcome her ďinner demonsĒ. In a nutshell thatís what the film is about Ė inner demons. We all have them, some of us are just better able to beat them back than others. Some are just more willing to beat them back at all.
What They Say is based on a short story written by you - so what were your inspirations when writing the story, and how much of yourself have you put into your story's central character?
I wrote What They Say at a turning point of a very dark period of my life Ė so thatís what inspired it: that dark period and my overcoming it. I have never been a cutter but felt I could identify with the need to release anger, hatred, depression, anxiety and, in some cases, overwhelming love through some external means that wasnít just bashing peopleís brains in. I have always used writing as that external means but I wrote my character choosing to use a razor. I felt on some level or another most people could relate to that need but maybe not the lead characterís choice of action.
The character in a lot of ways is and isnít me. She is who I could have become if I didnít choose to fight and overcome the hardships I have encountered in my life. She is my dark side I never let free. The dark side we all know we have somewhere within us but ignore it, deny it, or in the end fight it.
What got the whole project rolling to begin with? And why did you choose to produce the film yourself?
The idea for the film came in a very comical way. I was cast as one of the lead characters of Andy Schatnerís Afraid of Sunrise [Andy Schatner interview - click here] Ė one of my first film roles. During production and filming I encountered such an amazing group of individuals I just knew I wanted to work with again. I remember one day, as my MUA was getting me ready for my scenes, I just blurted out ďWe should make a movie!Ē The response from the production crew was ďOh yeah?! What about?Ē - and I honestly didnít know the answer. I just knew I wanted it to happen. So I started racking my brain for ideas. Suddenly the What They Say short story I had written many years ago popped into my head. Particularly, one of the most brutal scenes, the living room scene, and I realized how visually that could make for a fantastic short film. I started pitching to people right away and soon found myself backed with an army of talented Chicago actors and filmmakers willing to help me make this happen.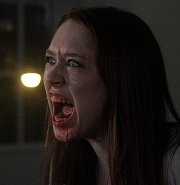 My producing it happened on accident really. It wasnít a purposeful choice I made so much as just the need for me to make this happen was so overwhelming that I just ended up really doing all the work that is required of a producer. To me, again for one of my first roles and producing efforts, it turned out better than I could have ever imagined. We had virtually no budget, almost everyone working for free, and no one knew who I was at all in the indie film world. Yet here we have this pretty well done short film that people seem to really like and connect with, thatís been nominated for and won multiple awards all over fests in the US. Itís not the best short film ever - by any means. It has a great many faults and things that could have been improved upon with a better budget and more time, but it shines in many ways as well and thatís solely because the people involved were extremely talented and dedicated.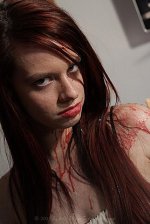 Kelsey Zukowski
You have co-scripted What They Say with your co-star Kelsey Zukowski [Kelsey Zukowski interview - click here], right? What can you tell us about her, and what was your collaboration like?
Kelsey is amazaballz. That pretty much sums it up. Sheís a talented actress but even more so an amazing screenwriter. That girl pumps out scripts like itís nobodyís business. She is easy going and fantastic to work with. She shared my ultimate vision for the film, which made the whole process go a lot smoother. If I can recommend having anyone involved with your project, itís Kelsey. Sheís talented, dedicated, hardworking, and cool as hell. Canít ask for much more than that.
Your director Justin R.Romine [Justin R.Romine interview - click here] - why him, what did he bring to the project, and how easy/difficult was it to pretty much hand your story over to someone else?
Justin had directed Afraid of Sunrise, and thatís how I met him. He seems extremely chill and talented. What They Say didnít really require much from a director Ė since myself, the DP Nicole Klemens, and the Editor/CGI artist Radek Michalik had initially come up with the entire story, general camera angles and shots desired for the scenes as well as test shooting to make sure it would even work, and a rough shot list before we even signed Justin on as a director. Really Justinís role in this film was to oversee the process as a whole and make sure things were being done in the best possible manner. At the end of the day 4 of our crew members are also talented directors besides Justin. Every single one of them offered ideas and suggestions that ultimately improved upon the film's outcome as a whole. This film did not have a single director doing the things standard directors do on most film productions but instead was a collaborative effort of like-minded talent filmmakers helping it all come together.
As far as I know, you were also responsible for casting What They Say - so what can you tell us about your main cast?
I love them. Each and every one of them. Beyond production we have all stayed in touch and in some cases became very close. I would suggest and recommend basically every actor or actress I hired for What They Say to other filmmakers. If it were logical to work with the same people over and over I would do so with the cast/crew of What They Say every time. Of course that isnít a logical choice, as you have to expand your network and get your name out there, but every chance I get I do in fact mention their names as potentials in other films. You have to promote people you believe in.
As an actress, what did you base your performance in What They Say on, what did you draw upon to bring it to life?
My performance and inspiration was entirely based on my past hardships. That dark place I found myself in for a very long time. People who know me are always shocked by my retelling of the life I found myself living for a great many years. I wouldnít say, by any means, that I had an easy upbringing; far from it actually, and of course I know a great many people who had it much worse than I. My past is what has made me into me. I am lucky I was able to find the path I did and choose to draw strength from what Iíve been through instead of envy, pity, or just pure anger at the world. The latter would have been the easier road to take, trust me, but a hella lot less productive or satisfying in the end. I want to look back on my life someday and say ďHey I made it. I beat it. I tried my best. I made things happen for myselfĒ. At the end of each day thatís all I really want to be able to say Ė that I tried my best, went after my dreams, and was damn happy doing it.
PS: I wanted to also note that itís much easier, in my opinion, to play a character you have written and was really inspired on emotions youíve had in the past. I feel like a lot of people mention my Ďperformanceí in this film, when really, it was just me reliving and reviving my past experiences. I donít know if that makes me a skilled actress or just emotionally unstable. Probably a good bit of both. One would not exist without the other.
PPS: Although I make myself sound like I sit in dark rooms and contemplate suicide on a daily basis, Iím actually an extremely happy, bubbly, person who laughs consistently and finds fun in turning otherís innocent comments into sexual innuendo. So yea. Just wanted to mention that bit as well. XD
As far as I know, What They Say has so far only played a few festivals, right? What can you tell us about critical and audience reception so far?
A few. J I guess a few. Weíve screened at 10 or so fests so far and have a few other fests still pending to let us know if we are accepted or not. Weíve screened at some noteworthy festivals including Fright Night Film Fest 2012 Ė which is one of the biggest genre fests in the US as well as the all women in film fest Stiletto in Boston. We have been nominated for and won multiple awards across the board at nearly every fest weíve screened at. Fan response was definitely well received and Iíve just now really started sending it out there to get critical opinions. So Iíll let you know on that bit at a later date. J
Let's go back to the beginnings of your career: What got you into acting to begin with, and did you receive any formal training on the subject?
I canít really remember ever wanting to do anything else. I have loved movies and filmmaking since I was a child. I must admit my dream was to always play a hero like Rogue from X-Men or Sonya Blade in Mortal Kombat. Iím more of a fan of sci-fi, fantasy, and psychological thriller films than anything else. I had some extremely mild acting training in middle school and really started to go full swing into it in high school when my drama course teacher casted me as the lead in a number of plays. After high school I put acting on hiatus and moved to Chicago where I went to college for computer science. (Yes Iím a huge nerd if you havenít figured it out yet. Iím ok with that!) I loved my courses but just always felt like something was missing. After 2 years in college and when the recession went in full swing I took a break from college and started acting courses in the city. I soon found myself in my true calling. Since then I have been actively pursuing it. I still have a day job and all that jazz but every other waking moment is dedicated to acting. I just wouldnít be happy any other way.
Prior to breaking into the movie world, you did quite a bit of theatre, right? What can you tell us about your stage work, and how does acting on stage compare to acting in front of a movie camera?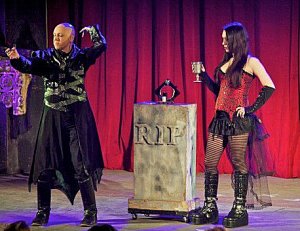 I have been in a number of plays. I enjoyed it. I love theatre. Itís thrilling and completely different from film. You do not get a second chance and I like that. Makes you live more in the moment and really brings things into perspective. Theatre makes you appreciate the relaxed atmosphere of film much more I think. There are a great many actors only able to do one or the other: Film or Theatre. The reason for this is that it really is two very different acting approaches and a lot of people find themselves just naturally better at one or the other. Theatre requires you to go big or just go home. You are always working with the audience in mind. Really trying to draw and connect with them and work them into the play itself as though they are on stage with you. Itís extremely challenging. Film is definitely different but equally as challenging for the exact opposite reasons. You are playing to a camera and pretending itís your audience. You are trying to draw through this digital medium the same emotion and inspiration actors do in plays but in a much much more subtle way. Itís easy to overdo it in film. Itís easy to underdo it in theatre. Itís even easier to just fail at both horribly if you take yourself too seriously or find yourself too much in your own head. Acting, in the end, is really about knowing who you are to a minute detail and letting go of that. Itís about truly understanding others without judgment. Itís about wearing your emotions on your sleeve always. Acting on stage or film can be the scariest more liberating and exciting experience youíll ever have. I highly recommend it.
Can you still remember your first time in front of a movie camera, and what was that experience like?
Ha. This is actually a comical one because my first time in front of a camera was for a music video. I had a cameo in that consisted of me dressed in some creepy mardi gras themed costume and makeup, licking my lips seductively, in a restaurant without heat that was being renovated in the middle of winter Ė so we had space heaters but it was literally 7 degrees outside. So COLD. Funny enough though even with those awful conditions it was a blast. I knew immediately I was meant to do this. I was so excited that when I left I leap over a curve in a kind of celebratory lunge... which ended with me landing on black ice, slipping, and fracturing my tail bone. Fun! Iím a darn walking disaster.
If you don't mind, I'd like to rather randomly pick a few movies from your filmography and have you say a few words about them and your respective characters ...
I played Ariel in The Little Mermaid but was never credited. By played I mean pretend, in my living room, when I was 6, and didnít yet know the implications of only wearing seashells over your breasts and otherwise being buck naked. Just thought Iíd mention it! XD
All the Cool Kids Wear Pink?
Letís just not talk about this. XD Honestly, it was a TV-pilot that was never even remotely completed. I donít even know what to say about it or what even happened to it. Doubt it even hit the editing floor.
Iím a slutty, druggy, mage! No seriously. Thatís my character. The film should be finished by the year 2045 if Nat keeps on the current theme of adding more and more to it [Nathyn Masters interview - click here]!
Afraid of Sunrise?
Iím a slutty vampire! By slutty I just mean that I canít stop drinking human blood when Iím supposed to. Andy Schatner, one word: Awesome. That is all.
Iím a slutty.. no IĎm kidding. XD I was actually in the segment Event Invitation by Myke Wilson. While filming this I learned the valuable lesson that one should never start a real chainsaw in a closed environment Ė like the living room of a house for example. The fumes are god awful! That and Travis Legge [Travis Legge interview - click here] has a fetish for cutting females open (not in real life - I hope - just in movies) among other things. ;)
House of the Degenerate Brain-Eating Mutant Fog Insects?
AWESOMESAUCE! Seriously. One of the first comedies I did and Iím VERY proud of how it turned out. My character is OUTRAGEOUS. I mean sheís a nut. A damn nut! It was really fun playing a completely different character from anything I had done thus far who was balls to the wall. Patrick Love, Michael Schmid, Will Cummings, they were all just awesome to work with. Hopefully more comedies and fun characters are to come!
Iím a slutty cheating wife. See a pattern here? I donít just play slutty characters fyi. You just happened to ask about a lot of the films I happen to have roles like that in. Shame on you naughty one!
Urban Legends?
I get nekkid. I hope no one ever sees it! Not really... but really. IíM NOT SLUTTY! YAY! How does that happen with oneís first nude scene Ė not being slutty? I have no clue but it did.
Any other films of yours you'd like to talk about, any future projects?
Oh tons. Tons and tons!
Iím working with Andy Schatner again as producer and one of the leads for an upcoming feature length romantic drama. Itís a three piece story of different points in relationships that are all intertwined and related through the characters. The script is hard to explain but just freaking awesome. It tells a unique and interesting story and you grow to love the characters subtly but by the end you suddenly realize itís in a very powerful way. You CARE what happens to each of them. You want to know more. Stay tuned for updates on this one! Iím super excited!
Iím currently working with David A. Holcombe on his upcoming Italian giallo style horror feature Yellow as a producer with a small cameo role in the film. Again Iím extremely excited about this script. Itís unique, not overdone, and has all the surreal and stylized elements I love in horror/thrillers. Again Ė stay tuned for more updates on this!
I was recently cast in one of the lead roles of Paul Brooks upcoming The Graveyard Menace, which begins principle photography this August. This is a horror comedy! Those are always a good time.
Iím filming with the AMAZABALLZ Cory Udler on his upcoming short film Ed Gein: DDS in late August. Iím super stoked to work with Cory. Heís an amazing filmmaker and person to boot. Good times are sure to be had making this film!
Iím working again with Travis Legge [Travis Legge interview - click here] in his upcoming rom-com Dry Spell. I have a super fun outrageous role that Iím really looking forward to filming. Working with Travis is always a honor and good time as well.
There are more. A great many more! But these are the Ďnext upí ones Iím filming I thought I should mention. I have projects lined up all the way through almost mid 2013 at this point!
One can't help but notice that quite a few of your movies are of the horror variety - a genre at all dear to you, and why (not)?
I must admit before I started doing horror films I wouldnít call myself a fan. I never scared easily as a child or adult... not at all. Since I found that most horror films didnít scare, gross me out, or anything in the slightest, I was always left sorely disappointed. Once I found myself thrown into this horror film genre as an actress though I began to slowly and surely grow more devoted to the films, community, and the hard work that goes behind making these films. Itís tough. Horror fans are not the easiest to please but they are the most loyal by far.
How would you describe yourself as an actress, and what can you tell us some acting techniques you tend to apply?
I really donít know what to say about myself as an actress... except that I try not to Ďactí. I try to Ďbeí. I pull emotions from my past, how I feel about the script or the current situation around me, connect with the other humans Iím working with on as many levels as possible, and just try not to be in my own head too much. I find that to be the hardest part. In order to act well you have to let go of yourself. In order to let go of yourself you have to really know who you are... both who you are to yourself and to others. This sounds easy - itís not. Itís very hard. A lot of us will go through our whole lives without truly ever understanding who we really are... or even caring to find out. I have to look at myself in the mirror every day and admit who I am. Admit my strengths, my faults, and accept it through and through.
Actresses (or indeed actors) who inspire you?
Edward Norton. Sir Ian McKellen. Helen Mirren. Natalie Portman. Those are a few.
Your favourite movies?
Whenever someone asks me this I go deer in the headlights. Itís like I forget every damn movie Iíve ever seen. Idk. I liked Cabin in the Woods a lot. Avengers. Crazy, Stupid, Love. Fight Club. 28 Days Later. American History X. Boondock Saints. Serenity. Notebook, Kill Bill. Do you see the eclectic tastes here? My favorite genre is probably sci-fi and fantasy and mixes of the two. My ultimate role would be Rogue in an X-Men-movie, a Lucy Liu type assassin from the Kill Bill-movies, or Alicia Blades from one of my favorite books, The Passage by Justin Cronin.
... and of course, films you really deplore?
Oh man. Not going there. Not because Iím scared to but more so because I really havenít given it any true thought. When I hate a movie, I try hard to forget it ever even existed in the first place. Iím sure there are a great many on this list.
Your/your movie's website, Facebook, whatever else?

Feeling lucky ?
Want to
search
any of my partnershops yourself
for more, better results ?

The links below
will take you
just there!!!

Find Heather Dorff
at the amazons ...

amazon.com

amazon.co.uk

amazon.de
Looking for imports ?
Find Heather Dorff here ...
Something naughty ?
(Must be over 18 to go there !)

Well, thereís my personal site: www.heatherdorff.com - which Iím revamping to be a lot more user friendly and interesting. Best place to keep up with what Iím doing Ďnowí.
@serenityrising
@whattheysayfilm
Filming Round Midtown official site: www.filmingroundmidtown.com
www.facebook.com/filmingroundmidtown
@filmingroundmid
Anything else you are dying to mention and I have merely forgotten to ask?
I mentioned the link above, but I host a twice monthly show called Filming Round Midtown with Deann and Taryn Baker [Deann Baker interview - click here]. We cover all things Indie film from news, screenings, events, fests, and more. especially in the Midwest. Weíre always looking for submissions and people to help promote and get their projects out to indie fans everywhere! You can find out more by following the links above or submitting to us at filmingroundmidtown@egen.tv.
Thanks for the interview!