Note: IndieFilmNight needs your help - if you want the show to stay on the web and got a bit of money to spend, make a donation here: https://www.kickstarter.com/projects/indiefilmnight/indie-film-nights-2nd-season?ref=live
The concept of IndieFilmNight (http://www.indiefilmnight.com) is as simple as it is ingenious: To show a new independent film every week (live broadcast at 8 pm EST, reruns all through the week), free for everyone to see, and framed by an introduction by hosts Bill Page and Gwen Gioia, plus a chat with the filmmakers and/or whoever they got hold of ...
The show was thought up by host Bill Page, writer/star of indie feature All Along, and Tim Qualls, owner of the studios where the show is taped, and Positive Promotions.
So, how did you two dream up the concept of IndieFilmNight?
BILL PAGE:
Well, I wanted to do a show for true Indie Films (not Hollywood Indies) and Tim had a studio and suggested we do it on the internet LIVE and make it interactive. I believe the ultimate goal is to get on a national syndicated TV show.
TIM QUALLS:
I basically had an idea that I discussed with Dave Reinert (Daps) - I look for niches in the market, ie. The Golf Show, the Racing Network, music. I know that people will go to these sites if they are into that particular niche. Daps and Bill belong to a film organization so I set up a meeting with Bill, Daps, Ric, and myself to discuss the concept of building a website for independent films. I know it will attract all independent filmmakers (and their fans) to give them an opportunity to showcase their talents and get their films seen all over the world. Bill brings his expertise of filmmaking and marketing of your films, he is a great person to critique films and give helpful hints. Ric brings great expertise of directing, camera work, and set continuity to the show itself. Daps brings 22 years of directing, producing, and editing to the project and he built and maintains our website. Tim Qualls has all the production equipment and with this much expertise behind him - wouldn't you start IndieFilmNight?
How easy/hard was it to put the concept into reality?
BILL PAGE:
It took a few months of discussions and getting the right team together to make it happen. We are still working out the kinks.
TIM QUALLS:
After our first meeting we set a shoot date and Bill, Ric, and Daps took it from there.
A question for Bill:
Before IndieFilmNight, you have made the indie All Along, which only fittingly was the first film shown on IndieFilmNight. We have talked in length about the film elsewhere on this site [click here], but what triggered the change from being an indie-filmmaker to becoming a showrunner?
BILL PAGE:
I am still deeply committed to indie films and have been working on a few projects since All Along, so I haven't given up on future filmmaking. After going through the frustrations of trying to get my movie DISTRIBUTION, I realized there are hundreds if not thousands of other filmmakers like myself that would love a venue to screen their movie. That is the main reason we decided to do IndieFilmNight - to give the low budget filmmaker a venue to broadcast their movie.
A question for Tim:
You have a successful TV-career running Delaware 28 and Positive Promotions. A few words about these two organisations, and what got you into executive producing IndieFilmNight for the internet?
TIM QUALLS:
Delaware 28 is a Comcast access channel that we don't run - we just buy time as independent producers. Positive Promotions was started 22 years ago with one show and built up to where we ran over 300 half-hours per week throughout the region. Which are not just Channel 28 but also WMCN reaching over 3.2 million homes, CBS, Channel 22 in Cecil County, and Channel 21 in Dover.
IndieFilmNight is co-hosted by Gwen Gioia, a familiar face from the reality TV shows The Bachelor and Bachelor's Pad.
How did you get involved with IndieFilmNight?
GWEN GIOIA:
Bill Page had called me one evening and said that he thought of me as the perfect person for something new in the indie film world. Of course my ears perked up and I was honored and flattered that he thought of me. I love films, and the idea of IndieFilmNight and helping to promote raw talent, and to provide a venue where people can go to to share their interest and see a variety of indie films.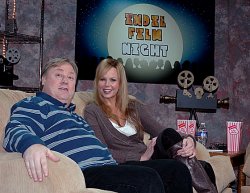 Bill Page and Gwen Gioia hosting
IndieFilmNight
You are mainly known from reality television. What can you tell us about your involvement with the independent film world prior to IndieFilmNight, and your love for indie films as such?
GWEN GIOIA:
You did your homework!
Yes, I am best known from reality-TV - The Bachelor in 2002 and Bachelor Pad in 2010. I personally have always loved theater, film, and the arts in general for as long as I can remember. Bill and I were actually in an independent film together titled 13th Grade, which is where we met. We stayed in contact and I was there for the premiere of Bill's film All Along. We also shared an interest in our local hockey team - Bill was their #1 fan (seriously), and I was the host of all the home playoff games, so once again we connected and stayed in touch.
Up to now, the films shown on the program have been chosen by Bill Page.
What can you tell us about the choosing process, what are the standards you have set for the movies you show?
BILL PAGE:
The standards are as follows: The filmmaker must own the rights to the movie and have clearances from all performers, locations, and music. We want the true Independents, not the $20 million "so-called" independents. Currently, the selection process is pretty liberal, but we realize as we get more films we will have to start making decisions on what gets screened and what does not.
Are there certain things you flatly refuse to show on IndieFilmNight - apart from the illegal of course?
BILL PAGE:
We have not come across anything that we would absolutely say NO to, but I am sure there are some things we wouldn't screen (but that is a rarity). We don't want to be in the business of censorship.
Where do indie filmmakers have to turn to to get a spot on your show?
BILL PAGE:
Just go to the website www.IndieFilmNight.com and click on SUBMIT A FILM. Once received, we will contact the filmmaker(s) with the necessary paperwork to get the show on the air.
The 64 Dollar question is of course: What do indie filmmakers get out of their films been shown on IndieFilmNight?
BILL PAGE:
Currently, the filmmakers will get the satisfaction of knowing that their movie can be seen all across the world. I am convinced that filmmakers want their movies to be seen by as many people as possible. In turn, maybe a DISTRIBUTOR or other filmmaker may really like their movie which may in turn lead to excitng opportunities for filmmakers. If this happens with any of the films screened, we will surely let the viewers know.
Dave Reinert and Ric Edevane mainly work behind the scenes on the show and make sure everything goes smoothly.
How did you get involved with IndieFilmNight, and what are your functions on the show?
DAVE REINERT:
I work for a company here in Delaware called Positive Promotions. We are a production company that mainly produces infomercials and local magazine style news programs. Recently, we kicked off www.Delaware28.com as our web portal and our means to be able to stream live programming on the internet.
For the past 16 years that i have worked here since graduating with a degree in Film Theory, my boss, Tim Qualls (Executive Producer for IndieFilmNight), has promised to give me my own time to promote my love, Independent Films. But until now, there has never been a feasible and practical way to accomplish it. But with the help from Bill and Ric, and the fellow members of DIF (Delaware Independent Filmmakers), we were finally able to come together with this idea and bring it to fruition. We have a large group of filmmakers in this state that are willing to put their time and effort into the art of the Independent Film.
My role here has been in the production of the program and of the website. I work the control booth during the live stream, switching cameras, maintaining audio, and controlling the live feed. I also built and maintain everything on the website.
RIC EDEVANE:
I'm the Director of the show and one of the co-creators. Bill and Tim Qualls came up with the idea and the 4 of us, Bill, Tim, Daps and myself worked on creating the style and flow of the show.
Which brings us to the show's schedule for the next few weeks:
Jan 5, 2011 - Film Camp
Jan 12, 2011 - Our first short film series: Wildest Dreams, Alistair MacLean: Y'did Nefesh, Rent's Due, Remember Me, One Big Happy Family
Jan 19, 2011 - How to become an Action Star in Ten Weeks
Jan 26, 2011 - TBA
Feb 2, 2011 - 9th & Bay
All that said, here are the favourite movies of all the IndieFilmNight crew, both their respective favourite indie and their five alltime favourite films (indies, studio pictures, whatever else):
BILL PAGE:
My favorite to date will be screened Jan 19 - How to Become an Action Star in Ten Weeks.
I also love Homeland which screened in December.
All-time favorites: One Flew Over the Cuckoo's Nest, The Graduate, Back to the Future, American History X, oh yeah I forgot my very favorite All Along.
TIM QUALLS:
My favorite indie film that has not been shown yet - Tim Qualls Does Big with IndieFilmNight (just started script).
My all time favorite films- Independence Day, Men In Black, Gone With The Wind, Harry Potter (all of them), Star Trek (the movie).
GWEN GIOIA:
There are so many indie film I love, but I like Countdown to Zero, which is a Lawrence Bender film. It is a documentary that focuses on real-life issues and is a real eye-opener about nuclear power and how easy it is to obtain, make, and hence destroy the world. It is a call to action.
On a lighter note, I am very excited to see Like Crazy at the 2011 Sundance Film Festival in Park City Utah. It is a story about love, and I am sometimes a hopeless romantic, so this is one I am looking forward to.
DAVE REINERT:
My favorite indie not shown on the show? I'll tell you, I have not had a spare moment in the past 6 months to keep up with my film watching. And it's been hard to find good films that have not been released that you can view online. But I have seen a few efforts from local filmmakers that deserve mentioning. In 200 Characters or Less is a fine little movie from DIF member Mauro Giuffrida, that has to be the best indie to come out of Delaware so far. I believe we are showing that in February or March.
All-time 5 fav's... tough question... Memento, any Coen Brothers-film (although, I'd put Fargo or Blood Simple on top), Road to Perdition, City of God, Amores Perros, Pulp Fiction... sorry, top 6.
RIC EDEVANE:
So far I think Homeland is my fave since we've started.
Top 5: Obviously Star Wars, Titanic, Usual Suspects, Seven, Rear Window.
My favorite flop of all time is Albino Alligator. Should have made at least $500,000, sheesh!
All that's left to add to this I guess is a nice closing comment:
BILL PAGE:
I want to thank SearchMyTrash for supporting IndieFilmNight and I look forward to a long lasting show dedicated for the true indie filmmakers out there.