Your upcoming movie Manos Returns - in a few words, what is it about?
It follows a group of young would-be filmmakers who learn their favorite movie, Manos: The Hands of Fate, is based on a true story. They set out to visit the site of the events that inspired the original and of course they find more than they bargained for.
Basic question, why make a sequel to the almost 50 year old Manos: The Hands of Fate?
For one thing, it always bugged me that there is a question mark at the end of Manos: The Hands of Fate. Dad has stayed private all these years but has enjoyed connecting with fans through me. They have always been gracious, loving and supportive of us and all the other Manos projects Iíve connected with since Manos: The Hands of Fate was introduced to the world on January 1993. When dad agreed to step in front of the camera as The Master at 80 years old, all the pieces just organically fell into place as if The Will of Manos had a hand in it. Itís happening because the right group of people came together and decided to make the best fan film our talents and the money we raise can make. We are creating a new project with a fun story and that includes people from the original film. We want to honor them so they can bask some in the love that is Manos and so they can finally get paid something for the fame it has enjoyed for so many years.
Other sources of inspiration when dreaming up Manos Returns?
Manos Returns is a tongue in cheek comedy horror with emphasis on comedy in a similar vein of ridiculousness that Abbott and Costello and possibly Scooby Doo portray.
How closely will you want to stick to the original Manos: The Hands of Fate stylistically?
Not at all, really. We canít possible compete with what makes Manos: The Hands of Fate unique and wonderful and we have no intention of making a bad film. Iíve studied the Manos phenomenon and culture for a long time and I donít believe anyone can capture that particular bit of magic anyway.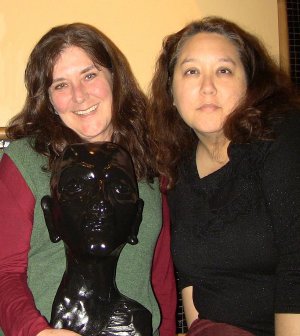 Jackey with Tonjia Atomic
What can you tell us about your director Tonjia Atomic [Tonjia Atomic interview - click here], and what makes her perfect for the job?
I love Tonjiaís unconventional storylines and the uninhibited directing style that put her actors at ease while presenting a compelling story to the audience. Since working closely on the planning of Manos Returns for several months weíve discovered deep mutual respect and styles that mesh seamlessly. I am very excited to work with her on the set.
Will you also appear in front of the camera in Manos Returns, and if so, do talk about your character for a bit!
Yes. I get to play the character of Debbie, the little girl, 50 years later. She has been mistress of the house for some time and as you can imagine that after living with that bunch all that time, sheís not the most pleasant person. I get to dig out my dark side and plan to enjoy it.
What can you tell us about the rest of your cast, and why exactly these people?
We are bringing the original Sheriff's son in to play the Sheriff. Bryan Jennings who resembles his dad is perfect for the part and weíre hoping to have Diane Mahree who played my mother Maggie in the 1966 film. We are recreating the soundtrack and including a rerecording of ďForgetting YouĒ with the original vocalist, Nicki Mathis. We also have George Stover of Alien Factor fame. Otherwise weíre still in the casting stage of much of the film, although we certainly have a wish list. How much we can do, of course will depend on budget and our Kickstarter funding.
As far as I know, you're currently running a fundraiser for Manos Returns - so do talk about your campaign for a bit?
As of this writing, we are on our fourth day of a 31 day campaign. We are 40% funded for our base goal of $24,000.00 and #8 most popular current Kickstarter in the Film category. The outpouring of support through backers and words of encouragement through social media is just surreal for me and I am so incredibly appreciative of this opportunity to make this movie for all of us. We have a long way to go to raise enough though. Our base goal will get our movie made but for our dream movie weíll need more and Iím hoping that our supporter agree and that we can get the word out to enough people to help us make that happen.
https://www.kickstarter.com/projects/
1840778752/manos-returns
Once the funds are raised, what's the schedule? And any idea when the film might be released onto the general public, however tentatively?
Weíve done a lot of preliminary work so we expect to jump right in once we have funds to work with. Basically we are following the original Manos: The Hands of Fate schedule of filming in Spring/Summer 2016 and expect to be ready to premiere our first screening on the 50th anniversary of the original Manos: The Hands of Fate The Hands of Fate premiere. November 15, 2016.
Let's return to the original Manos: The Hands of Fate: You were still quite young when this was filmed, so how do you remember this experience?
Besides being an extraordinarily observant human for my whole life, I remembered and cultivated my memories of Manos: The Hands of Fate the way anyone would remember a significant childhood event and the summer before I entered second grade was a magical time that I got to spend with my daddy. Iíve also had a number of opportunities over the years to talk with other original cast and crew and compare notes and recently spent 16 months writing, researching and discovering long lost people for my book Growing Up With Manos The Hands Of Fate, which is being published by Bear Manos Media and will be available very soon.
How does it actually make you feel to watch Manos: The Hands of Fate nowadays?
It gets easier and easier. When I first got my bootleg VHS of MST3Kís version, I watched it once by myself and put it away. I still donít watch it much and only with people who already get it. I hate being challenged to explain the movie, the pop culture fame, and why itís called the worst movie ever. I really enjoyed watching it with my dad for the commentary on the restoration Blu-ray. That was the first time we had seen it together since 1966 and we didnít talk about it back then. No one did.
Manos: The Hands of Fate was produced rather on the cheap, so I guess nobody had particularly high hopes for it - so how do you explain the movie's longevity?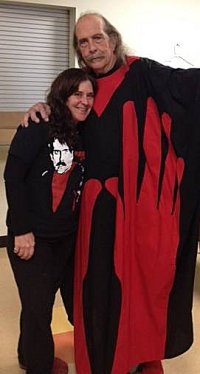 Jackey with Tom Neyman
Manos: The Hands of Fate seems to strike a chord with all creative minded folk. Everyone can relate to Hal's dream of seeing his project to the end but no one can really figure out what in Manos' name he was thinking at every step of the way. Itís so puzzling too that a whole group of intelligent people went along and yet we all imagine you go down any road one step at a time. No one thought they were making a good movie but at first they hoped it would at the least lead to something else worthwhile.
What can you tell us about your life since Manos: The Hands of Fate, and did you at all have aspirations to become an actress to follow up on the movie?
I continued acting through high school and then made a very clear decision that as a career choice art had more opportunities so I went the art direction. I created custom hand painted silk and cotton clothing and then a 25 year career doing high end faux finishes, Venetian plasters and murals for home and commercial clients. When Manos: The Hands of Fate started getting attention, I made a hobby of seeking out Manos Mythology and clarifying the stories people were telling. In the process Iíve connected with nearly every Manos project from being the voice of Debbie in the Portland Oregon stage production to traveling as a special guest to screenings of the Restoration. Iíll even be a celebrity guest at Crypticon Seattle 2016. Iíve made fantastic friends along the way and have had the chance to live nearly every dream I had for myself. Now I get to be an actress in a Manos inspired film with my dad. Full circle in a good way.
Filmmakers, actresses, whoever else who inspire you?
I am inspired by strong women who hold their own elegantly and with great humor. Betty White, Penny Marshal, Tina Fey, Cloris Leachman, Bernadette Peters to name only a few.
Your favourite movies?
I love movies with a great story. I canít give an accurate view of movie I watch because, like music, my taste changes day to day and so todayís wonít be tomorrow. Ones that pop in my mind are Second Hand Lion, Life of Pi, Big Fish.
... and of course, films you really deplore?

Feeling lucky ?
Want to
search
any of my partnershops yourself
for more, better results ?

The links below
will take you
just there!!!

Find Jackey Neyman Jones
at the amazons ...

amazon.com

amazon.co.uk

amazon.de
Looking for imports ?
Find Jackey Neyman Jones here ...
Something naughty ?
(Must be over 18 to go there !)

Birdemic is so intentionally bad I find it insulting.
Curse of Bigfoot - I was in it as an extra when I was in high school in 1976 but Iíve never been able to watch the whole thing. In fact, I donít think Iíve ever been more than 5 minutes past the classroom scene I was in and that was early in the film. That one is way worse than Manos: The Hands of Fate.
Your/your movie's website, Facebook, whatever else?
On Facebook ManosReturns
On Facebook DebbiesManos
Thanks for the interview!