Your upcoming film Daisy - in a few words, what is it about?
Daisy is about two girls, Alice and Daisy, who were best friends until one of them does something she shouldn't have done. Just a typical "girl fight", but with much more blood, gore and overall craziness.
With Daisy being a film about jealousy and revenge - how much of the movie's story is based on your own personal experience/wishful thinking?
Well I used to have a best friend and she didn't necessarily do anything bad to me, but I guess all of us think of things that would never really happen but we just imagine them. Don't get me wrong, this film is pretty fucked up and not based on my experiences at all but we write what we know, that's what all writers do, just exaggerated a bit more.
(Other) sources of inspiration for Daisy?
Before I wrote this film I was reading The Cask of Amontillado by Edgar Allan Poe. It gave me the idea to write something inspired by that. Just with a little less class and truly make it something based of this day and age. And also, my whole set design was inspired by Rob Zombie's films. Grungy, Rock 'n' Roll and a lot of pentagrams/inverted crosses.
With Daisy being a horror film - a genre at all dear to you, and why?
Ever since I could remember I have been watching horror films, with Jaws being the first one. I always wanted to be a writer as well and take after my dear ancestor Mark Twain. But I combined the two and two together in 2011 and made my first movie. I would say I wrote a script for it, but Cemetery Party was all improv mostly by me. I also went to my first convention in 2009... alone. I guess I'm more eccentric than the rest of my friends and they also don't find walking around a room with a bunch of actors who weren't on Entertainment Weekly that fun either.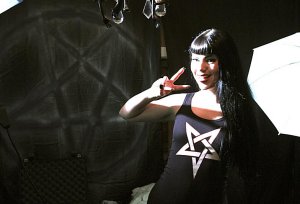 Devin Coffin
How did you approach the horror aspects of your story (as in all-out gore vs restraint, suspense vs sudden shocks, explicit violence vs atmosphere, ...)?
I approached the horror aspects by showing the audience something they can relate to. Women or men. Everyone has experienced a friendship and they have experienced their first love (well most of us), and they've probably experienced a psycho bitch in their life too. So I would say explicit violence vs gore vs suspense. All three of them sum it up. And I would love to touch more on the explicit violence scene but I can't get away with too much :(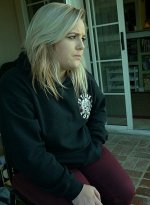 Jade Olsen on set
How would you describe your directorial effort as such?
Well I always thought that being a director meant making a film with a big budget, good name actors etc. But it's not about that at all. It's about the art. Making movies for me is expressing things that are out of the ordinary and completely new to the audience's eye. Even though my film has inspiration off of another, it is still completely different. I think people try to be someone that aren't and 10x out of 10 they literally fail. I can say that because I see it first hand. It's about QUALITY not QUANTITY. Putting effort into finding a good actress for a specific role, figuring out how to do light design when you have zero professional lights and most of all making your story POP from the paper. To me, filmmaking is art. It's not about anything else and if I can produce at least one good film every 10 years then so be it... the people want to see what they want, so therefore I will blow their fucking minds.
What can you tell us about your principal cast, and what made them perfect for their roles?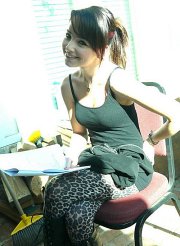 Kelsey Weber
Let's start with the infamous Devin Coffin (who plays Alice). Right when I was writing this film I knew first hand she would kickass at the role. She fits the girl perfectly. I even told Devin this character is her if she could get away with it. Devin is one of the most craziest girls I met and she doesn't care what anyone thinks of her, which is how Alice was written.
Then there's Kelsey Weber, my sweet Daisy. This script was written completely different and I wasn't going to use Kelsey at first and then I changed it around and made a phone call and she was on board. She is a great actress and really made the character Daisy. She put in so much effort to give me what I wanted which is why I am so happy she was involved in this.
Now there's Jesse Kozel [Jesse Kozel interview - click here], even though he made a cameo in the film, his character is still crucial. Jesse plays Ryan, Daisy's boyfriend. Jesse's character isn't seen on camera that long but instantly you can see the type of person he is. From his clothes, eyeliner, glass of liquor and black nails. His part was so much fun and I am so happy he could make an appearance in my film.
Last but definitely not least is Shannon Lark [Shannon Lark interview - click here]. Her part is very small too but I was so happy that she could be involved in my short film, she's a great actress and great friend.
Daisy was filmed by the ubiquitous Wolfgang Meyer [Wolfgang Meyer interview - click here] - so what did he bring to the table?
Wolfgang is great to work with. I met him on Joe Hollow's Disciples [Joe Hollow interview - click here] and instantly thought to myself "I NEED THIS CAMERA GUY!" He understood exactly what I wanted in each shot and everything was perfect. Everything I imagined in my head as I wrote the script, he helped me bring to the camera. Our creativeness was just going nuts on set and I loved every bit of it.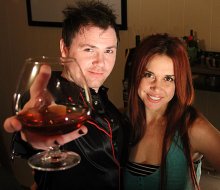 Jesse Kozel, Shannon Lark
What can you tell us about the actual shoot and the on-set atmosphere?
The shoot was 3 days, almost 12 hours each day. It was so much fun. The atmosphere was great, since it was a short film there wasn't a lot of crew so it was very enclosed and I knew mostly everyone personally. The last scene of the film was shot on the last day and it was insanely cold outside. I can just say that Devin and Kelsey really pulled through (especially Devin being half naked). I was happy the film was shot at my house and I designed the whole set myself, I throughly enjoyed every minute of it.
The $64-question of course: When and where will the film be released onto the general public?
It should be completely done by February 2013 and after that I am going to be sending it off to film festivals for the year. I am going to have a private screening though for my friends/family and cast/crew to see but more details on that soon! The general public can expect a release in another year, but I promise you won't be sorry for waiting :)
Let's go back to the beginnings of your career: What got you into filmmaking in the first place, and did you receive any formal education on the subject?
Horror films got me into filmmaking. When I met John Carpenter in 2009 I thought to myself, I want to write something like Halloween and I want to be a filmmaker. Like I said before, I had always been a writer so it was easy to put both things together. I did not receive any formal education on filmmaking, I just have taken a Creative Writing class at UCLA which really helped me learn how to produce some words on a paper, but other than that I never felt the need to spend so much money on film school.
What can you tell us about your filmwork prior to Daisy?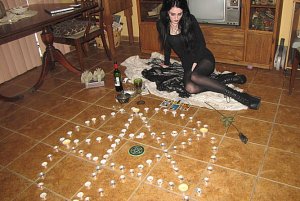 Cemetery Party
I made my very first film called Cemetery Party. It was very low budget and it was a silent film. I personally thought it kicked ass, it was just that right amount of weirdness but also had a good plot around it. Since it was my first film and it was me experimenting, all the music wasn't legally mine... therefore YouTube took it down. But I did pass out the DVDs at Weekend of Horrors in 2011. So if anyone reading this wants a DVD let me know and I'll send it their way!
Any future projects you'd like to share?
I do not have any future projects as of now, I started writing my first fiction book but that isn't something that would be out anytime soon. Although I can say it is not horror one bit. I think horror is a genre to get stuck in, so I feel the need to jump in and out of it.
You also work as a makeup artist, right? To what extent does that influence your work as a director?
I barely just began working as a Freelance Makeup Artist. I'm still young so I figured why not try and do a bunch of things in life until I find what I love. Well, I love filmmaking but it doesn't pay the bills. So I am doing makeup for the time being and I am a licensed Esthetician. Very very different than my horror side. But my career goal right now is to open up my own salon next year, so I'm hoping that happens.
How would you describe yourself as a director?
I love others' opinions and inputs, I am so thankful I have continually surrounded myself with a crazy creative mind like myself. I also can say that I have to drink insane amounts of coffee when I am directing to keep me awake and my mind going!
Filmmakers who inspire you?
Rob Zombie, Richard Linklater and James Wan.
Your favourite movies?
Dazed and Confused is my favorite movie..in the world. After that I would say Empire Records, Halloween (original and remake) and The Doors: When You're Strange.
... and of course, films you really deplore?

Feeling lucky ?
Want to
search
any of my partnershops yourself
for more, better results ?

The links below
will take you
just there!!!

Find Jade Olsen
at the amazons ...

amazon.com

amazon.co.uk

amazon.de
Looking for imports ?
Find Jade Olsen here ...
Something naughty ?
(Must be over 18 to go there !)

I am starting to really despise zombie and vampire movies. I always saw zombies as a scary thing (just as they were in Night of the Living Dead) but after Zombieland... it irritated me. Now they are just another example of lame ass horror. And vampires too, what happened to Dracula? Now all I see is teenager flicks with drama like I'm watching Lifetime.
Your/your movie's website, Facebook, whatever else?
My Facebook: www.facebook.com/jadeoh
Daisy's Facebook: www.facebook.com/daisyfilm
Anything else you are dying to mention and I have merely forgotten to ask?
Yeah there's one thing, I just want to give credit to Jesse Kozel [Jesse Kozel interview - click here] because I couldn't have done this without him. He helped me write this film and gave me the wisdom I needed to really create it. I would randomly call him and send him different ideas for my script and so on and so forth and he was always there for me. He introduced to most of these amazing people in the horror genre I've been able to work with and is not only a big part of this film but one of my good friends. (Now move back to Los Angeles.)
K, I'm done :)
Thanks for the interview!