Your upcoming film I Spill Your Guts - in a few words, what is it about?
Two friends Dennis and Joe join the military together. While on a routine mission, the two are quickly surrounded by enemy fire. When Joe stands up in the line of fire to run, Dennis pushes him out of the way and takes a bullet in the throat. Dennis wakes up in hospital to find Joe rewarded as a hero. Joe told a lie and took all the glory, and Dennis was left as a mute from the accident. Dennis can't talk, but actions speak louder than words. The two return home to NY and now the war rages in the streets. Dennis wants revenge on Joe, so he will kill everyone close to him. One little lie will cost so many innocent lives
What were your inspirations when writing I Spill Your Guts?
There really wasnít any type of sudden awakening or direct inspiration for I Spill Your Guts. As a matter of fact, my film style is unique in that I seek the abnormal, unimaginable and make it real. I always love to see my ideas transformed onto the big screen Ė itís one of the main reasons I became a director. If you or I can think it up and someone is excited about an idea or character, we put it into the script and make the magic happen.
Besides being a horror/revenge thriller, with I Spill Your Guts you seem to also make a statement about war and the like. Was that at all intended, and would you like to elaborate on that?
I Spill Your Guts was made as a horror/revenge film and in a completely different style than my first feature, Hack Job. While there was no intended secret political agenda behind the film, war certainly acted as a catalyst for Dennis, the protagonist, to fulfill his mission.
A story like yours suggests violence almost by default. So how far are you going in terms of gore and violence, what can you tell us about your gore effects, and was there ever a line you consciously refused to cross?
To be brutally honest, I havenít come across a horror and violence line in filmmaking that I havenít crossed. Thatís to say I havenít yet thought up everything in horror filmmaking, but I think weíve come pretty close. With the motto Morality is Down the Drain, my great folks at Acid Bath and I really try to hit the gore market, so to speak.
How would you describe your directorial approach to your subject matter?
The cast and crew worked extremely hard on this project and really put their hearts and souls into the project. I am really honored to know that my cast and crew enjoy making an amazing product the same way I do. I take a hands-on approach to the project, and Iím as much a ďjack of all tradesĒ as you can get - I truly enjoy being right in the middle of the action. With that approach, weíve had a lot of fun on shoots and road trips for scenes and to promote I Spill Your Guts Ė we always manage to leave with a great story and a few inside jokes.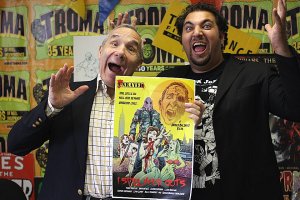 Lloyd Kaufman, James Balsamo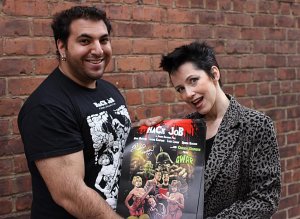 James Balsamo, Debbie Rochon
With Lynn Lowry, Debbie Rochon and Lloyd Kaufman, I Spill Your Guts stars quite a few indie horror heavyweights. How did you get them, and what was it like working with them?
I guess Iíll start with Lloyd Ė One afternoon we took a road trip to Tromaville (the Troma office in NY) and I set up a large pile of bacon outside the door. Knowing Lloyd couldnít turn it down, we set a trap with a large box and string, and as soon as Lloyd went for the bacon, we pulled the string and trapped him Ė okay, okay, you want the truth: It has been a pleasure to work with Lynn, Debbie, Lloyd and the entire team; many of them, I have worked with before and appeared in my previous film Hack Job. Working with all of them was great and as always, we had a lot of fun.
I Spill Your Guts also stars Dave Brockie aka Oderus Urungus from GWAR. Why him, and what was your collaboration like?
Iíve been a huge GWAR fan since I was a little kid. It really made my world to work with Dave on set and have him both films. Dave made an amazing appearance in Hack Job and returns in I Spill Your Guts. Daveís personality was a great addition to the set and Iím honored to call him a friend.
You also appear in front of the camera in I Spill Your Guts. So what can you tell us about James Balsamo, the actor?
From the time I was little, I wanted to follow in the footsteps of my favorite star slasher icons Freddy Krueger and Jason Voorhees. Fueled by ambitions, I convinced my parents to enroll me in acting school. As a student in many prestigious New York acting schools, including Lee Strasberg, my passion for film and acting continued to grow. A New Yorker all my life, I continued my professional career at Professional Performing Arts High School in New York City. Eventually, I grew tired of theatrical acting after high school, and knew it was time to make the transition to the big screen. I left my Shakespearean tights at the door, and spilled big screen blood all the way through Five Towns College.
What can you tell us about the rest of your principal cast?
They are a wacky bunch! Working with everyone involved with I Spill Your Guts has been an amazing privilege, but I am truly grateful for the support of my cast. I will share a great story though, it has to do with Carmine Capobianco, who happens to be one heck of a guy. A duck farming, video store owning actor, Carmine turns any set into a great atmosphere. My favorite time with Carmine was during a shoot of I Spill Your Guts, where he is chasing Joe Bava through a parking lot. It was filmed in our office parking lot, but there was some confusion with the landlord and she didnít know we were filming. While Carmine was running with a gun, she was screaming in the street about having him arrested. Well, nothing exciting happened, except Carmine went home with a thrashing, and I have one grumpy landlord.
What can you tell us about the actual shoot and the on-set atmosphere?
Filming on an Acid Bath shoot is quite the experience. You can tell by the story I just told what filming with us is like, but thatís all the fun. Weíre based in New York, so there is pretty much an infinite number of locations and we film anytime, anywhere.
The $64 question of course: When and where will the film be released onto the general public?
I Spill Your Guts hits local retailers July 24th. You can purchase it from Best Buy, Target, K-Mart, Barnes and Noble, FYE, and a bunch of other places. If you canít wait, you can pick up a copy today at hackjobmovie.com!
Your film Hack Job has been released only recently. What is that one about?
Hack Job is a Horror/Comedy that features Dave Brockie, Lynn Lowry, Lloyd Kaufman, Debbie Rochon, and Oderus Urungus from the greatest shock rock band of all time, GWAR. You'll laugh, you'll cry, you'll see mummies die in the splatstick comedy adventure that is Hack Job! A must-have for any gore geek and gratuitous nudity aficionado. James and Mike are tired of art films taking away the credit that horror films deserve. So they get a script from the devil to make the best horror film ever. The script has three stories in it. The first is about Nazis that awaken a mummy's curse. The second tale is about an alien that crashes a battle of the bands and then starts eating the contestants, and the last story is about a man who gets possessed to kill televangelists...you will never guess who possessed him. Find out this and more in horror/comedy Hack Job!
Why did you choose the anthology-format for Hack Job, and what were your inspirations for the individual stories?
I guess it just turned out in an anthology format Ė one of the films was created before the full idea for Hack Job. I donít want to spoil too much of it, especially after the detailed summary above this, so watch and find out!
With Hack Job being a horror comedy, how would you describe the movie's brand of humour?
Itís definitely silly, but itís more than that, itís ridiculous, and outrageous!
A few words about your cast and crew?
I canít say it enough, they are amazing! My cast and crew are really one and the same with my family.
Let's go back to the beginnings of your career: How did you get into filmmaking, and did you receive any formal training on the subject?
Following a pretty extensive acting stint, I attended Five Towns College in NY for film. Everyone always asks and the answer is YES, I went to film school.
What can you tell us about your filmwork prior to Hack Job, and what made you decide to eventually usurp the director's chair?
As Iíve said, I have an extensive background in both theatre and film acting. Iíve also worked on a bunch of sets for major budget motion pictures, but itís never as much fun as being in charge. Working as an independent film company, we answer to no ďhigher authorityĒ and it allows us to deliver exactly what we love.
Any future projects you'd like to talk about?
Acid Bath has a lot in the works! Unfortunately, we have yet to official unveil any new projects, just yet. If you follow us on Twitter @acidbathproduct I promise you will be the first to know!
Your films all seem to be to some extent of the horror variety. Is this a genre especially dear to you, and why?
Absolutely! I have been fascinated with the Horror genre since I was a little kid, and I attended my first Horror convention at the age of eight. I always wanted to be Jason, and thatís what really started me in the acting world.
Filmmakers who inspire you?

Feeling lucky ?
Want to
search
any of my partnershops yourself
for more, better results ?

The links below
will take you
just there!!!

Find James Balsamo
at the amazons ...

amazon.com

amazon.co.uk

amazon.de
Looking for imports ?
Find James Balsamo here ...
Something naughty ?
(Must be over 18 to go there !)

Lloyd Kaufman, the king of independent cinema Ė Iím gunning for his throne!!
Your favourite movies?
Most certainly, Wes Craven with Nightmare on Elm Street, and of course, I love Demon Knight.
... and of course, films you really deplored?
Anything with CGI Ė I know thatís like everything, but I believe that CGI not only dates a film, but really kills the appeal. Itís just not fun with CGI.
Your website, Facebook, whatever else?
Check us out at www.hackjobmovie.com
Weíre on Facebook at www.facebook.com/ispillyourguts, and weíre on Twitter at @acidbathproduct.
Anything else you are dying to mention and I have merely forgotten to ask?
Donít forget to go out and pick up your copies of Hack Job and I Spill Your Guts today at www.hackjobmovie.com or your local retailer!
Thanks for the interview!