Your upcoming movie The Nomophobe - in a few words, what is it going to be about?
The Nomophobe is a short film drama about smartphone addiction and in particular what this addiction has done to the personal life of its lead Madison Ashley-Cooper.
With The Nomophobe being about smart phone addiction, what are your personal thoughts on the subject, and what caught your interest about it to such an extent that you want to make a movie about it?
Our addiction to smartphones has fascinated me for years, and I am as guilty as anyone of checking my phone constantly. We have all become inadvertently addicted to these devices. They control our lives to the extent that we no longer call with good news, we type it to the masses on social media apps. This addiction we have, our nomophobia, is everywhere. We see evidence of nomophobia on every bus, train, and street - a society staring down at devices. We brush past strangers in the street without a smile, without an acknowledgment of any kind. We are too busy to talking to our electronic friends. Our connections are now digital. The generation coming through is even worse, for they have grown up with these smartphones. Their manners are digital. This world in which we now live is one I am very passionate about reflecting and exploring in The Nomophobe - to show what we have become.
Other sources of inspiration for The Nomophobe?
My earliest inspiration in film was Buster Keaton [Buster Keaton biography - click here]. His ability to do something unexpected, that hadn't been done or seen before, has always been a driving force in my storytelling. This is especially true in The Nomophobe and its visually ambitious script. I am very keen to bring sequences and images to the screen that have not been seen before. Consequently, this means I have spent over a year on the script, the longest I have ever dedicated to a short film write. These very visual moments not only enhance the drama that is unfolding but will hopefully entertain audiences when the film is released.
To what extent can you actually identify with your lead character and her addiction - or any of the other key characters for that matter?
Whenever I write a character I inhabit them. I have to become them to understand them. For weeks on end I can literally be having their thoughts, forgetting my own. When I reach the moment that their actions outweigh my own, I know they are now real and ready for writing. In the case of Madison, I do not share her background or relationships, but I do completely identify with her smartphone addiction and in particular her ignorance to it. For her, she sees nothing wrong in checking her phone, no matter the surroundings. I too, have been asked to put my phone away in certain environments, not realising that etiquette is still conflicting with our digital world. However, the character I most relate to is Madison's boyfriend, Stefan Tilford. His frustrations at being treated like an app are ones I have also experienced. How we seem fine in keeping relationships electronic. That the regular meet-ups that used to occur between people is fading. It is all too easy to keep them digital. To keep those close to us at bay. To make them feel like they are merely electronic avatars with digital gestures. Through apps we can talk to them by text or video call, so why make the effort to see them? This is a frustration Stefan and I share. We long for a world in which the smartphone stops controlling and ruining relationships. The digital device is a relationship killer, because anyone can type messages into a screen, it requires no effort, and very little time. There is no connection stronger than the personal one between people. The look in the eye, the touch of the hand, a smile, these are what we remember about people. These are the gestures that matter. The ones we live for. Stefan understands this. But Madison has lost her way, and The Nomophobe explores that conflict.
What can you tell us about the movie's intended overall look and feel?
Although there is a drama at the centre of The Nomophobe, it is not a dark one. For this is a sweet drama, with many moments to make the audience smile. It is much lighter in tone than my current releases through my production company Sunset Aperture. I am also keen, as always, to use lighting and lenses to enhance the moments. I am very keen to make The Nomophobe a film that audiences and filmmakers enjoy.
Anything you can tell us about your key cast and crew yet, and why exactly these people?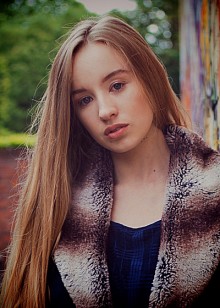 Emily Haigh
I cast our lead Emily Haigh [Emily Haigh interview - click here] as soon as the script was locked. Having previously worked with Emily on my current release The Inuring, I experienced one of the finest acting talents I have ever worked with. What Emily brings to a role, her nuances and moments, are so naturalistic and engaging. She is a phenomenal talent and I never looked beyond her for the lead role. Furthermore, we also work together as producers, and we have produced two short films together, The Velvet Abstract and The Inuring which are now on the festival circuit. So after casting Emily in the lead role I asked if she would have the time and focus to join me once more as my fellow producer. Fortunately, Emily agreed to take on the challenge, and she has already done some incredible producing work behind the scenes. So The Nomophobe will very much be our film.
As far as I know, The Nomophobe is still in pre-production as we speak - so what's the schedule, and any idea when and where the film might be released yet, however tentatively?
We are working on crowdfunding campaign, but also speaking to investors and funding boards, to explore all options to bring this story to the big screen. We want to ensure that we plan this production properly and have therefore not rushed into anything. It is too important to both of us to ensure the entire production process runs smoothly. We are being very thorough. The Nomophobe will hopefully shoot this summer and be released later this year.
Any future projects beyond The Nomophobe?
I am always working on projects. Along with The Nomophobe, I am currently working hard on two other short films simultaneously. After which, I intend to focus on feature films, and have been busy writing a few different ones, the most notable one is the feature of The Inuring.

Feeling lucky ?
Want to
search
any of my partnershops yourself
for more, better results ?

The links below
will take you
just there!!!


Your/your movie's website, Facebook, whatever else?
https://twitter.com/TheNomophobe
https://www.facebook.com/TheNomophobe/
https://www.instagram.com/thenomophobe/
http://www.imdb.com/title/tt5492580/
https://twitter.com/theJamesHughes
http://www.imdb.com/name/nm7563709/
Anything else you're dying to mention and I have merely forgotten to ask?
Yes, next time you stare at your smartphone and are about to type a message to someone, make sure that message says 'how about a coffee next week?' Let them know they are real to you. The smartphone has an expiry date, real friendship does not.
Thanks for the interview!